5-21-10

The Father of My Children: Mia Hansen-Løve's Quest for the Invisible
By Diane Sippl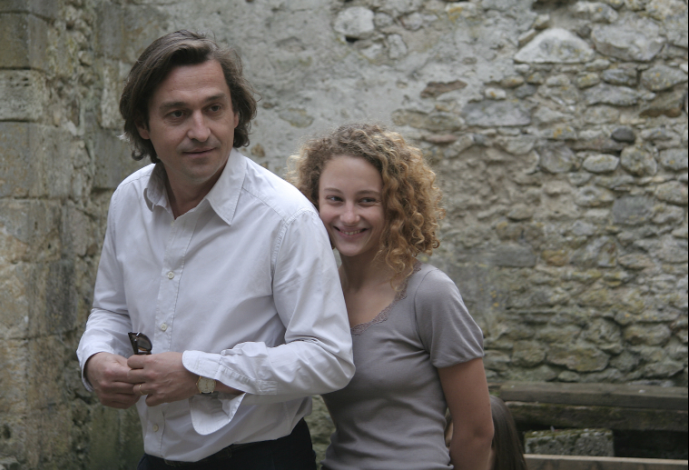 Louis-Do de Lencquesaing and his daughter, Alice de Lencquesaing, in The Father of My Children
I'm an 'artisan', as we say in French. For a producer, that means there's a certain spirit and a way of being very independent and doing things at a very human scale. I believe that cinema is closer to art than industry.
Humbert Balsan, Box Office, September, 1997
He wanted to produce my first film. His enthusiasm and trust were decisive for me in my first feature, All Is Forgiven. I didn't write this movie out of gratitude, but because of Humbert Balsan's personality.
Mia Hansen-Løve, 2009
I was caught by the film because it was so non-sensational — unlike Hollywood faire — in treating a shocking event; it simply surrounded that action with all the facts of the matter and everything that needed to be done in response. And the acting, across the board, was phenomenal.
Anonymous audience member, The Father of My Children, 2010
In Hindsight
If ever there were a worthy reason to uphold international participation in cinema production, Humbert Balsan embodied it. So let me begin by looking back, because that is the least that the stunning new film, The Father of My Children, prompts us to do.
Twelve years ago at a prestigious, well-heeled European film festival, I asked a debuting American director (who also wrote, shot, and edited his film) what works of cinema influenced him. "Godard's Contempt," he answered, "because it's like looking at Halley's Comet. You can watch it infinitely." He won awards at that fest, and this year he is in competition at Cannes with his second feature. Working against the studio system (not unlike Fritz Lang in Le Mépris), it took him over a decade to get there despite the individual mentorship and institutional support he was fortunate to find.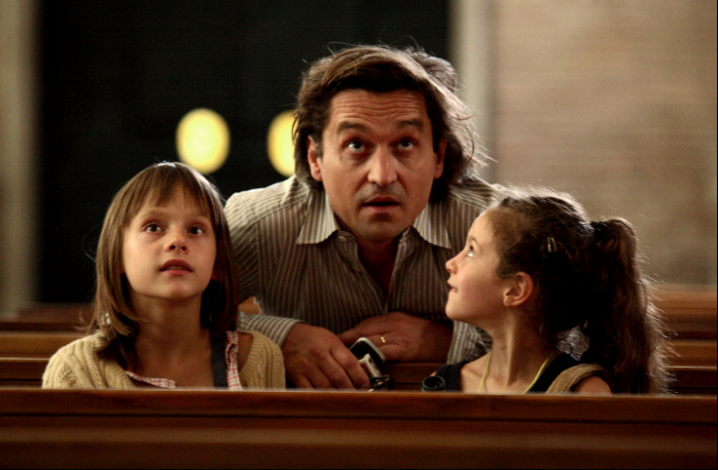 Louis-Do de Lencquesaing with Alice Gautier and Manelle Driss in The Father of My Children
Two years earlier at festivals in neighboring European countries, I was thrilled to see two other lauded works by yet unrecognized filmmakers. A twenty-something Frenchman of Moroccan heritage, Ismaël Ferroukhi, swept the prize for Best Short Narrative with L'Inconnu, a nearly wordless vignette played by Catherine Deneuve and Miki Manojlovic. Meanwhile a young French woman, Sandrine Veysset, presented her debut feature, Will It Snow for Christmas?, so lyrical yet disconcertingly heart-wrenching that many in the audience couldn't accept it despite its immediate critical acclaim. It won the French César that year for Best First Feature, and in the next decade Veysset proceeded to make three more films with the same producer.
Ferroukhi, I was glad to discover, went on to make history via his debut feature with that same producer; Le Grand Voyage (2004) scooped the First Feature prize at the Venice Film Festival and played the world over. This gentle coming-of-age tale led quietly to an unheard-of finale that left viewers at once speechless and deeply humbled. I asked Ferroukhi how he ever got the backing to make his many-country road movie with such a phenomenal closing scene — the first time any theatrical film had been shot inside the center of Mecca. "It's a very sad story…" he told me, as he explained how the man who had come through for him, who had made his prize-winning first feature at all possible as he had for countless others, recently hanged himself in his office.
Both Veysset and Ferroukhi are gifted filmmakers, but they were also lucky, because they managed to win the attention of Humbert Balsan, a unique impresario who produced more than sixty feature films in twenty-five years, including theirs. He supported many who came to be prolific in their careers — Claire Denis, Ismael Merchant and James Ivory, Youssef Chahine, Elia Souleiman, Yousry Nasrallah. Meanwhile Balsan also acted in twenty-five films, beginning with directors like Robert Bresson, Maurice Pialat, and Jacques Rivette. What made him special was not his vast output but his pure, self-guided taste. He was doggedly devoted to funding artists who shared his sensibility and could create it for the screen.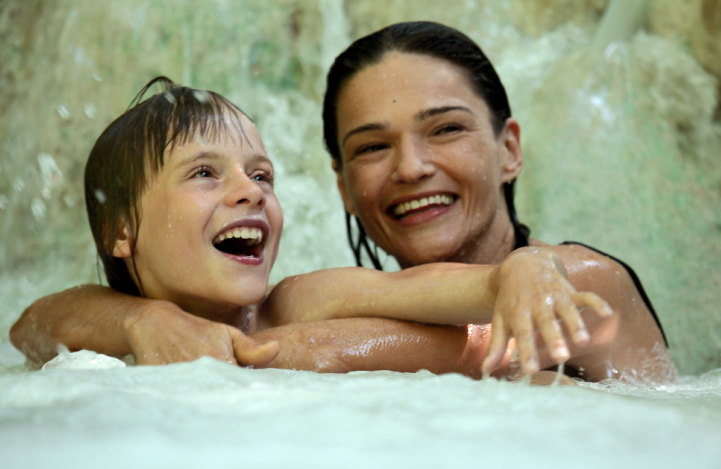 Alice Gautier and Chiara Caselli in The Father of My Children
Today audiences can view a theatrical film that is, at least symbolically, about those cinema artists who filled Balsan's life, caught his eye, won his heart — and his pocketbook. To be sure, the ray of light is Humbert Balsan, yet what casual viewers may not know is that they are seeing his world, and not just his daily activities, professional and domestic (clearly in the foreground), but his vision. Like Halley's Comet, The Father of My Children is a phenomenon I can experience over and over again, because while it may be as sad a critique of today's global commercial movie-making as Contempt was of Hollywood so many years ago, it ennobles the spirit to discover such a divine trajectory for the art.
The Father of My Children

Grégoire Canvel behind the wheel, a man on the move with darting glances at the rear-view mirror, cigarette propped between his lips, checks a text message in his right hand with another phone on his left ear and begins to resolve problems at both ends — until an officer pulls him over for speeding with no seatbelt and impounds his car, since he's out of points on his insurance record. No problem. He'll take the bus, and there he'll discover his newest protégé. It's the daily routine of this independent producer in Paris who has come out with eight films in one year. He's a heart attack waiting to happen, anyone would say; even just the financial risks he shoulders would be a burden few could survive. Add to this the generally esoteric nature of his output, and this man seems more other-worldly than real.
In The Father of My Children Canvel heads Moon Films, and while we see that he has a stake in works from all over the world — not only France but Korea, Sweden, North Africa, and Russia, for example — we can glean little of the particular nature or quality of the films he launches and gets to the market, except that in one quick scene in a shoebox theater, a couple walks out. What we do see is that the projects are his strident, unwavering choices and that he wants to bring these films to life, at whatever cost. Mia Hansen-Løve's second feature shows us, with sensitively crafted detail and immense insight, how that cost plays itself out.
All truth told, in three separate screenings I've attended (all with near-capacity crowds), the audience lets out a painful "Ohhh!" at a key moment in the middle of the film. There is shock, but there is also space, created by the right screen time, tone, and perspective, to process all the repercussions as well, to experience the corresponding feelings and even hold onto them — because in the best of the "Balsanian" tradition, Hansen-Løve would like us to understand.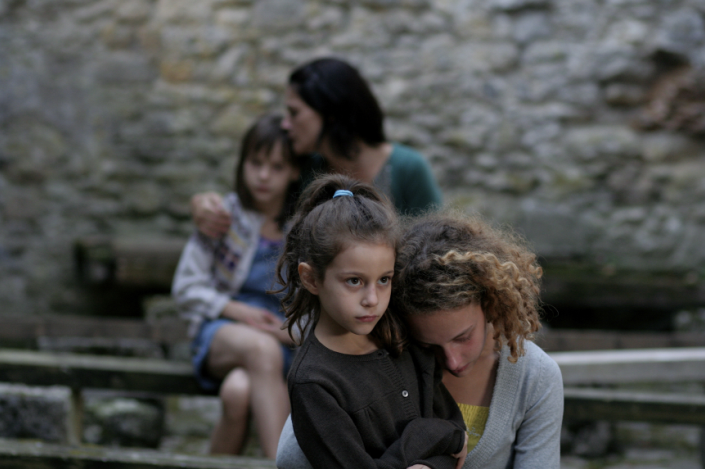 Alice Gautier, Chiara Caselli, Manelle Driss and Alice de Lencquesaing in The Father of My Children
The Father of My Children impressively falls into two parts: Grégoire's presence and his absence; his role in the "family" (whether the Canvels or Moon Pictures) and then his wife Sylvia's role in each; the road to the crisis and the construction of a new life thereafter. As meticulous and refreshingly down-to-earth as Hansen-Løve's depiction of Balsan's mode of independent film production is, particularly capturing the life-flow of Ognon Pictures through Moon Films, why would she decide to give so much narrative space to Balsan's family, especially after his death? Part two is the more surprising, more significant part for me — everyone registering the loss: of a father, a mentor, a colleague, a soul mate, a love, and even, yes, of money, property, and work.
Deftly laced together throughout, two oppositional faces of the film create its vitality. The sprightly pace of the children and their "tireless" energy, as their father points out, seem to be their heritage, but also an obvious foil for his depression, especially because we see that he would prefer to be like them. "Tell me something nice," he banters with them on the phone, and his daughter replies, "Mom told Serge you're a human spam!" The primary colors of their summer clothes upon their scampering bodies as they show off their garden or provoke tickle-sprees with their dad inject vivacity into the sober themes of the film. While Grégoire is at his flirtatious best when he frolics with them, we see him often amidst gray bricks or crumbling medieval architecture. The eclectic music in the film's score is remarkably brisk and breezy, sweeping the narrative along with the tunes of Lee Hazlewood, an upbeat "Greensleeves," and finally the pop, philosophically apropos "Qué Será, Será" sung by Doris Day.
And yet, there is striking stillness amidst the tumult. Even early on, there is the quiet rapture of Valentine swimming topless in the pristine pond of a river spilling with waterfalls. Building a script around three daughters (Balsan in fact did have two) not only allows us to see the impact of his suicide in fuller perspective as each proceeds to mourn in her own way — from fear to confusion to resentment to chipper resourcefulness to sad reflection — but it also lets us see Canvel's progeny, the future gift of this father. In fact in grieving, Clémentine, the eldest daughter, uncovers three generations of male depression or even notable mental instability in the Canvel family. An old letter from Grégoire to Sylvia declares his love and longing for her in face of his loneliness beside his own father, who is severely withdrawn and unable to show him any tenderness. Likewise when Clémentine tries to visit a stepbrother she has discovered from her father's liaison with an earlier flame, that son's mother advises Clémentine that her child has long suffered dark moods and maladjustment that might be exacerbated by his father's death. Nonetheless, this son has come of age and begun a family of his own. As for herself, in tears, Clémentine is consoled by Serge, her father's friend and colleague, that she will "carry on, grow up, and fall in love." And she does just that, sooner than later; in a remarkably unpretentious scene, we catch her bemused one morning in a Paris café, so dizzy with new romance she can't even choose a beverage to drink.
Protégés
Mia Hansen-Løve was an actress and a writer before she became a director. In her teens she played roles in Late August, Early September and Les Déstinées Sentimentales by Olivier Assayas (now her husband and the father of her own child), and then she wrote for Cahiers du Cinema. That was until a short film she made, Après Mûre Réflexion, won a prize at a festival granted by a jury Balsan headed and he solicited her future work via her byline in that prestigious magazine. It may well be that the delightful staging of the "Eight O'Clock News," a satirical revue by Valentine and Billie, Canvel's two younger daughters, is drawn from a happy memory in Hansen-Løve's own childhood, but here, with loving zest, she shows how even in their scathing parody of their father, the girls are endowed with his gifts. Likewise early on, Clémentine, the elder, teenage daughter, is ensconced finishing a chapter of her own writing, just as after her father's death she will be drawn like a magnet to a budding screenwriter/director whose work, little did she know, her father had planned to produce.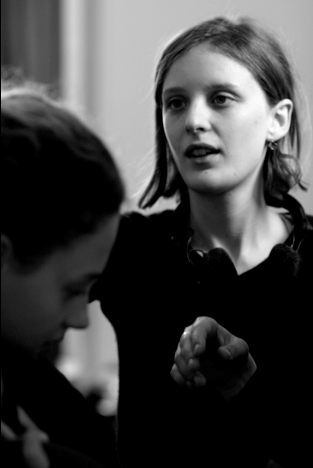 Writer-Director Mia Hansen-Løve

Two scenes, near their country house in the south of France where they spend weekends and near Ravenna on their get-away trip to Italy, show Grégoire teaching his daughters directly at the site. First at an old chapel and its ruins he tells the girls of the Knights of Templar, military monks who, along with the Crusaders, fought to free the Holy Land from the Muslims, and then succeeding, and creating the Kingdom of Jerusalem, took control of all trade with Europe. When they grew too strong for the French king's liking, he seized their coffers and confiscated their properties, and their order was disbanded (just as the girls by now have run off in three different directions).
The lesson returns to history and religion, but also adds art as he guides the girls through an exercise in "looking" — at the mosaic dome of the Byzantine Basilica of Sant'Apollinaire in Classe, where in the end, they note the Hand of God reaching down from the clouds. As Grégoire explains its Biblical source, Valentine asks for money to light a votive candle. These actions and images resonate with earlier dialogue regarding the girls' outing to see Cocteau's tomb.
Together such scenes hint at impending death, even suicide, as referenced in three exchanges of dialogue: a crew member on Stig Janson's film hanged himself ("Things like that happen," Grégoire tells his wife); Grégoire will "jump out a window" if the banks quit on him, he tells Serge in a blasé way; "It's tough. Hang in," he consoles a young actor who, deeply depressed, aimed a rifle at a crew member. The actor's pregnant fiancée wants to give birth to a child by another man she loves, a predicament close to one Grégoire had experienced himself, we later discover. Of course each of these crises, seen by others, might constitute a problem, not so much a life failure. There is a difference between despair and failure, Sylvia has tried to persuade Grégoire, but he is entirely beside himself by then.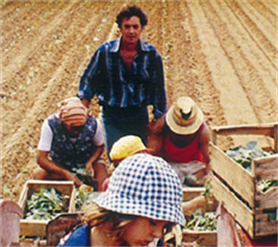 Will It Snow for Christmas? by Sandrine Veysset, 1996
But before then came her first feature, All Is Forgiven (2007) completed by the time she reached her mid-twenties. It's the story of a daughter living with her mother after their departure from her would-be poet father, a drug addict and social deviant. Yet this daughter persists in re-uniting with her father years later. Balsan had spent about a year developing this intimate drama with Hansen-Løve up until his death. She is, in essence, a "child" of Balsan; at least that film is. One festival catalog noted that, "Emerging like daylight from darkness, (it) shines as one of the most hopeful, graceful films of the year."
It's not that these scenes are special or even unusual in a family drama, but that with such off-handed subtlety, they reveal how deeply, consciously or unconsciously, Hansen-Løve was in tune with the imaginary and spiritual world of Balsan — with precisely the emotional core of the projects he had just produced (or was trying to) at the moment of his death. "I knew nothing about his private life and didn't want to know," Mia Hansen-Løve has said. Yet she grasped his intellect and world view, and these are omnipresent in the future film he inspired in her, The Father of My Children.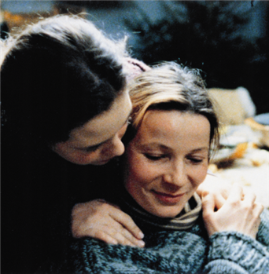 Will It Snow for Christmas? by Sandrine Veysset, 1996
Balsan sought and desired and labored to produce Hansen-Løve's first feature, though he didn't produce it; Pelléas did. He died, yet his marks in the world survive: his many dozens of productions are with us forever. And he lives on in his protégés and their new work. If Hansen-Løve's latest film is perhaps all the more sensitive for breathing fresh air into a sobering topic, it's the very gift of Balsan's endeavors. More about life than death, The Father of My Children is not so much a tribute to Humbert Balsan as it is a testament of the man, of his striving and his success. His films were saluted and awarded at festivals when they were made and they continue to be viewed as classics. But "what will be" is not just what is lauded and honored, but what is. His mountain of exemplary work exists, his legacy.
Humbert Balsan
Louis-Do De Lencquesaing makes for a striking incarnation of the debonair Balsan, who was widely noted for his grace and élan, his elegance and charm, not to mention his long-tall-blond good looks and inherent charisma that must have helped land him the role of Gauvain in Robert Bresson's 1974 Lancelot of the Lake at age nineteen. Yet for Hansen-Løve what is vital is "the infinite part of each being… without style getting in the way."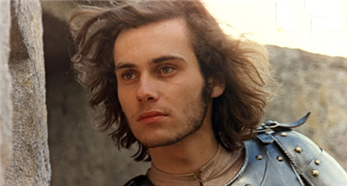 Humbert Balsan in Lancelot of the Lake by Robert Bresson, 1974
She has explained to the press, "Although I don't believe in God, for me, the cinema can't be anything other than a quest for light, which is a quest for the invisible."

Relating this concept directly to The Father of My Children in an interview for the New York Times, Hansen-Løve speaks of the filmmakers and films — no less than eight of them in various stages of production at Ognon Pictures when Balsan died — who then were like orphans:
"For me the central question is how does the soul survive… after this man is gone? Does his presence also survive through his absence? ...I think cinema is really about ghosts and presence and incarnation… it's the very essential question of cinema."

It's almost haunting, after viewing The Father of My Children, to look at the films by Claire Denis, Ismael Ferroukhi, and Sandrine Veysset, for example, that were all in production at Ognon (along with four others) in 2004 just before Humbert Balsan died.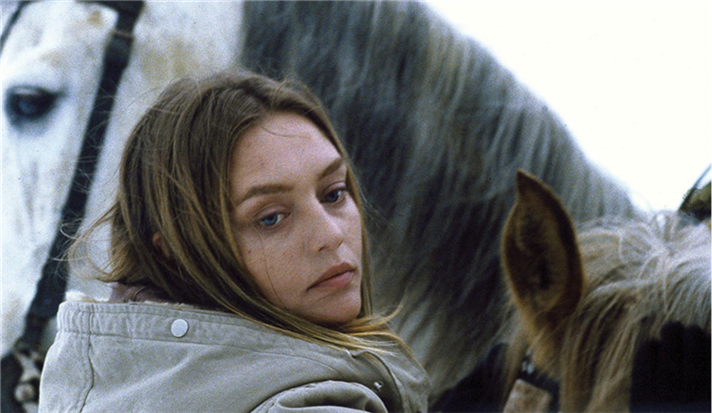 Ekaterina Golubeva in L'Intrus by Claire Denis, 2004
And it's astonishing to discover the uncanny way that Hansen-Løve endowed her second feature with the salient themes of Balsan's on-going projects, especially in his final year, which is when she met him and knew him. L'Intrus (The Intruder) by Claire Denis was completed with him in 2004, as was Ferroukhi's Le Grand Voyage. Sandrine Veysset's Il sera une fois (Once Upon a Tomorrow) was produced by Ognon but released in 2006. All three focus enigmatically on a man's introspection, forward or backward or both, in the face of time and death, seeing in himself another man.
In The Intruder, Michel Subor, the afflicted colonizer in-the-flesh from Godard's Le Petit Soldat to Denis' Beau Travail, desperately searches for a new heart — literally, a transplant — as he departs from one grown son (and baby grandson) in Alpine snow for another son (yet unacknowledged) by another woman on an island in the South Seas. He is followed by Yekaterina Golubeva, who can only be read as his ghost. In Le Grand Voyage Nicolas Cazale, raised in France by his Moroccan father, Mohamed Majd, resists him like the plague across all of Europe, west to east and then south to Mecca, though trapped in the same car with him because he is required to drive it, too detached emotionally and culturally to realize that his father is making this pilgrimage because he is going to die. In the end we see that the pilgrimage has been not only the father's, and not only one to death, but also one to life. Once Upon a Tomorrow (or Countdown) by Sandrine Veysset, is perhaps the most meditative: a boy is perpetually counting backwards down to zero wherever he ventures, and he's followed by a scruffy man, himself in old age. But when the old man (Pierrot) confronts the young one (Pierrot), there is a pivotal change. The boy begins to count forward, to his future; he flirts and falls in love. Not only that, the elder Pierrot remains a strong, guiding presence.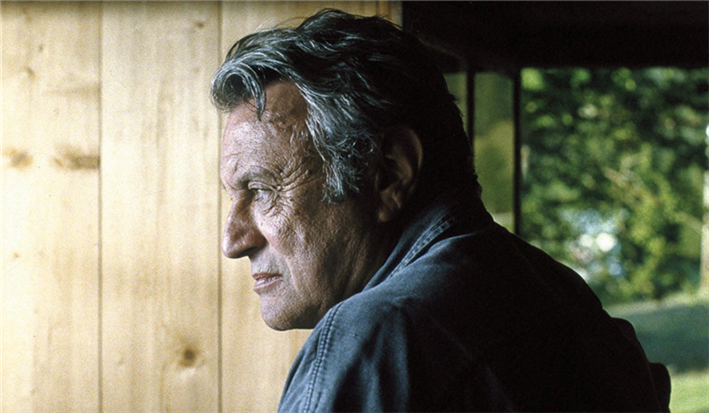 Michel Subor in L'Intrus by Claire Denis, 2004
In all three films, each tick of time leaves a visceral impression on the characters as they contemplate the passing of life. The production of the last of these films, Veysset's, was interrupted by Balsan's suicide. He had produced all four of her films at that point, beginning with her first, Will It Snow for Christmas?, one of his biggest successes in his own eyes. The 1996 film seems it will end with a mother's suicide beside her seven children on a farm near Aix-en-Provence (not far from Balsan's country house). Yet a ghost-like bit of action transpires, and the invisible casts the visible in an entirely new light.
Humbert Balsan produced all of the most important films of Egyptian writer-director Youssef Chahine (who, having averaged more than a film a year over three decades, died of cancer a few years after Balsan's death), virtually introducing Arabic cinema to Europe. Youssef Chahine's Destiny ends with a massive book-burning, but it is capped with the defiant motto, "Ideas have wings. No one can stop their flight." Humbert Balsan died — he stopped his own flight, or, we could say, he took it in another direction — but his many "children" still have wings. Among all the other acts of inspiration that Mia Hansen-Løve's film might spark in the audience, a major, traveling Humbert Balsan retrospective is an idea waiting to happen.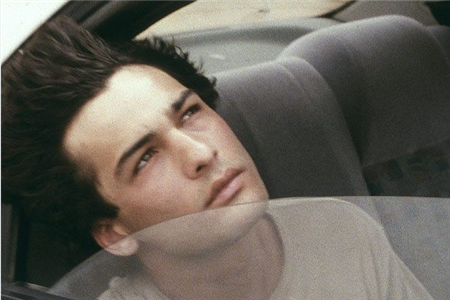 Nicolas Cazale in Le Grand Voyage by Ismael Ferroukhi, 2004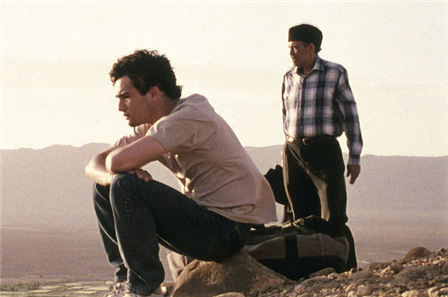 Nicolas Cazale and Mohamed Majd in Le Grand Voyage
See related articles in this magazine:
Hidden Diary, Silent Voices, and The Father of My Children: Women Directors Add Gravitas to COL-COA
Humbert Balsan, Rebel Producer, forthcoming review in KINOProfiles
The Father of My Children
Director: Mia Hansen-Løve; Producers: Philippe Martin, David Thion, Oliver Damian; Screenplay: Mia Hansen-Løve; Cinematographer: Pascal Auffray; Editor: Marion Monnier; Set Designer: Mathieu Menut; Costume Designer: Bethsabée Dreyfus; Sound: Vincent Vatoux, Olivier Goinard.
Cast: Chiara Caselli, Louis-Do de Lencquesaing, Alice de Lencquesaing, Alice Gautier, Manelle Driss, Eric Elmosnino, Sandrine Dumas, Dominique Frot, Igor Hansen-Løve.
Color, 35mm, 110 minutes. In French with English subtitles.