4-16-10
Hidden Diary, Silent Voices, and The Father of My Children: Women Directors Add Gravitas to COL-COA
By Diane Sippl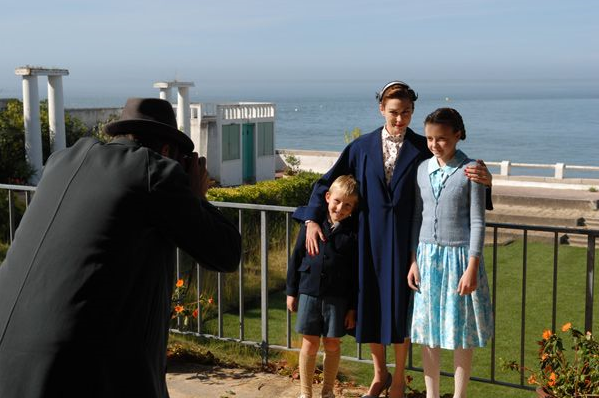 The 14th annual City of Lights–City of Angels once again moves "April in Paris" (the 19th to the 25th) to Los Angeles at the Directors Guild of America for a week of French film premieres that screen each day from morning to midnight with several panels of guest speakers followed by wine-and-cheese happy hours. Characteristically, a number of France's celebrated leading lights are women who, in fact, not only direct films but write them and act in them as well. Press previews scheduled three gems made by women that only hint at more to come throughout the week. Julie Lopes Curval set her fourth film, Hidden Diary, in an atmospheric seaside house in the Arachon Basin of France's southwest coast. Léa Fehner conducted deep research at the Fleury Merogis and Villpinte prisons in the suburbs of Paris before taking us to Marseilles and Algiers for her first feature, Silent Voices. Mia Hansen-Løve evoked a bit of her own filmmaking experience in the heart of Paris and added a side trip to Ravenna, Italy for her second feature, The Father of My Children. Happily all three films defy genre classification in speaking idiosyncatically of universal themes.
Yesterday, Today, and Tomorrow — à la Française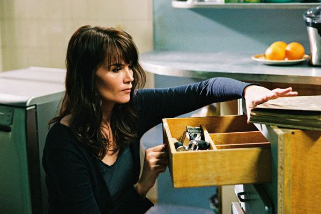 Hidden Diary, originally called La Cuisine (The Kitchen) and then also Mères et Filles (Mothers and Daughters), is what all these titles suggest, and more. Playing like an impressionistic mood piece that could have been composed by Débussy, it allows its details to gather in a gust of revelation. The film focuses softly and thoughtfully on Audrey, a very independent 30-year-old from Canada, single and pregnant, who is happily challenged by her career designing state-of-the-art kitchen technology.

She returns home to France to the town where she grew up for a short visit with her parents; maybe it will help her decide whether to keep the child of a man with whom she feels no special warmth. At once, though, she is hit in the face with the prickly personality of her mother, Martine, a highly successful doctor who manages far more care and sympathy for her patients than for her own daughter. Dominant, rigid, and hard-hearted, Martine can't be pleased. Luckily Audrey can retreat to the empty home of her recently deceased grandfather, who was himself a dress designer, and try to collect her emotions there with the calm of the sea.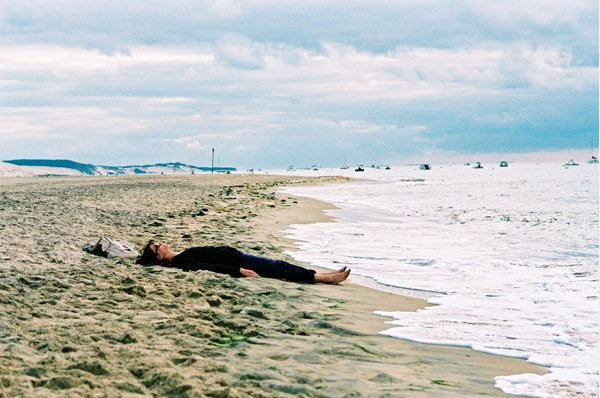 In considering how the kitchen there might be remodeled, she discovers something lodged in the back of a cupboard — a sort of diary kept by her grandmother, Louise, with recipes, snatches of writing, and a photograph. The photo includes her own mother as a girl: mother, daughter and son posing together as a happy family surrounded by blue sky. These fragments entice Audrey to piece together the life of her grandmother as she sits in Louise's one-time kitchen. What ensues, therefore, is not flashbacks but the subjective, imaginary and yet convincingly real presence of the woman Audrey never met, a woman who was largely absent in the life of Audrey's mother, Martine, who as a girl came to "mother" her little brother, Audrey's uncle, and never to speak of the mother who brought them both shame when she parted.
Who was Louise, this pristinely radiant woman of the 1950s who lived in the dream house by the sea? Audrey reads and envisions all that she can glean, and every simple question she manages to put past her mother draws more evasiveness. She inquires of her uncle and her father, both meek and tender men who clearly love Martine for reasons Audrey has yet to discover. And then there is the practical, self-willed artist with whom Audrey has become pregnant, who visits her from Canada by surprise when she cannot not bring herself to return his calls. He is pursuing his responsibility, yet she retreats. The subconscious looms large in this film of suppressed memories, repressed anger, unknown misunderstandings, projections, and doubts as Audrey, who worries about carrying her own child to term, forces other questions of childhood and motherhood to the fore and gives life to new trauma that is also the wellspring for new love.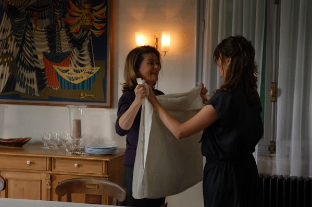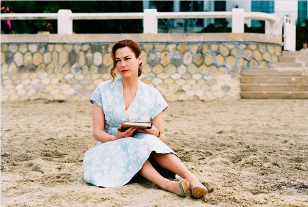 Persistent as it is, the soft palette of blues in the film registers as almost unconscious in painting a mood piece no doubt continuous with the writer-director's first feature, Camera d'Or-winning Bord de mer (Seaside), set in the Baie de la Semme on France's northern tip. It was followed by Toi et moi, a searing portrait of female issues peeled like onion skin. As symbolically resonant as Hidden Diary is with respect to half a century of changing and unchanging detractors of women's freedom, Julie Lopes Curval's impeccably nuanced stunner is at the same time a taut psychological thriller, as strangely lyrical as they come. Catherine Deneuve plays true-to-form as Martine — wrapped tight as a tourniquet to harness the utter pain of a deeply buried wound. Marie-Josée Croze as Louise is a detached Dior doll of a housewife elegantly, desperately, haunting the imagination of an impressionable and vulnerable Marina Hands as Audrey, the spirited young woman who may fear she is more like her grandmother than she should be, and finds she is closer to her mother than she knew.
In Face of Walls
"Near a prison that I used to pass by every morning," says Léa Fehner, "a woman had taken the habit of screaming. She was trying to speak to the man, her man, who lived behind the walls. Her body would rise, scream, hoisting her delicate figure on the tip of her toes to try to reach him. Too often the rumble of the street swallowed her words, but she resisted and fought so her voice could go past these walls."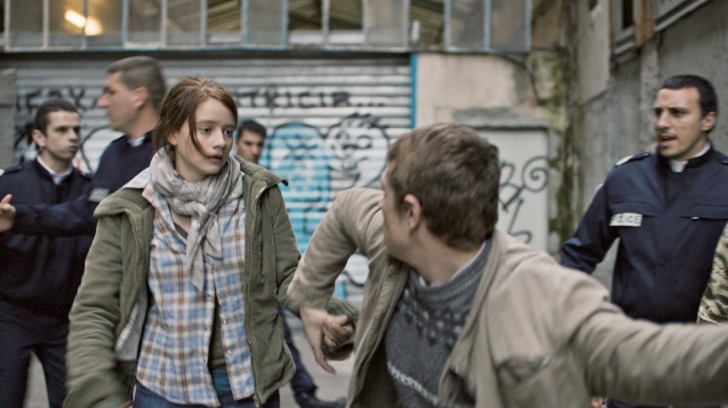 Silent Voices: the expression is almost an oxymoron, yet the "almost-but-not" is exactly the space Léa Fehner wanted to explore, re-create, even unleash in her film of that title, in French called, Qu'un seul tienne et les autres suivront, or, loosely, "If only one can hold on, the others will follow." Strangely, through what is said to be the inherently voyeuristic keyhole of the cinema, — here a momentary a chink in the walls that separate those "inside" from those "outside" — Fehner probes the emotional core of this very intimate space and endows it not with the raw violence expected of the prison genre but with the tender care and respect for the communicants that would flow only from someone who knew them well. In fact, Fehner first made a long documentary studying the exchanges of the "parlor," the prison visiting room where men, women, and minors accompanied by adults can brave the human barriers of fear, anxiety, and heartbreak to be with those whom they maybe, in some way, love.
In Fehner's eyes, "Prison is a place that creates at its best indifference, at its worst hate. I wanted to fight this state of fact and speak up, to show in the best possible way the plurality of paths that lead to it, to resist commonness, simplicity, and ignorance." To this end Lèa Fehner, who co-wrote the script she directed, focuses more on the visitors than the inmates, so as to give voice to the so-often-muted lives of those left behind and to illuminate the complex, rather than clear-cut, trajectories that divide us from each other.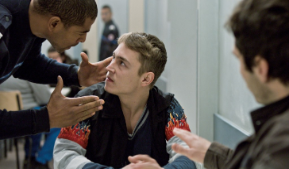 She turns her lens to the mundane circumstances, some seemingly arbitrary or coincidental and others foreseeable or even orchestrated, that take guests behind the walls, and with immense skill and sensitivity, she renders these back-stories, separate but adjacent and converging in the visiting room.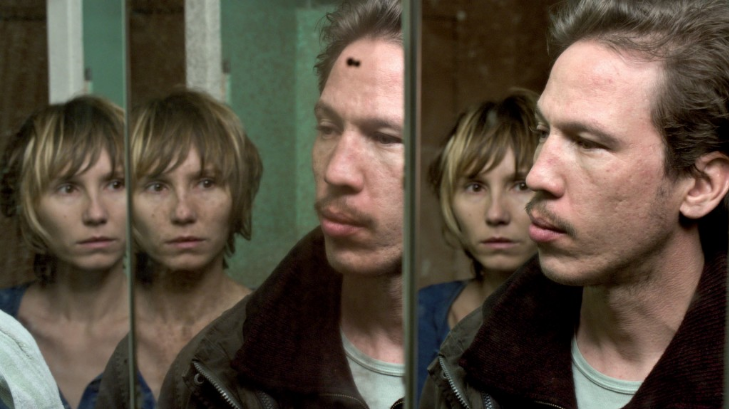 It's one thing to see teenage Laure melt under the spell of a flirtatious rebel just a few years older on the bus, or to witness the private ritual whereby Zorah cleanses the corpse of her stabbed son in Algeria, or to be privy to the hen-pecking of Stéphane by the woman he is too weak-kneed to please. But it's another to see Laure tip-toe onto new emotional turf as she courageously seeks a chaperon for her prison visits, to discover Zorah's subtle machinations that shift like clouds beyond her control as she exerts her steely will to meet her son's murderer, or to follow the course of ever-tentative motivation Stéphane pursues at all cost to redeem his "manliness" in the eyes of his woman. These are everyday love stories full of the wonder of everyday life that we rarely get to see on the screen. The protagonists are no more moral than they are rational, and their schemes are fraught with paradox; yet there is an interior, personal logic to their actions. To see each character arrive uniquely at that place of conscious, committed choice is a quiet and unnerving marvel.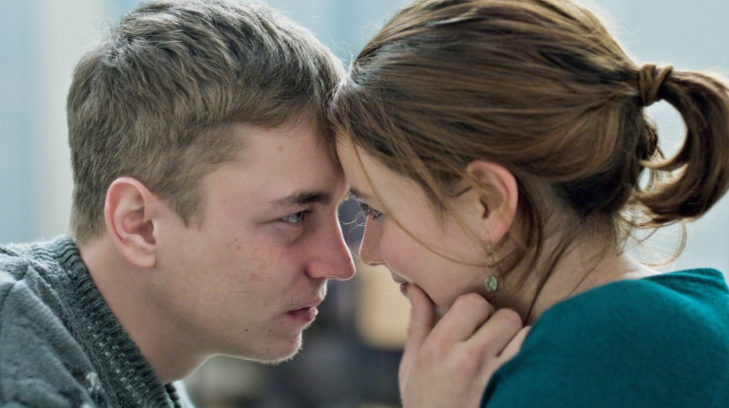 "The parlor is a burning moment where everything is condensed, where lives, suspended outside, explode, free themselves from the look of their guards. A space-time continuum where speech becomes the only vector of relationships. Prevented speech, timed speech, invigilated speech, but a speech that always tries to inhabit the void, to summarize the days of absence, to soothe the days of separation. Here we allow ourselves anything. Anything but silence…" Léa Fehner tells us.
The casting and directing of actors is superb all around, including the already established Farida Rahouadj as the Algerian mother, Zorah, and Delphine Chuillot as her employer, as well as relative newcomers Pauline Etienne and Vincent Rottiers as the teen couple. At the same time the cinematography brings both grit and gravitas to location shooting (at such sites as Aix Luynes prison and the streets in and around Marseilles) that entirely undoes one's emotions in key close-ups and slow, silent scenes of intimate, non-sexual, exchanges — between a mother and son, a domestic worker and her employer, a youth and a doctor, a gangster and his protégé. At times the unspoken communication is transfixing.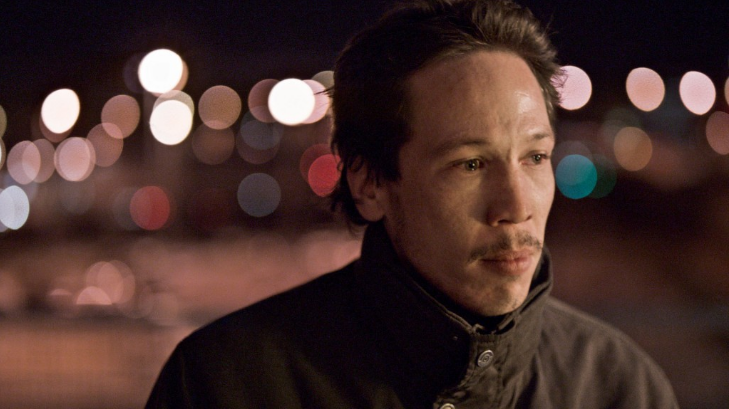 Born in Toulouse into a traveling theatre background, writer-director Fehner studied first at INAS in Belgium and then in the screenplay section at FEMIS; during this period she held two internships abroad, one at the film center in Bamako and another in Cambodia with Rithy Panh. With good reason Léa Fehner's Silent Voices was nominated for the Camera d'Or at Cannes; her quest contributes significantly to the role of international cinema: "In front of a society that separates, builds walls, barriers, I want to defend a cinema that would have the virtue of uniting, to permit acknowledgment where there is strangeness. I want to put forward the power of a stream against the bed hemming it in. If one holds on, resists, asserts oneself, the others will follow…"
Pulling Focus
To experience The Father of My Children (see separate feature story, forthcoming in this magazine) is to be submerged in at least three overlapping worlds that, together, beg a series of vital questions with answers that may be new for many viewers. First we are in the midst of the nuts-and-bolts world of independent filmmaking in the 21st century, at Moon Films in the center of Paris, in the producer's hot seat of wide-eyed schemes and bold decisions with costly consequences. At the midpoint of the film a significant action shifts our focus and we look back on all that came before it in a new light. Small nuances of earlier dialogue and the producer's all but non-existent private moments cast a shadow of ambiguity over the nitty-gritty information we'd been following, evincing a psychological, social, and even moral quagmire that cannot be resolved in narrative plot lines. Then the third tier is a world of adjusting to that significant action, living with it as a matter of fact and then struggling to feel it and understand it in all its scope and depth beyond its shock-waves.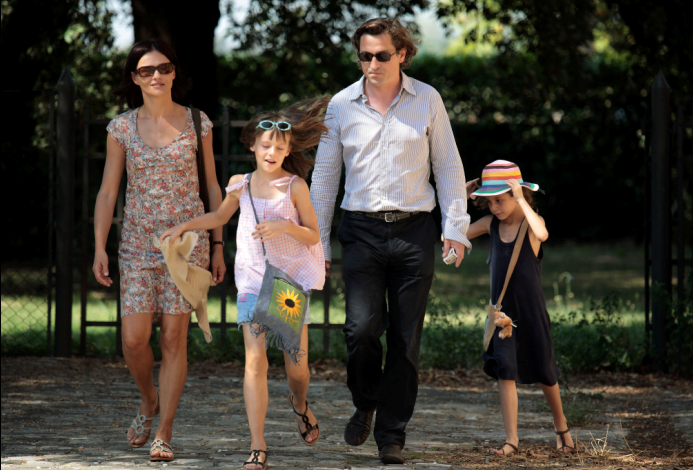 The Father of My Children
The Father of My Children is a work of fiction telling the story of Grégoire Canvel, a film producer consumed with the presiding passion of championing auteur filmmakers both known and unknown, both French and international, both men and women, against all odds, including a paucity of box office returns for their work and a diminishing cadre of investors to bankroll projects in development. Canvel is at once the father of these "children," his pet projects and protégés, and of his own three daughters with his Italian wife. He loves them as much as they cherish him and their precious few moments of time together, usually spent stolen away to the countryside on weekends. As pressures mount and converge, Grégoire even takes all the girls on a trip to Ravenna, regardless of the fact that much of it is spent with him on his mobile phone. Shortly thereafter, upon his return to Paris, everything changes utterly….
Mia Hansen-Løve has made a uniquely moving film that at once affirms the devotion and camaraderie demanded of independent filmmaking, the love of parents and children, and the uneasy processes by which we face the upheavals of life. Louis-Do de Lencquesaing's seemingly opaque performance as Grégoire Canvel is the epitome of elegance, haunting in its arresting beauty and inspiring precisely the faith and perseverence with which Canvel's wife and children determine their future.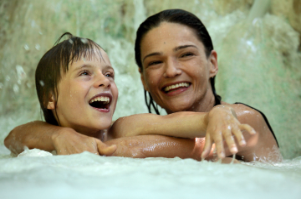 The Father of My Children
Hansen-Løve, having acted herself in the films of Olivier Assayas and having studied formally at the Paris Conservatoire d'Art Dramatique, here pulls pitch-perfect performances from Chiara Caselli as Sylvia Canvel as well as from all three daughters in the family. Hansen-Løve's pacing never fails as it mutates from the frenetic pulse of the "indie" world to the lush antiquities and natural springs of Ravenna to the pensive and sobering coming-of-age of the eldest daughter, Clémence, Canvel's heir to the art, as a cineaste in her own right.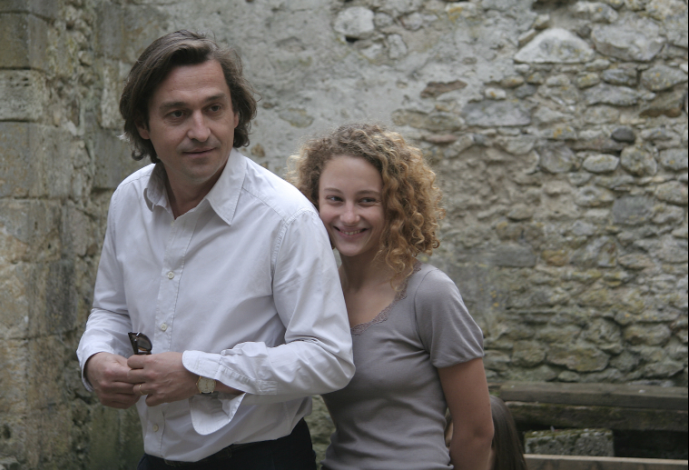 The Father of My Children
What is interesting to note is that Mia Hansen-Løve, the writer and director of The Father of My Children, placed herself in her script, to some extent, in the character of Arthur, a budding filmmaker played by her own brother, Igor Hansen-Løve, who evokes the real film she proceeded to make, her first feature, All Is Forgiven. Humbert Balsan, an independent French producer, wanted his company, Ognon Films, to produce it. He himself had begun as an actor in films by Robert Bresson, Maurice Pialat, Jacques Rivette, and others, and he went on to produce fifty films. With uncanny sensibility, Hansen-Løve cast Louis-Do de Lencquesaing as Grégoire Canvel (the resemblance to Balsan is eerie, and the acting stupendous) and his own daughter, Alice de Lencquesaing, to play his daughter in the film. The character Stig Janson may look and sound like the esoteric Lars Von Trier, whose film, Manderlay, was a project of Balsan's, but chronologically he may be a stand-in for Béla Tarr, whose film, The Man from London gave rise to huge complications and expenses for its production.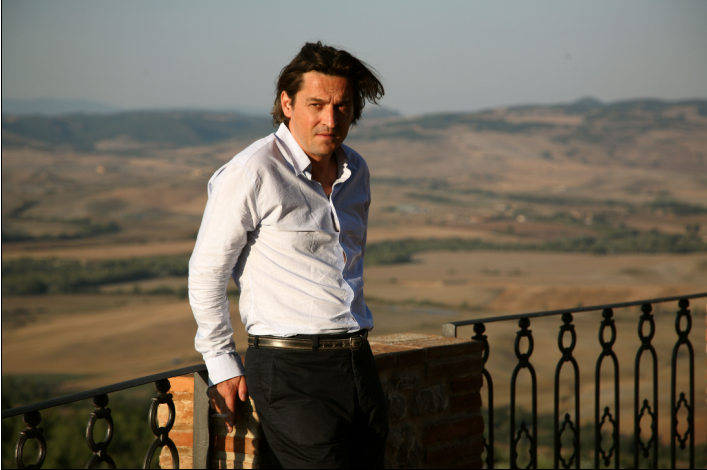 The Father of My Children
Anyone who knew Humbert Balsan (and the net is wide and deep, both local and global) immediately heard of his death; the grief at his loss was profound. The Father of My Children is astutely observed, achingly sensitive, and therefore ultimately uplifting in the way it takes on the emotional issues of an elusive and enigmatic character and those who love him, yet many questions arise and linger. What special anxiety is bred by the very labor of love that is independent cinema? Or, put another way, what is the toll of commercial cinema on the artist with an independent vision and voice? Even more precisely, we can ask, what did Canvel produce, why did he pursue these projects, and why would others such as his wife persist in saving his projects? The answers to these last questions are, most likely, exactly where the producer would have preferred to leave us (and where he did leave us). They are answers to be found in the films themselves, for anyone able to "pull focus" — both in and out — so as to see cinema in a new light, that of Humbert Balsan.
Hidden Diary
Director: Julie Lopes-Curval; Producers: Alain Benguigui, Thomas Verhaeghe, Sombrero Productions; Screenplay: Julie Lopes-Curval, Sophie Hiet; Cinematographer: Philippe Guilbert; Editor: Anne Weil; Production Designer: Philippe van Herwijnen; Costume Designer: Dorothée Guiraud; Music: Patrick Watson; Sound: François Guillaume.
Cast: Catherine Deneuve, Marina Hands, Marie-Josée Croze, Michel Duchaussoy, Jean-Philippe Écoffey, Carole Franck, Romano Orzari, Gérard Watkins, Éléonore Hirt.

Color, 35mm, 104 minutes. In French and English with English subtitles.
Silent Voices
Director: Léa Fehner; Producers: Jean-Michel Rey, Philippe Liégeois; Screenplay: Léa Fehner, Catherine Paillé; Cinematographer: Jean-Louis Vialard, AFC; Editor: Julien Chigot; Art Director: Pauline Bourdon; Costume Designer: Chantal Castelli; Music: Luc Meillan; Sound: Julien Sicart, Didier Cattin, Jean-Marc Schick.
Cast: Reda Kateb, Farida Rahouadj, Pauline Etienne, Marc Barbé, Vincent Rottiers, Julien Lucas, Dinara Droukarova, Delphine Chuillot.

Color, HD, 118 minutes. In French and Arabic with English subtitles.

The Father of My Children
Director: Mia Hansen-Løve; Producers: Philippe Martin, David Thion, Oliver Damian; Screenplay: Mia Hansen-Løve; Cinematographer: Pascal Auffray; Editor: Marion Monnier; Set Designer: Mathieu Menut; Costume Designer: Bethsabée Dreyfus; Sound: Vincent Vatoux, Olivier Goinard.
Cast: Chiara Caselli, Louis-Do de Lencquesaing, Alice de Lencquesaing, Alice Gautier, Manelle Driss, Eric Elmosnino, Sandrine Dumas, Dominique Frot, Igor Hansen-Løve.
Color, 35mm, 110 minutes. In French with English subtitles.