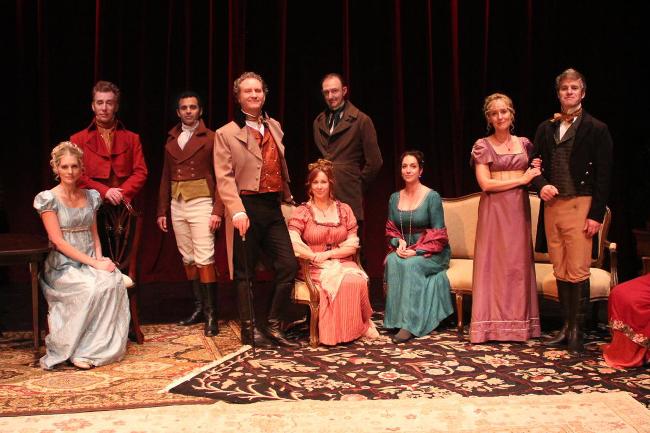 The lights come up, and before us stand dandies in tailcoats and Brummell cravats, damsels and dowagers in up-dos and high-waist frocks. We expect a Bennet daughter, a Wickham neighbor, or a Mr. Darcy, but look again—the familiar icons of landed (and un-landed) gentry may begin to discuss Lord's cricket, the morning's hunt, the marital prospects of a suspicious acquaintance, but the repartee is nothing we've ever read…. Then an audience member's cell phone goes off—the damned thing must have a mind of its own—and we're reminded that in our day, even sitting across the table from each other at a café where we went to "socialize," we are most accustomed to mediated life, in which we prefer a pre-fabricated posting to the unpredictable and perhaps unnavigable conversation, facial expressions, and gestures of a live companion.
Well at The Broad Stage in Santa Monica on December 21st, we can pull ourselves together and "listen up" to the utterly live performance of the Impro Theatre and tune in to the totally spontaneous words, accents, intonation, and body language of Jane Austen UnScripted. Not only is the acting in the flesh (warts and all) right before our eyes, as ancient thespians conceived of and delivered the art, with every delivery (happily) subject to variation, but in this case, the content itself is "up for grabs." Not that it is meant to be random and utterly innovative—hardly! Playing to the audience is a cast deeply and passionately versed in the mindset and style of its namesake, in this case the 18th-century author who brought us Sense and Sensibility, Pride and Prejudice, and four other novels that pricked the corsets (men wore them, too) of a budding bourgeoisie in England.
Here we have Impro Theatre Managing Director Rick Bernstein taking us behind the scenes of how, from top to bottom, klieg lights to footlights, every word and sigh (and hic-cup) will be totally improvised!
KinoCaviar Let's start with Jane Austen UnScripted—how does the Impro Theatre ensemble keep the performance from amounting to a parody?
Rick Bernstein Great question. Our goal with the show isn't to make fun of Jane Austen or her writings, but instead, the company is trying to emulate her style as authentically as possible. They want the performance to be recognizable as something that she could have written. The ensemble never calls attention to the characters or style in order to mock them or try to diminish Austen's artistic brilliance. Instead, the improvisers – who are all accomplished, trained actors – focus on keeping the characters grounded as genuinely as possible in Austen's world. And at the same time, the shows are typically very funny because all of the actors on stage (along with our lighting and sound operators) are improvising together at the same time, creating and performing completely "in the moment," mistakes and all.
KC How does your ensemble feel about such works as the film, Clueless, inspired by Austen's 1815 novel, Emma? Do the Impro Theatre performances ever tend to update the original artists at all?
RB I'm sure everyone has his or her own opinions, but on the whole, I think the ensemble likes Clueless and appreciates how it adapts the novel Emma to a contemporary Southern California setting. I really like the film – I think it definitely stands on its own while also clearly showing how the themes in Emma still resonate strongly today. Our shows aren't really intended to update or modernize Jane Austen or any other writer. With Jane Austen UnScripted, the bigger goal is to honor her work, style and legacy – and hopefully create a brand new play no one has ever seen that she herself would be proud of.
KC Is it 12 years the Impro Theatre has performed at The Broad Stage? How varied are the results?
RB Yes! We've been performing at the Broad Stage for as long as it's been open. During that time, we've performed Jane Austen UnScripted at the Broad Stage almost every December. During the 2017-18 season, we were in residence here and presented 10 different productions over 10 months. In addition to Jane Austen, we performed shows in the styles of Shakespeare, Chekhov, Tennessee Williams, Sondheim, Dorothy Parker, The Twilight Zone, and a couple more. It was very exciting for us to be able to share with L.A. theatregoers more of what our company can do.
Across our entire repertoire, the results are as varied as all of our productions – but the feedback we get from critics and audiences is overwhelmingly positive. The L.A. Times said, "Impro Theatre has evolved into a powerhouse improvisational company in full-length shows that are off-the-cuff and consistently hilarious. An indigenous Los Angeles treasure, the company should be seen — and reseen." Since every show is completely different, some people return to see multiple performances of the same production. Our brand of theatre is really unique – it's unlike any other kind of theatre or live entertainment, really – and I think audiences find that our shows share a special kind of joy that they don't get anywhere else.
KC Are the audience suggestions ever utterly unmanageable? How are they offered? Aloud? Written?
RB All of our shows incorporate audience suggestions. When the ensemble appears onstage at the beginning of the show, they ask the audience for a specific suggestion, and audiences respond. For instance, if we ask the audience, "Can you give me an example of an heirloom that really existed in your family?" the audience might reply with any number of things – "a locket," "engraved candlesticks," "a broken grandfather clock," etc. – and the ensemble will select one of those suggestions to start the play. Sometimes we hear similar suggestions night after night, so the ensemble will try to accept a suggestion that is new, that we haven't used before, to help make that show unique. And if a suggestion from the audience isn't really consistent with the question that we asked, we can skip over it and accept another suggestion that's more appropriate.
KC How much time lapses between the audience suggestions and the performance?
RB No time at all. Someone from the audience offers a suggestion, and the ensemble accepts it. The lights dim, and when they come up again, the performance has started.
KC Is there any kind of rehearsal process or workshop before the event? Are any "gurus" of improvisational theory studied? How are the original artists studied by the performing ensemble?
RB People might assume that because our performances are improvised, our ensemble just "shows up" to the theatre and walks on stage, but that's not how it works. A lot of work and preparation goes into every performance, even though nothing in the actual performance is pre-planned. For every genre, the ensemble deeply immerses themselves in the specific style or body of work – the process includes reading plays and books by specific authors, watching films, researching the cultural and historical factors that contribute to a particular genre, and more. From there, the ensemble works together and engages in an extended creative process involving highly evolved collaborative storytelling techniques. These exercises and drills help them prepare for the live, improvised performances in that particular style.
Impro Theatre's work is deeply inspired by Keith Johnstone, whose book Impro describes much of his improvisation philosophy that teaches and emphasizes truth and play. The ensemble also benefits from each other's experiences as actors and artists, and they all draw from and share approaches toward acting and performing. The company has also been significantly influenced by other artists including London's Improbable Theatre Company, whose marriage of design and theatricality has elevated improvisational theatre; Anne Bogart and SITI, whose formidable style provides a vocabulary for physical action; and Patsy Rodenburg, whose Second Circle work encourages greater engagement and mindfulness while performing in the moment.
KC Do you work to maintain balanced participation within the ensemble? How often does the number of performers or the particular cast change?
RB Our Main Company has 18 performers whose schedules vary, and logistically, some shows are more convenient for some of them than others. Every show that we do is completely unique, including the casting. Whenever we do multiple shows or an extended run of any genre, we schedule rotating casts so that the group of actors on stage is never the same. Sometimes the number of performers on stage varies, too.
KC What about the venues—from The Broad Stage to the Pasadena Playhouse, even to Melbourne and Paris, do they affect the nature of the performance? Its reception by the audience?
RB Yes, the venues definitely affect how we approach each performance, whether it's a 99-seat theatre or a space with over a thousand seats. Our biggest venue in Los Angeles was the John Anson Ford Amphitheater, which has about 1200 seats. We performed L.A. Noir UnScripted there in 2016, and we designed our performance specifically for the amphitheater – with sets, lights and sound to accommodate the huge size. We also included a cast of 14 actors, which is much bigger than we usually have. The energy from the audience also changes according to the venues, whether the theatre is large or small, indoor or outdoor, or how close the audience members are to the stage and performers. Fortunately, our ensemble members are trained and experienced improvisers, and they can adapt quickly to any new performance situation and make it work.
KC The repertory has included Austen (was it the 1st full-length performance?), Dickens, Shakespeare, and my own beloved Chekhov—and then the genres of Fairy Tales, Horror, Westerns, LA Noir, Twilight Zone, even the Sondheim musical. Which did you like the best? Why?
RB I need to be careful of my answer here so I don't upset anyone in the company (laughs). I'd say that the one I like best is probably whichever one is coming up next. I'm probably most in awe of the company when they are doing Sondheim UnScripted because the company is improvising lyrics, music and choreography, making it up all together, all in the moment – at times, it's as unbelievable as it sounds and a true wonder to behold. For me, the sense of joy and play that is conveyed in Shakespeare UnScripted is wonderfully infectious, and in Twilight Zone UnScripted, I appreciate the terrific collective storytelling and the "connection" that our performers share on stage. And yes, your beloved Chekhov – his work is treated so delicately in Chekhov UnScripted, which captures his melancholy so well while also managing to be the funniest and most entertaining Chekhovian work that I've ever seen.
And of course, there's Jane Austen UnScripted, which is one of our most popular shows. In my opinion, it also might be our warmest show, which I think is one reason why it's become such a popular holiday tradition at the Broad Stage.
What: Impro Theatre's Jane Austen UnScripted
Dan O'Connor, Producing Artistic Director
Where: The Broad Stage
1310 11th St. Santa Monica CA 90401. Parking is free
When: Saturday, December 21 at 4:00pm & 8:00pm
Tickets: Prices start at $39.
Prices subject to change.
Online: www.thebroadstage.org
Phone: Box Office at 310.434.3200
In Person: Box office at 1310 11th St. Santa Monica CA 90401 beginning three hours prior to performance.