10-16-14
Waiting for August : Teodora Ana Mihai and the Lyricism of Everyday Life
By Diane Sippl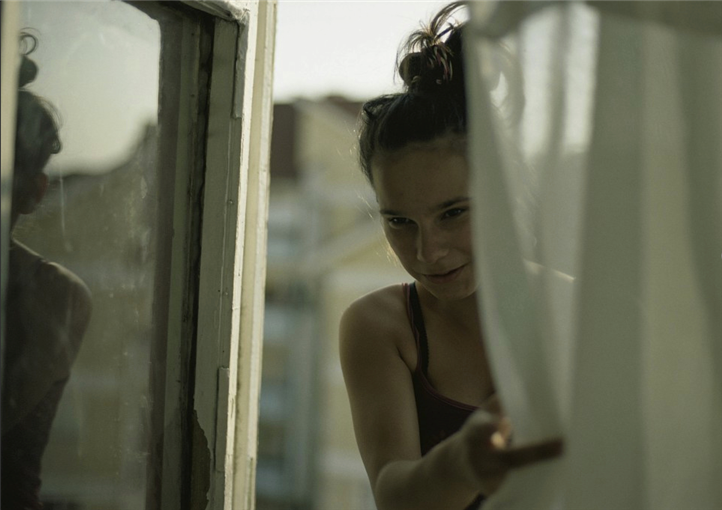 "Films are always showing us those who leave a place, and why, and how it goes when they arrive," said director Teodora Ana Mihai, introducing Waiting for August at the Aero Theater in Santa Monica as part of the American Cinematheque's monthly "Grit and Whimsy: The Best of Recent Belgian Cinema" series sponsored by the Consulate of Belgium in Los Angeles in conjunction with ELMA (European Movies and Languages in America). "I wanted to focus on those who remain behind, and to tell their story from their point of view."
For her feature film debut, Teodora Ana Mihai is well prepared to tackle this challenge because while the film was produced by Belgians in Mihai's current home country there, she was born in Romania where she spent her first eight years. When she was seven, her parents left the country seeking political asylum and she was left with her aunt and uncle for what turned out to be a longer-than-predicted period of time. "There are so many films these days, from Southeastern Europe and from all over the world, that dwell on the plight of neglected children and teens with violence, sex, and brutality on the screen; unfortunately, these works can be quite sensational and exploitive of the youths themselves," she explained to the audience. "It was my intention to show the resilience and courage of young people left on their own, to share the beautiful ways they handle the situation, in all their fragility."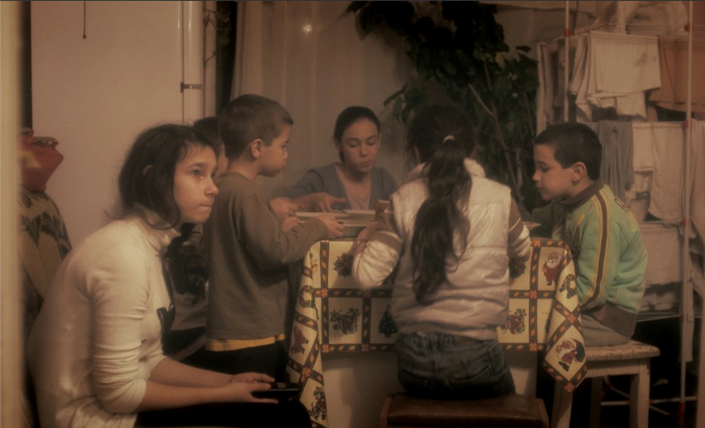 In the aftermath of Nicolae Ceauşescu's overthrow and death in 1989, a "New Wave" of Romanian cinema (in works by Puiu, Porumboiu, Muntean, and Mungiu) began to uncover conditions of everyday life that precipitated the fall of the regime. A decade later a "Next Wave" continued to examine the daily choices and feelings of Romanians in the face of poverty, national isolation, and corruption before, during, and after the dictatorship. If Nemescu did so by adding exciting new formal flair, two others, Andrei Gruzsniczki with The Other Irene and Ruxandra Zenide with Ryna, probed the forces pulling women in multiple directions — the magnetic lure of opportunities abroad and the family traditions requiring their place at home. With a deep focus in both content and camera style, they took pains to reveal a quiet lyricism of loss that had arrived in Romanian cinema.
These last films dwelled on the constraints and possibilities of local environments, whether they were the wide-angle vistas of the Romanian Delta region or the shop windows of a mall in Bucharest. In particular, they questioned the role of the camera as voyeur and the relation between theatrical and documentary filmmaking. Now Teodora Ana Mihai offers her own response in her feature film debut by taking us to the real-life, block-building home of a family in Bacău, Romania where she and her small crew of two others, a camera operator and a sound technician, follow the daily routines of seven children who live in the absence of their parents.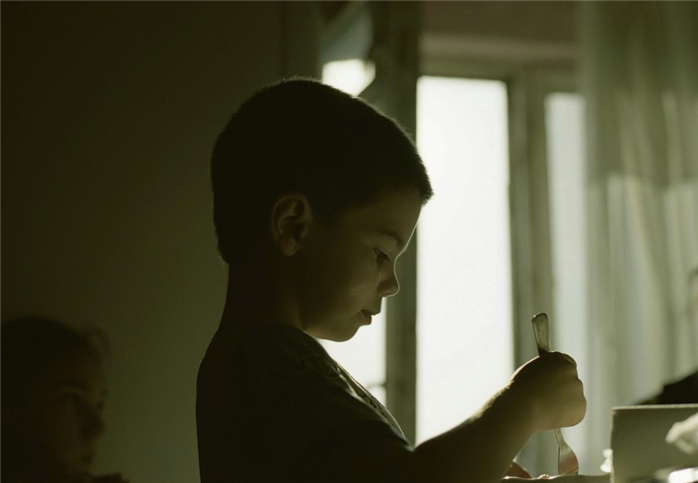 Waiting for August opens at 1:30 a.m. on Christmas Day as the camera takes us down a dark and rather scary winter road past the snow banks into a cozy bed where seven children from about 6 to 17 years of age are curled up watching TV. A bit later at school we see that the eldest daughter, Georgiana, is turning 15 and her siblings and classmates celebrate her birthday with a cake and dancing. Her mother, the family's sole breadwinner since the father has long-since left, calls from Torino, Italy, where she works as a caretaker, and Georgiana cries, explaining on the phone that she was wrongly accused and threatened by a friend's father, and there is no one there to defend her.
The film is punctuated by holiday celebrations and special days for the children — Easter, school exam week, the loss of a tooth, the first day of summer vacation — and by two other kinds of cinematic "events" that attest to Mihai's sensitivity as a writer and a visual artist: the depiction of the mother, Liliana Halmac, via her telephone voice and the arrival of packages, and the portrayal of family melodrama and a daily pastime simultaneously via the television screen. Both of these strategies, self-reflexive of the cinema medium itself, give us handles on the film's action as it unspools. The structured absence of the mother (that in fact looms as a beloved presence among the children, mediated as it is) mostly contrasts with the crisis-oriented "girl" themes of the Mexican soap operas Georgiana watches on TV, but together they configure in aural-visual terms the tug of war the teenage girl endures each day in her travails to hold the family together with their mother's emotional and economic support from afar.
Georgiana cooks, cleans, nurses, and entertains the other children while some of them occasionally help, and she somehow manages to study and amuse herself with her friends. "God, I'm not having children!" she sighs in the spring after a long day. "Whoever needs children can come and photocopy them…"
The following remarks are distilled from several exchanges with the filmmaker at post-screening discussions of Waiting for August.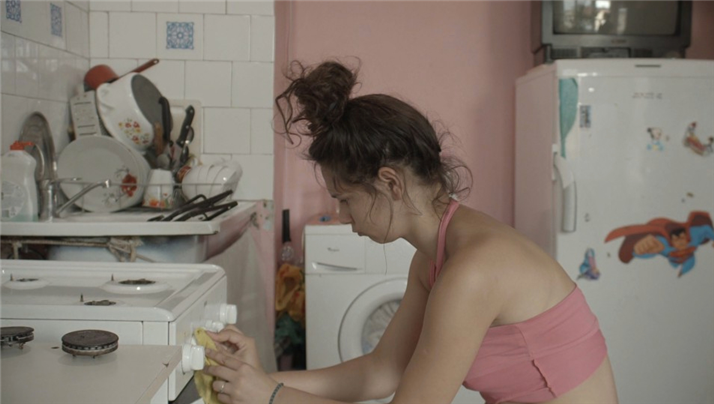 KinoCaviar In the late '80s you spent over a year living alone in Romania. How was that?
Teodora Mihai My parents left Romania for political reasons, and they made a desperate move of leaving me behind as a kind of "security," in the government's eyes, that they would come back. They were seeking asylum in Belgium, and it took them longer than they thought it would to get me. The waiting was the hardest part, and I wanted it in my film, so I made Waiting for August.
I have since realized that history is repeating itself, and we have to call a stop to it. Today all over the world children are living on their own for a variety of reasons. In my film the reason is primarily economic. It's all of society that needs to take action. I'm not pointing the finger at one family.
KC Does the title have any particular reference?
TM Well of course August is when the mother is due to return. But the "waiting" part refers to the play by Beckett, Waiting for Godot, because I really wanted to focus on the waiting, and also because it's going to go on for the next years to come. Yet we should never, as a society, get used to this because children have a right to family protection; even so, we do have this problem in the United States, especially in immigrant communities.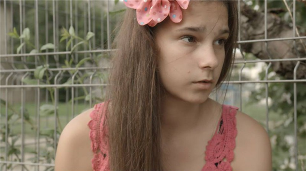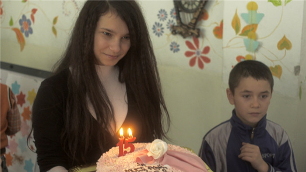 KC This is your first feature film. Why did you settle on this topic?
TM It's such a relevant subject, and so many families are facing it. If you put a face on a social phenomenon, it has a lot more power. I thought of fiction, but I felt the need to find a real family. But that wasn't easy because families don't want to talk about these problems, let alone put them on the screen. It was an 8-month search to find a family that had lots to tell and would tell it. I loved the dynamic among the siblings in the Halmac family. That the children were of so many ages allowed me to cover the full spectrum of reactions to the mom being gone.
Georgina is at the age when she oscillates between childhood and adulthood; the teen years are the most
fascinating. A film made by Kore-eda, Nobody Knows, is one of the saddest films I've ever seen. The kids are left behind. I love Kieslowski's films, too.
KC How did you get the children to feel secure about your filming them?
TM I talked with them a lot about my own background and how I never got to tell my story earlier. I showed them how their lives were important. My crew and I spent as much time as we could with the children, playing together, eating together, so that we could be accepted as part of the family and the camera could become a buddy.
KC Your filming apparatus is very invisible. How did you become a fly on the wall?
TM It was a challenge because my technicians and I are all adults, and I wanted to tell a story about kids, so we had to disappear.
Also, I wanted to play with the border between documentary and fiction, to take away the conventions — title cards and voice over…. At what point did we filmmakers decide that fiction film is more real and seamless than documentaries? I like this way of storytelling. These kids are always walking a fine line where things can go wrong. It's easy to throw fictive events at people and slap them in the face, but it's a bit more difficult to invite people to notice the details. For me beauty is in the details.
Someone I read in a blog went to the film not knowing it was a documentary and thought it was a fiction film. Great!
KC Where did you get the story?
TM I knew I wanted Georgiana's 15th birthday, Easter because it's the biggest holiday, Georgiana's exam, and the mom's return. I had a pretty good idea of the progression. When the nun crisis intervened, I didn't know if we'd have a different story. I had to be ready to go with what came.
KC Did you ever improvise?
TM The kids were funny — so sensitive and intelligent, and they caught on because they'd say, "We're gonna do this now. Wanna film it?" They became co-directors. And Georgiana wants to become a filmmaker now.
KC What impact did the film have on the kids?
TM I had at any one time a 2-man crew, and they were French-speaking. I think it was important and empowering for the children to find someone listening to them, and for them to have this platform. At all the festivals where the film plays, the kids hear of the reactions and feel so special. I'm inviting Georgiana to a festival in Europe and she'll have to be absent from school and from the family.
KC How much happened with your film in post-production?
TM It's a cliché — but true — that a film changes at every step of the way. We shot the film with two cinematographers (one at a time, in rotation), a sound technician, and me. I was the only one in the crew who spoke Romanian. I was working with a Belgian editor who supported my vision, but the producers wanted me to take people by the hand, and to cut certain scenes short. You get lots of different opinions and feedback, and you still have to make the film you want to make.
KC Why are there so many filmmakers now in the Romanian New Wave?
TM It took people 15-20 years to unfreeze. Right after the fall, it was too fresh to talk, but after one to two decades, we got a creative boom.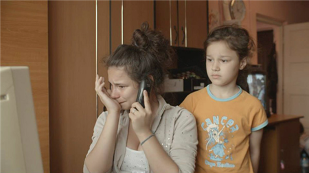 Audience Did you go to film school in Romania?
TM No, in New York, at Sarah Lawrence College. At 8½ I ended up in Belgium to join my parents, and at 15, I was sent to San Francisco to live with my aunt and uncle. After that, Sarah Lawrence College was an opportunity I couldn't resist. I enjoyed it very much.
AUD Did you ever meet the mother of the children in your film? Where was she working, and how often did she come home?
TM I met her, and I filmed her leaving the children — a very difficult scene. It was deleted in the editing because I really wanted to deal with the children in her absence. She let me film her because she wanted a memory of her kids. She came back, but only for three weeks, because she couldn't find the job she thought she would. At her job in Italy, she was taking care of an elderly couple, 24 hours a day, 7 days a week.
AUD Wasn't the state around or involved? Do they allow kids to remain alone?
TM A couple of years ago in Romania they passed a law that parents were not allowed to leave the home without a tutor signing for the children, but sometimes they sign and don't meet their responsibilities. In this case it was the neighbor, but she's old and ill, or at least she says so, and the arrangement becomes a burden for the kids because they take her food and do tasks for her.
The Child Protection Services can't handle all the cases like this because there are so many now, and also many parents come and go, and the agency can't keep up with them.
And then I ask, is it better that the kids end up in foster homes? I don't think so. And what if the only way things can be better for the family is the parents working away from home?
AUD Why did you leave the dad out? And what about the older brother?
TM Yea, the men don't come out well in the film. The older brother is very shy, introverted, and is going through a phase we can all relate to — he's completely absorbed in computers, games especially, because he has no limits, with his mom gone, so he's obsessed.
The dad left after the smallest one was born, and the kids had already given it a name. They didn't need to talk about it, so I didn't want to; they'd already accepted it and dealt with it. The kids are so good at living in the "now" — they've been without their dad for six years now — so it would have been cruel for me to return to him as a subject. I needed to show them moving on.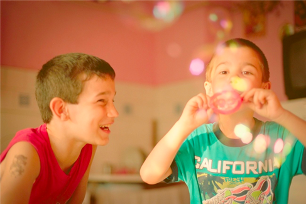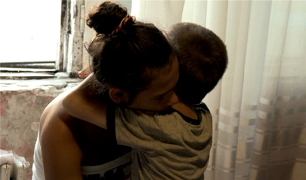 AUD How did you decide on your sound?
TM The mom had a calling card, and it was apparently very cheap because she was calling constantly. I decided that in the film I wanted to first hear her voice, then to see her on Skype, and then to see her for real at the end. I wanted to give her a voice and to show that she kept some control over the situation. It was important for my concept.
The TVs were always on and the neighborhood was noisy, so we kept that sound to make the film rich.
AUD You use a lot of Spanish-speaking TV. Where is it from? Is this common in Romania?
TM Yes, it's from Mexico, and the clips are from more than one show. They actually do program it in Romania.
AUD Have Romanians seen the film yet?
TM In Romania it just came out — not on TV yet, because there's no distributor for that yet. Waiting for August was just at the documentary festival in Sibiu and won the top prize. It was great for it to win the seal of approval in its own country and for the kids to see how important they are to their country.
AUD What do you have in mind for your next projects?
TM I plan to work more with these children on another film. I'd like to follow them…
Waiting for August
Director: Teodora Ana Mihai; Producers: Hanne Phylpo, Antoine Vermeesch; Cinematographers: Joachim Philippe, Mihnea Popescu; Editor: Michèle Hubinon; Sound: Felix Blume, Bruno Schweisguth; Music: Karim Baggili, Ada Milea.
Cast: The Halmac family: Mother Liliana and children Ionut, Georgiana, Lacramiora, Bogdan, George, Alice, and Stelian.
Color, HD, 88 min. In Romanian with English subtitles.