9-15-13
Wadjda by Haifaa al Mansour: Pedaling Her Way to the Top
By Diane Sippl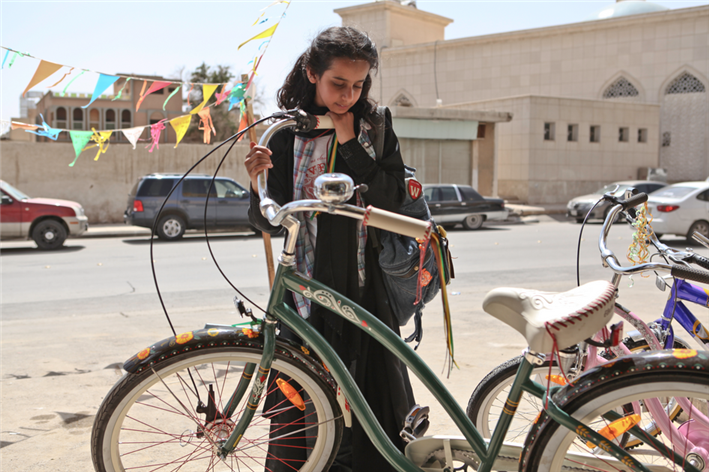 A beautiful bicycle, green as a dream, floats high on the roof of a vehicle that can't be seen, blocked by a wall along the road it travels. The bike passes swiftly, but its image remains in the afterglow, a desire that becomes a goal for a pre-teen girl who will make this cinema-like fantasy real.
There must be something inherently cinematic about bicycles, their wheels turning like reels of film moving us forward with what we imagine between the frames, past all that we see of the world as it is, transporting us to a world that might be.
There might also be something dormantly cinematic about Saudi Arabia today. In a kingdom where cinema is banned, writer-director Haifaa al Mansour actually found backing from Prince Alwaleed bin Talalan, an owner of the entertainment company Rotana Group, even though, because women are barred from working with men, she had to direct her actors and crew by walkie-talkie while hiding in a van. It's an uncanny image of the voyeuristic aspect of cinema — a woman peeping, while under cover, at her pint-sized mirror image in a ten-year-old Wadjda. Yet it's but one example of the ways in which noting this film's mode of production is an indispensable key to its appreciation.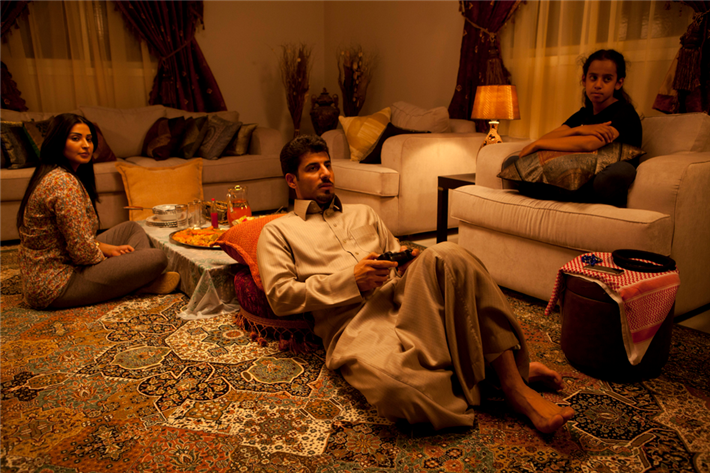 Haifaa al Mansour takes us "in," behind the veil, the abaya, the walls of the home, to show us those who are designated not to be seen, or heard, or reckoned with at all. Amazingly, taking us to the heart and soul of her characters begins with showing us her country, and for many of us, it's the first time we've seen it. Saudi streets, shops, and schools are spaces that have evaded us, both geographically and socially, by remaining curiously off-screen in a world in which screens of every size are everywhere, including in Wadjda's own living room where, on a large home-entertainment screen in HD glory, she plays a shoot-'em-up game with her father and later views an interactive instructional video for learning the Qur'an.
Appearing on the big screen across the gamut of international film festivals beginning with the Venice Biennale, Wadjda has turned heads with the "firsts" the film stacks up: according to its German co-producer, the first theatrical film shot entirely in Saudi Arabia, the first feature film made by a Saudi female, and (as if these weren't enough) the first full-length film made by writer-director Haifaa al Mansour. The obstacles to such feats abound in a country where no infrastructure for filmmaking is in place and where women are not allowed to drive a car, so for merely getting the job done, Haifaa al Mansour has earned a place in history.
Yet oddly enough, it is the last of these accomplishments — the fact that Wadjda is her own very first feature film — that astonishes the most. It looks so simple. No gratuitous cinematography, no highfalutin narrative, no genre-bending trendiness or betwixt-between docu-fiction is at play here, but rather the intimate observation of everyday life in the capital where a schoolgirl is up to more than the usual mischief. With neither the visual poetry of Marzieh Meshkini's The Day I Became a Woman nor the dramatic edge of Jean-Pierre and Luc Dardenne's The Kid with a Bike, but perhaps en route (given the tumult of the recent "Arab Spring") to forging the social resonance De Sica and Zavattini earned with Bicycle Thieves, Wadjda packs a wallop in its humble, mild-mannered innocence. Rarely is a first feature so poised and so quietly confident in pursuit of so tall a mission.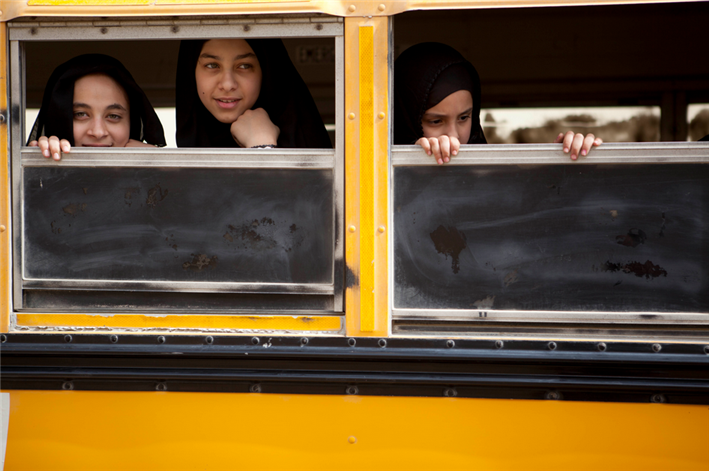 Not that its lead character, the eponymous rascal Wadjda, doesn't strut her spunk. You just know she has to be a chip off the old block, her creator. Haifaa al Mansour, now a mother of two, grew up in a family of twelve children as the daughter of a poet in a small town, and she was indulged as a girl with both a bicycle and the cinema — Bollywood, Disney, and the like that her father rented from Blockbuster and screened on the family TV set.
We see evidence of all these factors in the telling of Wajdja's tale, a coming-of-age story that refreshingly grants its jaunty young heroine a forward-thinking boy-pal (Abdullrahman Algohani) and a traditional mom (Reem Abdullah) who find room to grow. These actors, along with Waad Mohammed, who plays Wadjda with remarkable aplomb, and Ahd as Ms. Hussa, the scowling school Superior, are individual standouts within an agile ensemble of players, mostly girls, who took on their roles at some risk of harassment in a culture within which screen acting is taboo for women, young and old alike. They brave their roles with panache to deliver a panorama of Saudi morals for females, sweeping a gender code that we see rigidly laid down in Wadjda's all-girl public school where her classmates do their best to uphold it and she can't help but defy it.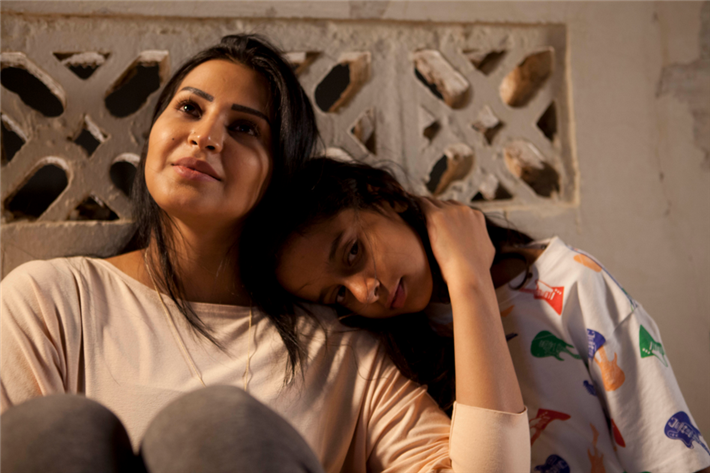 Picaresque as Wadjda's adventures might appear, the film often looks and sounds more ethnographic than dramatic. Yes, the Qur'an recitation competition that Wadjda enters structures the narrative suspense and her quest for a bicycle motivates her actions as a protagonist, but in some ways the film works best as a sampler of Saudi maxims for women, their proscriptions endlessly announced by the characters to each other. Sometimes the dialogue plays like taglines in the film that stand out like bright-colored pushpins on a cork board not unlike the very leaf labeled "Wadjda" that the impudent girl fixes on the family tree decorating the wall of her home, only later to find the leaf picked off and crumpled up because girls "don't count."
At other times the characters' lines surprise us, even the admonition spewed out by the girls' headmistress early on as they arrive at school laughing: "Don't you know that women's voices shouldn't be heard by men outside? A woman's voice is her nakedness." The pronouncement becomes a recurring motif, both adversely and inversely. Riding a bike is considered such an outlandish expression of the female "voice" (that is, both freedom and agency alike) that it is deemed to destroy women's child-bearing capacities. Wadjda can't see the logic in this, and she counters her mother's refusal of bicycle money with, "Well, you can't have children, and you don't even ride a bike." Lamenting the loss of her husband to a second wife because she is not able to bear a son, Wadjda's mother retorts, "I almost died giving birth to you!" Later Wadjda consoles her mother: "You're the prettiest woman I've ever seen. You'll give him a heart attack in your red dress." Wadjda has enough resiliency for both of them, and it is not lost on her mother, who uses her lovely voice to teach her daughter not only the beauty of singing, of favorite folk songs, and (by default) of women's wisdom in gossip, but also verses of the Qur'an that Wadjda herself sings in competing for bicycle money.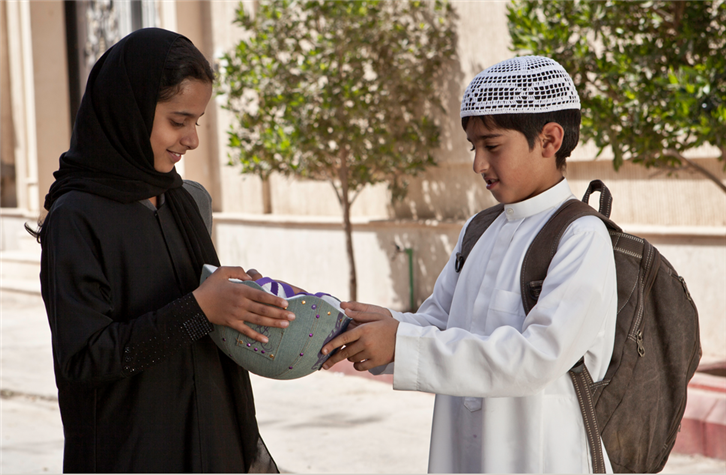 Budding entrepreneur that she is raising funds, the double-dipping Wadjda extends her subversive money-making know-how to her growing finesse in social strategies. In this case she leverages a religious performance against self-will and self-definition in her own campaign for liberation. The passage Haifaa al Mansour selects for her heroine to learn and present at the school assembly stems the tide between tradition and the future by coyly begging the question of hypocrisy — religious, moral, sexual, and otherwise. Wadjda recites a passage from sura two of the Qur'an:
"Allah hath set a seal on their hearts… Their hearing and sight are veiled. …the people… say, 'We believe in Allah and the Last Day,' but they are not believers. They (think to) deceive Allah and those who believe, but they deceive not except themselves and perceive (it) not."
A subsequent scene has Wadjda's headmistress scolding her, "Well-behaved devout girls who protect their souls and their honor don't ride bikes. Your stupid behavior will haunt you forever." But Wadjda impudently strikes back, "You mean your handsome 'thief'," referring to a lover who is said to "steal" in(to) the teacher's room at night. It's a running joke: girls old enough to be forced under the abaya are also old enough to gossip, especially when there's a seed of truth to embellish. The sampler for girls' mores somehow gets cross-stitched in the wrong (or is it the right) direction.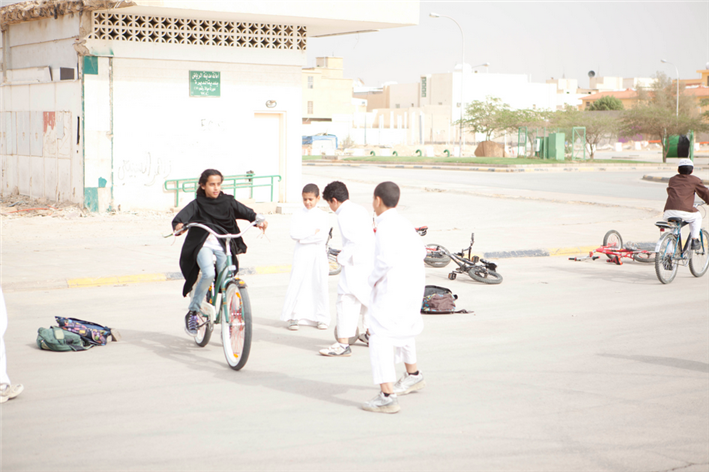 It's worth mentioning that amazingly, some viewers have balked at a line delivered by Abdullah, Wadjda's boy-pal: "Wadjda — I want to marry you when we get older!" Is it a claim of possession in the vein of the tradition that has her ten-year-old classmate married off to a man in his twenties in the course of the film? Hardly. Abdullah's opening move is to taunt his "buddy" by pulling off her veil as he rides by on his bike. "We won't be even 'til I get a bike. You'll see…" answers Wadjda. From then on, he comes bearing gifts — a bike helmet, no less, and what's more, the daring gesture of teaching her to ride his own bike on her roof and in empty lots when no one is watching. Neither a threat nor a rival, he's a willing admirer and beyond this, a facilitator. He's definitely in her camp.
Fundamentally expository in its mode and pedagogical in its purpose, Wadjda shows us how: how to observe Saudi life, how to see and hear the country's women, how to critique their status quo, how to imagine their future. And its most cinematic element is the bicycle itself, a metaphor of cinema integrating filmmaker and protagonist on a tandem ride. Haifaa al Mansour defied decree by driving herself to her own wedding in a golf cart, flanked by her sisters as bridesmaids. It says a lot about her competitive streak beside the men of her culture: "Have wheels, will travel…" As for Wadjda herself, at the end of the film, headed toward the highway, she's on her way, tossing back the line in passing, "Catch me if you can!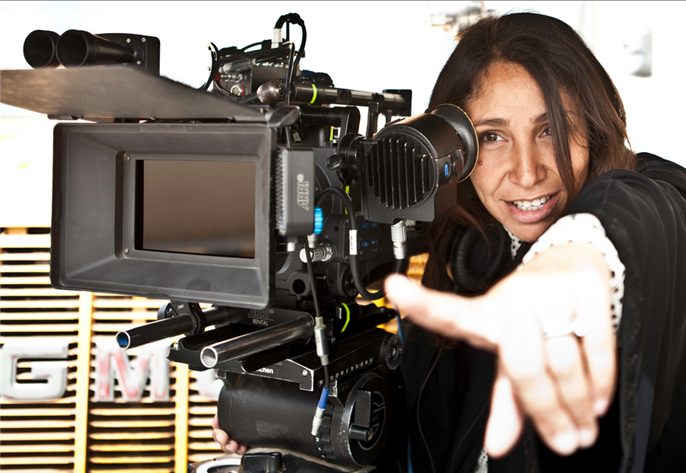 Wadjda
Director: Haifaa al Mansour; Producer: Roman Paul, Gerhard Meixner; Screenplay: Haifaa al Mansour; Cinematographer: Lutz Reitemeier; Editor: Andreas Wodraschke; Sound: Marc Meusinger; Composer: Max Richter; Production Design: Thomas Molt; Costumes: Peter Pohl.
Cast: Reem Abdullah, Waad Mohammed, Abdullrahman Algohani, Ahd, Sultan Al Assaf, Alanoud Sajini, Rafa Al Sanea, Dana Abdullilah, Rehab Ahmed, Nouf Saad, Noura Faisal.
Color, Dolby Digital, 97 min. In Arabic with English subtitles.