5-21-17
May Is for Music – With Los Angeles Virtuosi Orchestra
By Diane Sippl

The days are longer, the air is lighter, the breeze is balmy, and the mood is for music. Let it carry you to another place – France, Italy, Germany, or just a moonlit forest, a summer storm, a river bank on a baron's land.
On Thursday, May 25th at the Théâtre Raymond Kabbaz, music aficionados can enjoy the last concert of the season by Los Angeles Virtuosi, the 45-member orchestra under the direction of Maestro Carlo Ponti, who is completing his second year of residency at Le Lycée Français de Los Angeles in teaching the Youth Orchestra at this bilingual school. The concert will feature works by Claude Debussy, Antonio Vivaldi, and Ludwig van Beethoven that transport us musically into the warmth of summer.
Perhaps it's fitting that this concert is named Viva Vivaldi!, considering that "il Prete Rosso," or "the Red Priest" (nicknamed for the color of his hair) left his Holy Orders shortly after he was ordained to become master of the violin at Ospedale della Pietà (Devout Hospital of Mercy) in Venice, where he maintained a musical residency for over 30 years and in 1716 became the Musical Director. There he taught orphaned girls, and they played and sang the music he composed, ultimately becoming internationally recognized for performing much of Vivaldi's oeuvre. It was when he made a visit to Mantua in 1717-1721 that he composed The Four Seasons, pairing each of the seasons with sonnets that he most likely also wrote.
This week's concert at the Théâtre Raymond Kabbaz in Los Angeles will open with Debussy's "Clair de Lune," a personal favorite of the conductor and a piece that celebrates the French heritage associated with Le Lycée Français. "As a pianist, I've often performed the piano version in public. Here we'll begin the evening with our core, of 22 strings and a piano, but then we'll build through the night to our full orchestra on the stage."
Second on the program is Vivaldi's Concerto for Violin and Strings in E, No. 4, "L'Inverno" followed by the G minor concerto, No. 2, "L'Estate" – the concerti for Winter and Summer, respectively. "These are the seasons that frame Spring (where we are now) and are also the most popular of the four," notes Carlo Ponti. "They'll feature Roberto Cani, an incredible violinist, my friend of many years. We were graduate students together at USC where I studied piano and he, violin; he's been soloing all over the world and is currently Principal Violinist and Concertmaster of the Los Angeles Opera Orchestra. He frequently collaborates with us."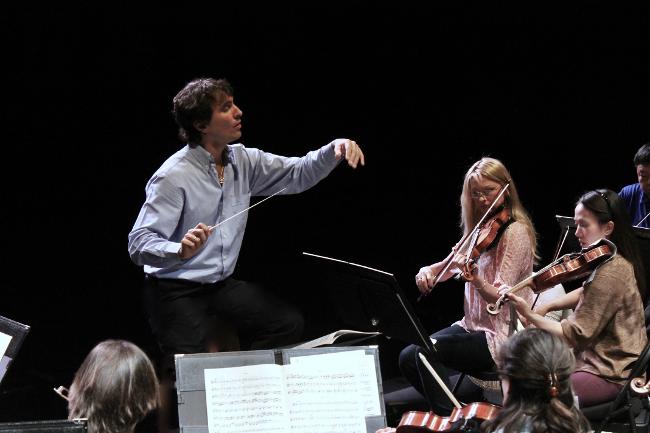 Woodwinds, horns, and timpani enter the stage after intermission when the Los Angeles Virtuosi performs Beethoven's Symphony No. 4 in B-flat major, Op. 60. "It's considered by lots of scholars to be his "Second Pastoral," the Maestro comments. "He composed nine symphonies, and the 4th is one of his sunniest. He wrote it in the middle of his life, which was an incredibly creative period, and he was very happy. It's a good work to perform in the Spring."
In fact, Beethoven wrote it within a month in 1806 when, stolen away from the hub-bub of Vienna and ensconced at his patron's summer home in Upper Silesia, it was commissioned by Count Franz von Oppersdorff, also there on a summer sojourn.
Robert Schumann is known to have commented on the gracefulness of Beethoven's Fourth: "It's a slender Greek maiden between two Norse giants," he noted. He was referring to the composer's Third Symphony and his Fifth Symphony.
"Well the 3rd and the 5th are Titans," remarks Mr. Ponti. "The 3rd is his greatest. For the 4th he used a lighter musical language. The Introduction shows from the outset the depth of the composition. It's very Schumannesque. Once the Allegro starts, it's easy to lose control of the tempo, because there's so much thrust that the tendency is to rush forward in the first movement."
Leonard Bernstein, for one, remarked on its "mysteriousness." The Introduction, he claimed, "hovers around minor modes, tip-toeing its tenuous weight through ambiguous, unrelated keys, so reluctant to settle down into its final B-flat major."
Mr. Ponti finds this assessment accurate and true, but adds that Beethoven didn't write a weak note in his life. "Beethoven was a German composer, and this is very German, march-like music. German music tends to be quite vertical. Here the second movement is very rhythmic, dotted – all throughout the movement; it ends like the beating of the heart. Debussy and Vivaldi are linear, horizontal, but there's a set-ness to German music."
Hector Berlioz loved the second movement and considered it the work not of a human, but of the Archangel Michael. "Well it's a welcome oasis of relaxation before the attack of the third and fourth movements," says the Maestro.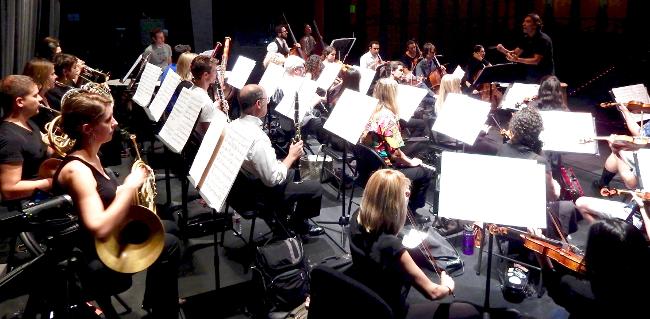 Carlo Ponti also conducts the Youth Orchestra at Le Lycée Français de Los Angeles, to which 100% of the net profits of subscriptions for the Los Angeles Virtuosi season performances are donated. He has been able to allocate $7,000 between last season and this season to purchase violins and method books for the young musicians. "It brings me much joy to see how much gratitude there is," he says. "We're trying to get players from LA Virtuosi into teaching residencies at our partner schools." There are currently three of them in the San Fernando Valley.
"It's amazing to see how much the students give back," reflects Maestro Ponti. "They are very dedicated, because they see our dedication when we perform."
Los Angeles Virtuosi Orchestra: Viva Vivaldi!
conducted by Maestro Carlo Ponti
Thursday, May 25, 2017 at 7:30 pm
Théâtre Raymond Kabbaz, 10361 W. Pico Blvd. Los Angeles CA 90064
Tickets: Phone: (310) 286 0553, Email: trk@lyceela.org