4-5-22
April Showers… Music Flowers: Timo Andres, Piano
By Diane Sippl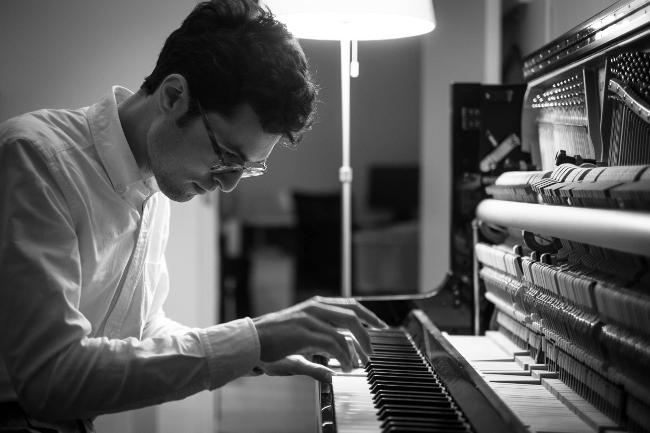 There may be a scarcity of rain in the California's Southland, but there is no shortage of music this Spring, by both prolific and emerging talents, at The Wallis Annenberg Center for the Performing Arts in its Bram Goldsmith Theater. First up this week, on Thursday, April 7th at 7:30 pm, is an evening of piano with Timo Andres in his Los Angeles and Wallis recital debut. Not only will he perform works by Robert Schuman and by two close friends, Sarah Goldfeather and Eric Shanfield, but he will also introduce the audience to one of his own recent compositions for piano.
Born in Palo Alto, California and raised in rural Connecticut, the 37-year-old Timo Andres is a graduate of Yale School of Music and now hails from New York City where he is a Yamaha/Bösendorfer Artist and is on the Composition Faculty at the Mannes School of Music at the New School. His commissioned compositions might seem to stem from the Atlantic region, including Everything Happens So Much for the Boston Symphony, Strong Language for Carnegie Hall and the Shriver Hall Concert Series performed by the Takács Quartet, Steady Hand for the Britten Sinfonia (premiering at the Barbican by Andres and David Kaplan), and The Blind Banister for Jonathan Biss, which was a 2016 Pulitzer Prize finalist.
Yet while his solo recitals have taken him to Wigmore Hall, Lincoln Center, and the Phillips Collection, they also include San Francisco Performances. He has appeared on our own west coast with the Los Angeles Philharmonic Orchestra and collaborated with Jeffrey Kahane, Gabriel Kahane, Nadia Sirota, the Kronos Quartet, John Adams, and Philip Glass. With the latter, Timo Andres performed the complete Glass Etudes around the world; Glass selected him as the recipient of the City of Toronto Glenn Gould Protégé Prize. As an Ojai Music Festival Artist, Andres performed both solo and with John Adams and the OHF Orchestra for Ingram Marshall's Flow in a program with Andres' own Running Theme.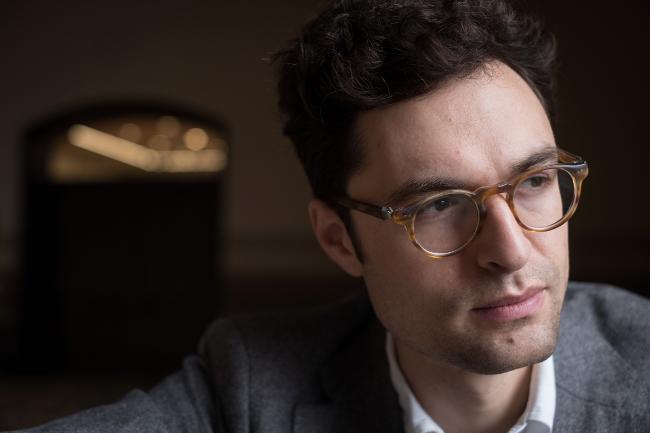 Entries in the evening's program are perhaps most engagingly described in the words of Timo Andres himself. Opening the recital is the artist's composition, Honest Labor, an 8-minute piece he regards as uncovering "a kind of Transcendental satisfaction in routine tasks. A simple contrapuntal process gives rise to increasingly elaborate and expressive gestures, finally evaporating in an ambiguous haze."
Sarah Goldfeather's recent composition, Fern Canyon, follows in what Andres calls a pastorale that progressively stacks up "tiny repeating patterns." As it becomes an "increasingly complex thicket, the forest suddenly gives way to a dramatic vista." Then Andres performs one of his "favorite pastoral/metaphysical travelogues": Robert Schuman's Waldszenen (Forest Scenes).
What follows, Timo Variations, is apparently part of a musical dialogue launched between Andres and his friend Eric Shanfield. In 2019 Andres composed a piece for Shanfield, and last December Andres blogged that Shanfield's musical response was to "pleasantly eviscerate" that composition, in a series of "sly and affectionate homages to other composers, among them: Schumann, Liszt, Brahms, Bach, Pärt, Webern, Ligeti, Nyman, and Glass." Shanfield considers each variation to be "its own discrete bagatelle." The work concludes with an aria that he claims is "both a recapitulation and variation of the entire original theme, bringing Timo Variations to a gentle close."
Timo Andres, Piano
Thursday, April 7, 2022, 7:30 PM. Bram Goldsmith Theater
PROGRAM:
Timo Andres, Honest Labor
Sarah Goldfeather, Fern Canyon
Robert Schumann, Waldszenen
Eric Shanfield, Timo Variations
Approximately 80 minutes, including a 15-minute intermission.
TICKET PRICES AND INFORMATION:
Ticket prices are $29-$79 per person. The Wallis Annenberg Center for the Performing Arts is located at 9390 N. Santa Monica Blvd, Beverly Hills. To purchase tickets and for more information, please call 310- 746-4000 (Monday – Friday, 10 am to 6 pm) or visit TheWallis.org/Andres.