6-30-09
Those Who Remain: Ethnography After Bach
By Diane Sippl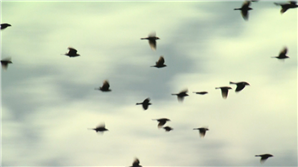 A silence but for the chirping of birds gives way to the voices of small children as a hand-held camera enters their school in the state of Jalisco, Mexico. As they draw pictures of men, their teacher asks how many of their dads have crossed over to the North. Seven out of seventeen raise their hands. And why do they go? "To work and to bring back money. They don't like it here," say the kids. When they are asked if they will go, too, the answer is a unanimous "Yes!" And what will they find there? "Money, presents, gold chains…" But who will be left in La Cañada? "They'll feel sad, like crying," the kids respond. But one says she'll stay. To do what? "To become a teacher."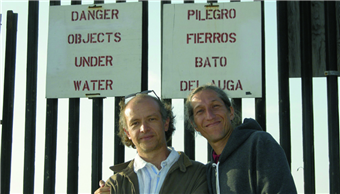 Directors-Producers Juan Carlos Rulfo and Carlos Hagerman

All over the world, people hear of immigration across Mexico's border to the U.S. But according to Juan Carlos Rulfo and Carlos Hagerman, co-directors of Los que se quedan, "No one ever talks about what's going on in the hearts of the people who remain." Their new film on that subject won the Target Documentary Award at the Los Angeles Film Festival, June 18-28, where it was in competition against five other documentaries, all from the U.S. In September it will be released on 70 screens across Mexico. I was very moved by their film, and at the LAFF, they responded to my questions.

"Our institutions, through social programs, come up with projects like this one to move education to a different level so that people don't have to leave," explained Rulfo. He was referring to the BBVA Bancomer Foundation, which offers scholarships to children who stay in Mexico after the emigration of a parent, and also to Beca Gucci and Ambulante, the traveling documentary festival that provides a very wide distribution of films. "The foundation paid for the whole movie and didn't see it until it was finished — that's trust!" Rulfo acknowledged. But let's not overlook the reasons for that vested confidence: Rulfo has won Guggenheim, Rockefeller, and MacArthur grants and Best Documentary awards at several international festivals. Hagerman, with a Master's degree in film directing from New York University, has also won numerous awards at home and abroad for various short works. As producers along with Nicolás Vale, they founded La Sombra del Guayabo, their own production company. Joined by Martha Sosa (executive producer of Amores perros), they were in business for making Those Who Remain.
For 30 years Carlos Hagerman's parents have been launching educational projects in rural areas, mostly indigenous communities, and since his childhood, he has been surrounded by their "second families." While fiction seemed to him so removed from their lives, he felt he could, in fact, ask them to tell their own stories. "In some cases, it helped us create a greater sense of intimacy," he reflected.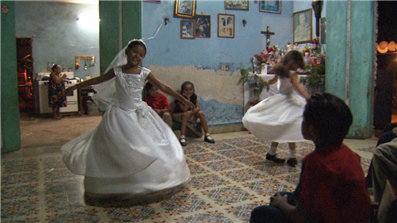 "We found the families for our film by coincidence," recounted Rulfo. "Some were friends for many years, but you can go to any town and knock on any door and they will tell you a story about migration — or any story… In Mexico people open their doors to you. We worked with nine families over eleven months. They always gave us something to eat (really good tortillas) and some place to sleep, and they opened their hearts to us."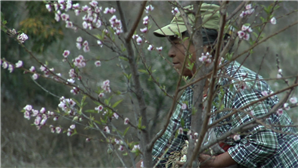 Juan Carlos Rulfo had convinced me of this long ago when I saw his El abuelo Cheno y otras historias (1994), in which a young man treks to the village of his deceased grandfather to trace his story yet ends up with the varied stories of many others who account for the town and the ways life has changed there. This short film was called a "documentary," and I was then at a loss for the term that would better serve its nature.
Lyrical ethnography? Film essay? Cinematic poem? Since then I came to rest in the knowledge that Juan Carlos Rulfo was the son of one of Mexico's most prominent authors, Juan Rulfo, a proponent of magical realism, whose novels I had read in studying the language and the culture. So I could accept the idea that fact and fiction were all part of the same lived experience in Rulfo's world — that "the truth was in the telling."

If the beauty of Rulfo's painterly compositions within the frames of his new film at once evokes and rivals the pictorial allure of Sergei Eisenstein's ethnographic epic of the country's historical development, Que Viva México, the pacing of Those Who Remain owes a bigger debt to Robert Flaherty and his attentive respect for calibrated daily routines, accented as they are by events that disrupt or enhance them. Que Viva México's narration and music were added by others after Eisenstein's death, but his sense of graphic associations, juxtaposition, and montage were his own gifts to cinema, and that legacy can be relished as Juan Carlos Rulfo's camera re-visits some of those same regions of Mexico and documents different rituals, this time from the point of view of the inhabitants themselves. Like Flaherty, but steeped in their own culture's traditions, Rulfo and Hagerman reveal a world that, much as it may be torn asunder by a devastating loss of population, has been there all along.

"Instead of embarking on an odyssey," says Carlos Hagerman, "we decided to tell the story of Penelope and her eternal wait." For Rulfo that meant dwelling on aspects of daily life that might not seem important yet are never forgotten, and therein lay the poetry of the project for the two directors. But it wasn't quite the Greek's way of telling oral history.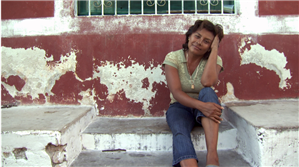 Departing from Homer's style of delivery, they rejected the classical storytelling by the off-screen "voice-of-God" along with the concept of an over-arching narrative, and they even shunned the visible interviewer as a way of structuring the film's information. Hagerman explained, "I like to hear what the people say themselves — and the time they take to say it. And we don't come with a lot of questions. We're just there — a long time — to be with them. The camera's rolling all the time, but not in their faces." (This was possible with the light, compact, mobile EX1 HD camera that Sony-Mexico contributed to their project.)

Rulfo continued, "The important thing with these families was to be friends. And then they tell you, 'Oh — the first communion is happening — come!' or 'The baby's arriving today…' When we started shooting the film, we didn't know that Maricela would be leaving with her children. We didn't know that Pascual's kids would be coming back. José Elías was very weak. Everyone asked him why he wanted to stay in Zacatecas. One day he went and got a visa. We thought he might leave. But he still stays."
Hearing that they shot 200 hours of footage, I asked myself what this said about the editor's role in shaping the film. "We had to decide the rhythm, and the editor was the oracle," Hagerman remarked. "We needed the equilibrium — not to say too much, or too little. Our editor is incredible, like a kind of warrior… she's Juan Carlos' wife."
This made sense to me. Valentina Leduc (who also designed the film's sound with Ruy García) is the daughter of writer-director Paul Leduc (Frida, naturaleza viva and Reed: Insurgent México) and producer Martha Navarro (Pan's Labyrinth, Loco Fever, Cabeza de Vaca, El Norte), both staunch leaders of independent filmmaking and the art of cinema in Mexico, bringing it to international light.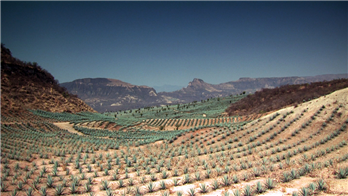 There are a variety of modes for crafting non-fiction cinema, from the traditional expository means of "telling a story" with one's own voice spoken or printed as text, to the observational technique of letting life unfold directly before the camera, to the interactive style of filmmakers appearing in the film along with the subjects, to the reflexive mode, calling attention to the means by which the film is being made and all the choices involved.
Those Who Remain is observational and reflexive in its approach. While the directors interacted deeply with those they chose to document, the evidence of these relationships lies in the content the subjects offer and the trust with which they share their emotions and their lives, rather than in any explicit on-camera interviews. More discretely, it resides in the reflective spaces the filmmakers open up for the families to speak and to be. So often there is not a subject's direct address to the camera, but a point-of-view shot and that person's corresponding voice-over, commenting directly on what is seen or even speaking in counterpoint. When someone does address the camera, the lens might be turned to a spouse for a reaction shot, another counterpoint, unspoken but well-registered in the film. Unconsciously, we are distanced from the "characters" for the very reason that this discipline affords a more special contemplation of their lives.
Sometimes that counterpoint arrives in songs, well known tunes that pop up with unexpected vigor in a new context or resound with aching resonance as emotions accumulate. Individual episodes bridge scenes or "voices" by the grace of their own movement, sometimes in slow-motion for occasional emphasis in a moment of poetic meditation. This polyphonic construction of expositions and developments, however, brings no real coda to Those Who Remain other than to modulate the initial subject (remaining) with an answer (returning) or even a counter-subject (departing).
Variations in tone and counterpoint in this cinematic "Fugue for Nine Families" build a rhythm both visually and orally with spaces to breathe expressing absences, longing, distended relationships. It's a rhythm balanced by silences, and its overall cadence is in correspondence with the pace of daily toil in the human life cycle.
The progression is toward the consummation of each family's "moment": a ritual of celebration such as a baptism, first communion, or graduation, or a landmark of progress such as a field of garlic or cucumbers in full bloom, a hand passing over racks of hanging necklaces after threading their beads, or an endless stone wall built as a rodeo ring to honor a deceased father. Cross-cutting between families is faster once we come to know them with lively montages of music, dance, song, horsemanship, and fireworks.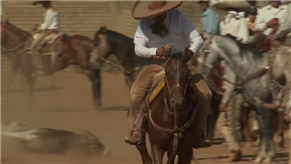 There is also the poetry to be found in the idiom of the voices themselves, imparting lessons to live by and raising new questions. For example, is it really the meek who stay? José Elías, with his dairy cows in Laguna Grande, Zacatecas, recites thirteen commandments typed out on a list sitting on his kitchen table. He calls them "The Simple Rules of the Household" and claims nothing could be easier:
"If you open it, close it. If you dirty something, clean it. If you break something, fix it. If you don't know how to fix it, find someone who can. If you don't know what to say, keep your mouth shut. If you can't do it better, don't criticize. If you can't help, don't get in the way. If it's free, don't waste it. In other words, make good use of it. If you insult someone, apologize. If you're not an expert, don't offer your opinion. If something is of use to you, treat it with care. Here comes the best part — take note: If you can't do what you want in life, try to love what you do."
All the while we see a poignant montage of this veterinarian milking his cow, who "has his eyes," and his wife mixing and straining home-made cheese, adding to the stock of their own industry.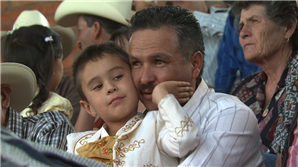 Work and discipline are valued by "those who remain." In Las Barrancas, Puebla, Pascual tells us, "My father kept a tight rein on me. I loved dancing. I used to go up to the mountain with my dad and blast rocks. My hands would be on fire when I came home. But if someone called me to dance, I'd go, and be out 'til the cock crowed, get a wink of sleep, and be off to work. If I slacked off even a little, he'd be there with his lasso." Such folk wisdom makes its own music.
Just as Pascual's children return to him, Francisco Ruedas returned after 23 years to his aging father in Monte Escobedo for his last days. "When a father dies, it's like a darkness descends on you. You lose your way. Who knows why? I went outside to see if I could see him. I wanted to hear his voice again, but no…"
That darkness chimes in again near the end of the film, with little Evelyn, whose father is alive but absent. He's on the phone, but from so far away, as a black screen suggests. Her Mom tucks her into bed on their last night in the Yucatán:

"You have to be brave if you want to see your dad. You have to say, 'I'm going to be strong…' No tears. Nothing. Please." Maricela blesses her daughter with the Sign of the Cross. She herself is afraid to cross the river with her four children.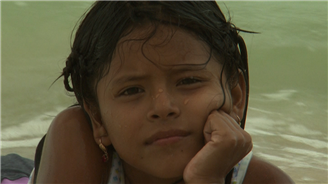 Over the last three or four decades, entire villages have disappeared in Mexico. Rulfo speaks of a peculiar kind of solitude experienced by both those who stay and those who return:
"They're missing something. This country is gradually losing its soul. The work force is leaving. And if you count all the people who remain, but whose thoughts are elsewhere, you could say the entire country has already left."
Hagerman stresses, "All the stories in the film reveal a tremendous longing to be together again. All the people we met were anxious to talk about how they feel because it seems very few of us care."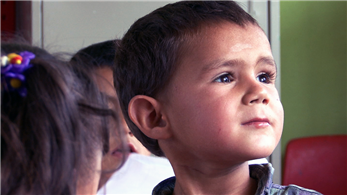 In the end, according to Rulfo, "Los que se quedan is about more than the actual characters or the emigration issue… It's about reminding ourselves that we belong somewhere and that there are certain things that are ours. We have to pursue them, rescue them, seek them out, because if we don't, our country — the essence of who we are and where we come from — become meaningless… Here we have only scratched at the surface of how important this sense of belonging is."
* According to the US Census Bureau and the US Department of Homeland Security, Office of Immigration Statistics, in 2006 there were 11.5 million foreign born from Mexico residing in the United States (having risen exponentially to 20 times the figure in 1960) as well as an estimated 6.5 million unauthorized migrants from Mexico. One-fourth of the émigrés have arrived from Mexico since the year 2000. INEGI estimated in 2000 that about 8 million Mexican-born individuals lived in the U.S.; that was 8.7% of the total Mexican population. That same year, 260,650 emigrants returned to Mexico.
Those Who Remain
Directors: Juan Carlos Rulfo and Carlos Hagerman; Producers: Juan Carlos Rulfo, Carlos Hagerman, Nicolás Vale, and Martha Sosa (Associate); Cinematographer: Juan Carlos Rulfo; Editor: Valentina Leduc; Music: Santiago Ojeda, Café Tacuba, Ruy García; Sound: Mauricio Santos, Ruy García, Valentina Leduc.
Participants: The Manzo family, Jalisco; the Castillo family, Michoacán; the Panduro family, Yucatán; the Esparza family, Zacatecas; the Serrano family, Puebla; the Ruedas family, Zacatecas; the Martínez family, Puebla; the Gómez family, Chiapas; the Guzmán family, Puebla.
Color, XDCAM HD, 100 minutes. In Spanish with English subtitles.