8-26-15
The Park Bench and After Words: Love and Language, Latin-Style
By Diane Sippl
Nicole Hayden and Walter Perez in The Park Bench




…stories matter. We are meant to share them, and in doing so, share our thoughts, views, hopes, and fears.
Ann LeSchander, Writer-Director, The Park Bench
The best remedy for those who are afraid, lonely or unhappy is to go outside, somewhere they can be quiet, alone with the heavens, nature and God. Because only then does one feel all is as it should be.
Anne Frank, quoted by Juan Feldman in the end credits for After Words
August in L.A. can make for a sorry month at the movies. Capping off a summer of pseudo-adaptations of literary classics and peripheral fluff and flimflam, filmgoers can find themselves ducking into cinema theaters for the mere blessing of a cool (at least, temperature-wise) distraction from the heat. Late in the month at the art-house venues, small indie films pop up, generally for a short while and without notice, but often all the more enticing and rewarding, even as feature film debuts. Two such sleepers, writer-director Ann LeSchander's The Park Bench at the Arena in Hollywood and writer-director-producer Juan Feldman's After Words at Laemmle's Royal in West Los Angeles — true novelties that steal the heart — irresistibly beg comparison.
Marcia Gay Harden and Óscar Jaenada in After Words
The Park Bench gives us a librarian-to-be who is studying for her degree. After Words is about a public librarian who just got fired. Each character is the proverbial "Marian the Librarian," either snooty or stand-offish, A-student preppy or peering over spectacles on a necklace.
Emily in The Park Bench (think Brönte, Dickinson, or Post, for that matter) lives by the book in more ways than one. She'll marry her future-pharmacist fiancé and carry on turning the pages of Edith Wharton and Robert Frost with a good dose of Derrida semiotics. Her emotions will hide all buttoned-up inside her with ne'er a word to her smiling but stoic husband. But words are her métier…
In After Words, Jane (think mate to Tarzan, King of the Jungle) trudges along as a walking zombie, a middle-aged suicide wannabe who has sequestered herself with books. She keeps a journal as her constant companion, sheltering herself with words as a refuge from the world. But upon writing her Last Will and Testament, Jane decides to seek some of the world's tangible treasures before ending it all. Khaki-clad, she heads for Costa Rica. Will its "natural wonders" bring her out of her shell?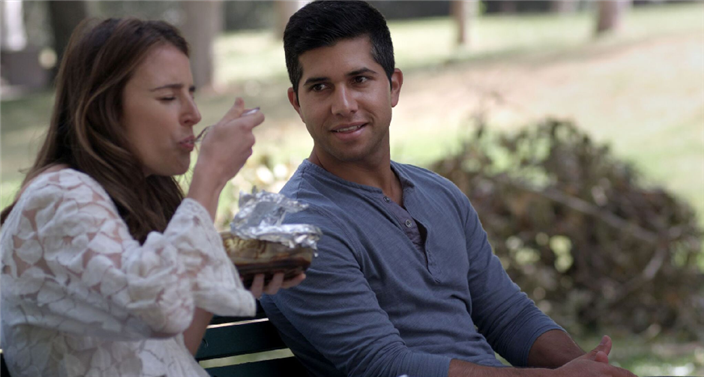 Nicole Hayden and Walter Perez in The Park Bench

Now here's another commonality: both films set up their librarian ladies — Emily (Nicole Hayden) tutoring part-time Jane (Marcia Gay Harden) laid off from work — with Latino males as their foils. Emily leads Mateo (Walter Perez), an undergrad, through the hoops of his American Literature course. Jane hires the young single father, Juan (Óscar Jaenada), as her tour guide. Each man pursues a serious agenda — Mateo, to score high enough on his exam to keep his scholarship, and Juan, to make enough money to pay for his little daughter's (Jenna Ortega) tuition to a private bi-lingual school. Of course there's a "proper" road to each of these goals, and the men are on track. It's the women who, prim and proper as they are, leave the door open a crack, and each male, according to his own good nature and with all due respect, tiptoes in. After all, as each man vents in a disclaimer, "We're Latin."
It's amazing how many other overlaps reside in these lushly lyrical romantic comedies. It has to be said that both of these Anglo ladies are a bit "mal-adjusted," Emily displaying symptoms of OCD ("not clinically," she insists) and Jane, well, simply suicidal with the news of her lay-off, but that upon a lifetime of solitude. It must also be noted that the characters and scenes do not strictly fit the mold of "Latin-Love-Conquers" stories that have filled the screens of the past. In fact if it's romance that drives the drama, it's not sex that pushes the action; rather it's words — words consciously, decidedly, deliberately iterated for all their worth.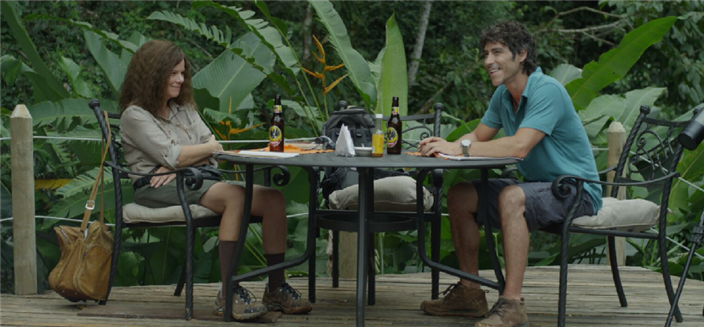 Marcia Gay Harden and Óscar Jaenada in After Words

Both stories evolve in nature, the first, on and near an isolated park bench in sunny Griffith Park, Los Angeles (though not specified as such), and the other, in the jungles and beach fronts of the "Jewel of the Americas," once Jane leaves her home in Santa Monica. The boys tempt the girls with sumptuous south-of-the-border lunches and other treats, including bungee-jumping (off screen) for Emily and zip lining over tropical canyons for Jane. Juan leads Jane to monkeys, sloths, and toucans in the rain forest and crocodiles that beckon her from riverbeds. Mateo turns up in a mariachi costume fresh from his other job; moments later he swirls Emily over the grass, teaching her to waltz for her wedding. Juan initiates Jane in the pleasures of Rasta rituals at her bequest. "Pura vida!" he toasts her, according to Costa Rican custom. It's a bit of role-switching for each fellow as he plays the "knowing" part if only to embrace the Anglo lady with a taste of his culture.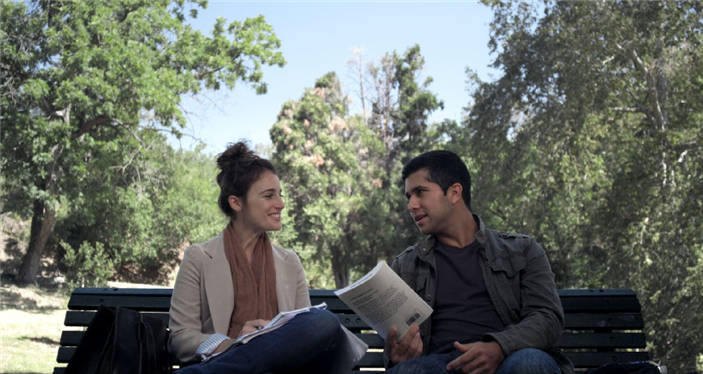 Nicole Hayden and Walter Perez in The Park Bench

There are also the cinematically self-reflexive aspects of each film. The Park Bench is structured in many brief episodes punctuated by black screens as ellipses between scenes, intermittent inter-titles, animation footage to deliver myths and tales as the characters present them, and live-action, home-video-style flashbacks. The gaps in the action and dialogue, enhanced by the black screens, work much the way words do on the pages of novels, forcing us into the intimacy of our private imaginations. After Words arms Juan, the guide, with two cinematic devices of his own — a cell phone camera for snapshots of Jane ("You have to have these pictures") and a telescope on a tripod for capturing close-ups of creepers and crawlers above and below. "I've accessed the creature — have a look, Jane!" he coaxes her, hoping for a smile each time.
Costumes shift, too, from Emily's solid jackets and scarves to flirty floral prints and white lace; Jane eventually dons a bathing suit, a halter dress, and a new "do." What does it mean that the women, despite themselves and their plans, unconsciously solicit the equally unconscious sensuality of their Latino counterparts? What vehicles moved them there? In Ann LeSchander's film, the park bench, not just a location but the structuring motif of all that happens, is animated by words. Juan Feldman's film can be viewed in three "acts," each labeled by a new word he is learning: "capricious," "chutzpah," and "chill." Truth be told, if the first is the "word of the day" he learns with his daughter in their home English lessons, and the second is one Jane has to teach him to pronounce even when he presents it to her himself, the third is a word he teaches Jane, once they've discovered it together in a most delightful way.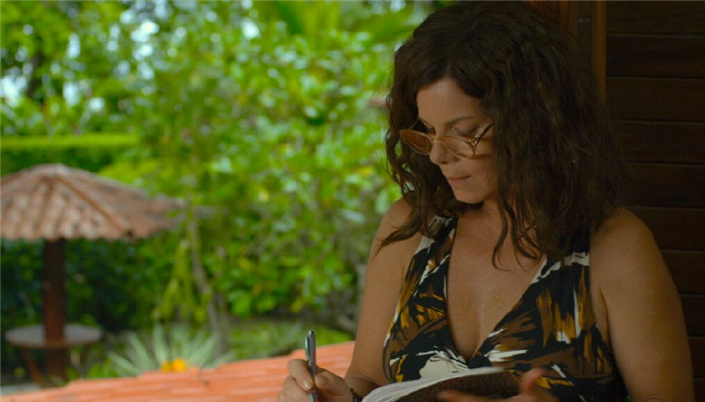 Marcia Gay Harden in After Words

The Park Bench, anchored in place and basically a two-hander as characters and actors go, is rich with stories — real and imagined, written and oral, from Aesop's fables to Aztec myths, from epic tragedies to tales of success. It's the stories that tend to travel, in a multiplicity of cinematic forms. After Words is mostly just that — the communication that starts where words leave off. Visiting numerous characters and traversing diverse locations, the camera virtually crosses the country, from the Pacific to the Caribbean, taking in the luscious canopy and its creatures large and small, building its own story as it moves along. Jane's voice-over tells us her morbid thoughts and private journal entries, but what we see is, when it comes down to it, the enactment of Juan's words — Capricious, Chutzpah, Chill. Words take action. What matters in each film is that in language, whether it be words, photos, dance, or music, one expression leads to another, and each exchange is a border crossing of cultures.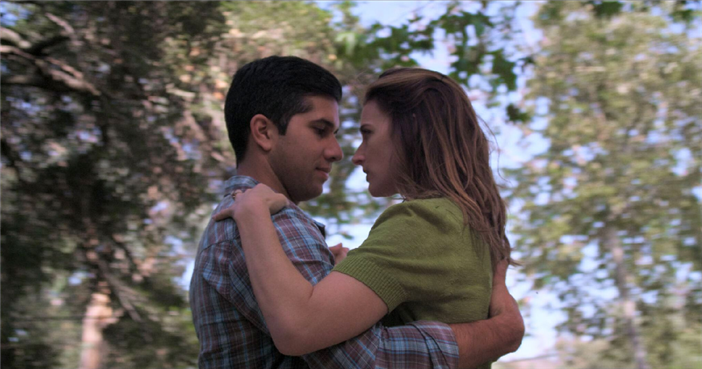 Nicole Hayden and Walter Perez in The Park Bench

After a screening of his film, Juan Feldman told me that he likes to create experiences "that are enjoyable but also therapeutic." It's not only the flora and fauna, the sea and the breeze, that bring Jane around, but the human touch — in this case, not just increasingly shared time and space, but quite literally, language — which is nothing if not shared. Juan takes the initiative to read Dickens' A Tale of Two Cities to be on the same page as Jane, so to speak. It turns the tide.
"You can't seriously talk about a book with others who have read it without getting to know each other," Ann LeSchander told her audience at the opening of The Park Bench, in which Emily experiences a true meltdown as she confides her emotions in reading Wharton's Ethan Frome with Mateo. In turn, as if rejecting that sad demise of a love affair and also Emily's affirmation of Jay Gatsby, Mateo is moved to express his identification with Quetzalcoatl in the Aztec tale that defines his own fire and passion, which leads to the telling of fantasies and folk tales, myths and legends, ghost stories, and then to secrets, confessions, and even shared mourning.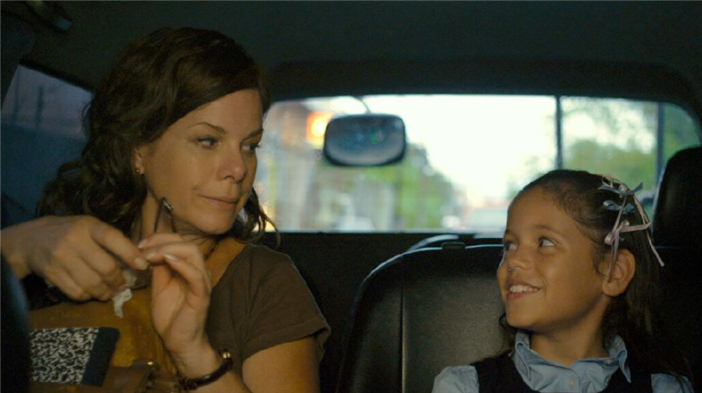 Marcia Gay Harden and Jenna Ortega in After Words

LeSchander's mother is a librarian, and she herself grew up reading and loving stories, graduating as a Literature major in college. Like Juan's daughter in Costa Rica in After Words, her own daughter attends a language immersion school, and LeSchander remarked, "I got to know lots of the families, many of whom are first generation immigrants." Juan Feldman is a first generation immigrant himself, arriving here from Uruguay at the age of 23. Of course music is a subconscious courier of language, and the lively salsa-cumbia-merengue score of After Words subversively charts a romance. As for The Park Bench, the film's composer and music editor, guitarist Dan Raziel, is the writer-director's husband.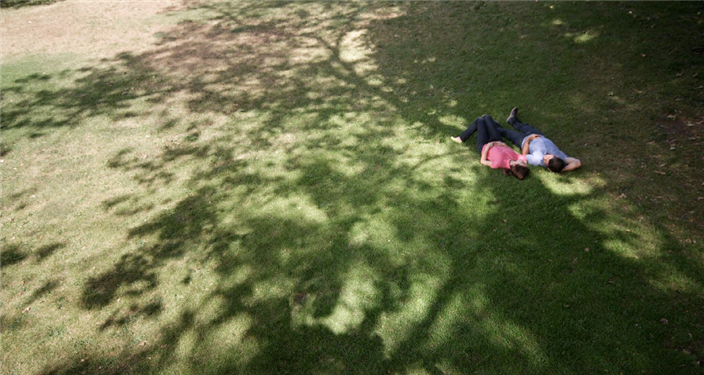 Nicole Hayden and Walter Perez in The Park Bench

After Words
Director: Juan Feldman; Producers: Juan Feldman, Christian Calderon, Shannon Campbell; Screenplay: Joel Silverman (Story by Juan Feldman and Joel Silverman); Cinematographer: Salvador Lleo de la Fe; Editor: Christian Calderon; Sound: Akash Singh; Music: Andrew Gross; Production Designer: Celine Diano; Costumes: Shannon Campbell.
Cast: Marcia Gay Harden, Óscar Jaenada, Jenna Ortega, Ron Canada, Jackie Torres, Sonni Paisley, Yvette Thor.
Color, 91 min. In English and Spanish with English subtitles.
The Park Bench
Director: Ann LeSchander; Producers: Ann LeSchander, Angel Thompson, Walter Perez; Screenplay: Ann LeSchander; Cinematographer: Gareth Taylor; Editor: Bob McFalls; Animator: Natia Nikolashvili; Music: Dan Raziel; Sound: Scott Tipton.
Cast: Walter Perez, Nicole Hayden, Stella Maeve, John Prosky, Brian Mulligan, Dustin Fitzsimons, Beau Bonness, Francisco Ovalle, Araceli Cesar, Jerry Franco, angel Ariel, Stephen Brown, Carlene Moore, Madison Browning, Mackenzie Browning, Ella Raziel.
Color, 78 min. In English.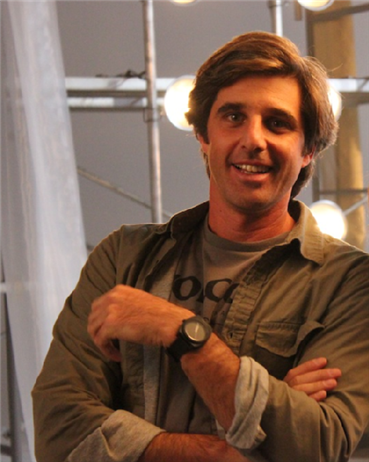 Juan Feldman, Director-Producer-Writer of After Words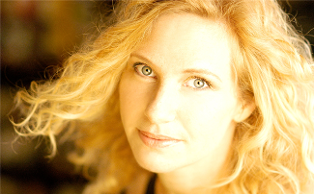 Ann LeSchander, Writer-Director-Producer of The Park Bench