The Banshees of Inisherin: Martin McDonagh's Horrifying, Laugh-Out-Loud Lyricism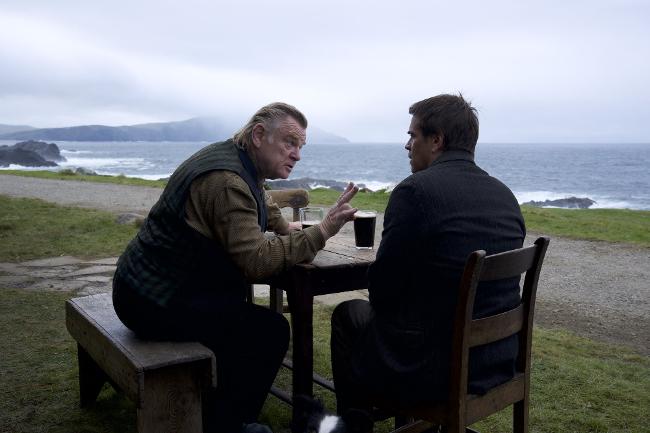 Pádraic: How's the book?
Siobhán: It's sad.
Pádraic: Sad? Well you should read a not-sad one, Siobhán, else you might get sad.
Pádraic's advice for his sister sounds a bit fatuous, except that this is exactly what we are doing when we enter The Banshees of Inisherin—following a sad tale that will make us feel sad.
For quite some time, nothing much happens in writer-director Martin McDonagh's latest film, until everything happens. The characters blather on as Pádraic does—from the bar-room to the horse-drawn cart to the humble home—and worse, the very topic of this empty talk is prattle itself. One character, a fiddler, accuses another, a dairyman, of taking up his precious time on this earth with endless twaddle. Never mind that they've gone together to their local pub every day at two o'clock for as long as anyone can remember; now the fiddler, Colm, wants Pádraic to sit somewhere else.
This is hardly possible in a country village where everyone knows everyone, sometimes better than they know themselves, on a tiny island off the coast of Ireland a hundred years ago. At least there, people are safe from the booming cannons on the mainland, their not-so-distant roar echoing through the film. Ireland has finally won its independence from Britain, but the former colony can't seem to settle on how much allegiance it owes to the crown, and that boils down to neighbor attacking neighbor, brother fighting brother, in a civil war that doesn't end. It's as if it spawns animosity across the water in the obstreperous friction between the two old friends whose only squabble is over their one-sided break-up.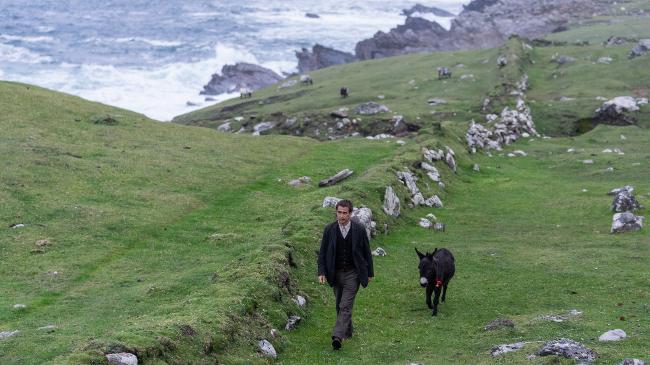 The small talk on this small, fictional island of Inisherin, trite as it is, gets repeated line for line so often that it picks up a rhythm. Along with the Irish brogue, we're hearing the work of a playwright, and his screenwriting is none the lesser for it. From the beginning we laugh, salty as the characters' dialogue is, and peppered with wit at that, but we might find ourselves laughing at them, which isn't "nice," as our dairy farmer Pádraic (Colin Farrell) or his housemate sister, Siobhán (Kerry Condon) would tell us.
The mulishly self-righteous Colm (Brendan Gleeson) appears to be the source of the problem: he feels he owes it to himself and the world to leave a "mark" before he dies—such as the music he composes, something that lasts, unlike the empty gossip and countertop banter shared over a "pint" or more. Colm has come to feel joined-at-the-hip with Pádraic and resents it, making public knowledge of the fact that he finds his crony "dull." And Colm doesn't hide his disgust when Pádraic won't fall in with this rejection and make a ghost of himself in Colm's life. Pádraic, pathetic, wavers between disbelief and confusion: "You liked me yesterday." He doggedly pursues Colm's companionship even when the man threatens self-mutilation of his fiddling fingers as proof of his seriousness. And sure enough, there is physical dismemberment: digits go flying. The escalating conflict carries itself to its logical conclusion, and that is it. And apparently that it will go on indefinitely, once we leave the theater. Many a viewer walks out befuddled.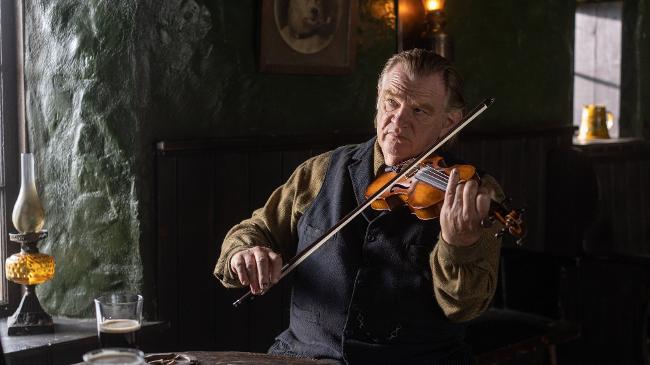 The humor-turned-horror can seem as craggy as the island's jaggedly breath-taking coastline. Who deserves our empathy? The devoted artist Colm, seeking only the peace to follow his calling and put his shoulder to the wheel of his talent, yet harassed by the pig-headed simpleton Pádraic—or the inherently innocent Pádraic, who is proclaimed "one of life's good guys," yet is publicly scorned and punished by the ogre Colm with his hard-hearted brutality? The local priest sees Colm as committing "the sin of despair," and Pádraic's rational sister, Siobhán, sees him as mentally ill.
"Despair" and "madness" are two words not to be taken lightly by any of the characters on Inisherin. Two of them know it for what it is and seek escape. And they go—quietly—but to very different places. Following scenes of shock-and-awe outlandishness, there are moments that melt your heart. McDonagh is the kind of dramatist who knows that all his characters have to be "right" and that this is what makes for real conflict. But that doesn't mean a person has to slice off his fingers or burn someone's house down. Nothing happens… until everything happens, and it can't be resolved.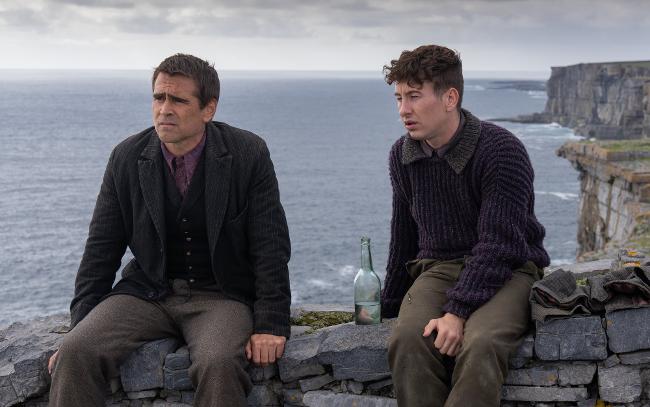 Beyond the two ex-friends, there is Dominic, Pádraic's pariah pal and the proverbial village idiot, to keep the trouble mounting. Yet who is more oafish—Dominic or Pádraic—when Dominic's perfectly apropos use of the expression, "touché" leaves Pádraic at a loss for meaning? Beaten with a kettle by his father ("I wouldn't a minded so much if it warnt for the spout"), Dominic is loutish at the pub, vulgar and unconsciously candid with Pádraic, and miserably uncouth, almost off-handed, in his forthright proposal to Siobhán; yet none of these scenes prepares us for his vulnerability.
Like all good writers, McDonagh never tells us what's going on, what we should think, how we should feel. Instead he lets us discover it—by the speech patterns and behavior modes of his protagonists, their fluctuating moods and contradictory gestures, their surprising actions, and the too-often tacit reactions of all who surround them in their wormhole of a life on this ravishingly beautiful island. Pádraic himself shifts emotional states from mildly glum to deeply downhearted. Then, impressed by the advice of his buddy Dominic who is himself a victim, Pádraic stages his comeuppance against Colm. The first tactic, to tell Colm's musician friend the outright lie that a bread van crashed into his father and left him in bad shape, leads even Dominic to abandon Pádraic, appalled at how despicable his only ally has become. Our perception of Dominic sneaks up on us: as easily mock-able as he is, the lad is also praise-worthy. Naively sincere and stupidly outspoken from scene to scene, he never ceases to draw our empathy for his nobility of spirit.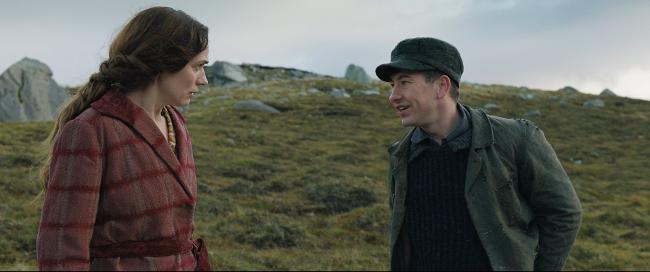 A rainbow, that natural wonder of Irish good fortune, arches over Inisherin in one of the film's opening images, but darkly comic as the film is, tragedy does befall the islanders. The parish priest turns each of Colm's dejected confessions into a laughable moral conundrum, and it's then easy to see why Dominic's father, the deputy of the law, relishes being called to the mainland to perform an execution just for the pay and the thrill of it all, not knowing or caring whether the soldier he's killing is on one side of the civil war or the other. Such a callous disrespect for life comes back to haunt him.
The saving grace among the characters is Pádraic's sister, Siobhán, with her feet on the ground and head in the radar of all that's coming. Well-read and sensible, she would be the grand negotiator if any of the self-consumed bulls-in-britches would listen to her. Even the maliciously vapid postal mistress, who uses gossip as a life raft, not only reads Siobhán's mail but recites its content to her before Siobhán can open the already unsealed envelope.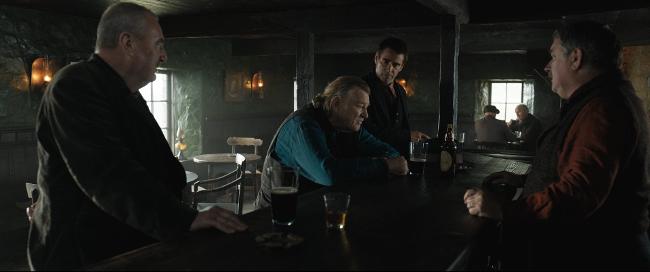 There is one other female, almost sickly looking, who wields covert authority. Mrs. McCormick often gets spitefully dodged by others, and she pays a visit to Siobhán's thatched-roof home for tea. It can't be a good thing when she asks how long ago the parents of this household died. The old widow is the closest-looking on the island to a banchee, those ominous women who seem to hover over death and spread it far and near. This one proclaims to Pádraic, "A death shall come to Inisherin afore the month is out… Maybe even two deaths." When Pádraic, in turn, pays a brazen visit to Colm, the fiddler performs for him the song he's just finished composing, "The Banshees of Inisherin."
"But there are no banshees on Inisherin," insists Pádraic.
"Maybe there are banshees…," replies Colm. "I just don't think they scream to portend death any more. I think they just sit back, amused, and observe.
Colm loses Pádraic on the word "portend," but he might be right about Mrs. McCormick, who appears fleetingly in the film at least a dozen times. We follow the plot, restless to discover who will die, when her very presence begs the question of what is actually meant by "death." As Siobhán would want us to know, a certain generosity of spirit died on Inisherin long ago.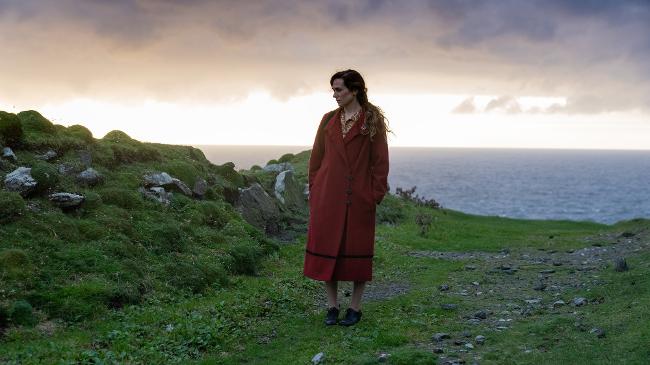 The Banshees of Inisherin
Producers: Graham Broadbent, Pete Czernin, Martin McDonagh; Director: Martin McDonagh; Screenplay: Martin McDonagh; Cinematography: Ben Davis, BSC; Editing: Mikkel E.G. Nielsen, ACE; Music: Carter Burwell; Production Design: Mark Tildesley; Costumes: Eimer Ní Mhaoldomhnaigh.
Cast: Colin Farrell, Brendan Gleeson, Kerry Condon, Barry Keoghan, Sheila Flitton, Gary Lydon, Pat Shortt, David Pearse, Bríd Ní Neachtain, Jon Kenny, Aaron Monaghan.
114 min., Color. In English (Irish dialect).