11-28-10
Antaeus Doubles the Ante in Hellman's The Autumn Garden

By Diane Sippl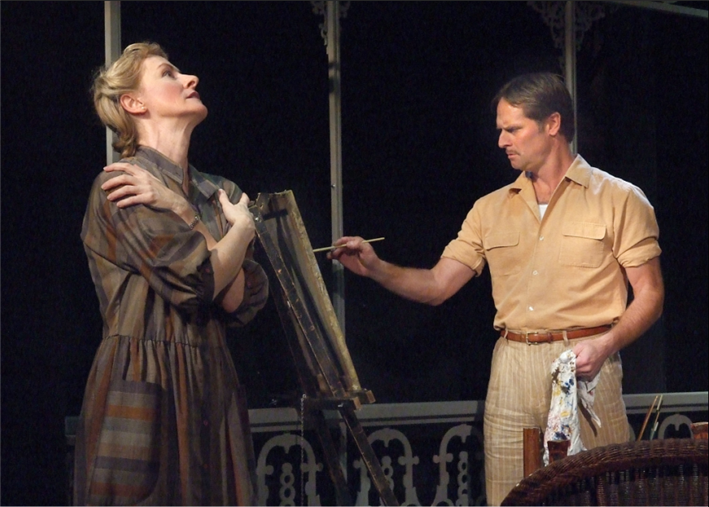 Shannon Holt as Constance Tuckerman and Jeffrey Nordling as Nicholas Denery

There are no big moments you can reach unless you've a pile of smaller moments to stand on. That big hour of decision, the someday you've counted on when you'd suddenly wipe out your past mistakes, do the work you'd never done, think the way you'd never thought, have what you'd never had — it just doesn't come suddenly. You've trained yourself for it while you waited — or you've let it all run past you and frittered yourself away.
General Griggs, The Autumn Garden
Lillian Hellman's The Autumn Garden as staged and performed by the Anteaus Company is one play you want to see twice. Forget that it runs three hours with an intermission; that will never occur to you as you settle into its balmy intimacy in the parlor and porch of a summer resort home on the Gulf of Mexico somewhere between Mobile and New Orleans where old friends gather as they do each year. In their ripe forties, they've begun to take stock of each other differently, and as a week passes, they even see new faces in the mirror.
Unlike the plot-driven suspense of her earlier works such as The Children's Hour, The Little Foxes, Another Part of the Forest, Watch on the Rhine — plays that set forth social problems against which moral protagonists struggle to right the wrongs of others — the dramatic tension of The Autumn Garden is structured like a stained-glass window behind which light flickers unreliably and intermittently, illuminating separate frames partially, alternately, and only for fleeting moments. Old flames are swept up from the shadows, crackle and sizzle in flirting bodies and seductive words, air themselves in the light of day and fade away.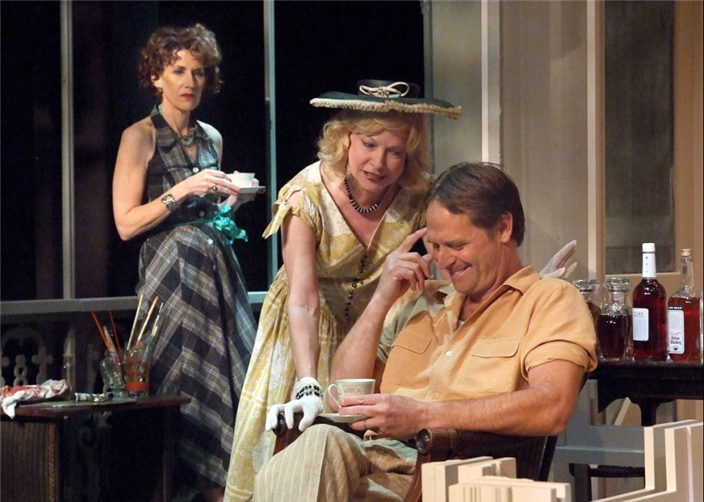 Kitty Swink as Nina Denery, Rhonda Aldrich as Rose Griggs, and Jeffrey Nordling as Nicholas Denery

Hellman had spent some time in a coastal retreat like this one; her two aunts, Hannah and Jenny, had run such a boarding house and were the innkeeper sisters in the first draft of her play. In more ways than this, it could be called a "memory play," the term Tennessee Williams used to refer to his early works written at about the same time and set in about the same place. Yet Hellman wrote hers from a distance while nestled in at Pleasantville, New York at what was called "Hardscrabble Farm," and she characterized the ambience in this way:
…calm is necessary for hard work — long days, months of fiddling is the best way of life. I wrote The Autumn Garden in such a period. I was at a good age. I lived on a farm that was, finally, running fine and I knew I had found the right place to live for the rest of my life. Hammett and I were both making a lot of money, and not caring about where it went was fun. We had been together almost twenty years, some of them bad, a few of them shabby, but now we had both stopped drinking and the early excited years together had settled into a passionate affection so unexpected to both of us that we were as shy and careful with each other as courting children. Without words, we knew that we had survived for the best of all reasons, the pleasure of each other…. I guess it was the best time for me, certainly the best time of our life together. Now, I think, that somewhere we both knew — the signs were already there, Joe McCarthy was over the land — that we had to make it good because it had to end.
Lillian Hellman, Pentimento
A year later Dashiell Hammett was in jail for "un-American activities." Two years later Lillian Hellman realized she'd been blacklisted, and her farm had to be sold. Three years later neither Hellman nor Hammett had any money. (In all honesty, their troubles weren't due to politics alone; both of them owed back taxes, their biographers tell us.) But what was worse, by that time Hammett's death was imminent. Hellman always took pleasure in remembering how The Autumn Garden had pleased Hammett, despite the ferociousness with which he had spoken his praise, as if merely to utter it embarrassed him. Hellman writes in Pentimento that not long after the play had opened, she reported to Hammett that Norman Mailer liked it: "Norman had said it was very good, could have been great, but I had lost my nerve."
Hammett replied, "Almost everybody loses their nerve.
You almost didn't, and that's what counts, and what he should have said."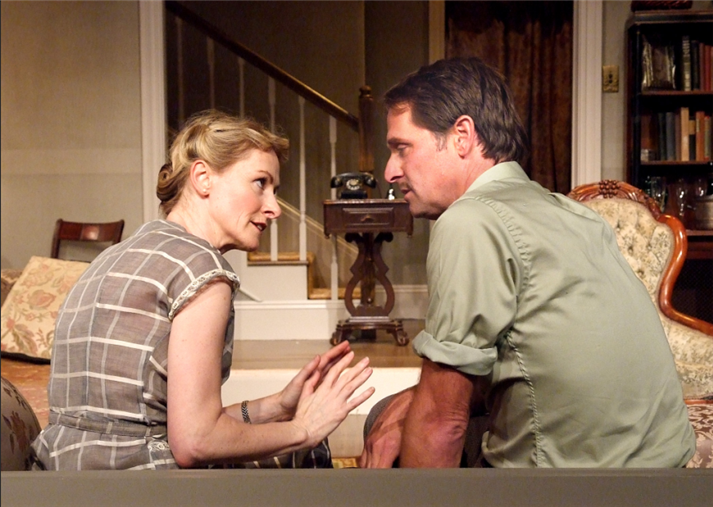 Shannon Holt as Constance Tuckerman and Jeffrey Nordling as Nicholas Denery

Hellman had written The Autumn Garden in 1950, under a ray of sunshine before the storm, and this makes Hammett's wry comment above all the more prescient — of days to come under McCarthy's persecution, of the stance Hellman would take in the HUAC hearings, and of her ongoing capacities as a writer. In fact, as a favor for Hellman, Dashiell Hammett had penned the passage spoken by General Griggs quoted at the opening of this essay. Ever the social critic, Hammett saw her latest work as bold and brave. At its core is an astute, incisive delineation of a young woman's motives and actions played out in her precise social circumstances: war and its aftermath, dislocation as a refugee, lack of monetary resources, alienation in the Deep South, sexual double standards, and the need for survival skills. Among such diverse and richly textured portraits of an older déclassé southern gentry, this relatively quiet young woman, Sophie, might appear to be "hiding in the wings," when in a single blow she shores up the shortcomings of everyone she's been enlisted to serve. In effect she is the embodiment — the traces and vestiges — of the young Lilly, the moral voice of Watch on the Rhine, the keen observer of the "little foxes" whose descendants are the very vacationers at her Aunt Constance Tuckerman's guest house in The Autumn Garden.

Hellman knew them well, coming from, on her mother's side, bankers and storekeepers from Alabama where the Sunday dinners of her childhood were expansive affairs with seven brothers and sisters of her grandmother's generation, their children, and cousins her own age. The high-spirited talk was full of banter and gossip: who had best exploited the "niggers," and which new business partners had been outwitted for profits? A fourteen-year-old Lillian quipped across the table to a great-aunt, "You have a spatulate face made to dig in the mud for money. May God forgive you." The aunt got up, marched around the table, and slapped her with her napkin. Soon enough, Hellman tells us in Pentimento, the word "spatulate" lost its charm in her vocabulary and she outgrew her "religious phase," but she never lost either her anger or her sense of humor; "I don't like cheerless plays," she would later say.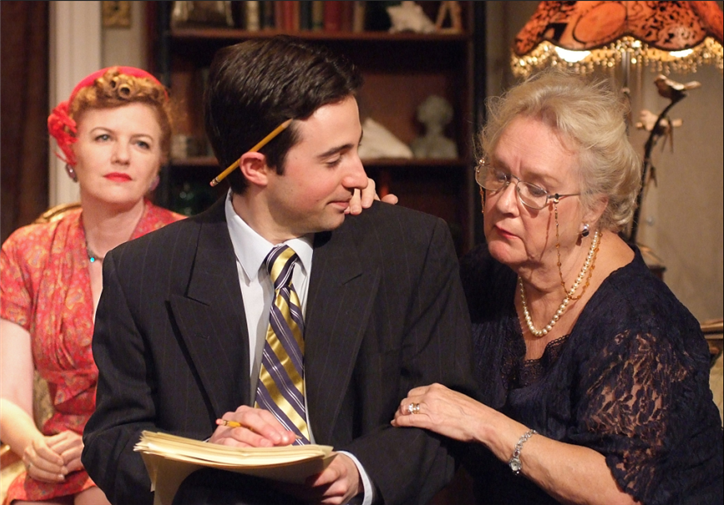 Eve Gordon as Carrie Ellis, Josh Zuckerman as Frederick Ellis, and Dawn Didawick as Mrs. Mary Ellis

Anton Chekhov had made the same remark, noting that his major full-length plays were too often viewed with too much sobriety while he had conceived them as comedies. As the originator and master of the laughter-through-tears modern drama, he inspired Hellman when she made a trip to Russia at the invitation of the Moscow Art Theatre in the late 1930s, and four years after the opening of The Autumn Garden, a collection of his letters edited by her was published. Surely she responded to the lived experience he portrayed: from his first four-act play, Platonov (written while he was in high school) to his last, The Cherry Orchard, the financial ruin of the family estate was a thematic thread and standing symbol. Already in Platonov, the older generation corrupted the younger one through loans, bribes, and gifts, the nouveaux riches climbing by leasing out barrooms and buying up the mortgages of old, established families whose wastrels descended in status. Platonov himself is introduced in the play as "the finest exponent of modern infirmity of purpose," his silver tongue serving his very inertia but for making him a lodestone to women in a setting where any would-be rivals are flaccid and vacillating.
The ethereal beauty of the atmospheres he created, the pathetic vulnerability of his characters, the moods and tones that he deftly etched in the memories of theatergoers, the reality that looked so simple and familiar yet could be surveyed and reflected upon over and over again, impressed Hellman just as she had learned to craft the American "well-made play" according to the Aristotelian logic interpreted by pundits as diverse as George Pierce Baker and John Howard Lawson. By the time she wrote The Autumn Garden, any heroic gestures or epic aspirations had left her characters, and the banal and the absurd entered their dialogue and actions. When the play opened in 1951, critic John Mason Brown called her a "New Miss Hellman" in The Saturday Review, based upon criteria he derived from Chekhov:
He did not reveal his people. He invited them to be self-revealing…. His characters were victims of themselves; wandering egos, frustrated and despairing, who lived in a constant state of spiritual cross-ventilation…."
At the same time Hellman found a means of expanding her play's time and space — not its length or plot details, but its reach and grasp, its evocative powers, within an ever-so-confined locale endowed with layers of loss and regret.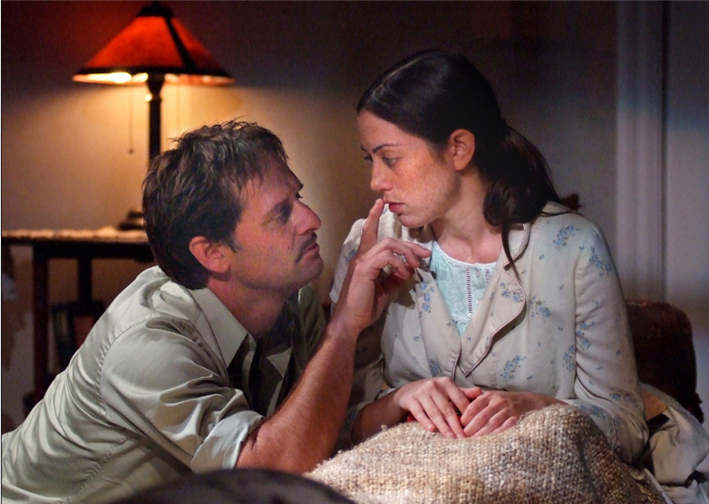 Jeffrey Nordling as Nicholas Denery and Jeanne Syquia as Sophie Tuckerman

Lillian Hellman tapped her own roots, here the southern colloquial in both language and behavior, which are really one and the same in the oily charm of a self-proclaimed artist, Nicholas Denery, or the lascivious flirtations of a middle-aged coquette, Rose Griggs, or the protocols for maintaining a proper reputation that a hostess, Constance Tuckerman, feels compelled to enforce among her guests. In the post-World War II South, such terms as "divorce," "engagement," "chaperon" and "escort" — and in general the rules for sexual proximity and compromise — are at once traditional, new, and cloaked in innuendo. And yet the complex character relations in The Autumn Garden depend utterly upon these slippery terms. Hellman has both the words and the actions for bringing these conflicting ideas to life in her characters.
The aforementioned Sophie, an eighteen-year-old émigré from a devastated France after World War II, is the niece of Constance Tuckerman, who is the hub of the circle of friends who visit her at what was once her family's home but is now a boarding house whose rooms she rents in order to survive. Already there as the play opens, Sophie, the daughter of Constance's brother who died in the war and his French wife, is engaged to marry Frederick Ellis, a mama's boy who arrives into the arms of both his mother, Carrie, and his grandmother, Mrs. Mary Ellis, the pillar of wisdom among the others who sees through their shenanigans and delusions and is thus able to protect her wealth from their abuses. General Griggs wants to leave his long-time wife, Rose, and the rich New-York-slick Nina Denery might just as soon leave her husband Nick, for whom Constance has carried an invisible torch over the years all the while Edward Crossman has been pining away over drink for Constance.
Buzzing his way through this tangled web of gossamer emotions, and well-fueled by alcohol, Nick takes up the role of a perverse sort of rainmaker, enlisting the characters in turn to bring down their own clouds, shake them out, and act accordingly. The visual motif of this process is his own grotesque act of painting a second portrait on-the-spot of Constance (one of her tattered and in decline), twenty-three years after the first one he produced before he left her, enthralled in romance with him, and took off on a boat to Europe where he met his present wife. Wooing Constance once again, his secret motive is to exhibit the two paintings side-by-side for a handsome price — if he could seriously gather himself to pull it off. Meanwhile, best to persuade her that Ned Crossman wants to marry her and would be her perfect catch.
Lovelorn, deluded, and effete, the middle-aged cohort is upstaged by both the youngest and the eldest, the ones best able to calculate social costs and seize the day. Money has never left Hellman's table, and at least two characters among the kin and next-of-kin in The Autumn Garden wield it as well as anyone in her lineage. Call it friendly blackmail, coy extortion, or plain old withdrawal of the hook and bait, and see how the wise and the crafty serve their needs just as the play inscribes itself in the American idiom of money and manners far from that of Russia's landed gentry and Chekhov's impressionistic stage.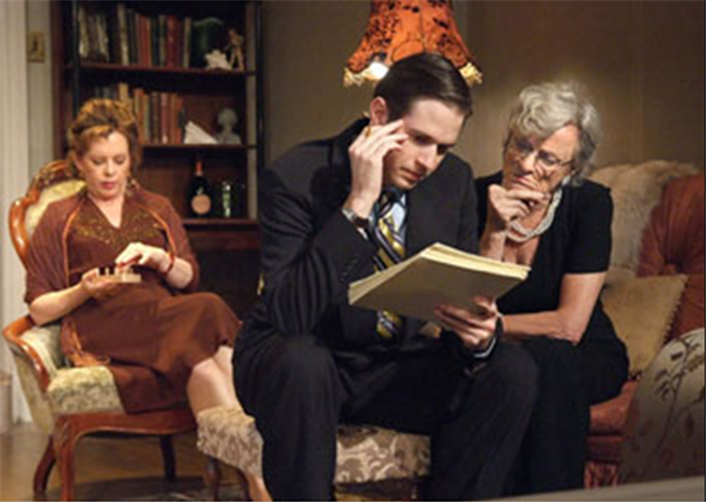 Jeanie Hackett as Carrie Ellis, Joe Delafield as Frederick Ellis, and Anne Gee Byrd as Mrs. Mary Ellis

Old paint on canvas, as it ages, sometimes becomes transparent. When that happens it is possible, in some pictures, to see the original lines: a tree will show through a woman's dress, a child makes way for a dog, a large boat is no longer on an open sea. That is called pentimento, because the painter 'repented,' changed his mind. Perhaps it would be as well to say that the old conception, replaced by a later choice, is a way of seeing and then seeing again.
Lillian Hellman, Pentimento
"Pentimento," that graceful Italian word that links pigment and time, image and context, performance and perspective, permeates the presentation of The Autumn Garden by the Antaeus Company from the themes of the play as written, to its staging and set design, to its method of casting, rehearsing and acting. The sixty-seat theater at Deaf West presents a challenge for its small stage that scenic designer Tom Buderwitz tackles with aplomb, constructing layers of time and relationships in the transparent scrims, corridors and stairways where the old friends — one-timers, two-timers, and has-beens — brush up against each other, overhear, and oversee more than they should know. The delicate charm of Buderwitz's luminous set is a gracious host to Shannon Holt's bird-like flitting as Constance, to Ronda Aldrich's prancing and sashaying Rose Griggs, to Jeffrey Nordling's insidiously imposing Nick Denery and Kitty Swink's shrewd and steely Nina Denery, to Eve Gordon's fawning as Carrie Ellis and Anne Gee Byrd's x-ray vision as Mary Ellis. Finally, Jeanne Syquia, who all but tiptoes discreetly about the house in her deferential position as the niece-housekeeper Sophie Tuckerman, cuts her own swath through the lost time of the characters and cumulatively makes the space her own, as far as desires and needs are concerned, by the play's end. Her thick French accent is one foot off the boat — and one foot back on it.
Tina Haatainen-Jones has designed smart suits and dresses for a cadre of decorum-minded southerners, while John Eckert's warm, sensual lighting gives us second thoughts about the cool and sometimes icy bonds of the characters, ready to melt at any moment, "but…." Director Larry Biederman makes the most of the languorous leisure of these weekenders by letting their banter unfurl non-stop and keeping their bodies in circulation as they strut their "wares" through blocking that is apace with the "revolving doors" of the scenes and dialogue.
Yet perhaps most fundamental to the "pentimento" that organizes and anchors this play for the Antaeus Company is the collective's commitment to ensemble plays that allow for a complete double-casting. Two actors are assigned to each role for every play presented. Actors rehearse with their cast members and then also with the counterparts from the other cast, testing, stealing, revising, and refining aspects of their characters with multi-faceted feedback. They also have the opportunity, then, to see an entire production of the play in which they are performing without having to be on the stage, offering an uncanny out-of-body experience, a strange déjà vu that can only enhance the approach to acting. Meanwhile audiences — not to mention critics — can and do come to see both alternate performances, to compare, interpret, learn, and enjoy. In this case I saw the cast referred to as the "Dreamers," but there were three switched in from the "Idealists"; there is no such thing as an "under"study at an Antaeus production.
Visit http://antaeus.org or call 818-506-1983 for tickets at the Deaf West Theatre, 5112 Lankershim Boulevard, North Hollywood, at 8 p.m. on Thursdays (except Thanksgiving) through Saturdays, at 2:30 and 7:30 on Sundays, playing through December 19.
The Autumn Garden
Playwright: Lillian Hellman; Director: Larry Biederman; Scenic Design: Tom Buderwitz; Costume Design: Tina Haatainen-Jones; Lighting Design: John Eckert; Sound Design: John Zalewski; Properties Design: Jen Prince; Dramaturg: Christopher Breyer; Stage Manager: Ritz Gray; Assistant Stage Manager: Laura Perez; Producers: Young Ji and Adam Meyer.
Cast (entire ensemble): Rhonda Aldrich, Susan Boyd Joyce, Anne Gee Byrd, Stephen Caffrey, Josh Clark, Joe Delafield, Dawn Didawick, Eve Gordon, Faye Grant, Jeanie Hackett, Shannon Holt, Jane Kaczmarek, Lily Knight, Jeffrey Nordling, Saundra McClain, Zoe Perry, Kurtwood Smith, James Sutorius, Kitty Swink, Jeanne Syquia, Reba Waters, Stoney Westmoreland, Josh Zuckerman.
Running time is 3 hours. Photos credit: Ed Krieger.