4-7-22
Piano is Key: Suzana Bartal with the Calder Quartet
By Diane Sippl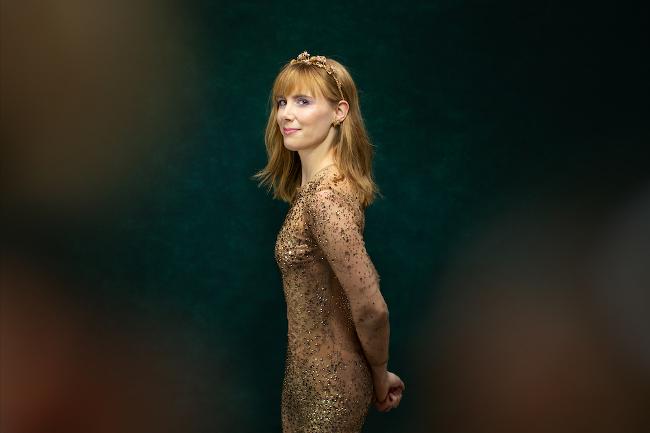 In the second stunning music event this week at the Wallis Annenberg Center for Performing Arts in Beverly Hills, on Saturday, April 9th the prolific pianist Suzana Bartal will perform along with the acclaimed Calder Quartet for an evening of string quartets and piano quintets encompassing the Classical, Romantic, and Contemporary eras. Works by Haydn and Schumann will open and close the program, respectively, but it will also include a string quartet by Eleanor Alberga and a piano quintet by Éric Tanguy.
Composing most recently in the modernist and post-modernist idioms, Alberga, a Jamaican émigré to the UK, displays angular melodies and rhythmic drive without abandoning the use of harmony and repetition established earlier by Haydn, the "Father of the String Quartet," whose 1782 String Quartet Op. 33, No. 4 launches the concert. Claiming early inspiration from Béla Bartók and Caribbean music traditions alike, Alberga is not afraid to develop quickly contrasting moods in her one-movement String Quartet No. 2 (1994), from syncopated energy to contemplative variations, culminating them with dynamic cross-rhythms and dissonant chords. Once a performer of African and Indian dances, a pianist and musical director for dance companies, and a commissioned composer for choreographers, she plays across genres as a concert pianist and recording artist and claims that her 2nd string quartet focuses purely on the form—the notes and the structure—without the introduction of extra-musical ideas. Yet the physicality of dance may be evident in this quartet and her 1st and 3rd quartets, which were inspired by stardust and waterfalls.
Presenting Alberga's work is the Calder Quartet, comprised of Benjamin Jacobson and Tereza Stanislav, violins; Jonathan Moerschel, viola; and Eric Byers, cello. Inspired by the innovations of sculptor Alexander Calder, they have been awarded the Avery Fisher Career Grant for discovering and commissioning works from new artists and mentoring and recording emerging composers. They themselves have performed the complete Beethoven and complete Bartók quartets.
A highlight of the evening will be Suzana Bartal's performance of the U.S. premiere of Éric Tanguy's Piano Quintet. It's not she first time she has premiered his work; that was his Rhapsodie for Viola and Piano, which she presented at the Festival de Pâques Aix-en-Provence. Arguably the leading French composer today, Tanguy teaches at the Conservatoire Paul Dukas in Paris but has also lectured at UCLA, USC, and The Colburn School. His compositions have been known for their formal order, even at the micro-formal level, combined with density, nuance, and homogeneity.
French-Hungarian virtuoso Suzana Bartal was actually born in Timişoara, Romania, where she began to study music. Having performed solos, concertos, and chamber music in the most prestigious auditoriums across Paris and in halls from Bonn to New York to Venice to London as well as in music festivals in France, Hungary, Germany, and Finland, she brings an openness to Tanguy's expressive vitality. At The Wallis, she delivers his work alongside of Schumann's only piano quintet, composed in just five days in 1842, but which is said to have revolutionized the form and established the quintet as a Romantic genre.
Suzana Bartal with the Calder Quartet
Wallis Annenberg Center for the Performing Arts
Saturday, April 9, 2022, 7:30 PM
Concert Prelude moderated by Classical KUSC's Brian Lauritzen, 6:30 pm
Wallis Annenberg Center for the Performing Arts Bram Goldsmith Theater, 9390 N. Santa Monica Boulevard Beverly Hills, CA 90210
PROGRAM:
HAYDN String Quartet Op. 33, No. 4
ELEANOR ALBERGA String Quartet No. 2
ÉRIC TANGUY Piano Quintet (U.S. Premiere)
SCHUMANN Piano Quintet in E-flat major, Op. 44
Approximately 95 minutes including a 15-minute intermission.
TICKET PRICES AND INFORMATION:
$29-$79 (subject to change) 310-746-4000 (Monday – Friday, 10 am to 6 pm)