1-6-11
Finnish Men, Body and Soul, in Steam of Life: The 2011 Scandinavian Film Festival Los Angeles
By Diane Sippl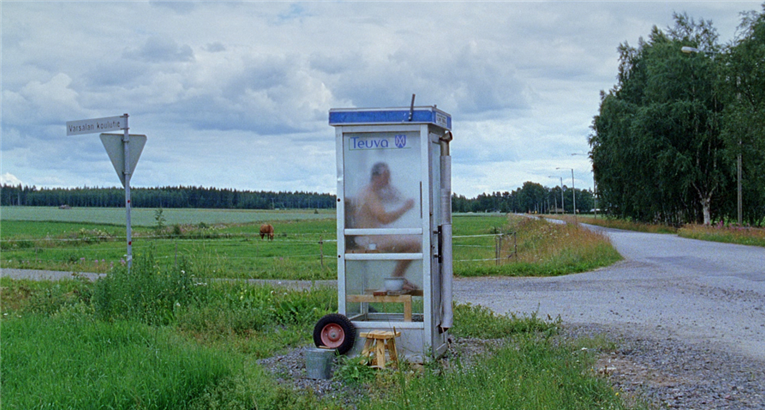 There's nothing like a trip to the sauna for Opening Night of the 12th Scandinavian Film Festival Los Angeles (January 8, 9, 15, and 16 at the Writers Guild Theater in Beverly Hills, 135 So. Doheny at Wilshire). Preceded by the festival's Gala Buffet, the night heats up with Joonas Berghäll and Mika Hotakainen's lauded Steam of Life.
One wants not to say too much about Steam of Life — not for any of the old, cliché, Hollywood reasons such as suspense and "spoilers" and all that nonsense, but because this exquisite "hush" of a film should be felt and ingested as one stands in the awe-filled air of solemn music or the glow of a bard by the fireside. An enchanting cinematic experience that easily dismisses genre boxes, binary designations of fact/fiction, and the camera's traditionally voyeuristic relation to the naked body, the film especially dodges the usual ways of "documenting" life, though this is exactly what it does, in all its throbbing candor and wonder.
"You try to look for a norm that isn't there," observes one of the film's so-called "characters," as the end credits identify him, along with dozens of others, men from many walks of life — lumberjacks, soldiers, miners, fathers with their sons, homeless acquaintances, even off-duty Santas — as they impart small stories. Yet these seemingly tiny tales are like shards of deep bonds broken by death, divorce, incarceration. Some are recurring nightmares; others are memories of harmony and tranquility before a loss. And once in awhile these un-self-conscious utterances melt into the sheer discombobulation of a man's defenses against an outpouring of emotion. "One should scream..." confesses one man among many, none of them identified individually despite the fact that we feel intimate with them all. "... Just knowing that you are not alone is an incredible relief."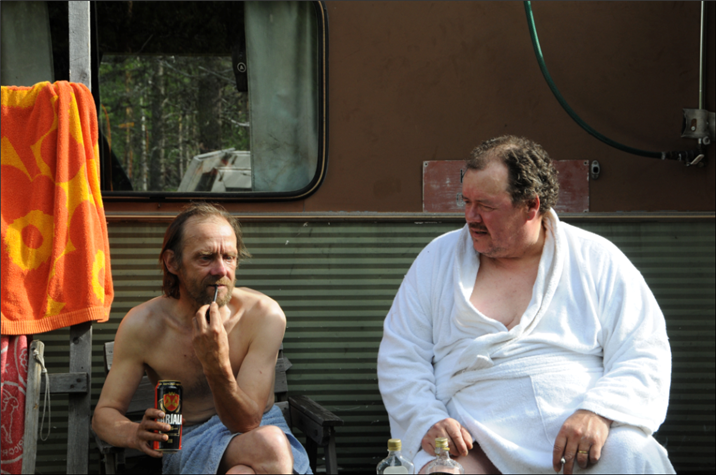 That knowledge hangs in the steamy air of the saunas we visit where no man is alone. In fact "sauna" in Finland gets defined in this film as anything but solitude, or even quietude, for that matter, for all the intensely quiet listening many of the participants do while we join them in bearing witness. Bending an ear in any of these public spaces where the most private of reflections are shared is like being a silent but empathetically "present" member of a Greek chorus. Poised for catharsis, the speakers literally sweat out their traumas and flaws, purging themselves of the mistakes and accidents of life and at the same time enveloping us in their agonizing transformations. Recurring close-ups of the ladle of water tossed upon hissing hot bricks punctuate the various vignettes by framing them, echoing the characters' emotions, or posing wry commentaries on the "burns" of life.
The men's words are so piercing, we may not even stop to realize that their voices sometimes come to us from off-camera, detached from their stripped-down bodies though we are so drawn into their hearts. And all the while, the men sit naked before us — not nude, not posing, but vulnerable in the sense that any living creature is when exposed. Perhaps this is the unconscious part of our own intimacy in the ways we bond with them during our shared moments.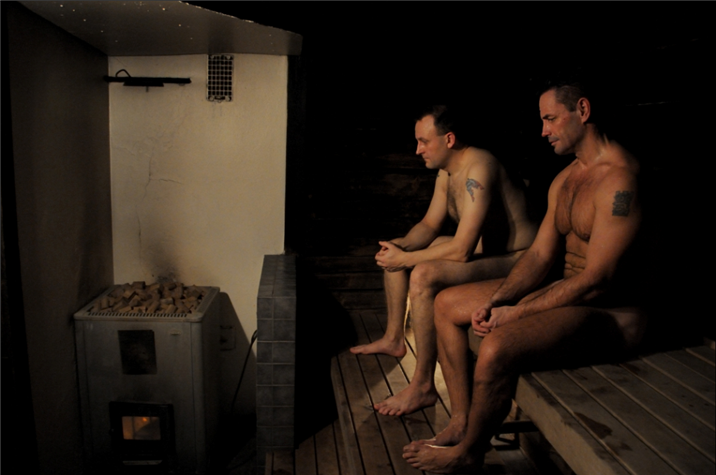 The variety of saunas is astonishing: poolside at community centers, home-style, shack-style in the woods, camping-style in tents or trailers, even in a re-cycled phone booth! Yet the film is never claustrophobic, since cinematographers Heikki Färm and Jani Kumpulainen offer spell-binding solace in deft compositions of Finland's natural beauty, stationary shots that deliver us to rivers and streams under open skies before returning us to the flickering warmth of flames reflected on northern wood. Fire, air, water — and the naked body: it's as if the filmmakers deliberately reduce their presentation to life's primary elements. Yet the images of nature invite free association with the men's poetic storytelling, as rhythmic as it is spare. Such vistas serve as counterpoints to the narrow options available to boys for expressing grief as they become men.
Jonas Bohlin's score lends an epic dimension to all the intimacy; it is generally grand if not sobering, yet occasionally bouncy and carefree as a calypso. One scene in the film is a laugh-out-loud jaw-dropper, no denying it. Still, the finale, also a surprise, is the real testament of the directors' taste in cinema. "That's when I realized how manifold love can be…" one of the characters has told us earlier. It's a line we recall viscerally in the culminating sequence of the film, which disarmingly reminds us that it is "life" that yields the real bards, not "the movies."
Steam of Life
Directors: Joonas Berghäll and Mika Hotakainen; Producers: Joonas Berghäll/Oktober Oy; Screenwriters: Joonas Berghäll and Mika Hotakainen; Cinematographers: Heikki Färm and Jani Kumpulainen; Editor: Timo Peltola; Music: Jonas Bohlin; Sound: Christian Christensen.
Color, S16mm to 35mm, 81 minutes. In Finnish with English subtitles.