10-9-12
Tapping the Personal with Simon and the Oaks
By Diane Sippl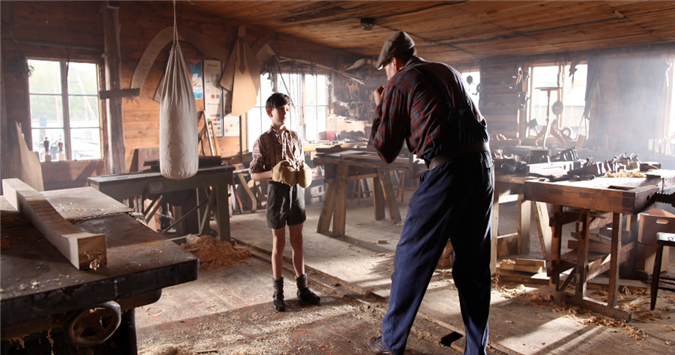 Scenic, voluptuous, pensive, Simon and the Oaks is a classic Bildungsroman that situates itself on the sidelines of history — or so it would seem, but not for long. Reconstructing nary a battle scene or even events that launched or consolidated Hitler's power in Europe between 1939 and 1945, filmmaker Lisa Ohlin's frames instead reveal the quietly evolving sensibility of a Swedish boy, from early pubescence to late adolescence, in the rustic outskirts of Göteborg and then the city as well.
Here there is neither the pervading angst of Ingmar Bergman nor the insouciant charm of Bo Widerman; rather a certain melancholy prevails, the kind of emotional malaise that comes with the dislocation war brings but also with any anxiety about family roots. Identity, whether it be inherent lineage or the cloaks of race and class in which history dresses it, is also a matter of self-crafting, and we see Simon struggle in his youth to find and claim the innate gifts that he senses make him who he is.
So it's important that Simon and the Oaks is also a special kind of coming-of-age tale, a Kunstlerbildungsroman, that of an emerging artist. Strangely, we never see Simon become an actual poet, painter, photographer, or musician, but we do see him pulled to all of these, and director Lisa Ohlin delivers Simon's developing point of view with fresh touches of lyricism.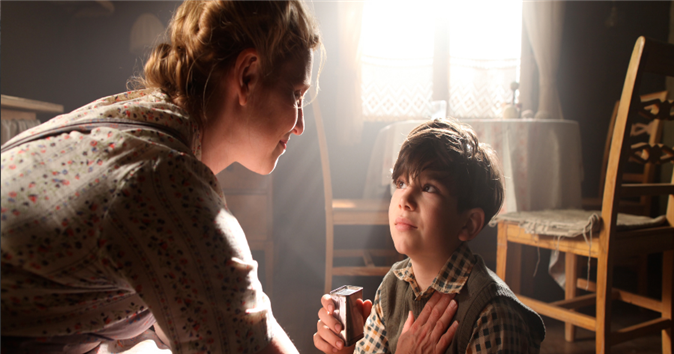 A pastoral-pretty opening scene finds the boy perched in a tree house on a hill by the sea, daydreaming the words of a desert tale he reads as the camera whirls from the breeze in the leaves to shifting clouds-turned-camels proudly gliding across the sky. But the film cuts from this luminous delirium to the dark interior of a humble home where a man grumbles that young Simon never wants to go sailing or do woodwork or pick fights like the other boys but is obsessed with his oak that whispers to him. That's only the half of it, because the boy has taken himself to apply to what this father, Erik Larsson, calls a stuck-up" grammar school in the city, despite learning from the man how to box and to split logs. "Don't let those fops down there make you forget where you're from," he counsels him. "Forget the oak. Find yourself real friends." And as Simon wrestles with Erik (as if to defend his own course for the future), Erik reminds him, "There are some insults you don't take, like being called a coward or a wimp."
Simple and familiar as these words are from fathers to sons, they foretell Simon's place in the real war to come. Simon befriends Isak with a fist to the face of the school bullies who harass the smaller boy for being Jewish. Simon and Isak, now two peas in a pod, soon discover how each one's taste contrasts with the other's, from lunch to school subjects to favorite pastimes. Simon is drawn to history and to Isak's dad, Ruben Lentov, who owns a bookstore, an immense home with "mile-high" shelves of books, parquet floors, chandeliers, sculptures, paintings, and a piano. Yet Isak's mother won't leave her room, fearing the reach of the Nazis. At home, Simon sits in the embrace of his mother, Karin, on a hilltop with an expansive view of the fog creeping in from the sea's horizon. "Do you know what fog really is?" he asks her. "It's the sadness of the sea, and it's as endless as the whole sea."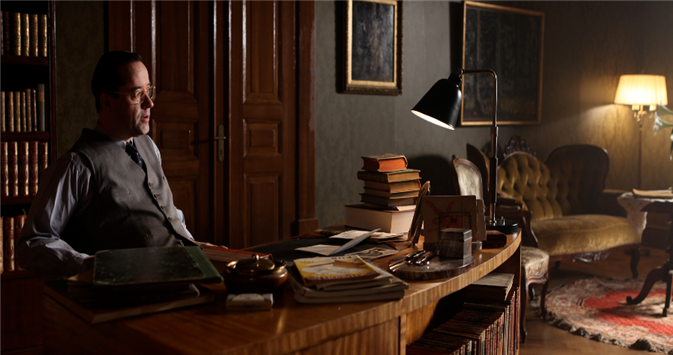 One day Aunt Inga visits — Simon calls her a witch for all her strange behavior. She brings a letter she wants translated. "Why now?" asks Karin, and Inga pleads, "It could help him."
"Burn it," commands Karin, and in the next scene she plays a game of "find and catch" with Simon as he shines reflections of light throughout his room. The silently lyrical camera speaks a thousand words prefiguring Karin's and Simon's elusive relationship as he navigates his own storm in coming of age.
Isak's mother, Olga, presents another story, more melodramatic on the surface but mysterious enough to raise compelling questions within the intimate epic as a whole. Her personal history parallels Isak's in relation to the Nazis and even, somewhat, in relation to Ruben. Isak is increasingly more comfortable in Erik's tool shop learning to build a boat all the while he draws Erik's embrace, just as Simon experiences his first concert at the invitation of Ruben. As the music swells, Simon's imagination conjures his oak, the hills, the sea, and more, all the while an uncanny feeling overwhelms him. "It's as if I knew it — as if I'd been there before, inside the music."
In this key passage in the film, Ruben responds, "And I was thinking of Olga. That's what art is all about. It allows us to enter an inner world, emotions that go beyond words. For me, it's a way to survive." Ruben proceeds to get Simon piano lessons and a Victrola, against Erik's wishes. Meanwhile Isak, under Erik's tutelage, builds what the boy calls "not just a boat, but a double-ended Koster, the biggest in the harbor!" As Isak finds a nurturing cocoon in living with Erik and Karin, along with Ruben whom they are also protecting in their countryside home, Simon faces increasing questions upon entering manhood. Why does Erik resist Simon's artistic development? Why has Simon never felt good enough for Erik? What are Simon's parents so afraid of?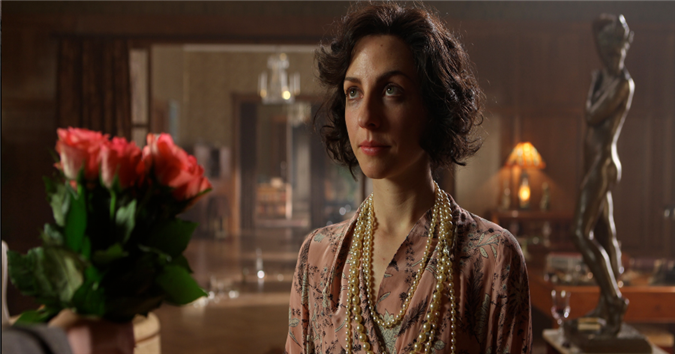 The war ends, but Simon's mounting anxieties take him to the farm of the seemingly bizarre Inga. And on another front, Ruben gets a call from a sanatorium about Iza Schentz, his niece who was once held in Auschwitz, and Ruben finds a chance to untangle his own past and do what he can to redress it for the future.
Simon gets to know Iza as well as another young lady, Klara, a fellow student who claims that it's no good studying the world's revolutions and sweeping changes without probing their myths, their psychology, and avenues for a therapeutic value in learning history. Again, an image says it best: a real camel, bound in ropes and somehow bigger than life owing to the camera angle, descends through the sky from a ship's crane in the harbor. The ancient Sumeria of Simon's history class, the desert tale he read in his oak, the cloud camels he saw in the sky — all juxtaposed with the ships of Erik's passion — sever Simon from Erik and compel the youth to the mystical Inga for some very real answers.
Simon is well on his way to choosing his own path in life. Presumably in a loft-like wing of Ruben's house in Göteborg, the camera fluidly pans four seamless scenarios of Simon's artistic intellectual life, from chess with classical music, to dancing with jazz, to afternoon sex, to curling up with a book in bed. What appears as a single shot-sequence posits the organic unity with which Simon has forged his identity.
Simon and the Oaks is a large-scale production funded by Sweden, Denmark, Germany, Norway, and Holland. It garnered thirteen nominations for the 2012 Guldbagge Awards (call it the Swedish "Oscars") including Best Picture, Best Director, and Best Cinematography. It was also a huge success at the box office in Sweden, which was to be expected of an adaptation of a best-selling novel in the country, Simon and the Oaks, written by Marianne Fredriksson to show the interplay of fate and free will for Jews in Sweden during World War II.
Yet director Lisa Ohlin pursued the project with a personal motivation as well. "My mother's family escaped from a certain death in Berlin," she tells us, "to a new life in New York in 1939. Growing up as a survivor gave her guilt, but she, as well as the rest of the family, dealt with it by not talking about it. My mother suddenly died when I was five, so my brother and I moved to join our father in Sweden. He had the same method — avoidance — that meant that my mother was never mentioned again."
When she was seventeen Lisa Ohlin moved back to the U.S. and was able to meet the people, see the photos, and read the letters of all that she felt she had been "mad for thinking about." She was overwhelmed but gratified to find her place in history. She considers her epic film to be about "the struggle between good and evil, love and hate, fear and courage" but also about "the small choices we make that later define our lives."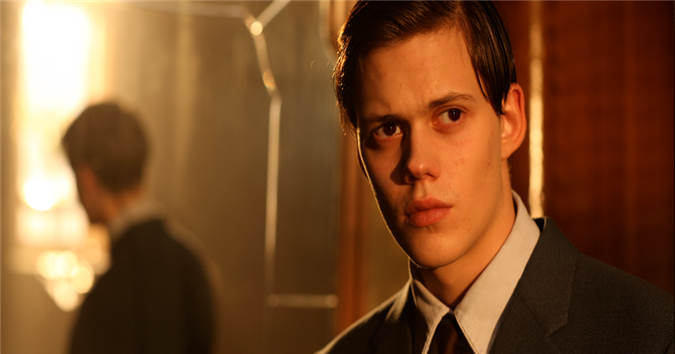 Lisa Ohlin does a stunning job recreating a sweeping narrative as a work of cinema, and at the same time screenwriter Marnie Blok's dialogue is sometimes clipped, sometimes uttered in bolder relief than necessary, and with subtitles, sometimes even echoes clichés. Key historical interrogations (an essential theme of the film) are often glossed over or telescoped. At the onset of Hitler's infiltration of Norway, a schoolboy boasts to Isak and Simon that Sweden will be safe because his dad told him the country will side with Germany. At the war's end Erik (now a prolific shipbuilder who was once a small-time carpenter/yeoman) lifts a glass to the future, but a college-age Simon confronts him with a Swedish socialism that somehow profited from the war. At this family celebration a man utters that none of their problems would have come to pass if the Russians had done their part against Hitler.
Presumably these side themes — the stuff that wars are made of — are elaborated in the novel's epic scope. With a two-hour running time, the film only hints at them. More important, the film provides only the skeleton of social-psychological issues that underpin its conflicts. Such issues present themselves well enough under the umbrella of Klara's position: big historical disruptions need their myths and psychologies probed if we are ever to find therapeutic resolutions.
Simon's personal story is, of course, just such a "big event" — history in-the-making, individual as it is. Yet the most valid and penetrating questions it raises are social ones. Why did Inga's predicament come to pass as it did? Was it social class or racism or sexism or bias against artists as "different" that blocked her most? Did Karin and Erik "protect" Simon or "destroy" their quest to possess a child and heir? What comes of Nazi abuse as visited upon boys and girls such as Isak and Iza? What comes of marrying a "safe" mate, one on the side of power in wartime? Were Olga's mental breakdowns precipitated or exacerbated by the war, or perhaps by feelings of rejection and jealousy owing to a man we see restlessly flirting once more? And then again, is Simon's attraction to Iza really about claiming "pedigree," or assuaging guilt?
Such a long series of questions attests to both the peaks and limits of adapting successful novels to the screen. On the one hand, we're left noting that none of the characters is cut-and-dried in a mold of good or evil; each has flaws, deep wells of fortitude, complex and competing emotions. It's not necessarily a problem that we are left to sort out for ourselves the ways and means of each character. Another work, the 400-minute The Best of Youth (2003), also a sweeping epic of the times with a coming-of-age theme within a key family, was conceived for Italian television and drew both box-office and critical success as a film leaving a similar swath of second-thought questions in tow. It dramatized the impact of the 1960s on two brothers and their mates by fusing the personal, political, and psychological across some 35 years. Simon and the Oaks replaces the political with the poetical and focuses on half a decade, with Bill Skarsgård lending heft and integrity as Simon. Annette Focks' mesmerizing violin score (along with works by Berlioz, Mozart, Sibelius, and others) adds aplomb to a fine film.
Simon and the Oaks
Director: Lisa Ohlin; Producers: Christer Nilson, Per Holst; Screenplay: Marnie Blok; Cinematographer: Dan Laustsen; Editors: Kasper Leick, Michal Leszczylowski, Anders Nylander; Production Designers: Anders Engelbrecht, Lena Selander, Folke Strömbäck; Music: Annette Focks; Sound Designer: Jason Luke; Costume Designer: Katja Watkins.
Cast: Bill Skargård, Jonatan S. Wächter, Helen Sjöholm, Stefan Gödicke, Jan Josef Liefers, Karl Linnertorp, Karl Martin Eriksson, Katharina Schüttler, Erica Löfgren, Cecilia Nilsson, Lena Nylén, Josefin Neldén.
Color, 35mm, 122 min. In Swedish and German with English subtitles.