2-14-13
Shanghai Calling: Daniel Hsia's Valentine to China
By Diane Sippl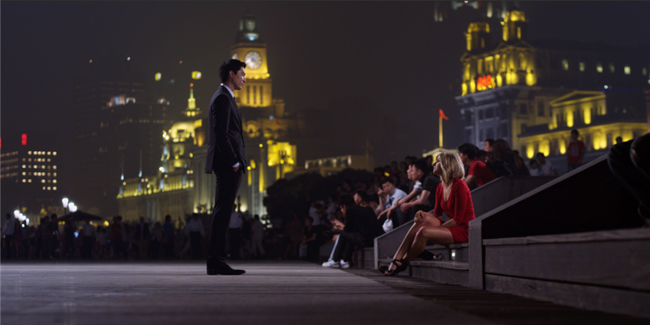 Daniel Henney and Eliza Coupe, Photo: Armando Salas
When I was 22, I went to Hong Kong for three months.... I wanted to leave after a week. I hated it. I hated the smells. I hated the music. And then I fell in love with a girl.... It ended up being three years.... I believe that everyone, at some point in their lives, should live overseas. It opens your eyes and your mind, and you come back with a new perspective.
Actor Daniel Henney, Shanghai Calling
What's it like to be an immigrant from America? It's not an experience a lot of Americans are familiar with. We're used to people visiting the U.S. But now that China is becoming a global powerhouse, all the big companies are opening offices there. We're no longer the center of the universe. For many Americans just out of college, their first job is in China.
Writer-Director Daniel Hsia, Shanghai Calling
In shorthand, we like to say it's about a banana who falls in love with an egg. A banana is someone who's yellow on the outside, white on the inside, and the egg is obviously the reverse.
Co-Producer Janet Yang, Shanghai Calling
In our sandbox when we were kids, we used to "dig a hole to China," and when we wouldn't eat our vegetables, our parents scolded, "Just think of all those starving boys and girls in China." Those boys and girls may still be starving, working in dangerous sweatshops to assemble malfunctioning exports, bringing Beijing money and stealing our jobs. That's how many in the West see it, thanks to daily articles in the New York Times' special section, "China Watch," and Ai Weiwei tweets, and a flood of alarming documentaries Westerners have captured there and brought back or assembled here. The recent Martin Sheen-narrated Death by China comes to mind.

On the other hand, blond little Katie (Gillian Rexach) in Daniel Hsia's Shanghai Calling is digging a hole to America, and when she wants to be obstinate, she speaks only in Chinese. In many ways, she's the hub of the film, because Hsia's suave and timely co-production, between the Mainland government-funded China Film Group and the prolific Janet Yang with Stateside private investors, has the next generation in clear sight. Katie lives in Shanghai, where Amanda, her single mother, chose to relocate to start a new life. "From what I've gathered, Shanghai's a place where a lot of people come to re-invent themselves...." observes actress Eliza Coupe, who dazzles us in the Anglo female lead as much as she does Sam, played by stunning model-turned-actor, and now, Cary Grant-style comedian, Daniel Henney.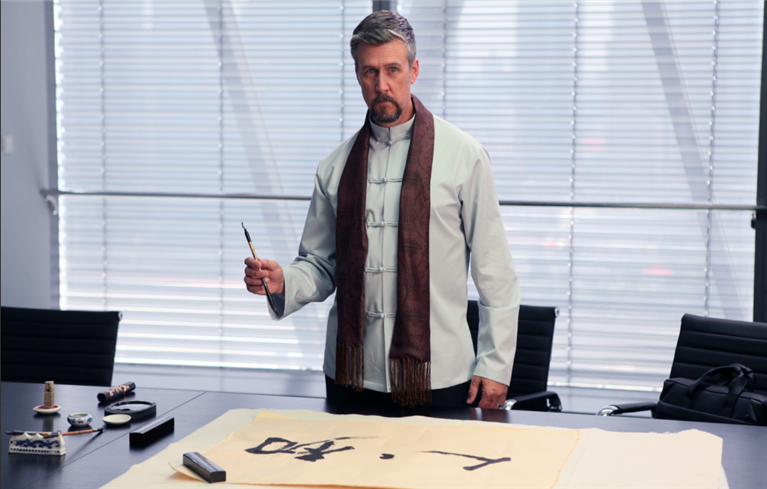 Alan Ruck , Photo: Gao Yiping
Now there's a hard cookie to crack -- "ugly"American Sam Chao (think "Ciao" as in "good-bye") -- who fights tooth-and-nail against his mandated transfer from Manhattan to Shanghai and accepts this three-month "banishment" only as a bargaining chip for gaining partnership in a prosperous New York City law firm. "Be a team player," his bosses grin. Sam may look as Chinese as any of the country's billion nationals, but he can't order from a local menu or even notice when he doesn't need a cab because he's already looking at the glistening skyscraper that houses his swanky Shanghai office with its giant Skype screen. In fact the film's story lodges itself squarely within the city's (fictional) America Town, complete with a mayor, Donald Cafferty (Bill Paxton), who is also a mogul of a Jimmy's Fried Chicken franchise, and an electronics tycoon, Marcus Groff (Alan Ruck), who covers up his robber-baron intentions by painting calligraphy in a Mandarin jacket. The film dwells in ex-pat life, whether it be that of Sam and Amanda and Brad, a sidekick English teacher on the make, or a wider circle that encompasses a womanizing Frenchman and a British hamburger billboard actor-cum-fake attorney as well.
All of them are posers, including Groff, who claims he bought the manufacturing rights to a new, clicking, touch-screen phone. There are a few Chinese main characters as well, and true to the Hollywood genre of rom-coms, they, also, are posers when need be, even if only as desired suitors, such as Guang, the computer specialist at Sam's office, who is chasing the heart of Sam's assistant, Fang Fang, who herself pretends not to be moonlighting.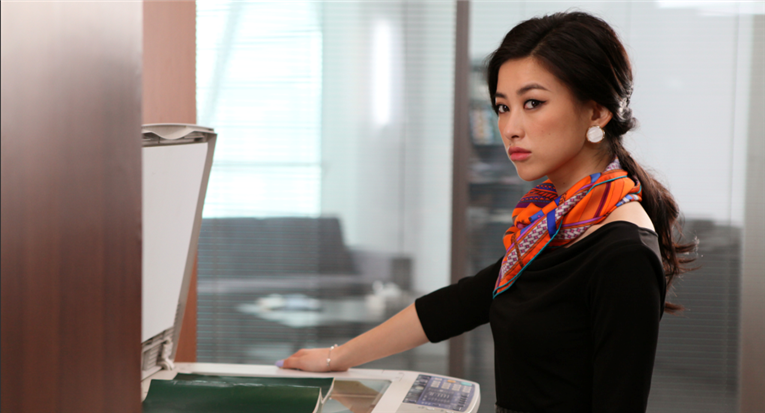 Zhu Zhu, Photo: Gao Yiping
At an invitational pre-screening of Shanghai Calling at Hollywood's TCL Chinese 6 Theaters, Zhu Zhu, who plays the Chinese female lead in the film, teased, "I'm just a little Chinese girl, and I'm here in this big Chinese theater, for my first premiere!" It's a wryly redundant remark that has to be taken tongue-in-cheek. An actress, singer, model, and music video host for MTV China, she's the co-star alongside Russell Crowe and Lucy Liu in the upcoming Quentin Tarentino martial arts production, The Man with the Iron Fist, having made her big screen debut in 2010 in the Chinese re-make of What Women Want with Andy Lau and Gong Li. With a cross-cultural name like "Fang Fang" in Shanghai Calling, she is hardly called upon to play the fragile "China doll," and when Sam snidely accuses her of flirting with him in order to snatch up a rich husband while she's been earnestly striving to prevent his career flubs so as to enhance her own climb upward as part of his team, she outright quits. "His Girl Friday" ends up off-and-running with a real team player, someone who knows how to win her heart through Grandma's and Auntie's (with tapas, no less).

This is when the film finds its soul, because Amanda, who actually catches Sam's eye, is no less feisty. With unflappable scruples of her own, she's forever flying zingers at him. "I'm trying to figure out who's the real you," she spews out, "the sensitive man who put my daughter totally at ease, or the carpetbagger who thinks he just helped someone." Amanda's little Katie has completely shut down her English and will speak only in Mandarin, which normally wouldn't be a problem for Amanda, since she chose to come to China based on her fluency with the language that she studied in the States and her genuine curiosity about the culture. In Hsia's admirably assured script, with language jokes and sight gags galore, she looks more like Sam's better-half in a better world than his heart-throb in the social gridlock he's manufactured for himself as a failed transplant. But in fact it was Amanda, the corporate re-location specialist, who told Sam (to the tune of an electric saw next-door in the six-star apartment she found for him), "Shanghai and construction go hand-in-hand," so rather than push his attorney-answer, to sue the builders, the film extends the construction -- to a new Sam, one who can weather a "girl" like Amanda because he comes to discover a China he never knew.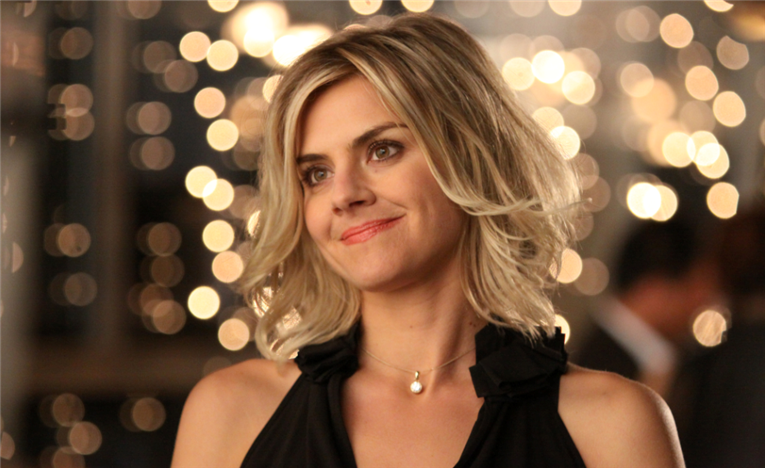 Eliza Coupe, Photo: Gao Yiping

That means more than bowing as you present your business card with both hands, or learning to drink loose-leaf tea and to let go of privacy and elbow room. When Sam is trying to have an urgent consultation with Awesome Wang (Chinese comedian Geng Le) in a noodle shop and the locals fill up their table with their soup and slurping, Sam protests, but Awesome, in keeping with his namesake (he's the go-to guy for troubleshooting), resolves the issue: "Anybody here understand this guy?" No one bats an eye. "I think we are okay," he consoles Sam, who is wiping his neighbor's splatter off his face.

For the longest time the concepts of cooperation and collaboration escape this New Yorker who, for all his bosses' banter about being a "team player," has arrived where he is via competition and a sense of American entitlement bigger than the Bird's Nest. And yet, despite himself, in a tender moment Sam finds himself telling Amanda, "I guess you're a duck. Certain people make everything seem so easy, and yet if you look below the surface, you see them paddling away like crazy."
"You know that's Chinese," Amanda is quick to reply, utterly charmed by Sam. And she, also, despite herself, utters another truism to Sam, "Sooner or later, you're always going home." She says it with a sad sigh, feeling it's one more love-match she's lost, one more carpetbagger of the heart. But what she doesn't hear herself saying is that for Sam to "go home" is to go to the Chinese roots of his parents, to the culture he worked so hard to deny himself that was there all the time. And what she doesn't know is that Sam, now humble to the help of all his new colleagues and friends, is on the brink of proving that he's no "rotten radish" after all.
"Shanghai is a city that's always changing. Why should the people here be any different?" writes Awesome Wang as he completes the editorial he began when the film opened. The new Am-Cham (American Chamber of Commerce) President is sexy Chinese American Esther "Woo," and Donald takes to opening a bar. Others get stripped of their false identities, and Sam finally gets to shed his assumed identity -- or does he?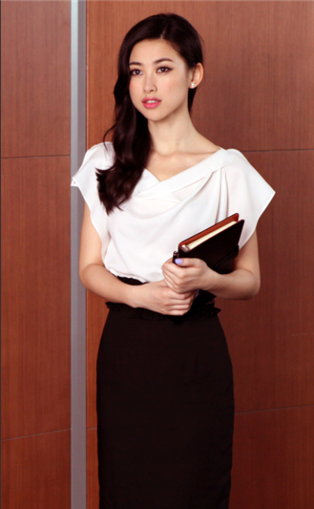 Zhu Zhu, Photo: Gao Yiping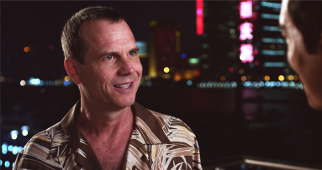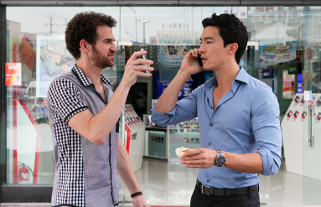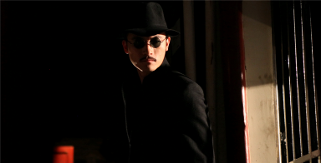 Top, Bill Paxton, Photo: Armando Salas; Middle, Sean Gallagher and Daniel Henney, Photo: Gao Yiping; Bottom, Geng Le, Photo: Gao Yiping

In the end, there is lots of humor that plays on immigrant status per se, beginning with Sam, who brags early on that, for all his Asian looks, he's never even been above 79th Street (of the Big Apple), let alone to China, and as for the "mysteries" of Asian women, he wouldn't know. "Actually, I've never dated one," he answers Brad, who's beset with what is known as "yellow fever." In real life, the ironies carry on: Daniel Henney, son of a Korean mother and Anglo American father, actually had visited China and did find love there; and Sean Gallagher, who had actually been living in China as an ex-pat actor and says he knew "just enough Chinese to fool people" into hiring him, has actually been repatriated, and tells us, "Now I'm a Chinese immigrant to America!"

Shanghai Calling, Daniel Hsia's valentine to the city of his parents' birth, may look like a Hollywood make-over of an old screwball comedy, but its cross-cultural ensemble of actors addressing global issues in multilingual dialogue at diverse locations across the city reaches out to Chinese and American audiences alike. The genre has always skewered the high-and-mighty and championed the underdog. Here, as Sam suffers his own stereotypes all the while he lays them on others, we begin to question our own. For all its ex-pat anxiety, this film, owing to writer-director Hsia's sensitivity and invention, and Cuban-born, Florida-raised Armando

Salas' scintillating cinematography, and German composer Klaus Badelt's breezy score, puts Sam in a place entirely new, not only on the right "side" (of the laws and the cultures and all the water that flows under the bridge that is the wide Pacific) but also in the right role. Smiles Daniel Henney, "It was the first time I'd seen an Asian American lead role in a romantic comedy where he actually gets the girl." This one's a charmer -- Daniel Hsia's Shanghai will be calling you back again and again.

Shanghai Calling
Director: Daniel Hsia; Producers: Janet Yang, Zhao Haicheng; Screenplay: Daniel Hsia; Cinematographer: Armando Salas; Editor: Pamela March; Production Designer: Yu Baiyang; Music: Klaus Badelt, Christopher Carmichael; Costume Designer: Wang Haiyan.
Cast: Daniel Henney, Eliza Coupe, Zhu Zhu, Geng Le, Bill Paxton, Alan Ruck, Sean Gallagher, Lu Cai, Gillian Rexach.
Color, 98 min. In English, Mandarin, and Shanghainese dialogue with English subtitles.