6-11-18
Rosemarie: Cyprus in Deep-Focus
at the 12th Los Angeles Greek Film Festival
By Diane Sippl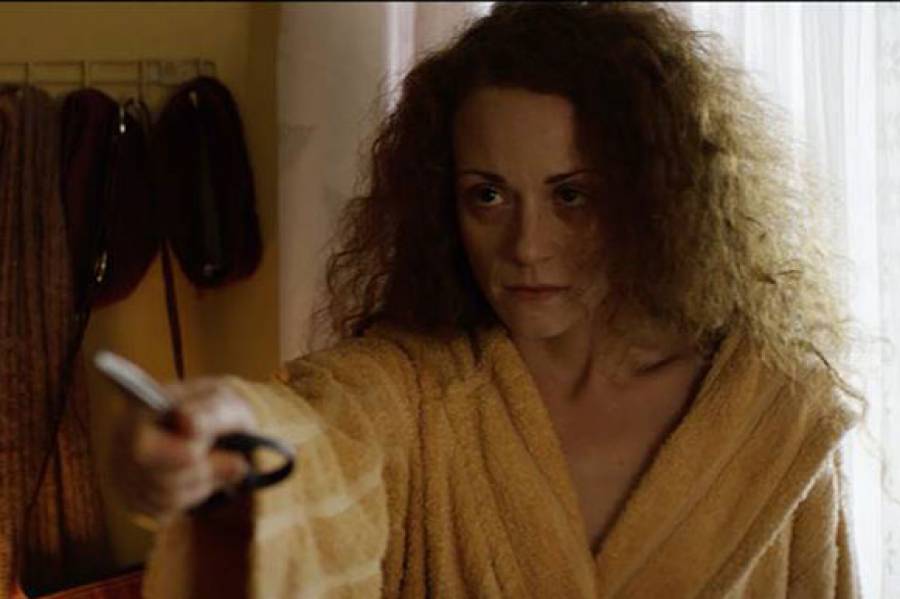 Between its opening gala with Smuggling Hendrix and its follow-up the next night with Rosemarie, not to mention Happy Birthday, screening earlier that evening after short films such as The Midnight Shift, it would be fair to say that the 12th Greek Film Festival Los Angeles, June 4-10, 2018, has put Cyprus in the spotlight. That is, we got a big, healthy taste of not only the island's turf, its cultures, its history right up to the moment, and therefore its political and ethical issues, but also its eye-opening artistic expression. That visual language included not just the expert and original cinematic visions of its cineastes but also, in at least one case, a flair for theatre arts long in practice.
In this case I speak of Adonis Florides who, in his film, Rosemarie, brings a number of visual/performing arts to the big screen—cinema, theatre, and television—in a rather postmodern spin on Hitchcock's Rear Window. Yet Florides anchors his film in the everyday popular culture of Cyprus along with a keen dose of Cypriot high art in its thespian talents, its cinematography that zooms in on specific locations, and its keen editing of sounds, images, and events. The story moves swiftly, building suspense by threading together multiple genres (the thriller, the soap opera, and the drama) with truth and compassion. Look for patriarchy at the root of the conflict, steeped in the dramatic irony of Greek tragedy, but also spiked with humor as Florides skewers an ancient tradition of secrets and lies that is alive and well in the Mediterranean (and most other places).
Rosemarie is a film about a contemporary TV writer of soap operas who resorts to spying on his neighbors in the apartment next door to find fresh stories for his show. But such peephole surveillance can backfire, and it reveals not only the sordid family relations of the neighbors but also facts about the writer's own past that have been lying dormant for many years. The duality between the hidden and the visible, or the denied and the acknowledged, emerges in bold relief, highlighting the dynamic between art and life that might loom large with soap operas but is embedded in the contradictions of every facet of Cypriot society today. In this sense, the nuances of Rosemarie raise questions that media scholars have been asking for some time: can we dismiss soap operas as pulpy stereotype "factories" that exploit our basest emotions, or can these daily doses potentially uproot our dark desires and deeds even before we're ready to face them? Domestic violence, male dominance, and same-sex relations, for example, might surface in this popular genre in progressive ways, not simply reinforcing old hierarchies or taboos but serving as beacons for change even if cloaked in unconscious viewing habits. In some cultures, "the soaps" are not just a social barometer but the "cutting edge."
In May, Rosemarie opened the Cyprus Film Days International Festival in Limassol, where theatre director and playwright Adonis Florides, who is also an award-winning film director and screenwriter, lives and works. In 15 years of the Cyprus Film Days, it was the first time that a domestic work won the award for Best Film, competing in the "Glocal Images" International Competition section. Rosemarie, Florides' second feature, also won the Best Film award from the Greek Film Critics Association at the 58th Thessaloniki International Film Festival 2017.
Professor Katerina Zacharia, who heads the LAGFF Internship Program that she founded three years ago as a partnership between the festival and Loyola Marymount University, moderated a post-screening Q&A with the Assistant Director of Rosemarie, Andreas Kyriacou. Katerina Zacharia, Professor of Classics at LMU, serves as the LAGFF Director of Education and is credited in the festival program with "expertise in the re-imaginings of classical antiquity in visual culture (art, theatre, and film) as well as the uses of antiquity in the formation of Greek ethnic identity and cultural politics."
Director/writer/producer Andreas Kyriacou hails from Cyprus. His short film, The Midnight Shift was shown at the 2016 International Film Festival Athens, and it went on to win the HBO Award for Best Series Concept at the Sarajevo Film Festival in 2017.
What follows is the dialogue that transpired after the LAGFF's screening of Rosemarie at the Egyptian Theater in Hollywood on June 8, 2018 with guest Andreas Kyriacou, Assistant Director of the film, Rosemarie, moderated by Prof. Katerina Zacharia.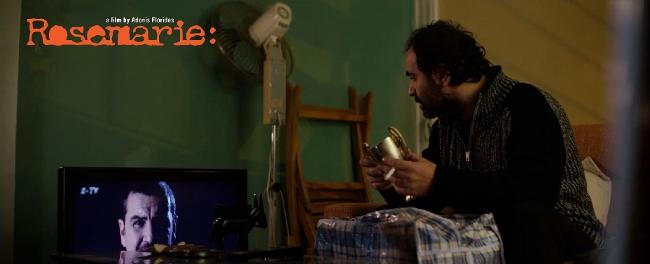 KZ Hello, I'm Katerina Zacharia, and I'm here with the Assistant Director of Rosemarie, Andreas Kyriacou. I also want to say that some of these names have become familiar to you by now. The producer of Rosemarie is Marios Piperides, who is the director of the LAGFF's opening film, Smuggling Hendrix, which just won Best International Narrative Feature at Tribeca. We know Andreas Kyriacou, who showed his short film here, The Midnight Shift. Andreas' film is doing well, and he's been in contact with HBO, so I think a very big group from Cyprus is making wonderful films including the one we just saw. This film, Rosemarie, won Best Film awards in both Thessaloniki and Cyprus.
I want to come to the theme of the film. What struck me as interesting about the film is that it's contained within one building. And in a sense, that becomes at first what is a kind of cage or closed space for the soap opera writer who then starts observing the neighbors and thinks that he has a solution; but then the more the plot develops, the more claustrophobic this place becomes. And I thought that was done really, really well.
So would you like to talk to us about the process and also the decision of creating such a film inside the space that we then become familiar with as the film develops?
AK Adonis was very interested in portraying a story about the hypocrisy we all have in small communities, especially in Greece and Cyprus. I don't know how many of you are Greek or come from such countries—a big part of our culture is picturing what other people are doing next door, and commenting on that, and creating our own fantastical situations of what may happen behind closed doors.
But it was really important to find the right space for the movie, and as you have seen, the building has a very distinct character, geography, and architecture. I remember very well as Assistant Director, we actually went to a lot of buildings before we decided to use that one—we spent most of the time in pre-production looking at buildings. The funny thing is, the movie is supposed to be set in Limassol, but the actual building is in Nicosia, so I think we spent two to three weeks filming in Nicosia in the building and we did all the other stuff in Limassol.
KZ Could you talk to us a little bit about the autobiographical element of the film?
AK I'm sure when Adonis sees this broadcast he'll kill me, yet it's the truth…. Well Adonis, like most of us Cypriot filmmakers, because we cannot make a living out of films, went through a period in his life when he actually wrote a TV series very much like the one you saw in the movie, and he used a lot of personal memories from his life and work to put down on paper in the script. He also had a very dramatic experience—you know the boy in the wheelchair? He had a friend in a very similar situation. And he mixed the two, and he came up with Rosemarie. Obviously, you can see the Hitchcock references. It's like a Rear Window parody, in a sense, and it works.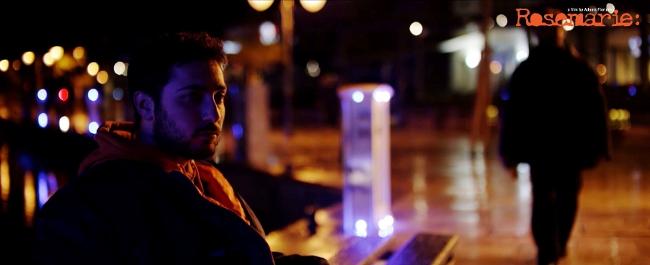 Audience Andreas, as you told us earlier, you don't take just any project that they give you in Cyprus or elsewhere; you choose specifically the projects you want to work on. You don't just live for the money. You want to be creative. Why did you choose this one—what did it give you that told you, 'All right, I'm doing this one!'?
AK Well, first of all, as a younger filmmaker I think it's very important for me to work with people I respect, and I think their body of work means something to me. So actually, when Marios Piperides approached me and said, 'Adonis is doing a new movie', he knew I was fond of his previous movies. I just had to take the chance and work with him. Yea, it's not like I'm rich or anything—I'm actually pretty poor, so I need to take projects—but if you want to move forward in your career and become better at what you do, you should make a really careful selection of what you do. Adonis was an amazing teacher. I believe that I've learned more working with him for five or six months than I've learned in film school, to be honest, because to work with such a director, face-to-face every day, and listen to his process, especially the way he works with actors, that's really amazing. I mean, you witnessed it, right? The acting is really top-notch in this movie, and he knows it's the number-one thing I learned from the process.
KZ Yes, I was hoping you would take us in that direction—exactly how much you've learned—because I'm sure for a number of filmmakers here—and we are so honored to bring you guys here—it's never been easy, and especially now, with what is happening in Greece and Cyprus. But I don't think that this was just "any" project. This was an important project; it is done so well. I think the silver lining of the crisis for both Greece and Cyprus is that filmmakers learn to work together, and there is an immense respect and creativity. What is coming through from Cyprus to us is really meaningful, and I'm getting to know more about what you experience there. I think talking to us as you have about working with Adonis Florides and learning so much is the best kind of situation that you can have.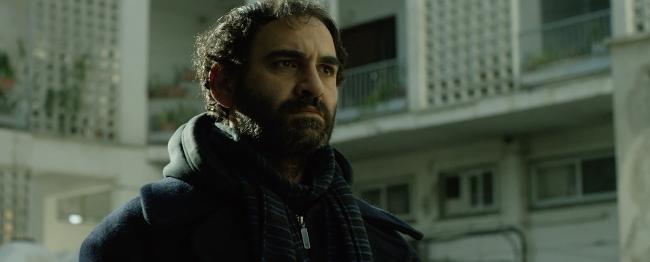 Audience I know you're not the screenwriter, but I'm interested in the protagonist. What was lacking in his life that would encourage him to write about others?
AK Well, the thing is, when you become creatively dry, because that's what this is all about, and you work in an environment that doesn't give you an inspiration, like on soap operas—let's be honest—you start looking for insight from your surrounding environment. I think we all do that. If you're an artist, you know that at some point you'll look at the table across from you at the café or at the bar and you will overhear something and you will pick it up and you will use it, even subconsciously, sometimes. And we do that—we're people-watchers, right—directors and screenwriters? That's what we do best. We know how to pick up certain moments from our lives or from other people's lives, and Adonis has been doing that really well!
So yea, I think the main character is in a part of his life when he feels frustrated because he hasn't been creative for a very long time, and he feels that this is his last chance to say something about the world even through a soap opera, and that's why he goes through that process. I know the script really well because I worked with Adonis, and there's a sort of B-plot that ended up on the cutting room floor, about the main character writing a new book, and he couldn't finish it, and the first cut of the movie actually ended with a description that said, 'Oh, and he managed to finish his book' or something like that. But smartly so, I think, Adonis left it out. It's better for the audience to ponder and think, 'Okay, what's going on with this character? Is there any future? What is he going to do after he leaves this experience he had? In the actual original script, he moves back to the mountains, to the village, and becomes the caretaker of his brother, and his sister finally manages to become free to move on with her own life.
Audience I'm not sure if you've seen it, but there seem to be a lot of similarities in this film to Aronofsky's Mother, and also to the Hitchcock film.
KZ Yes, interesting. What I wanted to say before is that from the very beginning, even that building indicates that the soap opera writer is kind of enclosed, so he's in one place, a small room, and he's trying to create. Yes, he's blocked and he can't do it, but then that building seems to be offering him a window, an opportunity to do something else, and that doesn't go anywhere, and it turns back, and the whole situation is entrapped in this building, and it's more layers, and more layers.
Audience And it's in the way it's shot, using certain angles.
KZ Yea, yea.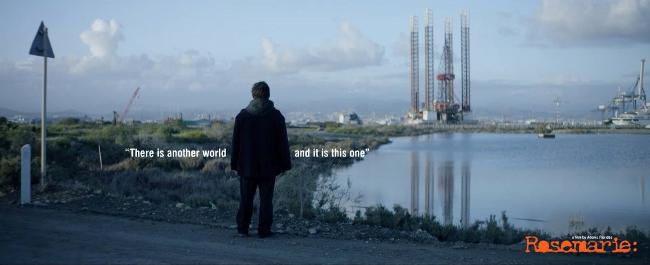 Audience To look at the soap opera theme from the other side, I'm reminded of some Latin American countries where soap opera is really big, like Brazil or Mexico. So first I'm wondering how popular and prolific soap operas are in Cyprus, and also if any of those people who watch soap operas would enjoy this film, or if you know what they think about this representation in Rosemarie.
AK Well soap operas in Greece and Cyprus are quite a big thing. Up to a few years ago they were number one in ratings, so you had soap operas, then reality shows, and probably then there was the news, and all that stuff; but in the last few years, that's declining really fast, because that generation of people who used to watch soap operas is hopefully dying—sorry—and then there's no one to watch that stuff anymore. But soap operas are quite a big thing in Greece and Cyprus, and Rosemarie hasn't been in wide release yet in the cinemas there, so I don't really know what would be the public consensus yet, after they watch this movie. But I know for sure, from some TV producers, because we're a very small film industry, that they were not keen to see this story on the big screen because they thought, 'Okay, Adonis worked in the industry, so he knows how things are done, and maybe that does not look good upon us.' But you know, Adonis was smart enough not to use real names or real TV channels, so I don't think they'll …
I believe in the audience. Even if you watch soap operas, I believe that people have critical minds, and maybe if they watch them, they're going to self-reflect and find the humor in them. The only ones I'm really afraid of—in terms of giving negative reviews of the film—are the TV producers themselves. I don't think the people will mind.
Audience But do the young people even know what soap operas are today—how they work?
AK Oh, yea, of course. Most of my generation and maybe the generation just after me grew up in houses where our moms or grandmothers or even fathers at some point were watching the soap operas.
KZ I just want to say something about soap operas. If you look at the genre of soap opera, what it does is prescribe social roles, and so it becomes a kind of training for a society to behave in a certain way. So when you have a writer who works in soap operas thinking that he's going to do something to change minds of spectators and then he's entrapped, even then when he tries to say something new, he gets into something that is so dysfunctional. And in that sense, it's another reason why I found this film really interesting, coming from Cyprus, actually, because it has something to say about the crisis of that social unit in Greece and Cyprus that is probably a reflection of the society struggling. So it's interesting that you have all these films, especially in Greece, where you have implosion of that social unit, and that this is coming from Cyprus, from someone who is creative and trying to find a way out and discovers a dysfunctional family—that I find very interesting, myself.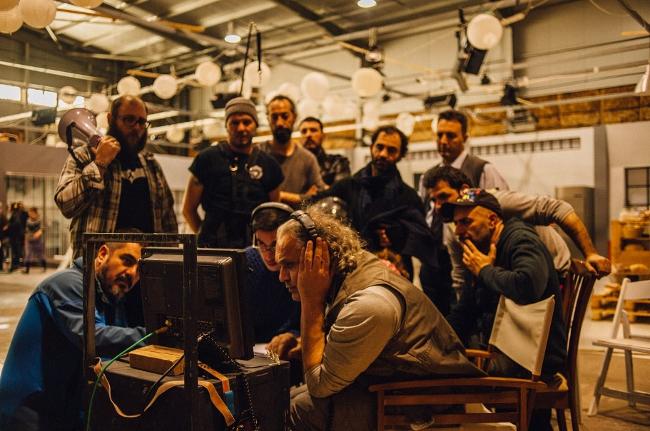 Audience I am from Cyprus, and Yiannis (Kokkinos, the lead actor) is one of my best friends, and I can't believe I got to watch this! But I can't believe I don't know who Adonis is—where did he go to school?
AK I don't know if he went to film school. He studied theatre. Adonis is a veteran theatre director, actually. He's in his late 50s, or early 60s, and he's done dozens and dozens and dozens of theatre plays, especially with the public theatre, and he's done two feature films and dozens of shorts, but this also raises another issue in Cyprus, and I guess it's also the same in Greece—that filmmakers don't have the chance to make a lot of movies. I mean, they make one movie. If they're lucky they're going to make two, or at the most, three films in their careers, and that's not the way to grow a film industry. People should make movies at least every two or three years if they want to be amazing filmmakers. I think it's a miracle that people in Cyprus can make good movies on their second or third try. If you come here to the States, a lot of people make four, five, six feature films, until they make one that's halfway good to watch.
Audience I felt that what was remarkable at the end was not the claustrophobia but the openness, when the writer goes to the harbor, and then at the very end, when he goes into the water. I thought it was so cinematic, in the end, when he follows this patriarch into the harbor. I was expecting some kind of fall from the high industrial lift, an echo of the other elevator in the apartment building, but the filmmaker bypassed that. He didn't give us what we expected, and it was no big melodrama, as a TV soap opera would be. It was just very normal, everyday, but so huge because that character grows. So I didn't feel the trap at the end at all—it was by then very cinematic and refreshing, I thought.
AK Yea, I agree with you, the first half of the movie is actually pretty claustrophobic, but after the second half, when he starts going to the mountains, when he starts discovering more and more about these people's lives, it kind of opens. I think it's metaphorical. It works in that way, also.
Audience What is the location of the film when it cuts to the forest?
AK In the village? Yea, that scene with the small lake was shot in a village near Pano Platres. It's called Treis Elies, Three Olive Trees. It's actually the family village of our cinematographer, Yiorgos Rahmatoulin. He was the one who said 'I think it would make an amazing location for the movie,' and we used it. It's basically a village of five people. Only five people stay in that village, so it was very convenient for us.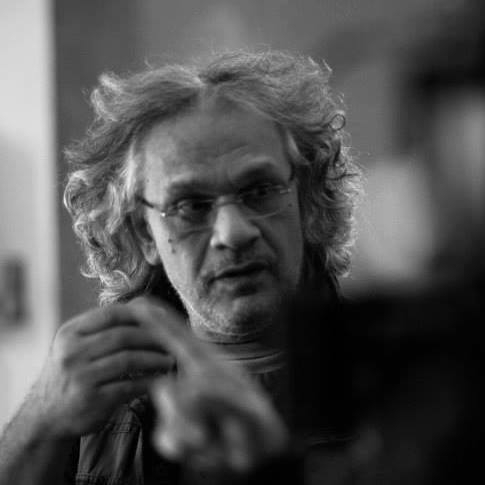 Adonis Florides, Writer-Director of Rosemarie
KZ I want to close by saying that we celebrate this effort. I talk about a silver lining but I also want to point to the Greek example of where we have Greek filmmakers working together and helping one another to do well. There are two ways that I'm very optimistic in life, so I think that the way that you help each other to create these films, that that makes a stronger voice, and I expect that more good films will come from Cyprus, and so I want to applaud you and applaud Adonis Florides and a number of other Cyprus filmmakers here including the opening night film by Marios Piperides, Smuggling Hendrix. I think that you Cypriots may have made fewer films than you might have had the chance of doing here, but probably they are better digested and they come out of a society that needs to express itself visually in this way. I hope that the Los Angeles Greek Film Festival is doing exactly that, sharing this with the world and showing a strong voice in film. Thank you for being here, and congratulations!
Rosemarie
Director: Adonis Florides; Producer: Marios Piperides; Screenplay: Adonis Florides; Cinematographer: Yiorgos Rahmatoulin; Editor: Stylianos Constandinou; Music: Costas Cacoyannis; Production Design: Andreas Antoniou.
Cast: Yiannis Kokkinos, Andreas Vassiliou, Niovi Charalambous, Androulla Erakleous, Marios Ioannou, Christoforos Christoforou, Popi Avraam.
Color, Widescreen, 112 min., in Greek (Cypriot dialect) with English subtitles.