Re-Match in the Woods:
The Quiet Fire of Götz Spielmann's Revanche
By Diane Sippl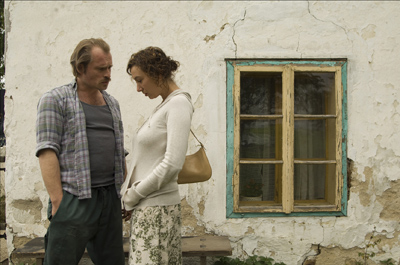 The Vienna Woods has always cut two ways. It played the muse to Schubert's Lieder, to Beethoven's Pastoral and his "Ode to Joy." But it also saw the Mayerling deaths of Crown Prince Rudolf and Baroness Maria Vetsera, whose ghosts hover there still. Kafka, of all people, is said to have spent happy days in the Wienerwald, but Beethoven often went there to escape his creditors. A historic crossroads between the East and the West when not the locus of power over both, Vienna itself has been both a two-sided coin and a double-edged sword, and its neighboring forests either a lure to enchantment or a retreat into hiding. And so it is that Austrian filmmaker Götz Spielmann relished some solitary time trekking through the natural beauty of the Vienna Woods, and years earlier, researching the flow of the sex trade from the Ukraine and Eastern Europe to Vienna. Another interest captivated him as well: ancient drama.
Aristotle once remarked that a drama is five good people struggling to get what they want. Some part of their struggle goes horribly awry, via the gods, fate, or a mortal's own hubris. Yet flawed as the characters may be, they are still five good people, so we want them to affirm themselves, and there is a fighting chance that they will.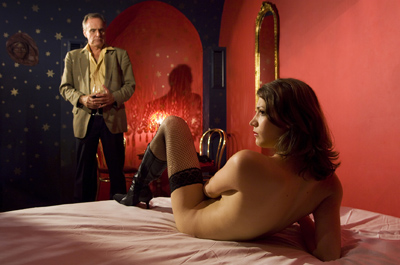 All of this may have been in the back of Götz Spielmann's mind when he wrote and directed and produced the amazing, astute, ingenious Revanche, but clearly what lay in front of him was an image: a placid lake lined by a forest with its mirror reflection, a quiet shot held long enough to transfix us until an undecipherable object of some force pierces the water from above, causing not only ripples but soon a resettling of the lake's surface residue to the center of impact. If what we have yet to experience is hidden in the depth of that water, the image we see is a nerve net conducting impulses in all directions, and as with the other key images that are so clear and yet so open, it has its double.
For the longest time, in fact, Revanche feels like two films. Between the frayed edge of the city and the domesticated side of the woods, we do meet five good people. Three of them look like it: a local police officer, Robert (Andreas Lust) and his hausfrau/shopclerk wife, Susanne (Ursula Strauss), who live in a suburban-ish house they've built on rural turf, complete with a nursery, even it it's without the child, and an elderly neighbor, Hausner (Hannes Thanheiser), who will proudly stay put on his small farm 'til the day he dies and they cart him away. The other two worry us: a Ukranian prostitute, Tamara (Irina Potapenko), who works at a tawdry Vienna brothel called "Cinderella," and an ex-con, Alex (Johannes Krisch), who is the bordello owner's assistant. We fear for them, because despite the boss, who has designs on Tamara for even bigger money, she takes up with Alex personally, and their relationship is not only sexual but emotional — and thus clandestine.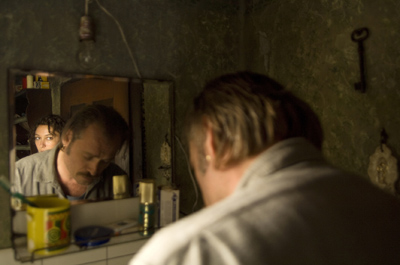 The first half of Revanche lays out the desires of the characters: Tamara, and therefore Alex, for money to repay her $30,000 of debt and to set up a bar in Ibiza; Susanne, and therefore Robert, for a child to raise in a happy home; and the aging farmer down the road, for a hard-working hand to help him with his chores. The country couple seems stuck in a rut, since from Robert's end, the baby isn't happening. But the city couple decides to break out, stuck in old routines as well, since the scheme they cook up is another heist. And it works, until there is a misfire. And this is where two paths cross in the woods. Fortuitously, Alex has let Tamara talk him into taking her along on his bank robbery, much as she has pleaded with him not to pull the caper. "Nothing can go wrong," he tells her, with the bravura of anyone nervy enough to try it with an unloaded gun, as he does. But Robert, cocksure and determined to do his job, fires for real, and hits Tamara, come to find out, after the car has landed deep in the woods. This is when the doubles set in — two collateral victims of the same crime, one who loses his love and one who could lose his job, but both who will suffer the guilt of an innocent life lost, and both who are primed for revenge.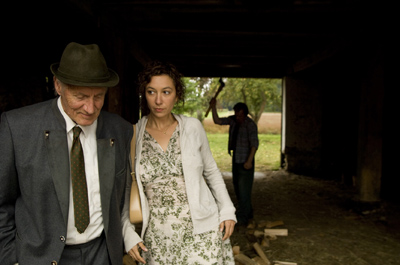 Working with cinematographer Martin Gschlacht, Spielmann indulges us with ample space to trace the intricate impulses of this drive. Long shots from a fixed position let us explore what happens within the frame. Alex's motorcycle might just drive right out of it, the camera landing us instead (and twice) at a rustic crucifix the size of a scarecrow planted in the forest. To help Hausner, Alex splits logs, wielding his ax like a fifth limb from his torso, spitting the wood through the air. Meanwhile Robert runs his own marathon, relentlessly pounding the paths through the woods. Both men moody and forlorn, they privately cave in and heave up sobs. For all its acutely discerning distance, Revanche is an exquisitely intimate film. Its sparse dialogue is sharp as cut glass. "If you'd talk to me we could be close," begs Susanne, seemingly a minor character until a taut but incredibly moving exchange between her and Alex reminds us we've heard her plea before, with her husband, only this time the stakes are higher, and it works. In that simple line is the key to the catharsis this drama delivers, but of course it comes later, when unexpectedly, two other people "talk."
Two men take stock of Alex to his face: Tamara's boss warns him, "You're too soft… People can tell immediately"; Hausner, his grandfather, applauds him, "You're a hell of a worker — women always notice a man who can work." Yet Alex is perpetually scaring the women in the film. He frightens Tamara twice, once with a gun and once in a ski mask; both prefigure her death. He alarms Susanne twice when he lurks in silence, hidden in the dark, each time foreshadowing his future with her. Both women, in analogous moments, ask him to slow down. Two photos of Tamara loom large: one tucked inside her passport that Alex pins to his wall after she's gone, and another, a police shot of her corpse, that Robert carries with him in his angst. In an uncanny way there are doubles in the casting, not literally, but visually. It's significant that Tamara and Susanne look alike, but for a somewhat different reason, it's important that Alex and Robert do as well.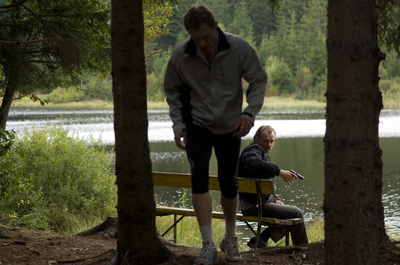 "In Vienna you end up either arrogant or a scoundrel," observes the sagacious Hausner of his grandson Alex. Surprisingly, for the only half-corrupt Alex and the merely ineffectual Robert, there is a latent force in the countryside — in the humble, earthy offerings of nature — that begs a choice from them. Revanche — either revenge or redemption, self-destruction or self-renewal — means not only "vengeance" but also "a second chance." And what's interesting here is the way that other players, Susanne for one and Hausner for another, make the difference. The work they take up in their lives, their commitment to it along with their loves, pushes the choices Alex and Robert must make.
But back to that fifth good person, Tamara, who lives beyond her death: Revanche has a third meaning, "a policy held by a nation or an ethnic group to regain lost standing." Tamara's broken German, her dangerous work, her Eastern origins, her needs and her dreams, come full circle with the mysteries of the Mayerling — the double deaths at that hunting lodge in the woods, the curse of its clandestine couple, Marie Vetsera's Turkish ancestry, her brutalized, smuggled, and secretly buried body, twice exhumed and examined but never the culprit disclosed. It's a saga long disputed and embroidered, but not without consequential overtones (namely, the end of an empire). According to legend, the trees of the Vienna Woods still hear the whispers of the Carmelite nuns of Heilingenkreuz — their convent converted by the Emperor Franz Josef from the "tryst-haus" of his son — as they pray for the repose of Rudolf's soul. And that same air might carry the simple song of a Ukranian woman and the accordion notes of an old man gone to meet his wife….
Revanche
Director: Götz Spielmann; Producers: Mathias Forberg, Heinz Stussak, Götz Spielmann, Sandra Bohle; Screenplay: Götz Spielmann; Cinematography: Martin Gschlacht; Sound: Heinz Ebner; Editor: Karina Ressler; Production Designer: Maria Gruber; Costumes: Monika Buttinger, Music Advisor: Walter W. Cikan.
Cast: Johannes Krisch, Ursula Strauss, Andreas Lust, Irina Potapenko, Hannes Thanheiser, Hanno Pöschl, Linde Prelog, Peter Josch, Magdalena Kropiunig, Toni Slama, Rainer Gradischnig.
Color, 35mm, 121 minutes. In German with English subtitles.