4-26-09
When Two Heads Are Better than One:
Caroline Bottaro's Queen to Play
By Diane Sippl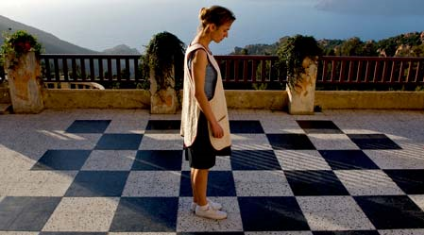 Five-and-a-half years ago, when Caroline Bottaro's next-door neighbor dropped in to share a book she'd just finished creating and ask for a critique, could Bottaro, the screenwriting partner of Jean-Pierre Améris, possibly have known that she would turn this first novel into such an inspiring feat for her own first feature as a filmmaker? She'd made one short film, La Mère (1995), starring Nathalie Baye who, according to producer Dominique Besnehard, was the "grandmother" of the idea to launch Joueuse as Caroline Bottaro's directorial debut. Adapting Bettina Heinrich's La Joueuse d'Echecs (The Chess Player — note the feminine in the French title), Bottaro would team up with not only her Parisian neighbor but also Besnehard, the actor and casting director-turned-producer who would bring her Sandrine Bonnaire to play the lead. It would be the second time the actress had performed a role in a screenplay adapted from a novel by Bottaro, who had written the award-winning C'est La Vie (2001) based on Marie de Hennezel's La Mort Intime, which provided a luminous character for Bonnaire to play — an art teacher for a man who had come to a hospice center to die.
Caroline Bottaro, Sandrine Bonnaire, and also the male lead in Joueuse, the elegant and charismatic Kevin Kline, attended the Tribeca Film Festival in New York City on April 25, 2009 when Joueuse, known in English as Queen to Play, had its world premiere. That same night it played to west coast audiences at City of Lights, City of Angels (COL-COA), a week of French film premieres in Hollywood, where the film's producer Dominique Besnehard was on hand for a Q & A. Screenings in both cities played to sold-out houses. COL-COA presented Sandrine Bonnaire's work last year as well, but unusually so, in a personal essay film that she wrote, directed, and appeared in as an homage to her sister called, Her Name Is Sabine. Sabine is one of eleven children in the family into which Bonnaire was born, and Sabine has lived with autism along with the desire and need for the attention and affection her famous sister provides for her. The film is an unforgettable tribute to sisterly love. Bonnaire is a regular face on COL-COA's screens, and a cherished one.
In a post-screening Q&A at the Tribeca festival, Caroline Bottaro told the audience, "Chess is associated with men, with the elite. It's an intellectual game… but I wanted to show how a woman from a humble background could learn to play and become a stronger player even than the man who teaches her. It's a film about internal change, empowerment, and evolution."
"Caroline came from a background in literary studies," Besnehard told the audience in the Q&A after the COL-COA screening of Queen to Play. "After she met Jean-Pierre Améris and worked for many years under his wing (he directed and co-wrote the screenplay with her for C'est la Vie), eventually she became emancipated, and I think there is a parallel, probably, between Queen to Play and her own story as an assistant working by the side of a very busy director and a bit in his shadow until the day when she took her own flight."
"The film was shot entirely in Corsica, including the interiors of the home of Sandrine Bonnaire's character. The hotel where much of the film is set is a beautiful place very popular with writers and artists." As for casting, Besnehard's forte, he reported, "Kevin Kline, as an American expatriate, plays his first role entirely in French, and we didn't need to do any language coaching. Any hesitations or minor accent of his were very charming from a French point of view. As for Jennifer Beals, she was Caroline Bottaro's feminine ideal. We never expected her to agree to come to France just for four days of shooting this cameo role. But she did, and stayed a bit." Although Besnehard imagined both actors to be long-shots for a first feature and its French budget, he persisted and was delighted to find that each actor was not only easily amenable but very helpful.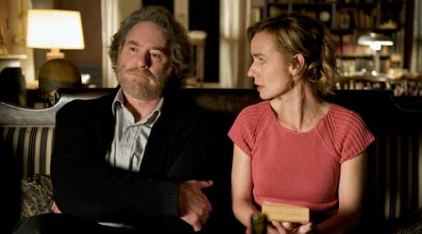 Dominique Besnehard met Sandrine Bonnaire during her ingénue role as a teenager in Maurice Pialat's A Nos Amours (1983), as he was playing her older brother. "When I knew her then she was a bit naïve, a kind of "goody-two-shoes," he remarked, "but she grew up to become a fantastic actress." Besnehard continued acting and working as a casting director and agent until 2007. "Joueuse has been my first job as a producer," he reflected, "and in my encounter with Christine Bonnaire once again, there is something magical."
Remarkable for her trademark intensity, as cerebral as it is emotional, Bonnaire still peers portentously at the targets of her vision, her face like a seismograph of events at hand as her left eye cocks a discerning brow. "Do you always look at someone as if your life depended on what he's about to say?" the retired Dr. Kröger asks her in Queen to Play. "Smile once in awhile… it can't hurt," he advises her. Not withstanding the fact that Bonnaire's cheek flashes a beguiling dimple as her smile transforms her utterly, his remark would register as a typically male taunt-like flirtation if it weren't for the line in À Nos Amours that Pialat himself (who plays her father) says to the young actress in her film debut as a girl undergoing the erratic change from innocence to experience, "You never smile any more." While in À Nos Amours Bonnaire is a daughter rebelling against an overbearing father and an ineffectual mother in a Parisian family, in Queen to Play, Bonnaire is that effete mother to a rebellious daughter — at least at the outset. Not to stretch a point, Queen to Play and À Nos Amours can be viewed as bookends in the sense that the earlier film opens with her as an adolescent stretching out from a boat bow pulpit over the water, ready to spread her wings, so to speak, and the recent film ends most satisfyingly with her poised queen-like as a masthead (think Greta Garbo in Queen Christina, if not the powerful chess figure) on the bow of the boat that takes her from Corsica to the mainland as she heads for Paris.
"The queen is the most important player — she can move in any direction and go as far as she wants," Dr. Kröger (Kevin Kline) informs Hélène (Sandrine Bonnaire) in Queen to Play. And he is in a position to tell her this only because she has sought him out. A chamber maid in a beautiful hotel on a hilltop of the island of Corsica, she knocks on the door as usual before entering to clean and a woman's voice beckons her, "Do come in — we're out here on the balcony, and we'll be here all morning…" That early scene is pivotal in the film, a dreamy, soft-focus lens on Jennifer Beals and Dominic Gould as an American couple playing the most sensual game of chess Hélène ever saw, Beals so seductive in her lacy silk chemise, hair tossing in the breeze up from the sea, that Hélène is entranced. It's a point of no return, because no sooner does Hélène buy her down-in-his-beer but domineering husband a chess set for his birthday than she is creeping out of bed in the middle of the night to teach herself the game. And this is where the retired, widowed Dr. Kröger comes into play, because when she cleans house for this esoteric recluse, she discovers a chess set and all its attendant appeal. Once he agrees to coach him, she begins to see him with new eyes — as someone who can share her passion for the game, and of course chess is the game of life.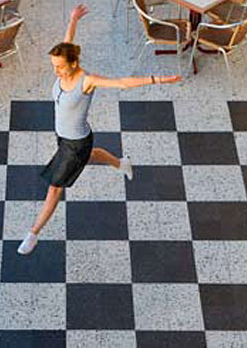 In chess the king is weak in the sense that he relies on defense by the others — the queen, rooks, bishops, knights, and pawns. The queen can lead all of these forces if she creates a clear path of maneuvers and follows it. Hélène's passion becomes an obsession, we could say, to create this path. Kröger accepts her demand to be her mentor, and she begins to behave like an addict: every surface is a chessboard for her (not unlike the way that every open space is a soccer field for some boys and men). Out to dinner with her husband, she moves morsels of food into various positions on the cleared table. At home, she shifts the toiletry bottles on her bathroom counter. Mopping a tile floor, she herself becomes a chess figure, her body edited from one square to another. Add to this Corsica's own column of gossipers reporting that she's at Kröger's more often than not; when they aren't calling her a hussy, they're more politely referring to her as "the chess lady."
Dr. Kröger tells her chess is about more than knowing the right plays; it's also how you play that matters. "The threat is stronger than the execution," he advises her, a tip she remembers as she competes in her first tournament. She and Kröger become so intuitively mated to each other through the board that they carry on a most intimate dialogue, late in the film, strictly through one-phrase exchanges of number-coded chess moves. Like two doves cooing, it's their way of exchanging admiration. Yet it's also their way of learning about life. Discipline, focus, and staying the course all bring confidence in the art of living. As Dr. Kröger discreetly remarks of his deceased artist wife, "Her doubts were stronger than her painting." On the other hand, his respect and restraint are stronger than his whims. Both Hélène's point of view and her mode of expression come to be governed by the rules of the game, but that's not all: more significantly, her metamorphosis extends to her relations with her family, her friends, and her employer as she begins to "play" life with the lofty self-esteem, committed finesse, and high-minded vision of its most empowered figure, herself.
Queen to Play
Director: Caroline Bottaro; Producers: Dominique Besnehard, Michel Feller, and Amelie Latscha; Screenplay: Caroline Bottaro, Caroline Maly, and Jeanne Le Guillou; Original Novel: Bettina Heinrich; Cinematography: Jean-Claude Larrieu (AFC); Editor: Tina Baz Le Gal; Original Music: Nicola Piovani; Production Designer: Emmanuel de Chauvigny.
Cast: Sandrine Bonnaire, Kevin Kline, Jennifer Beals, Valérie Lagrange, Francis Renaud, Laurence Colussi, Didier Ferrari, Alexandra Gentil, Dominic Gould, Daniel Martin, Alice Pol, Élisabeth Vitali.
Color, 35mm, 96 minutes. In French and English with English subtitles.