Phantom Thread: The Artist as Muse
By Diane Sippl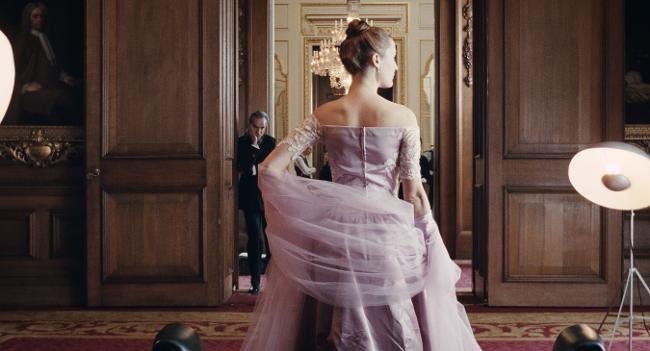 Reynolds Woodcock. He is a dressmaker in post-World War II London. That's his place. That's what he does. But it means more than sketching designs and draping fabric and measuring bodies. It means charming heiresses, countesses, princesses, even – and dressing himself to do it – fawning on them, gaining their trust that he can let them feel grander, somehow, than they may be. Elegant women fill his day, including the models who bolster their dreams, but he turns his spruce image to a modest waitress from eastern Europe whom he meets near his country home. She is dazzled to be pulled into his aura yet taken aback to discover that there is a sister behind him in the line of duty, one who ceremoniously "dumps" his discarded muses for him. He calls Cyril "my old so-and-so" (which might seem less daunting if spelled "sew-and-sew"). Will Cyril continue to soldier through, following or issuing his commands? She is fully aware that the newcomer Alma has romantic designs of her own. Yet who has time for such notions? That said, the dressmaker can be dashingly romantic. He can swoon and gush, and that he does as Alma brings soul into Woodcock's life. These are three good – and mighty attractive – people: a highly-sought haute couture designer, a business partner par excellence, and a lovely young companion who stuns the artist with inspiration. So stands the flourishing House of Woodcock, an edifice poised on a precipice.
Esoteric, eclectic, eccentric, elliptical, whatever you want to call Paul Thomas Anderson's approach to filmmaking, for his eighth feature film, try one more word – exquisite. There is so much to drink in from the intoxicating Phantom Thread that it could make your head spin (a pleasant dizziness, at that) if it weren't for the momentary leaps of laughter it pulls from your enchantment. Those wry, fleeting chuckles derive from a sly use of irony, one that relies on sudden and subtle shifts of tone that keep you on your toes all the while you are spellbound. A period-piece chamber drama swirls into a high-society fashion show that twists into a satirical comedy and then settles as the one-of-a-kind gothic romance it always was. Yet it all feels so real, you watch and listen attentively for life lessons in how to love. All in all, Phantom Thread is a sumptuous tour de force of seamless storytelling that leaves you in awe, uttering, "I'd like to see that again…"
And then you don't know what to devour first – writing, acting, lighting, costumes, music, décor – it's all a marvel of the arts. Radio host Jim Svejda reported that Mel Brooks once said, "Critics can't make music even by rubbing their back legs together." So maybe my job is just to sit back and let you experience this film again and again – or perhaps in some small ways, to show you how.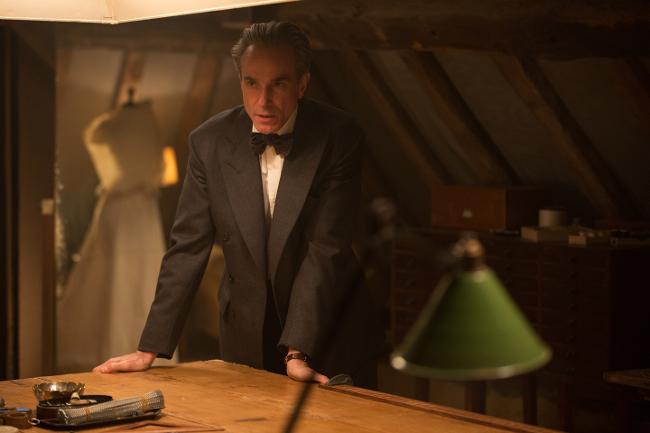 Hand-in-Glove
Phantom Thread is living proof that filmmakers can make beauty by collaborating with actors – and here that means more than directing thespians. Paul Thomas Anderson, who has devoted himself to the task of showcasing heartless masters, vile in their naked power, here enlists the formidable Daniel Day-Lewis, who (setting aside Bill the Butcher and Daniel Plainview) has often shown us the chivalry of humility (an aside – he has actually been knighted in his homeland, England). In the most surprising ways, this trait has been allowed to seep into Phantom Thread, seemingly a film about a debonair artist whose modus operandi (whether professional or domestic – it amounts to the same) wavers between punctilious and persnickety depending on the calendar and the clock. "If breakfast doesn't go well, it's very difficult for him to recover the rest of the day," his buttressing sister Cyril reports; she is her own kind of genius at negotiating his moods, since she is at the business helm of his reigning reputation as Reynolds Woodcock, the couture designer of 1950's London.
Our first glimpse of his fastidiousness is a voyeur's view of his morning grooming: he doesn't stop at shaving his beard but finds a hair on his earlobe and plucks that as well. Somehow this obsession extends to others. On a first date with the blushing waitress who is soon to be his model, in all his dapper arrogance, he arches across the dining table to wipe off her lipstick. "May I, Alma? I like to see who I'm talking to. There you are, that's better," he comforts her unapologetically. The paradoxical character Reynolds Woodcock, finely etched by both the film's screenwriter, Paul Thomas Anderson, and its uncredited co-writer, Daniel Day-Lewis, may well become an indelible one in acting history. It's impossible to imagine the urbane British banter (or sometimes scathingly cruel and absurd hyperbole) that falls from Woodcock's lips as issued from the pen of the proto-American Anderson. "I have a tin ear for British dialogue" he has said.
Phantom Thread is peppered with ambiguously rounded speech torpedoed at the unsuspecting. It's a marvel the way, with cordial politeness, Day-Lewis can talk out of both sides of his mouth at the same time. "I'm afraid I owe you an apology," Reynolds smiles coyly at a pleasant-looking young doctor whom Alma brings to his side at a holiday party. The man once wanted to quell Reynolds' fever. "I think we last met in a puddle of sweat," chats the couturier. "Didn't I tell you to f—k off?" With this, Reynolds "flicks" his potential rival off like a piece of lint from his tuxedo, grinning through his teeth. This apparent chamber drama might proceed on the high-horse of a Noel Coward well-made play, if it weren't for the delectable 35mm cinematography of Paul Thomas Anderson himself (also without a film credit). And if it weren't for the film's offbeat dark side.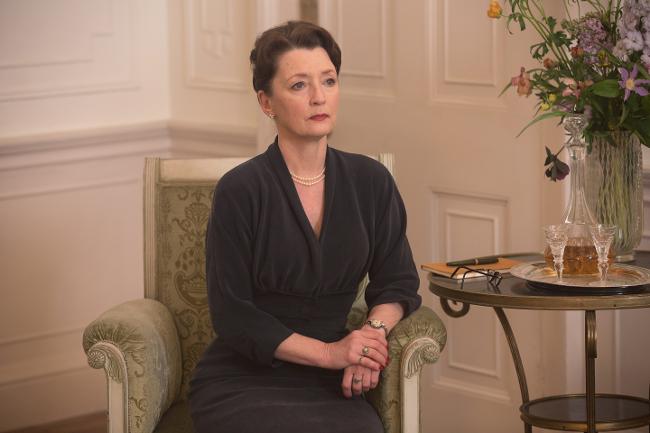 Knowing which scenes could work after a three-year incubation period of daydreams, endless reading, and furtive conversation, the two dramatists hatched their script, and then it was left to Day-Lewis to play to Anderson's camera; therein lies another layer of artistry. Director of photography Anderson knows just how long to hold his lens, how to angle it, how to close the distance on his leading man's endlessly-faceted, chiseled face – how to fill the frame with it. An idea, a feeling (be it hidden fear or quiet rage) evolves over seconds, sometimes moments. (Forget the notion of the opaque face as the cinematic kind.) And it often emerges wordlessly, but be assured that when words are released, they are never devoid of supreme control and wit.
It's a talent the esteemed Lesley Manville has also acquired (she was cast knowingly by Day-Lewis himself early on) and that Vicky Krieps (who was also cast by Day-Lewis along with Anderson) gets to enjoy flouting as well. They play the two womanly women in this adult drama, Manville the sister and Krieps the muse, who both bolster and bulldoze Reynolds when he needs it, tempering his artistry in ways he has yet to understand. Cyril can be brittle, but Reynolds can be downright brutal. So can Alma, but in general she comes off as quite stoic, while Reynolds is the tempest in a teapot, shattering it when the wrong foot falls.
And the real teapot plays a role in the macabre side of the film: Anderson endows it with its own curse when the camera seemingly shoots upward from inside it, at its base. An extra thimbleful of something strengthens Reynolds' tea, reminding us of the extra-sensory perception that adds the edge to this film. Alma first meets Cyril as the latter literally sniffs her out like a hound while Alma "stands" for Reynolds (the professional term for holding a pose, mannequin-like, as the designer pins gussets and darts, tucks and pleats). "Rosewater, sandalwood – sherry – and lemon?" Cyril inquires. "Yes," responds the nonplused Alma, stripped down to her slip and garter belt, "we had fish for dinner." And the two experts proceed to take her measurements and evaluate her physical assets while we note the pinpricks on Reynolds' fingers.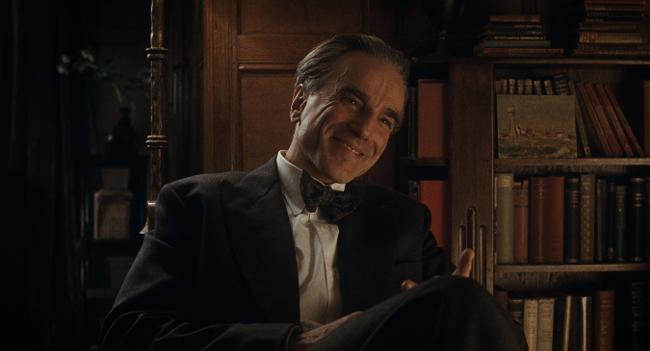 That night they are at Owlpen Manor, an Elizabethan-era home just outside London (it actually stands in the Cotswolds) that was refurbished by Anderson's British production designer, Mark Tildesley, in close collaboration with Day-Lewis, who chose its colors, oak paneling, cushy sofas, and dogs – lurchers – along with personal memorabilia that would help Reynolds reflect and brood once he exhales from the city's pressure. It's there that he can let himself take notice of Alma's quiet beauty, where at breakfast (the second in the film of at least five, but the only peaceful one) he appears to have shed his persona as a monomaniacal creator and they can enjoy a mutual exchange of attraction, admiration and affection.
However Phantom Thread is set mainly in Fitzroy Square, near London's posh Mayfair District, in a five-story Georgian townhouse with tall windows, chandeliers, and mirrors that play with natural light on pale marble walls and cherry wood floors. The well-appointed spiral stairwell and spacious salons surround Reynold's jewel-toned creations with an air of majesty. Costumer Mark Bridges met often with Anderson and Day-Lewis, who had long been studying the work of Cristóbal Balenciaga and numerous British couture designers, before choosing Reynold's contrasting textures of velvet and satin along with his love of lace. Over the two years it took for the two co-authors to write the script, Day-Lewis studied and mastered the art of dress-making, to the point that he himself made a Balenciaga suit from scratch. Collaborator he is, but this skill alone gave him all the more insight into playing Reynolds Woodcock as a man who is "self-consumed, self-contained, self-aware, and self-regimented," as Anderson has put it. "A character requiring that level of control is ripe for being dismantled. What happens when a man like that becomes weak for the first time, or discovers that he needs somebody?"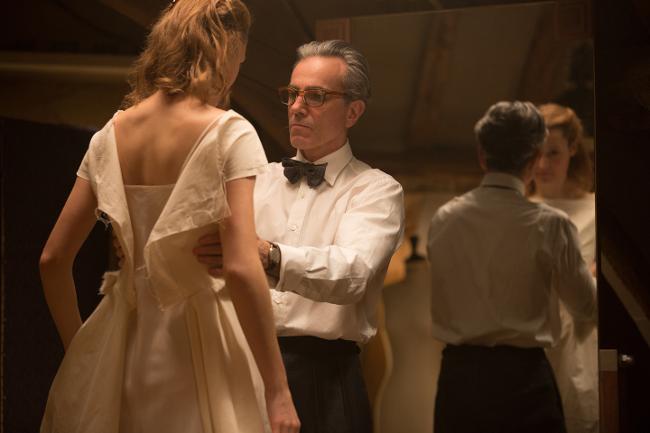 Buttoned-Up
Could it be that Phantom Thread stands out as enigmatically in the career of Paul Thomas Anderson as The Age of Innocence does in the oeuvre of Martin Scorsese? The director who shifted from Taxi Driver and Raging Bull and Goodfellas to the Grande Dame of American Literature had his reasons:



"

It was the spirit of it

–

the spirit of the

exquisite romantic pain. The idea that the mere touching of a woman's hand would suffice. The idea that seeing her across the room would keep him alive for another year.

"
From Newland Archer in The Age of Innocence, on his knees to kiss Countess Olenska's silk-slippered foot, to Reynolds Woodcock in Phantom Thread, on his knees to kiss Alma's bare ankle, the man's romantic need is no joke. And from 1870s New York to 1950s London, perhaps not much in "high society" has changed.
It would be one thing if Woodcock had no interest in women, if he could revere them and create for them but ignore his attraction to them, which comes off as actual delight, even when he's putting on a show (and he does a pretty good job of it), but what about when he's not? Alma is testy enough to catch him in the act and call his bluff, right off. "I think you're only acting strong. For who? Not for me, I hope." He may tell her he's a confirmed bachelor, but what is so surprising is the way this designing man flips Oscar Wilde's most famous line on its head. "In matters of grave importance, it's style, not sincerity, that's the vital thing," wrote Wilde in The Importance of Being Earnest. For Reynolds, it's sincerity that reigns. "I feel as if I've been looking for you my entire life," our Woodcock tells his new muse, Alma.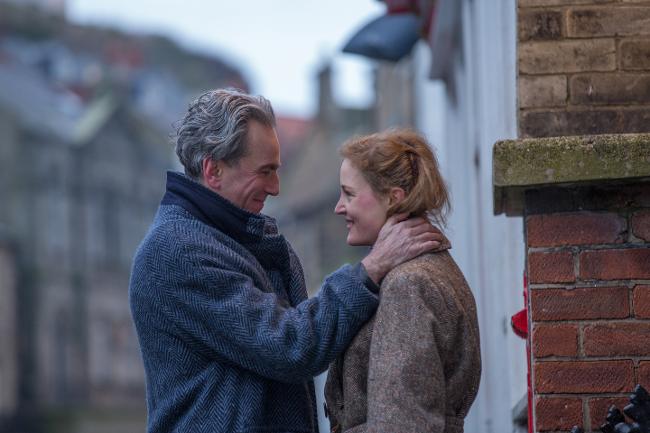 From the mouth of a lesser actor, these words would fall like a dead cliché. But Reynolds takes her dead seriously when Alma tells him, "You found me. Whatever you do, do it carefully." In fact, he takes her hand as she strolls with him along the rustic coastline bundled up in his overcoat; he is forever taking her hand – yanking her into his bedroom after their first London date, ushering her in and out of posh parties and restaurants, clinging to her as he lies sick in bed, charging out of a wedding together, pulling her out of a New Year's Eve ball – his eyes already drawing her off as the moon tows the tide, he takes her hand as if his life depended on it. And it does.
They quibble over taste, tit for tat – as artists do – and over household behavior as any two people do who try to live together. He tells Alma she butters her toast so rambunctiously it's as if a horse rode across the room. One quarrel over a pleasant surprise she planned bursts into emotional fireworks: "Is this an ambush of some sort? Am I being held captive behind enemy lines!" Reynolds explodes. Yet when Alma's mere body language rejects a fabric he pins together on her, he's sensitive enough to notice it, and sensitive enough to care. He doesn't show it because he doesn't know it – not yet, but he will.
When the "phantom" of the title ever-so-elegantly "threads" his path, he finds himself on bended knee (Day-Lewis must be smashingly famous for such a move by now), here on both knees, on the floor, kissing the very feet of his beloved to wake her from her slumber. This is crushing, humbling sincerity, played to the hilt. His red Bristol sports car might as well be a golden carriage, and the House of Woodcock a palace.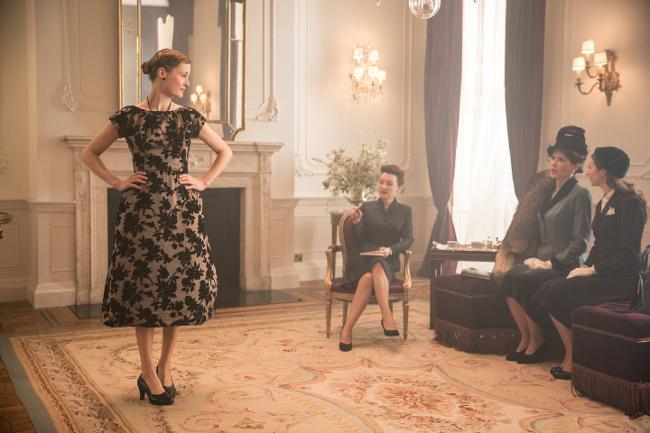 Frogs into Princes?
Reynolds: When you dream about your wedding dress, what is it you dream?

Princess: I dream that it is the most beautiful wedding dress in the world.

Reynolds: Perhaps the only wedding dress in the world. Or (smiling flirtatiously) – to take it a little bit further – perhaps the only wedding dress that was ever made!
Phantom Thread doesn't need a genre container (none of Paul Thomas Anderson's films have ever fit into them, thanks to his independent productions that justify their own means rather than the conventions of the box office), so it's off the mark to call this film a chamber drama, a melodrama, a costume drama, a drawing room comedy, a screwball comedy, or even a fairy tale farce. Nor, for all its odd humor, does the film play simply as a send-up of male dominance, although one can find an argument with patriarchy in most any of Anderson's films (such as in the apocalyptic response to it when veritable frogs rain from heaven in Magnolia, as if to respond to imbalances of power).
Motifs of the war and battles surface in Phantom Thread, and the femmes are not afraid to spar, though that's not at all what Alma has in mind when the uppity Reynolds turns her "nice surprise" dinner for him into a vindictive stew boiling over. "Are you a special agent," he quips, "sent here to ruin my evening and possibly my entire life?"
At one point Cyril asks Reynolds, "Would you like me to ask Alma to leave?" as if she were a chip on his backgammon board. Yet Cyril has grown quite fond of Alma; it's Reynolds who has become crotchety. Indeed, Cyril's higher wisdom upsets the artist's ego, and he tries to pin his discomfort on his sister. Retorts Cyril, "Oh don't pick a fight with me. You certainly won't come out alive. I'll go right through you, and it'll be you who ends up on the floor – understood?"
Women know their place in this film, and it's not at the bottom. For one thing, the initially mysterious voice-over continually reminds us that the story is Alma's to tell. Furthermore, marriage may be the norm, but Cyril's position in the House of Woodcock and in her fashion milieu remains a fascination (professionally her role is a historical fact in the great houses of 1950s London couture). Nonetheless there is an obsession in Phantom Thread, with Reynolds as its loudest practitioner – and that is romance.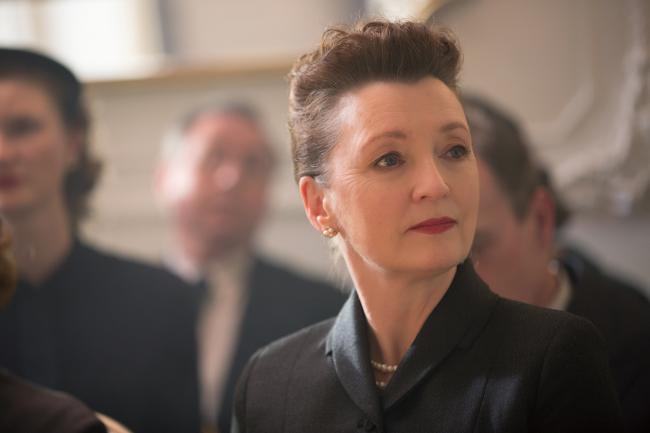 In many ways, Phantom Thread is not so much about haute couture as it is about a wedding dress – certainly not the lustrous emerald gown he designs for the revolting Barbara Rose (a walking abomination and comical sideshow), and not necessarily the Princess's lifeless one glowing white on the mannequin (which looms large throughout the second half of the film), or even the one Reynolds sewed for his mother when he was a mere teen, which he shares with Alma in a photograph and which comes to life again on his mother in a fever dream.
There is a fourth wedding frock, hardly a gown at all, but rather a tailored skirt suit of pale teal peau de soie with blush-colored lace as opposed to pristine white. It helps us to note that the journey for Reynolds is from his devotion to dressmaking out of fealty to his mother (and her seemingly eternal love), to his fidelity to attiring the Princess (as if in allegiance to the ideal woman on a pedestal, another sort of dream), to his recognition of love and the trust he can place in a real partner, Alma. This last sphere of devotion may evoke the parity and ultimate emotional comfort Jane Eyre finally reaches with her Rochester, flawed in his nature and finally debilitated by fate that he is; but Alma, as a kind and loving soulmate, takes fate into her own hands, allowing Phantom Thread to speak to everyday couples far from the gothic spell of Brontë's novel.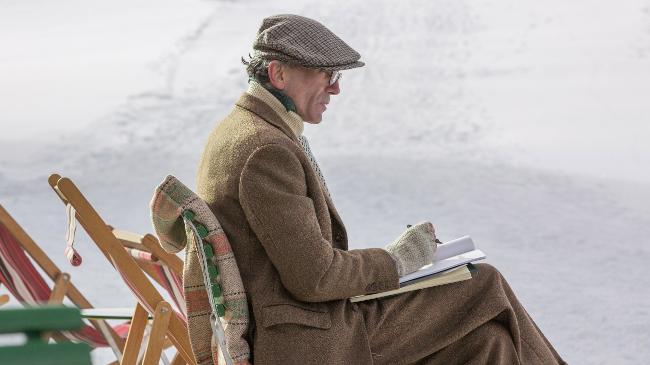 Alma and Hitch
Phantom Thread is acknowledged by Anderson as a nod to Alfred Hitchcock, and one place we see it is in all that is bizarrely but beguilingly toxic in this film. Reynolds finally discovers the loss of a loyal (maybe even royal) client to "another house," that dreadful but inevitable downfall of any prestigious designer, and he pouts to Cyril, "there is an air of quiet death in this house, and I do not like the way it smells." Quite literally, both asparagus and mushrooms end up filling the House of Woodcock with tricky aromas as far as Reynolds is concerned, but imaginary figures and also figures of speech are just as haunting. Reynolds' dead mother is an inscrutable omen, at least for him, even when he carries a lock of her hair with him always. "Never cursed" are words he is compelled to sew into the hem of the princess's wedding gown.
The images may not be as cryptic as the coiffure in the equally Pygmalionesque Vertigo, and the past not as menacing or as sinister as in Rebecca (although the ubiquitous models, mannequins, and mirrors in Phantom Thread loom large as doubles), but the words "die" and "ghost" are ever in the dialogue, even sarcastically, as with Reynolds, reeling to his deathbed, for all he knows: "Don't fuss, Alma, please don't fuss. If you fuss, whatever it is, I promise, I'll die right here." He champions the "spookiness" of the dead watching over the living.
Perhaps the clearest indication of any parallels with the gothic mind-manager of the movies (and classic television as well) is to be discovered in the film, Hitch. After all, if Hitchcock the Brit made tracks to America, Anderson the American made tracks to the British Isles. Not least, Phantom Thread can be seen as an homage to Hitchcock's soulmate and wife, Alma Reville. When Alfred Hitchcock received his Lifetime Achievement Award from the American Film Institute, he said:
"I beg to mention by name only four people who have given me the most affection, appreciation, encouragement and constant collaboration. The first

of the four is a film editor, the second is a scriptwriter, the third is the mother of my daughter, Pat, and the fourth is as fine a cook as ever performed miracles

in a domestic kitchen. And their names are Alma Reville."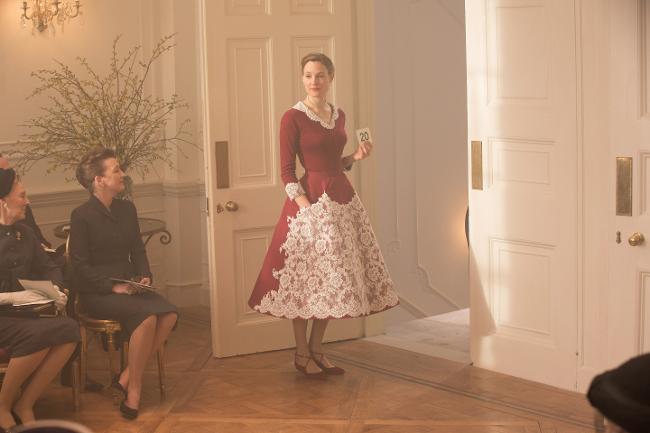 All of a Piece
The latest of Paul Thomas Anderson is, nonetheless, a singular work, even for him. One of the marvels of Phantom Thread is its organic unity. Vicky Krieps' wondrous performance follows suit with those supreme deliveries of Daniel Day-Lewis and Lesley Manville, and Anderson's cinematography endows these with ethereally soft lighting and a grainy filmic look all the while he psychically expands the claustrophobic battle ground of the House of Woodcock with shrewd vertical camera angles, mesmerizing close-ups, and even the camera as mirror when Cyril returns the gaze in a moment's once-over before opening the door to the Princess of Belgium.
From beginning to end (and it began long before production, running right through it and after it), longtime collaborator Jonny Greenwood outdoes himself with his rapturous score. His piano and strings waft their way through the estate like a spring breeze, thawing any frozen emotions. The music alone laces the extended montages with pure ravishment. Who else could meld jazz standards like "My Foolish Heart" and "My Ship" with a Schubert allegro, a Brahms waltz, and a Berlioz symphony? Add a bit of Fauré for plaintive melody and Debussy for frenzy and you have impressions to float away with, but instead they bring grace to a film that keeps its feet on the ground.
Phantom Thread
Director: Paul Thomas Anderson; Producers: JoAnne Sellar, Paul Thomas Anderson, Megan Ellison, Daniel Lupi; Screenplay: Paul Thomas Anderson; Editor: Dylan Tichenor; Music: Jonny Greenwood; Costume Design: Mark Bridges; Production Design: Mark Tildesley.
Cast: Daniel Day-Lewis, Vicky Krieps, Lesley Manville, Camilla Rutherford, Gina McKee, Brian Gleeson, Harriet Sansom Harris, Lujza Richter, Julia Davis, Joan Emily Brown, Sue Clarke.
Color, 35mm, 130 min. In English.