8-8-20
Open Door: Florenc Papas Takes Us for a Drive in Albania
By Diane Sippl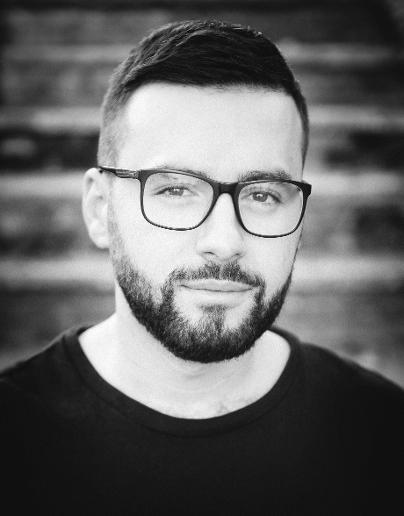 Writer-Director Florenc Papas
The 15th edition of the South East European Film Festival Los Angeles, known as SEEfest (at www.seefilmla.org) has taken a brave new turn in this special season of pandemic life by delivering the entire festival online—not an easy feat for the organizers and staff, and in some ways, maybe not an easy choice for the filmmakers, producers, and distributors. Yet there are some rewards for the audience. In an extended run (June 24th-August 16th), even though the screens at home might be smaller, the viewing windows are open wide, with many chances to see any one film for the same ticket. With 10 theatrical features, 10 non-fiction features, and 30 short films (fiction, documentary, and animation), it can be dizzying to choose a favorite, and yet KINOCaviar has one.
Even in the so-called "film capital of the world," it can seem like a minor miracle to get a glimpse of Albanian cinema today, but this is not the only reason Open Door feels like a god-send. This debut feature by Florenc Papas is a small gem, a tautly written road movie transpiring in barely a day and a half that takes up a mere 78 minutes of screen time but delivers a deeply emotional journey for two sisters as they face visiting their father. Even just a late afternoon dinner with him shores up centuries of cultural codes for filial piety, regional traditions each sister finds stifling, especially since they both live far from their father in the modern urban atmospheres of a developing Albania and southern Italy. Rudina (Luli Bitri), whose workday never seems to end between needy elderly in-laws, her own little boy, Orion (Maxwell Guzja), and piles of clothes to sew in a garment factory, takes on the added burden of her naïve and dependent younger sister, Elma (Jonida Vokshi), who desperately seeks Rudina's help. Two men their age enter the picture in a bizarre way, neither of them married to these sisters, but each one enlisted, in turn, to "come to the rescue." What ensues is an old story told in a fresh new way with superb roles for eloquent actors in a seemingly idyllic Albanian countryside. It's well worth going along for the ride!
Here Florenc Papas talks about screenwriting, the genre he chose, his characters and themes, making films in Albania today, and the variety of meanings for the film's title, Open Door.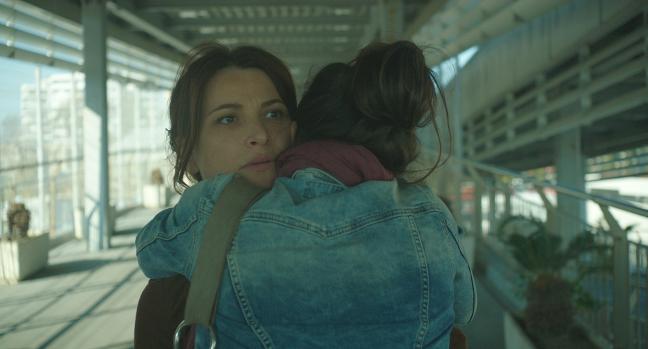 KINOCaviar Your film is exquisitely written (and also beautifully directed and shot)—where did you learn to write such an organic, cohesive, understated and yet profound script? A perfect ending! How did you work with Ajola Daja?
Ferenc Papas Thank you very much for your kind words. Actually, for me it started in elementary school with all the creative writing we had to do at that time, and I think that experience really helped me to jump to screenwriting. I studied film directing and screenwriting at Marubi Film Academy in Tirana where I met my co-writer, Ajola Daja. We began working together during our studies, and this collaboration continued into my debut feature as well. During its development, we were writing separate versions on our own, and we were meeting many times to work on a new one together. After the story was written, we approached the dialogue by acting it, with me as Rudina and Ajola as Elma. In this way, it could develop very organically, I would say. I believe that we had a great collaboration between us.
KC Maybe few of the readers here have visited Albania. Can you talk about how a road film can introduce us to a country—its land, its cities, and its people, their ways of life?
FP One of the reasons I like road movies is that they can give you the opportunity to show a part of a place and portray new people. In fact, in road movies you find yourself in new locations, so you yourself are meeting new people all the time. But the most important point for me is that road movies and their journeys present the possibility for characters to discover themselves and to change. Open Door shows a part of the Albanian landscape and some of its people and how they live. Yet I have set the story in the suburbs of Albania, which are totally different from its capital, Tirana, and this difference supports one of the main conflicts in the film—modernity versus tradition.
KC In what ways do you feel your two female protagonists might have experienced personal change on this journey—either similarly to or differently from each other?
FP I see Rudina and Elma, both the protagonists, as complementary to each other. Their changes during the story come because of each other. Elma returns to Albania and makes a big impact on Rudina, and Rudina's subsequent change affects Elma. Sometimes I don't like to use the word "change"; I prefer "realize." For me, Rudina changes because Elma makes her realize who she is by opening her eyes and showing Rudina her life in the mirror. Likewise, Rudina's change is what makes Elma realize who she herself is, which allows Elma to change only by the end of the film.
KC This was your first feature, and "seasoned" filmmakers often caution against including children and animals in the production. You use both. How did you decide to write little Orion, Rudina's son, into the story? He's a remarkable actor. Where did you find him? Was it easy to work with him?
FP This was my fear, too, when we went into pre-production. To write it was easier. But Orion was a miracle to find and to have on the set. Of course, we used the traditional way to search for a boy of his age and held a lot of auditions. His mother was very supportive of him and the production. She presented Maxwell (his real name) to me, and he took my directions very easily, like an experienced actor. He had great chemistry with the two protagonists as well. He didn't cause any delay to the production; on the contrary, he brought a good energy for the whole crew. As they say, kids are difficult to find, but if you find them, that's it.
KC Open Door is a great title—do you want to comment on its meaning, both literally and metaphorically? Where is there a bigger "open door" in Albania today—in the city or in the countryside?
FP We entitled the film Open Door because of Elma's character who implements the saying, "The door will always be open," which in our culture we use a lot. But we saw that there is an open door for Rudina, also, in the end of the film. On top of that, Open Door is a film about the position of women in our society, so in a way, the film wants to open the door to discussion about women in Albania and beyond. Albania is changing fast, and that's why we are optimistic that this door is opening and will stay open. The problem is that the city is far away from the countryside, and there is more to do in the city. We see a lot of differences in the ways of life between people in the city and those in the countryside, and I think the speed of development in this past 30 years has left the countryside even further away.
KC I see your film as addressing patriarchy from the first moment to the last—directly or indirectly in every scene. How did you come to choose this theme? Are there others I missed? Tradition?
FP I was born in 1991, directly after the fall of communism. My parents were born and raised in the previous system, and this is what makes the difference for so many of us. The conflict between the younger generation and the older generation is still present and sometimes becomes very tough. It inspired Open Door—the clash between tradition and modernity is there on purpose. It gets tougher in a society in which patriarchy is still present.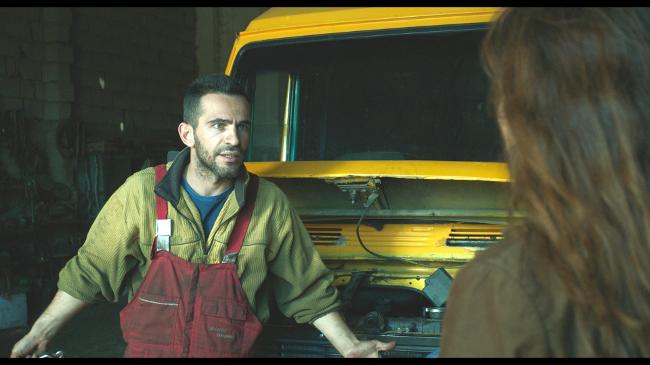 KC Money comes up for Rudina several times—the loan she gave to her sister, the support her husband never gives, the "swindler" at the car repair—and we can see that she works a hard job in a garment factory. Can you talk about class and gender disparities in wealth in Albania?
FP As I said before, Albanian is developing fast, but we still have serious economic problems prevailing in the society. The development is going in a direction that lets the rich grow richer and the poor, poorer. I see a lot of big differences regarding class in our society. Unfortunately, males are dominant in our society. That's changing, but we need to do more in this direction. Film, art, media, politics, businesses, and education can all play good roles in facilitating this change.
KC Your minimal use of music suits the film well. Is there any cultural meaning to the song the two sisters sing in the car (a beautiful scene)?
FP I decided to use no music except diegetic music—for example, in the scene you have mentioned. The film is dialogue-driven, and for me, the silence of the landscape during the journey is a kind of music itself, and that calmness works very well with the story. The title of the song they sing in the car is, "I Don't Forget," from the late 1980s and very famous for everyone in Albania. The singers are real sisters as well, and very popular. I decided to use that song because something from the past, from the characters' childhood, would became a great means of re-connection between the two sisters. It's the past, their childhood, that calls them, and since the moment they sing it, they are one and they fight together.
KC I'm thinking of the only film I've seen made in Albania—and by an American, at that—Joshua Marsten's Forgiveness of Blood, and I see patriarchy to be at the root of that film's conflict also. Do you know the film? Do you agree? Do you feel that film represents Albania?
FP Of course. I have seen the film and I like it a lot. I think Joshua did incredible research about Albania, and yes, it represents Albania in a movie. Just not to forget, that is one part of Albania, as in the case with Open Door. But we are making films for special people and making special stories that can attract the audience. Patriarchy—of course—I think in every Albanian film you will brush up against patriarchy.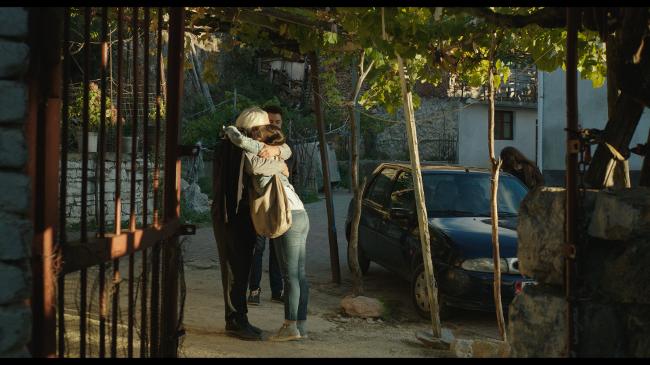 KC What obstacles are there to making a film in Albania—especially as an Albanian (not from Hollywood)?
FP The two main obstacles to making films in Albania are education and funding. When I say education, I include experience as well. Lately with co-productions we are doing here, this is changing, and now that cinema is no longer just local but international, we need to push ourselves harder to be able to compete in the world. Funding? Yes, that's a problem. We have public funding and some private, but that is below average.
KC I noticed in the end credits that you thanked people familiar to me (even personally): Gyula Gazdag, Milcho Manchevski, Karpo Godina. How did they inspire or help you?
FP These three incredible men were my mentors during development. The 10-month development program of First Films First is run by Stefan Arseinovic and the Goethe Institut. Open Door was lucky to be selected for this amazing program, and it helped a lot to make the film possible at all, and to make it better. We talked with them about the script, directing and photography. Gyula Gazdag was my mentor at the Midpoint program I attended in Karlovy Vary in 2016. This was another great and helpful experience for me.
KC I also read that you've been a film programmer at the Tirana Film Festival. I know how helpful it can be to become versed in world cinema, meet filmmakers from all over, and participate in development and production meetings. It seems the Berlinale and the Goethe Institut were both in that picture for you. Can you comment on how this experience helps, in actually completing a first feature?
FP I've done programming for the Tirana International Film Festival for over 5 years now, and I believe it has helped me to grow as a filmmaker as well. To watch those amazing films and to meet a lot of people from the industry is never a bad idea for a director. For the past 5 years I have traveled a lot to various international festivals, and I think connections in our industry are important for building your career.
Open Door
Director: Florenc Papas; Producer: Eno Milkani; Screenplay: Florenc Papas, Ajola Daja; Cinematographer: Sevdije Kastrati; Editor: Stefan Stabenow; Sound: Igor Popovski; Music: Aleksandar Pejovski; Production Design: Erjona Daka; Costumes: Borana Gjyzeli
Cast: Luli Bitri, Jonida Vokshi, Maxwell Guzja, Sotiraq Bratko, Guljelm Radoja, Elidon Aliko, Visar Vishka, Jorgaq Tushe, Andi Begolli


Color, 78 min. In Albanian with English subtitles.