9-11-11
Kirsten Greenidge's Milk Like Sugar: A View from the Inside
By Diane Sippl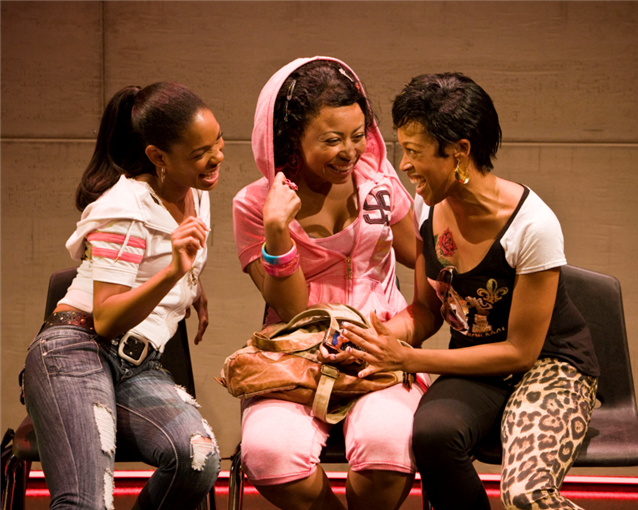 Angela Lewis as "Annie," Nikiya Mathis as "Margie," and Cherise Boothe as "Talisha" in La Jolla Playhouse's world-premiere production of Milk Like Sugar by Kirsten Greenidge, directed by Rebecca Taichman

"Be careful what you wish for," you want to tell the three sixteen-year-old girls who hold center stage, "...you might get it." And what they say they want is someone they can call their own, manifest — in their eyes — in a baby, in the unconditional love of a child for its mother. Yet most likely what they'll get will be the life their mothers modeled. These teens haven't managed to think through the fact that their own love for their mothers, to the extent that the girls feel it at all, comes with plenty of conditions. And these girlfriends haven't begun to ponder the irony that they may be blindly repeating all that they reject in their moms.
Could it be that in years past, fear-laden and shame-inducing as teen pregnancy was (and most likely still is), it might occasionally have embodied a choice on the part of the young mother? Might an adolescent girl who ended up pregnant actually have been seeking a sense of validation or fulfillment or power that she thought motherhood would bring her? Whatever motivations or rationalizations such girls may have harbored, they were taught to keep them secret. Even in so-called "progressive" eras of the last centuries — the "gay" nineties, the "roaring" twenties, the wartime forties — editorials scorned seemingly sex-hungry girls so commercially compelled to the city, its fashion trends, its youth culture and so ill-nourished by their families and communities that they "fell by the wayside" thanks to thoughtless or heartless males.
Today, with the ways and means of sex so disseminated by accelerated technologies that after-school TV reality shows brandishing teen motherhood as a hot topic also offer online campaigns teaching methods of contraception, should it be a surprise that there are girls who flaunt their billowing bodies as status symbols, identity insignia, or "success" stories? In fact, in a year that also saw thousands of Evangelical "Purity Balls" promulgating abstinence, a Time magazine story reported the shocking circumstance of seventeen girls at Gloucester High School in Massachusetts who were pregnant during the spring of 2008; according to the principal, seven or eight sophomore girls had deliberately set out to get pregnant at the same time so as to share the experience of raising their babies, even though investigations were never able to substantiate the claim of a "pregnancy pact."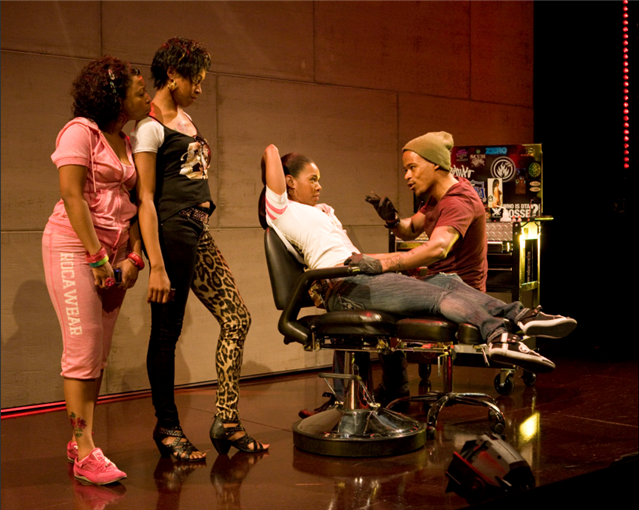 Nikiya Mathis as "Margie," Cherise Boothe as "Talisha," Angela Lewis as "Annie," and LeRoy McClain as "Antwoine" in La Jolla Playhouse's world-premiere production of Milk Like Sugar by Kirsten Greenidge, directed by Rebecca Taichman

Teenage sexuality has gone public, becoming a social discourse whether virtual or physical, yet clouded in emotional confusion that, just the same, has not prevented girls from wanting to become mothers. In 2007 the number of U.S. teen pregnancies reached a fifteen-year high: 10% of all births in the country, one of the highest rates in the developed world, with only a third of these mothers earning high school diplomas. One Massachusetts teacher, as it turns out, decided to act on a study she found that linked the age a girl first got pregnant with the economic health of her community. But rather than pursue the topic as a socio-economic thesis, she decided to look behind the issue to focus on the psychological and emotional dispositions of today's teenagers.
Kirsten Greenidge, a playwright who teaches English and public speaking at a Boston college, was offered a co-commission by the La Jolla Playhouse and Theater Masters that sent her to the Aspen Ideas Festival for a week of seminars that would generate an idea for a new opus. The workshop often focused on aiding at-risk youths, and the conviction was proffered that the way to do that was to successfully reach out to one female adolescent in a given community.

Pregnancy has been a recurring motif in Greenidge's plays, and growing up in the 1980s and 1990s, she had known it as a frightening predicament for a teenager that could ruin a girl's life. But once she bore children of her own, the author began to look at pregnancy from the other side: how would a mother raise a girl to make her own best decisions? The introspection that aided her in developing Milk Like Sugar also became its theme: the central character, Annie, begins to question the superficial, materialistic culture that chronically hems her in (though she can hardly access its consumer goods) and to consider what else life might hold in store for her. It's a familiar, relevant conflict that Annie experiences with her girlfriends, with the somewhat older boys she knows, and also with her mother, who is raising Annie in the absence of her father and even her two older brothers.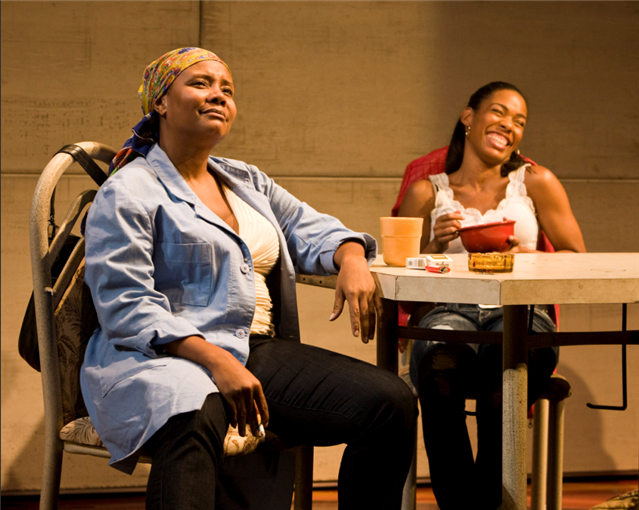 Tonya Pinkins as "Myrna" and Angela Lewis as "Annie" in La Jolla Playhouse's world-premiere production of Milk Like Sugar by Kirsten Greenidge, directed by Rebecca Taichman

Like the Three Graces in Hip Hop mode, Annie, Talisha, and Margie are "good to go," or at least they think so — so much so that they make a pact with each other to get pregnant at the same time and raise their babies together. "Be careful what you wish for…" might be what they need to hear, but this proverbial wisdom is sorely missing in their social reinforcement networks. Myrna, Annie's mother, might make snide remarks about how many layers of laundry a baby can wet through in any one night, but she can't manage to remember Annie's sixteenth birthday, which is to say that she is far too absorbed in her own pressures and needs, significant as they might be, to notice the peer prodding Annie suffers up against her private curiosity about what it would be like to go to college.
Get a sensible job to pay your bills, Myrna tells her daughter, and forget about tearing off to some college; but all the while, Myrna's asking Annie if she's seen her notebook, where Myrna's been jotting down the new short stories she aspires to write. Annie's mother, at least, was encouraged to write by her teacher, but having dropped out of school, Myrna now pays her own family's bills by cleaning offices where she can't steal a scrap of computer time to spill out her talents. Is she casting Annie in her own long shadow? The girl would like to act on her aspirations, if only she could sort them out.
Her heart-throb Malik is clear about his goal — to break out into a big new world and leave his trappings behind. Deeply reflective and downright dreamy when it comes to the future, his gestures with Annie are grand and poetic: he presents her with the birthday gift of a telescope. But Annie is not accustomed to gazing afar. "You're afraid, Malik tells her," which is the core truth of the play, and Annie's so defensive she can't even act upon her own short-term drive to score with Malik so as to validate herself vis-à-vis her girlfriends.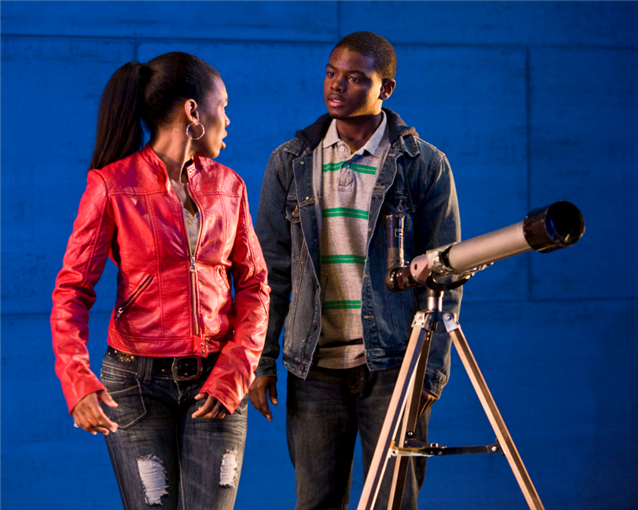 Angela Lewis as "Annie" and J. Mallory McCree as "Malik" in La Jolla Playhouse's world-premiere production of Milk Like Sugar by Kirsten Greenidge, directed by Rebecca Taichman

Persuasively strutting a rainbow of feelings from the "pride of a lion" to awkward flirtation, from empathy for the underdog to utter exasperation, Angela Lewis' Annie is smart enough to sense her own potential but not mature enough to see that it's mostly the tools to reach it that she lacks. And where would she find them? Annie entreats her mother simply for the ritual of a family meal and an occasional game of checkers with her brothers, but Myrna proceeds only to let her know, in a devastating second-act showdown, that Annie is "nothing special."
Tonya Pinkins' stone-cold face as Myrna, long-since animated with emotion, hardly needs the lit cigarette pursed in her lips as she makes meager moves at talking with Annie. Her character would be well served with an ounce more dimension, even given that Greenidge clearly sees her as so beaten down she's a thorn in Annie's self-image. What is it Myrna scribbles in snatches in her misplaced notebook? A hint might show us more than a glimmer of the mother in the daughter, shoring up ever more dramatically Myrna's distaste for (or is it envy of) Annie's youthful dreams and her energy to pursue them.
In their rapid-fire banter, Annie and her friends voice desires for boys with touch-screen phones, momentary dads who sport prestigious enough gadgets to win the girls baby showers bringing them Coach diaper bags, lots of cake, and three-wheeled strollers like the one Beyoncé uses. Their girl-power defines the trio as dutiful (would-be) consumers who are as blindly loyal to the economy that shuts them out as they are to each other. Nikiya Mathis' chatty Margie, already pregnant when the play opens, is "in the pink" from head to toe and ready to do a number on Annie, pushing her on Malik. Hers is the relatively cheerful role beside that of bully Talisha, or "T," as she inscribes herself, played by Cherise Booth with uncommon vigor and defensive aggression that melts down to a frightening vulnerability. In the end we see in T's body bruises the psychological source of her lashing attacks on Adrienne Moore's gentile Keera who soldiers along, with Annie's support, only in turn to prop up Annie with the idea of communal dinners at her church. Keera puts up a good front as she inspires Annie toward authenticity all the while she herself secretly suffers.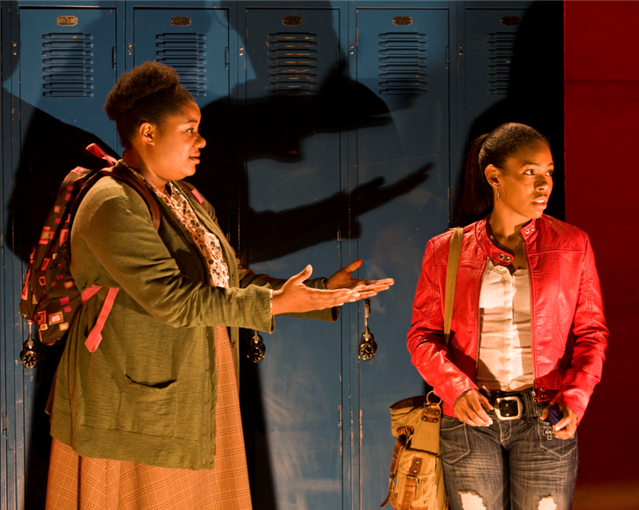 Adrienne C. Moore as "Keera" and Angela Lewis as "Annie" in La Jolla Playhouse's world-premiere production of Milk Like Sugar by Kirsten Greenidge, directed by Rebecca Taichman

All the girls have their rhythm down, whether it be Hip Hop for the threesome or Bible for Keera, and they are the life of the play, flying headlong into trouble while the boys keep their cool. Both J. Mallory-McCree as Malik and LeRoy McClain as Antwoine lend Milk Like Sugar grace and dignity in roles for black males that are unusually affirmative. Malik is college-bound and scholarship-oriented while tattooist Antwoine is galvanized by his art-school correspondence course even if no one else is impressed. Each is possessed of a sense of self-definition and worth in a play that inventively bypasses the conventions of boys and girls falling in and out of love.
Director Rebecca Taichman employs the space at Sheila and Hughes Potiker Theatre to her advantage as Act One opens on a narrow strip of stage just big enough for a tattoo parlor chair, the girls' prancing and besting of each other is up-front and "in-your-face." In Mimi Lien's design, the neon-lit, concrete wall against which the actors play moves back, progressively upstage, especially for Act Two as the conflict deepens, only to further highlight the relative emptiness, dotted by minimal set pieces, of rigidly circumscribed lives. Stenciled flames projected upon the stage floor are the symbolic extension of Annie's tattoo, an emblem of her burning zeal, but the play's most apt metaphor is the title itself, which spins in multiple directions, each calling into question the nourishment of mother-love.
Visit http://LaJollaPlayhouse.org or call 858-550-1010 for tickets at the Sheila and Hughes Potiker Theatre, La Jolla Playhouse, 2910 La Jolla Village Drive, La Jolla, CA 92037, Tue/Wed at 7:30 pm, Thu/Fri/Sat at 8:00 pm, Sunday at 7:00 pm, matinees on Sat/Sun at 2:00 pm, August 30-September 25, 2011.

Milk Like Sugar
Playwright: Kirsten Greenidge; Director: Rebecca Taichman; Scenic Design: Mimi Lien; Costume Design: Toni Leslie James; Lighting Design: Justin Townsend; Sound Design: Andre Pluess; Dramaturg: Gabriel Greene; Co-Commissioned by La Jolla Playhouse/Theater Masters; Produced by La Jolla Playhouse in association with Playwrights Horizons
Cast: Cherise Boothe, Angela Lewis, Nikiya Mathis, LeRoy McClain, J. Mallory-McCree, Adrienne C. Moore, Tonya Pinkins.
Two acts with one intermission. Photos credit: Craig Schwartz.