6-7-10
"M" Is for Movies — Melnitz Movies
By Diane Sippl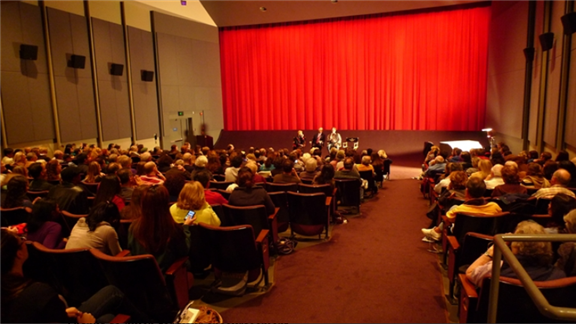 Q&A with
Daniel Ellsberg
(center) and Rick Goldsmith (right), moderated by Marina Goldovskaya (left),
Professor,
UCLA Department of Film
, Television, and Digital Media
For the film aficionado forever seeking kino caviar, a key venue becomes vitally important, since in more ways than one, it is likely to become a second home — or, from time to time, even a first home, the same seats taken up by the same familiar faces, each there to feast on a reliable plat du jour. So even more at the heart of the quest is the host, the programmer who, it is taken for granted, will offer what has been missing from the slate of world cinema on local screens, from the mega-sized stadium theaters to micro-sized cell phones.
I met Andrew Hall at UCLA's Melnitz Movies because there the slate was simply top-notch. Film after film, he proved that he was really out to get what the L.A. Film Critics Association calls "the films that got away." Not only that, he was bent on bringing the films that would soon arrive. But how special it has been to view them ahead of their commercial release, in the company, often enough, of the directors themselves. As Andrew Hall's taste continued to validate my own and even anticipate it, I grew more and more curious as to exactly how the whole operation works, so I presented him with the following questions.
Diane Sippl: How old is Melnitz Movies? Has its organization or mission ever changed? Why? When? How does it see itself in relation to other film programs in Los Angeles?
Andrew Hall: Melnitz Movies was founded in 1979 in cooperation with the UCLA Film and Television Archive. Original director Chris Rehr worked with Bob Rosen and Geoff Gilmore, who was programming for the archive, in setting up the organizational connections to the Graduate Student Association. At that point, much of the funding came from the Student Committee for the Arts. Programming was focused from the beginning on bringing directors of new films to campus, and was distinct from the archive's screenings, which also took place in the Bridges Theater at the time.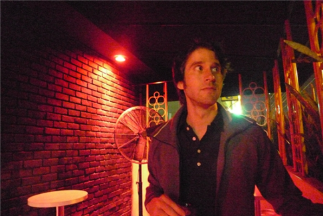 Andrew Hall, Director of Melnitz Movies
It's unclear exactly when the GSA took over as the sole funding and operating entity for the series. Records are very spotty and the above information has mostly been gathered from conversations with past directors, including Rehr, and David Pendleton, who is now programming at the Harvard Film Archive
Melnitz Movies exists primarily to foster film culture among UCLA's graduate student population. Our screenings should ideally boost interest in other independent and international cinema screenings around the city and occasionally fill in gaps in the city's film exhibition landscape. Screenings at Melnitz should complement the programming at places like the UCLA Film and TV Archive, LACMA, and the Nuart, not compete with them, and I'm always mindful of what they have coming up and try to keep their programmers informed of my plans as well. As one example of that strategy, I programmed our screening of Agrarian Utopia to coincide with the last day of the Nuart's run of Sweetgrass. In our promotional materials, I suggested that our audience check out Sweetgrass first and read Robert Koehler's article, "Agrarian Utopias/Dystopias: The New Nonfiction," in Cinemascope (linked via our website), which explores some thought-provoking connections between the two films. That sort of programming which puts current films in dialogue with each other isn't always possible because of the constraints of release schedules, but is an example of how Melnitz can function to grow the city's film culture as opposed to simply draining audience from another venue.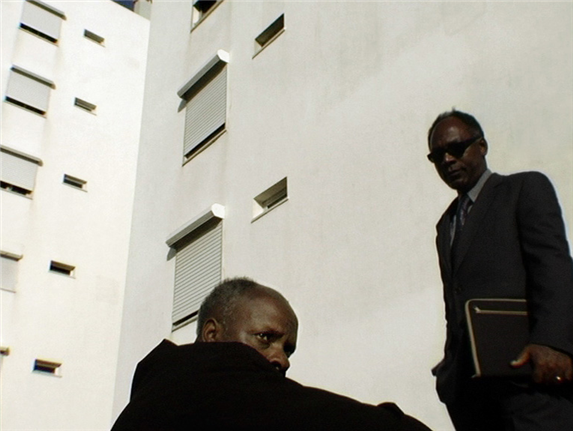 Colossal Youth by Pedro Costa
DS How is it organized? Are there separate positions -- programmer, publicity, in-house communications, liaison with filmmakers/distributors, for example?
AH There is only one position related to the series, Director of Melnitz Movies. The director is responsible for all programming, publicity, communications with filmmakers/distributors/theater management/GSA/etc. The director may choose to pay an assistant a small stipend to assist with these tasks, which has been done for at least the past three years.
DS How did you get to be the Director? For how long (past and future)? With what "credentials"?
AH I was appointed as director in June 2009 by the officers of the Graduate Students Association. The appointment must also be approved by a majority of the GSA Forum (a larger legislative body). I submitted a written application and was interviewed by a group of about eight individuals from the GSA. I don't know how many other applicants there were, but I was helped by receiving the support of Daniel Steinhart, the previous director and a fellow graduate student in Cinema and Media Studies. Each director's term lasts one year, and there is no limit on the number of terms as long as the director remains a graduate student. In recent years, the director has come from the Cinema and Media Studies program, but past directors have been MFA students in the Department of Film and Television, and the director may be a student in any graduate program on campus.
My specific credentials included being an MA student in the Cinema and Media Studies program and having done a small amount of programming for Los Angeles Filmforum. Ultimately, what I believe mattered most was demonstrating a sufficiently deep knowledge of contemporary film culture along with a vision for how that culture could be engagingly presented to UCLA's graduate students.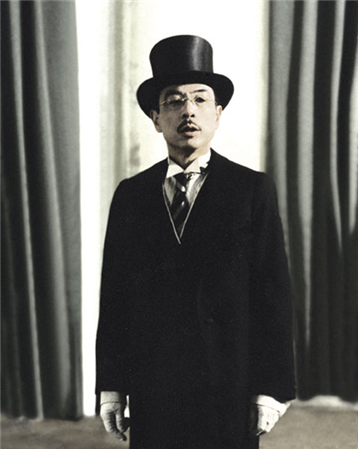 The Sun by Alexander Sokurov
DS Who funds your own work and also the presentation of the films?
AH The series, including the modest stipend paid to the director, is fully funded by the Graduate Students Association through the ASUCLA Student Interaction Fund.
DS What is the hardest part of your work? And the most rewarding?
AH The most difficult aspect of the job for me has been making the decision to turn down films submitted for consideration by faculty members and alums. We're very fortunate to have access to so many great filmmakers associated with UCLA, but I have to be mindful of the fact that this series should serve the interests of all graduate students at UCLA and is not simply set up to showcase the achievements of the School of Theater, Film, and Television.
The most rewarding aspect of the job is without a doubt seeing the positive response of our audience to challenging programming. That we've been able to draw 170 people to view Sokurov's The Sun, or 200 for Pedro Costa's Colossal Youth in a city so saturated with entertainment opportunities, filmgoing and otherwise, is extremely encouraging. Melnitz has been able to build a community of open-minded viewers who are willing to take a chance on something like Agrarian Utopia or Crab Trap, and I've been privileged to enjoy their support this year.

DS Are there restrictions or guidelines as to which films and how many can be shown? For example, what is your lead time? Do distributors limit you? Help?
AH As with almost any screening organization, our primary restriction is our budget. We receive nearly two-thirds of our films free of charge from distributors or publicists as promotional screenings. Screenings such as A Prophet, Mother, Police: Adjective, and Bluebeard were arranged in this manner. Fortunately, we're located in a city with a relatively diverse range of theatrically released films. I've generally found it feasible to book dates four to six weeks in advance, although in some cases screenings have been booked on only one week's notice. We don't have our choice of any theatrically released film of course. I would have loved to screen The White Ribbon, Fantastic Mr. Fox, Beetle Queen Conquers Tokyo, or Trash Humpers, but those responsible for those films had other plans.
Likewise, because we don't screen over the summer, we were unable to pursue previews of films including 35 Shots of Rum, The Headless Woman, Lorna's Silence, The Beaches of Agnes, and Inglorious Basterds. So yes, distributors are extremely important and helpful to us, although conflicts between their schedules and ours often make programming specific films impossible. I hope one of the effects Melnitz Movies will continue to have is to support the work of small but vital distributors like dGenerate, along with that of larger companies like IFC.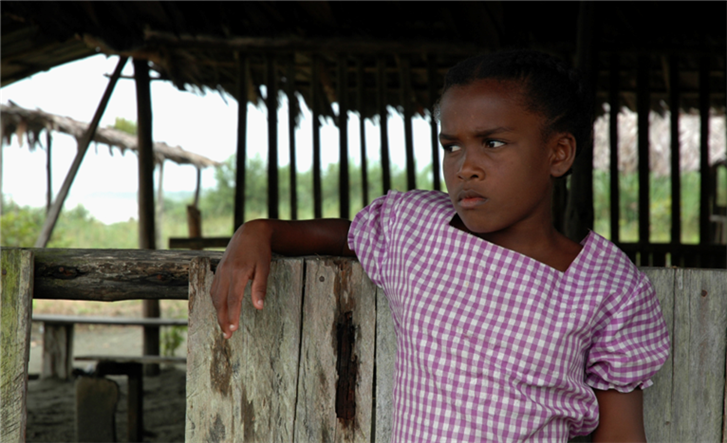 Crab Trap by
Oscar Ruíz Navia
DS How many people (and who) decide on the program? On what basis?
AH The Director of Melnitz Movies is the sole person responsible for making decisions regarding programming. I've been very fortunate to work for a group of GSA officers who've trusted me to make those decisions. I conceive of Melnitz Movies as a cultural service provided to all graduate students (and secondarily, to undergrads) at UCLA. To that end, I've sought to engage with as many university departments, centers, and student groups as possible to facilitate a cultural dialogue through contemporary cinema, and we've been reasonably successful in that endeavor. We've collaborated this past year with 20 different on-campus entities, as well as outside organizations such as the Pan African Film Festival and the Los Angeles Film and TV office of the French Embassy.
In short, my goal is to program a diverse sampling of the best in contemporary world cinema. We've screened films from 20 different countries this year, including Australia, Chile, China, Colombia, The Democratic Republic of Congo, Denmark, England, Finland, France, Germany, Japan, Mexico, Peru, Portugal, Romania, Russia, South Korea, Taiwan, Thailand, and the U.S. My favorite bit of Melnitz trivia is that we've hosted discussions this year with directors from every continent except Antarctica. While on the subject of diversity, I should also mention that one-fifth of our films this year were directed by women. That is a depressingly low percentage to be bragging about, but when one considers that only ten percent of the films reviewed by the New York Times in 2009 were directed by women, it becomes clear that we're doing better than most (and this in a year when we weren't able to screen anything by Varda, Denis, Martel, or even Bigelow). All of this is not to suggest that I privilege diversity so much as to illustrate just how much great filmmaking is going on all over the world right now.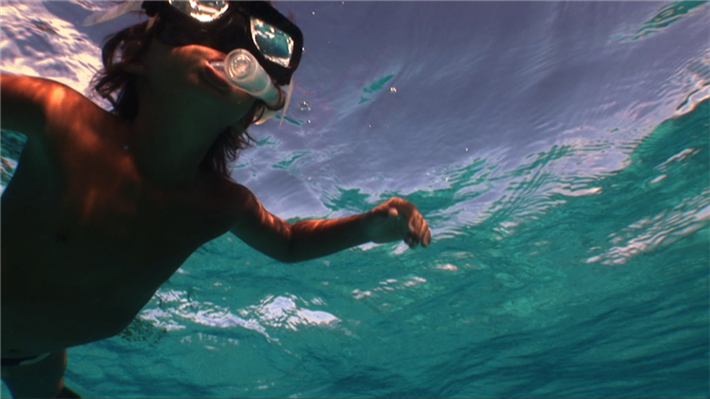 Alamar by Pedro González-Rubio
DS What have been your most "successful" events? On what terms? Why?
AH One simple way to measure the success of our events is attendance. We've averaged about 160 people per show and we've had six sold out screenings this year out of 56, including films as diverse as A Prophet and MacGruber. Among the sold out shows, our screening of The Most Dangerous Man in America stands out as an especially meaningful night. We had Daniel Ellsberg in attendance for a Q&A with co-director Rick Goldsmith and almost everyone in the audience stuck around for the discussion. After over an hour, we had to wrap it up, but Daniel stayed around for another hour talking with some very passionate members of our audience, many of whom were visibly moved by his courage.
On the other hand, I consider a screening like Avant-game, our program of gaming-related experimental films, to have been successful too. It only brought in about 60 people, but having volunteered for Los Angeles Filmforum for almost three years now, I can say that getting an audience of 60 for a program of experimental films in Los Angeles is a rare achievement. The show was featured by Karina Longworth in the LA Weekly as well as the Daily Bruin, and hopefully exposed quite a few students to a mode of cinematic expression far outside the norm.
DS What has been your personal favorite? Why?
AH The highlight of the year for me was hosting Tsai Ming-liang and Lee Kang-sheng for a screening of I Don't Want to Sleep Alone. It was a real treat to discuss Tsai's work with him, but it was even more rewarding to meet a great filmmaker and discover that he is also so warm and open to those interested in his films. And of course, seeing that film projected on 35 is a rare and beautiful experience in itself.
Likewise, getting to know talented young filmmakers like Pedro Gonzalez-Rubio (Alamar) and Damien Chazelle (Guy and Madeline on a Park Bench) has been a thoroughly enjoyable experience for me personally and for many of the students who attended those shows.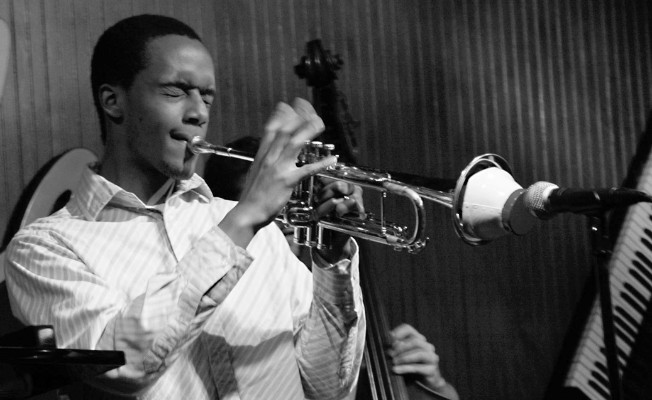 Guy and Madeline on a Park Bench by Damien Chazelle
DS With 278 seats that can be occupied in James Bridges Theater, who makes up your audience?
AH Our audience is a mix of UCLA graduate students, undergrads, faculty, staff, alums, and residents of the surrounding community. We have over 4,300 subscribers to our email list and another 900+ on Facebook. I've just sent out a survey via email in an attempt to get more specific demographic information, but the makeup of the audience varies greatly from film to film.
DS What feedback do you tend to get?
AH I'm hoping the end-of-year survey will provide concrete information about the interests and concerns of our audience, especially UCLA's graduate students. We've received nearly 200 responses in the first few hours alone, nearly all of which have been very supportive. That information will be available to next year's director to guide in the selection of films as well as in the promotion and management of screenings.
Otherwise, my feedback has come in the form of conversations with audience members before and after screenings. The vast majority of those in attendance are very grateful for the opportunity either to see films that have not played elsewhere in Los Angeles, or to see them early and help spread the word.
Melnitz Movies is taking its summer break until September, but it can always be found at: http://gsa.asucla.ucla.edu/melnitz .