6-12-23
On This Lonely Island… Magnetic Fields
By Diane Sippl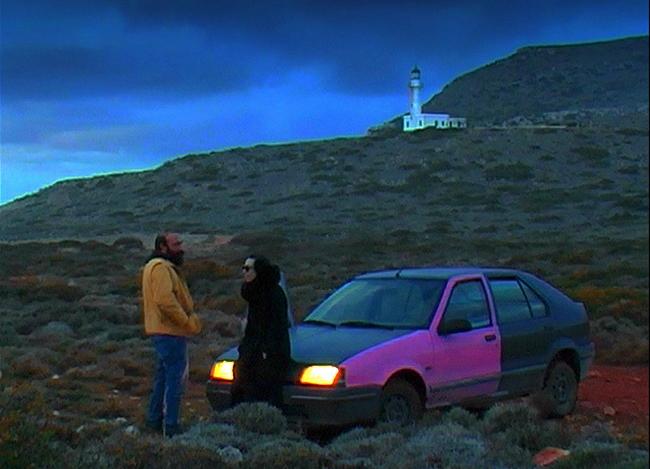 At the Closing Night Gala of the 17th Los Angeles Greek Film Festival on June 11th at the Pacific Design Center's Silver Screen, top awards went to Maria Douza's Listen for Best Feature Film and for its protagonist, Efthalia Papacosta, for Best Performance, while the Best Director award went to Panos Koutras for Dodo. The former a serious drama and the latter a satirical comedy, both films were festival favorites. Yet one film fits into no genre box, not even DIY guerrilla filmmaking, given the unique context for making this extremely lyrical almost-a-road-movie. Made during Greece's heaviest COVID winter on a budget of $6,000, the meandering trip around a mountainous island is a one-of-a-kind experience in more ways than one. Says the filmmaker:
I will keep Magnetic Fields in my memory as a journey and a love story amongst the people who made it. However, the question is if the feelings we shared when making it are also portrayed in the film.
Writer-Director-Producer Yorgos Goussis
You're a cartoonist. Day after day you sit at your desk alone and draft the drawings for comic books, graphic novels. You are successful, even famous, but also aware of how introverted you are. It's 2019 and you venture out of your shell to make a short film, working with others and enjoying the stimulus of their shared creativity. It's actually thrilling! But out of nowhere comes a lockdown, and you're back to the isolation. A hermit, productive but alone again. Then in 2020 something unexpected comes—an endowment arrives at your door in appreciation of your work. How can you use it? What you want to do is to make a film, or to take a trip, or… why not both? A road movie—yes, that's the plan.
You're a ballerina with many years of the stage behind you, and now you're recruited to teach classes in Thessaloniki. You're a star performer, a sought-after mentor. The world of dance needs you—but you don't need it. One day you catch your reflection in a window and realize that you don't recognize your own face. You're tired of dancing. You need to leave that world behind. You would like to sing, or even to act.
Imagine that these two lost souls meet, the beginning of a love story. The filmmaker takes a drive around a currently "abandoned" island (with everyone sheltered in place according to local mandates). The landscape speaks to him. With a male friend to play his role in tandem with the one-time ballerina, a film crew of six, a MiniDV camera, and a lean synopsis of a story, you head out in an old car from Athens to Kefalonia in the Ionian Sea. You have one goal: to return within fifteen days with a road movie about a man and a woman, each traveling alone, who meet by chance. They are opposite in many ways; still, their need to connect is stronger than their desire to return to their old lives.
Sure enough, something magical happens, despite the ultra-naturalism of the place, the "actors" playing out their own real-life fantasies, and the long takes of real time capturing them on film. Within two weeks you board a bus back to Athens with a shoebox full of MiniDV tapes. On the lid, it says: "Careful—keep away from magnetic fields."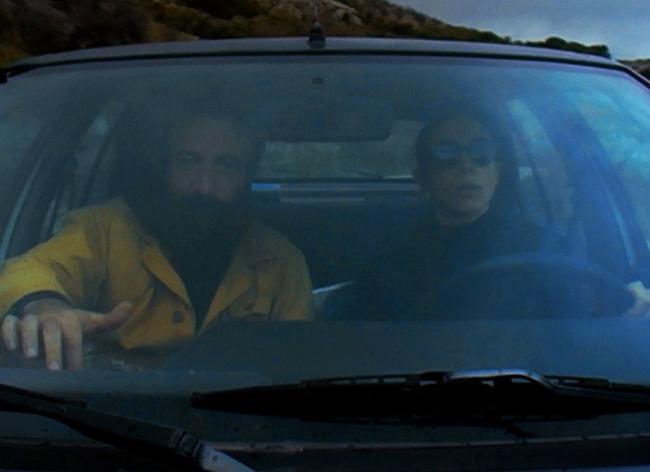 In fact, Yorgos Goussis made this film and even found some of his footage destroyed by magnetic fields near radar stations installed on the land. But most of his work was saved. Good thing, because it would never be made the same way again. With the mere knowledge of the situations at-hand, the two actors improvised their lines. On occasion they delivered songs, spontaneously sung from the heart, arising from the moment.
Elena (Elena Topalidou) and Antonis (Antonis Tsiotsiopoulos) meet at the ferry crossing where his car fails him and, stranded as he is, she insists on giving him a lift. It seems she needs an emotional "lift" herself, and only ever-so-slowly do we find out why. She has deliberately gone astray from her planned route, whereas he has a destination in mind—to arrive at a particular cemetery where he can deposit an ossuary box. Their excursion around the island takes them through a variety of fleeting land-and-seascapes; the beauty is in the ever-changing terrain and clouds, away from towns and crowds, with only the sounds of the gulls and the waves.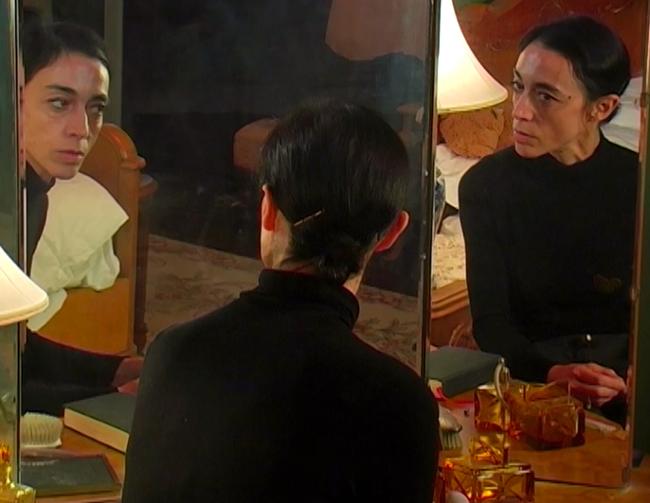 There are the odd surprises—a car propped up at a tilt, seemingly on stilts, well above the highway, as if to flag a gas station; the two of them sitting in a boat being towed by truck along the sea. In an idyllic bedroom-by-the-sea a Teddy bear basks in morning sunlight in Elena's shared bed. And then the danger zones (a cliff-side dirt road, a dead-end at the site of a dam). There is the proverbial need to pee—and its consequences.
Along the way are also symbols (one reflects, after the fact)—modern windmills, a lighthouse, and even "George," Elena's old black car with a hot pink driver's door and fender and lack of an emergency brake. We have the sardonic humor of a village bureaucrat who won't allow Antonis' ossuary box in his cemetery—thus the hunt for where to bury "the past." This particular past takes the form of the ashes of a little-known aunt who gives rise to imaginary stories Elena and Antonis tell each other about the woman: her lover became a sailor and drowned at sea, or he met another sailor in another port and stayed, or he went out for a smoke and never came back.
The sense of loss and sadness they create is eerily close to their own. Elena tells real "stories" on the phone, to her son and her mother, of being at the dance event in Thessaloniki. These tales don't fit the melancholy tone, and certainly not the three-way shot of Elena in the mirror as she contemplates her life. Even the nearly square shape of the frame invites an intimacy with this couple- that-is-not-quite-a-couple but feels as if it ought to be.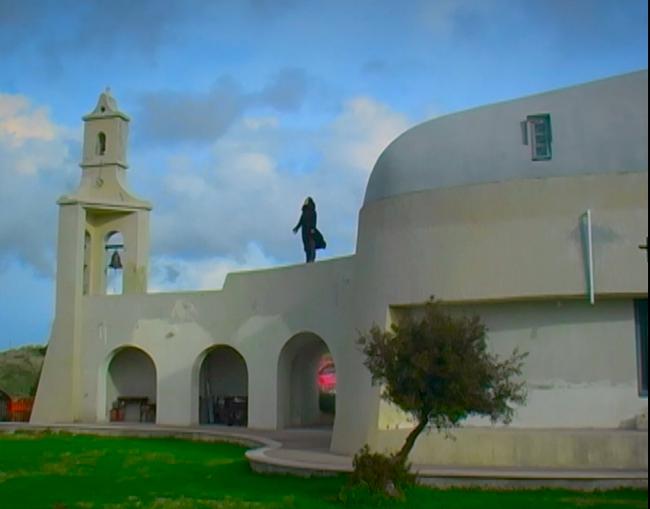 "Antonis Tsiotsiopoulis and Elena Topalidou bared their souls and put their fantasy into motion through improvisation, and we tried to capture everything as simply as we could, as if we were there watching them interact," the director tells us. With a light touch on words and the weight of two heavy hearts, we are teetering like their old car moseying along the seaside cliffs. Anything can happen—and it's that possibility that keeps us enthralled in where these two soulmates will go. One feeling is for sure: we are with them, wherever their road takes them.
Jorgos Goussis himself tells us,
I am writing this note pretending to be the director of the film, while in reality I have no idea who that is, and if he really exists. The only thing I know is that I am happy I was there when making the film, and I am thankful for the company it kept me, as long as this process lasted.
P.S. Surprisingly enough, Magnetic Fields was made with the help of the pandemic, the closed theaters and shops, the need to escape, and the empty streets—due to the curfew—of Kefalonia; without these elements, we would never have made this film. I hope we won't need them again.
Winner of more than ten awards at the Thessaloniki International Film Festival and the Hellenic Film Academy's Iris awards, including Best Picture, Best First-time Director (Goussis), and Best Actress (Topalidou), Magnetic Fields was also Greece's official submission for the 95th Academy Awards.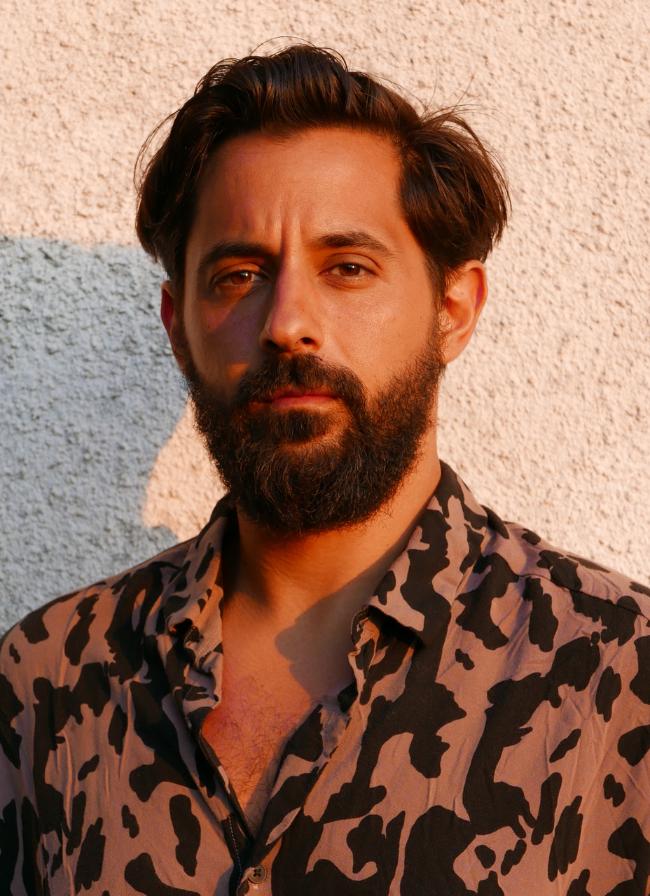 Writer-Director-Producer Yorgos Goussis
Magnetic Fields
Producer: Yorgos Goussis; Director: Yorgos Goussis; Screenplay: Yorgos Goussis, Elena Topalidou, Antonis Tsiotsiopoulos; Cinematography: Yorgos Koutsaliaris; Editing: Dimitris Polyzos; Sound: Nefeli Pantzou; Music: Lefteris Volanis.
Cast: Elena Topalidou, Antonis Tsiotsiopoulos.
78 min., Color. In Greek with English subtitles.