5-13-16
Stillman and Austen in Love and Friendship
By Diane Sippl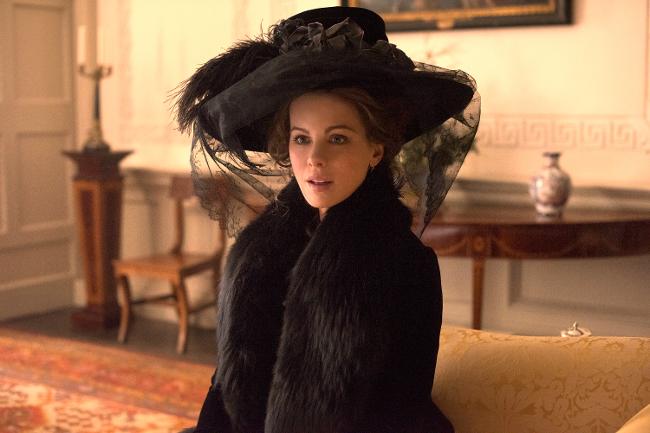 Kate Beckinsale as
Lady Susan Vernon
With Wildean Wit and Stillmanesque Wiles, Whit Stillman Gives Jane Austen Her Due
"Facts are such horrid things!"
Jane Austen
Stillman on Austen
The latest cinema rendition of the endlessly produced literary favorite, Jane Austen, is actually like no other. The claim can be argued in any number of ways, and each is a fascinating point of departure. In general it is fair to say that Whit Stillman has insinuated his unmistakable signature into the grande dame's words in sly and crafty ways. And as Oscar Wilde put it best, "In matters of grave importance, style, not sincerity, is the vital thing."
In looking upon Love and Friendship, whether on the screen or on the page — for there are both, and both belong to Whit as well as to Jane — it may seem difficult to register any aspect as "grave," but in true Wildean tradition, regarding all aspects as "important" is exactly what gives both works their verve. The characters' chafing banter may sound like empty patter, or their pretenses look like silly buffoonery, but taken seriously, it all makes for wry commentary on the woes of ladies and gentlemen, money and marriage, whenever Lady Susan is in town.
With what appears to be a free reign but is surely a studied praxis, Stillman imagines and completes Austen's healthy, stinging critique of Georgian social structure and propriety by instilling in it an exuberantly funny postmodern sensibility that (as all good postmodern works do) distances us just enough — in this case, from the insular bubble of tea-time landed gentry in England — to point the finger at "them" (the Brits) and "us" (the Yanks) at the same time. For who among us can turn away from the rustling silk frocks and dappled light of the manner's gardens — until we hear of fears of being tarred-and-feathered on our own shores? Myths of getting scalped on the "wrong" side of the Atlantic are just as biting here as are garden peas in a dinner-table conversation that Stillman has invented for Austen's British-Isles crowd.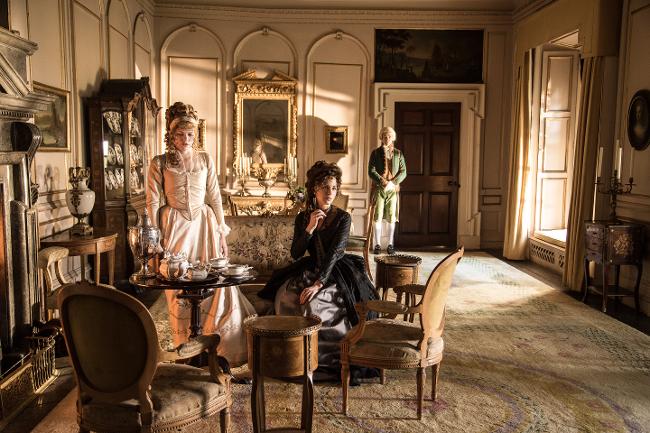 Emma Greenwell as Catherine Vernon and Kate Beckinsale as Lady Susan Vernon
Lady Susan's charm can turn on a dime without her face ever disclosing a case for such. "How dare you approach me —" she snarls at a genteel young man on the street who addresses her — "… (cease at once or) I shall have you whipped!" She struts through the countryside in an aura of her own making to dispel the notoriety that circulates regarding her "disgraceful" behavior as a live-in guest at the home of her friend. As a practical-minded widow, she's in pursuit of husbands for herself and her daughter, soon to be of age.
But Lady Susan's self-styled enactments of honor and etiquette are a sight to behold. Turning to her brother-in-law for residence and thereby raising the ire of his wife, she further takes on the seduction of the woman's brother, ten years her junior. She relishes it as a challenge; he, scoffing at her reputation as "the most accomplished coquette in all of England," looks at her as an anthropological study. It's a game masterminded from both directions. This is a lady who does damage but possesses an unsurpassable skill in dismissing it. Upon a complaint that her former hostess grew furious over Lady Susan's successful flirtation with the host, she quips that the woman should never have married so charming a man if she couldn't support feelings of jealousy.
And when Lady Susan's daughter, whom she deems a simpleton for declining the wooing of a truly empty-headed "rattle," as he is known by all, would be placed in a new private school, Lady Susan rationalizes, "The fees are too high to even think of paying, so, in a sense, it's an economy." She extends her distaste for motherhood to England as a Mother country by referring to post-Revolutionary America as "a nation of ingrates," adding, "Only having children makes you understand such behavior." These last comments she shares with her friend and confidante, exiled from her unhappy home in the New World and disenchanted with her dominant but wealthy husband who has the gout. "Too old to be governable, too young to die," Lady Susan observes.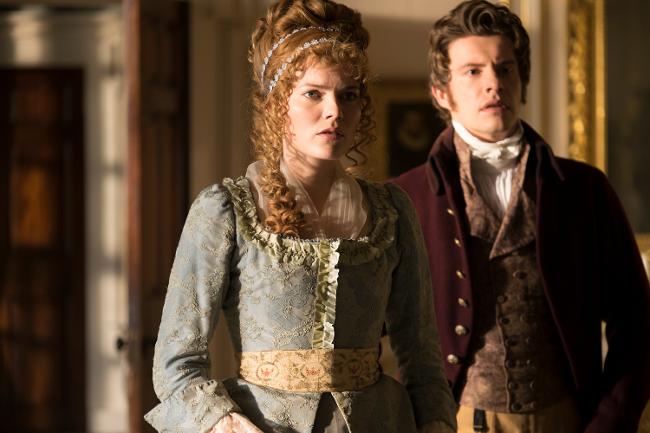 Emma Greenwell as Catherine Vernon and Xavier Samuel as Reginald DeCourcy
For all her apparent cynicism, Lady Susan is disarmingly subversive as the only one of her cohort, including her American friend, to defy the code for "woman's place" in Georgian society when young females were at the mercy of male seducers. What never ceases to surprise is the wit and elegance of her "immoral" behavior, and what cannot fail to impress is the trailing discovery that she was a good two centuries ahead of her time in seeing the mores for what they were.
Love and Friendship is the title of Whit Stillman's film and also of a novel he has written related to his film but with a different narrator and a (seemingly) opposing point of view. That narrator, a character Stillman has invented, also adds a scathing commentary to the original novella, Lady Susan, written by Jane Austen in about 1790 when she was about 19 or 20 years old and printed as an appendix to Stillman's novel. There the title is written as, The True Account of Lady Susan Vernon, Her Life & Loves, By a Lady. Stillman's fictional narrator for the book, Love and Friendship, seeking to avenge the heroine of her infamy, introduces Austen's novella saying, "The anonymous Lady's false 'account' is published here the same way a physician might seek to heal a wound by expelling its pus."
The funny thing is, the narrator, related by blood to the characters in the novel, is too young to have witnessed the events and dialogue he claims are false. He simply believes his mother, who told him, "Your ability to exactly imagine former scenes and past times, despite not having been present yourself, is nearly indecent." Remember, now, that narrator is actually the playful Whit Stillman (who lives even further down the line). Questions of shifting perspective and the reliability of authorship tease us from one work of art to another here, all in the spirit of good postmodern play, in "adapting" a text that began as letters among multiple characters in the first place. As the creator of the screenplay, the novel, and the fictional commentary on Austen's novella — let alone the film in its cinematic form — Stillman gives us plenty to chew on about a "lady," her times, and ours.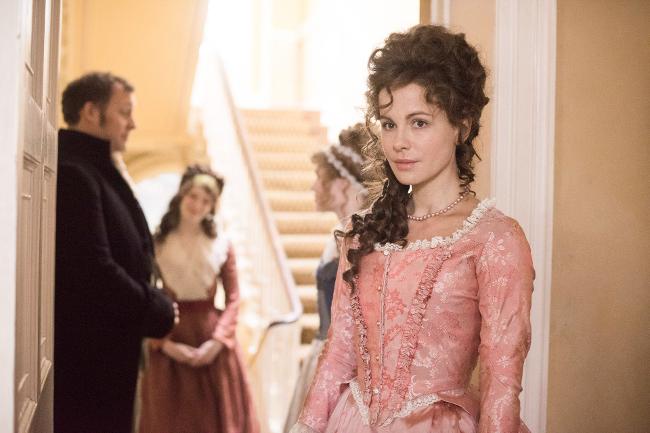 Justin Edwards as Charles Vernon, Morfyyd Clark as Frederica Vernon, Emma Greenwell as Catherine Vernon, and Kate Beckinsale as Lady Susan Vernon
Stillman on Stillman
At a post-screening discussion after a preview of Love and Friendship at the Writers Guild of America in Beverly Hills, Whit Stillman was reminded that an earlier film he wrote and directed, Metropolitan, engaged its characters in a prolonged discussion of Jane Austen's novel, Mansfield Park. "Well I like Austen's time period," he commented, "but her writing also works with a period change. For example, Emma, moved to the 1920s in a rustic setting, worked very well."
Stillman wasn't born in love with the author, however. "As a foolish teenager I picked up a copy of Northanger Abbey and hated it, but later I liked it, and in the back of the book was Lady Susan — so Oscar Wildean — as if she were channeling the author who wrote 80 years later."
Whit Stillman's project with this work by Jane Austen took on multiple phases. There was the process of transforming her epistolary novella, Lady Susan, into a screenplay, but that led to the thoroughly imagined book, Love and Friendship, which was already in the works before he began shooting the film. He recalls, "I felt very liberated doing this piece. I'd seen her novels adapted before and thought it a depressing task to turn her writing into a 90-minute film. But given Lady Susan's episodes and the fact that it was unfinished, I felt very liberated to fill in, and what she had, I felt, was gems — really funny lines."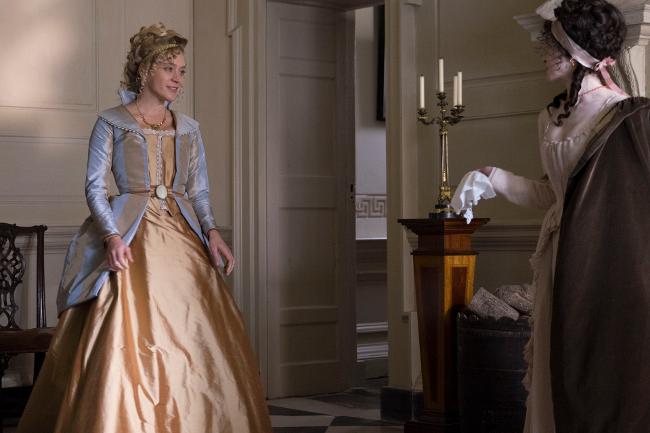 Chloë Sevigny as Alicia Johnson and Kate Beckinsale as Lady Susan Vernon
So how much of the screenplay is Austen and how much Stillman? "The conversations between the women were in the book, and Sir Reginald was in the book, but the rest was invented. And I felt this book was my lark — I really enjoyed creating with it, and it started to fly, to take off, sort of Wright Brothers-style."
It took a long time for the new parts to be created and for Stillman to finish the film. He'd started in 2004. "There was one false venture with it in 2010, but I did Damsels in Distress and some other scripts. Then I took the project to Cannes. When I returned to Love and Friendship with financing, it was a 27-day shoot, and all was finished before the deadline. Amazon Studios had no involvement in it whatsoever (except that we needed the money)."
In Love and Friendship the writer-director re-united two actresses who had worked together in his previous film, Last Days of Disco. When asked what that was like, he joked, "Well, they're the only two stars I know…. Seriously, Chloe was in first and then Kate. At first Kate was too young. Austen actually specified the age — a 35-year-old looking 10 years younger."
Yet another character is also a fascination, Lord Mannering, who never speaks. Commented Stillman, "There are a lot of people who never speak. It was such a fun idea to bring in a handsome Irishman who says nothing — and not to have to fly him in, since the film was shot in Ireland. It turns out that Ireland is the backlot for period films; it was the backyard of London then. People were building beautiful Georgian estates — you know, the dial-a-carriage crowd — in this gorgeous setting. And the "iris" frames around the screen portraits fit the style of the period."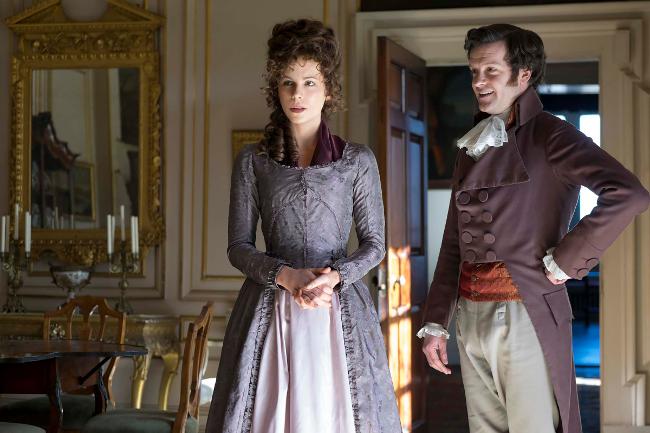 Kate Beckinsale as Lady Susan Vernon and Tom Bennett as Sir James Martin
In the case of Love and Friendship, Stillman made the film first, as a sales pitch for the novel, and then wrote the book. "Only one-fourth of it is me," he explains. "I got the commission for it long before the film was ever made. I blew through every deadline. The film had to be finished before the novel for Little, Brown and Company to publish the book. You know, we have the full text of Austen's Lady Susan at the end of the book — and a scathing commentary!"
The audience was eager to know how the film was received in England, land of BBC productions (TV and movies alike) of Jane Austen's oeuvre. "There was an illegal screening in London," Stillman confessed, "before its Sundance premiere, so that the critics wouldn't be bouncing off the American reviews, and the responses were smashing."
Were British audiences already familiar with this particular literary work? "In fact," says Stillman, "Jane Austen didn't give it the title "Lady Susan" but Northanger Abbey, and "Love and Friendship" was a title she'd used for an earlier short story. For me it was great that I was changing the title right away, to take it out of the realm of slavish adaptation. Jane Austen's perspective toward the character was very ambiguous. She left the work unpublished because the immorality of it all went against her inner feelings."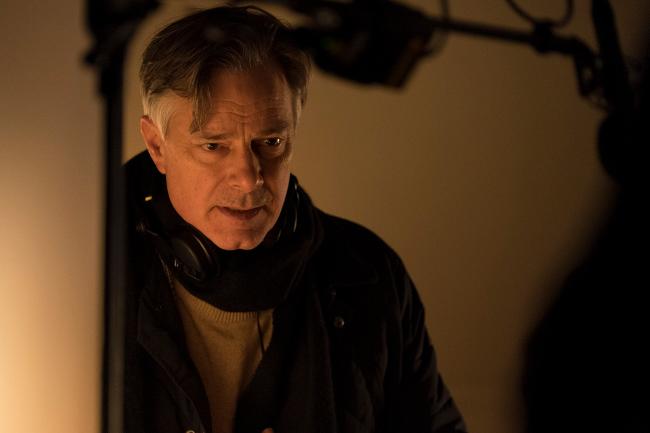 Writer-Director-Producer Whit Stillman
Love and Friendship
Director: Whit Stillman; Producers: Whit Stillman, Katie Holly, Lauranne Bourrachot; Co-Producer: Raymond van der Kaaij; Screenplay: Whit Stillman; Cinematographer: Richard Van Oosterhout; Editor: Sophie Corra; Sound: Jean Luc Audy; Music: Mark Suozzo, Richard Van Oosterhout; Production Design: Anna Rackard; Costume Design: Eimer Ni Mhaoldomhnaigh.
Cast: Kate Beckinsale, Chloë Sevigny, Xavier Samuel, Emma Greenwell, Justin Edwards, Tom Bennett, Morfydd Clark, Jemma Redgrave, James Fleet, Jenn Murray, Stephen Fry.
Color, DCP, 93 min. In English.