8-2-09
"His Name Is Claudy":
The Cinematic Language of Lorna's Silence
By Diane Sippl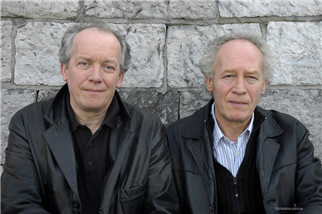 Jean-Pierre and Luc Dardenne, who have made some sixty documentaries in their career, have also consistently disarmed fest-goers, jury members, and filmmakers alike with their five theatrical features made over the last twelve years. For budding independents, these Belgian brothers have become gurus, in a sense, modeling what today's critics neatly term "social realism." For the Dardennes this means a strict adherence to earthy, keen-eyed, bare-bones presentations of disenfranchised people facing fierce economic restraints that drive them to desperate moves; it means no-nonsense, on-location camera work using long takes edited for a high degree of tension created by the same corps of actors and crew from film to film. Work — its intrinsic and social value, the demands it makes on the individual, the barriers that surround it — is a recurring theme along with discipline, responsibility, and a sense of purpose in life. Crime and cooptation are hanging in the balance. After laying their ground firmly with La Promesse (The Promise) in 1996, the Dardennes went on with their next three features — Rosetta, Le Fils (The Son), and L'Enfant (The Child) — to garner two Palmes D'or and two Best Acting awards at Cannes for Olivier Gourmet and Émilie Dequenne in her debut.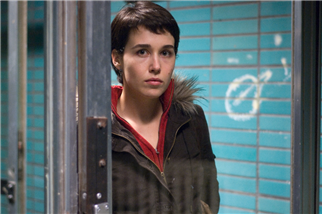 Lorna's Silence was named "Best Screenplay" at Cannes in 2008 and bears scrutiny as the work of a team who began by studying philosophy and drama, the human sciences of ethics and action. The film presents the Dardennes' usual host of characters — would-be immigrants, workers and the not-quite employed, and the potentially homeless but for scamming or scavenging — people who make up much of the world today, in particular Liège, Belgium, the closest cosmopolitan city to the town where the Dardennes live and work. While Lorna's Silence largely sustains the modus operandi the two brothers have cultivated, it affords a unique opportunity to see how screenwriting is instrumental in achieving their art and also embedded within it.
The film opens with several actions that establish not so much the situation as motifs that will recur. The most pronounced is money, paper bills that claim a physical presence and a narrative and symbolic value. With a nod to Bresson's L'Argent, a forthright young woman deposits money into a bank account in a personal transaction with the teller. That exchange, shot from the same distance with the same framing each time, haunts the film as it is repeated from beginning to end with tragic irony. There is also the telephone. The woman then talks in two separate phone calls, one that she places via a SIM card and one that she answers on her own cellular. They are both intimate conversations, but differently so: the former is flirtatious and celebratory, within a yellow and blue phone booth while the woman wears red; the latter is matter-of-fact and obligatory, as the woman walks down a dark street. A third motif is the car, here strictly a meeting spot or a conduit for business, the business of strategy, coercion, and compensation, yet not always as expected.
Money, communication, transportation. The basics of life. Or in the shadow world, the trappings of a good spy thriller. But in Dardennean terms, the circulation of bribes for black market deeds; secret calls for missions that cancel each other out; a vehicle that takes one nowhere on her map — and none of these gives much of a clue as to the young woman's relation to those on the other end. It's a long time before the writing gives us the kind of information that knits characters together with situations or characters with each other in relationships.
In general, Lorna's Silence proceeds with a lack of the expected exposition and precipitous action. In fact, the climax of the story — the fate of the character Claudy (Jérémie Renier), whom we discover to be the husband of Lorna (Arta Dobroshi) — which turns Lorna's behavior in another direction, occurs off-screen; some time passes, and the scene changes, before we realize what has happened. A subsequent related scene with Claudy's brother and mother offers dialogue but no clear direction as to how to interpret it. We don't know the reasons the family rejects Lorna's appeal of generosity, whether that dismissal has to do with Claudy or Lorna or the relatives or the occasion at hand.
The deliberately elusive writing might employ ellipses for the sake of suspense or mystery. Yet as in other films by the Dardennes, the gaps serve as stepping stones to consciousness for the protagonist, as the moments of work needed to take stock of the situation and to piece together feelings, a new or revised stance. Once we surmise that Lorna marries for money, citizenship, and a Belgian passport and that her husband is merely her partner-in-crime so as to earn his cut, we want to discover the fall-out of the choices made.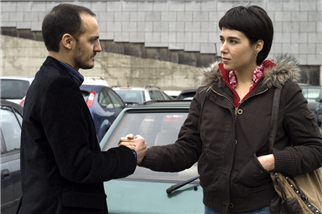 Will it all be worth the risk as a means to an end so that she can open her café in Liège with her beau, fellow Albanian Sokol (Alban Ukaj), and start a new life? Or will Sokol, driver for an operation in Italy and most likely the one who set her up with her "boss" Fabio (Fabrizio Rongione) in the first place, ultimately bring her down? His connections point to Lorna's second round of "action" to come, marrying a Russian who needs papers just as she did — once Claudy is dispensed with — which may be more than Lorna bargained for and may well be a sign that her cycle with Fabio will never end.
In the meantime we are left to sort out the evolution of a situational irony that snowballs faster than we (or the characters, for that matter) can come to terms with it. Both Lorna and Claudy know that part of their money will come when their marriage ends, the closing of the deal. But they have different levels of knowledge as to how that "deal" will "close." Claudy is a chronic drug user and his days are numbered. Everyone knows it but him, not because he's in denial of his deadly addiction or because he isn't willing to bet against himself, which is the truth, but because all the others are betting against him, and worse, they pull the strings — even Lorna, but in ways that surprise her. Fabio refers to him as the "junkie" when he reminds Lorna that if Claudy doesn't overdose soon, Fabio will take care of it, because any police inspector will accept it as a given. The new Russian groom (Anton Yakovlev) is good to go, and time is precious or they'll all lose the deal.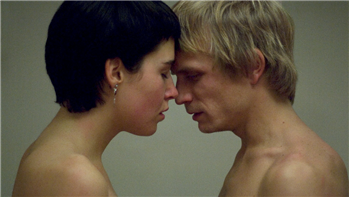 Right here is the heart and soul of the film: Claudy desperately needs Lorna, and what she doesn't know yet is how much she needs him. Again, it's not in the usual way, neither as a hot attraction nor as a sentimental romance (nor, for that matter, as a husband). Jérémie Renier's straw-haired, pale and emaciated, corpse-like figure beside Arta Dobroshi's virile, sensual body, flashing black eyes, and full lips is a sight to behold. But they are the mere façade of the wrenching abuse Lorna inflicts upon Claudy and herself in a rather involuntary yet necessary way. She wants to divorce him, quickly, and to do this she needs to persuade both Claudy and Fabio that it will work. She needs evidence of bodily (spousal) harm, and Claudy cannot get himself to produce it when she asks. She needs to convince him of his urgent dependency on the final pay-off money, and Claudy resists this mode of thought. He implored Lorna to help him in fighting his drug use, and he succeeded in enlisting her. He submitted himself to medical care. Now he gives her whatever money he has. He buys a bike to seek a real job.
Meanwhile, Lorna bashes herself against walls to produce cuts and bruises; she gets police and hospital verification; she gains her divorce papers. From Claudy's restricted (call it brutally hijacked) point of view, this feels heartless and cruel, a betrayal by the woman who fought his fight with him. From Lorna's subconscious perspective, her emotional abuse of Claudy and physical abuse of herself is the only course of action, a preventative, given the guilt she harbors for allowing this situation to come to fruition. In our eyes, this is the painstaking process by which human bonds are formed. But Lorna will have to pay a price for it.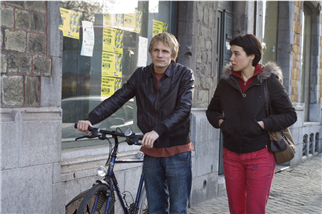 How this transpires is the second part of the film, the part that usually doesn't get told. In fact what we know until now has mostly been shown, not said — revealed in images, colors, casting, and the use of the camera's frame. Lorna's robust, vibrant, dynamic body bending to place a bowl of water on the floor for Claudy, coiled like some kind of rodent desperately lapping it up, presented a dependency painful to watch.
Yet now it's Lorna herself, joyously mounting the third flight of stairs in the building she leased for her new café, on the phone with Sokol to share her impressions, who caves in on the steps, for reasons she can't yet register. Only moments away from dancing with her Sokol, Lorna in her usual scarlet shirts and sweaters, Sokol in his royal blue jacket, the vital colors of youth, Lorna now visits the hospital where Claudy, only days earlier, recovered within the primal amber-red and gold walls of the corridors in his place of choice. Color is used as a subjective, perhaps unconsciously subversive, expression of self for Lorna, but even for the hospital, which here is a warm and benevolent haven rather than a cold and dismal space.
Yet the camera itself, in this film if not in earlier works by the Dardennes, remains calmly observational rather than rabidly subjective, and it keeps mainly to the middle distance, placing the action in context. It reframes the sparsely furnished, makeshift habitat of Lorna and Claudy when it captures Lorna's bare and bleak "dream dwelling" in Liège as empty and gray, even its garden with a wintry tree.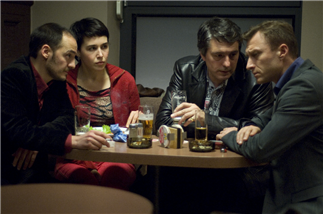 In a subsequent scene of Lorna lost in a forest, the towering trees, or at least their dropped, dead branches, ironically become Lorna's fuel for a fire in finding herself, and we hear that fire crackle, but its flaming reds and yellows are off-screen.
Lorna's Silence is perhaps the Dardennes at their most lyrical moment. In a film in which actions speak loudly but silence is deadly, the narrative has been constructed of links in a seemingly endless chain. To see Lorna try to break that chain is to witness the same kind of trial-and-error steps she took to help Claudy, except we note that increasingly, she begins to say what she is doing, and she says it to the wrong people, and in a very peculiar fashion. Just as she shouldn't tell Fabio that she succeeded in divorcing Claudy (because he worries about glitches with the authorities), she shouldn't announce to him or her betrothed Russian her new state of affairs as she sees it. But she does — and why? She begins to speak up to others: a doctor, a nurse, even to someone we don't see….
Lorna's conflict lies between mastering her tasks — criminal ones like marrying Claudy and noble ones like divorcing him — and taking stock of all that this mastery entails and exactly what it means. This is the major "gap" in the film, a glorious leap and a bound, and it is expressed by the Dardennes in one of their real departures in filmmaking, a burst of non-diegetic music. Quietly, with bewildering awe, a piano accompanies Lorna's monologue in a dénouement that finally carries her from silence to speech to "song." An arietta from a Beethoven sonata leaves us with Lorna's spoken "lullaby" for anyone who has been dear to her.
Lorna's Silence
Directors: Jean-Pierre and Luc Dardenne; Producers: Jean-Pierre and Luc Dardenne, Denis Freyd; Screenplay: Jean-Pierre and Luc Dardenne; Cinematography: Alain Marcoen s.b.c.; Sound: Jean-Pierre Duret; Editing: Marie-Hélène Dozo; Production Design: Igor Gabriel; Costumes: Monic Parelle.
Cast: Arta Dobroshi, Jérémie Renier, Fabrizio Rongione, Alban Ukaj, Morgan Marinne, Olivier Gourmet, Anton Yakovlev, Grigori Manukov.

Color, 35mm, 105 minutes. In French with English subtitles.