3-16-14
Le Week-End: There's Light at the End of the Tunnel
By Diane Sippl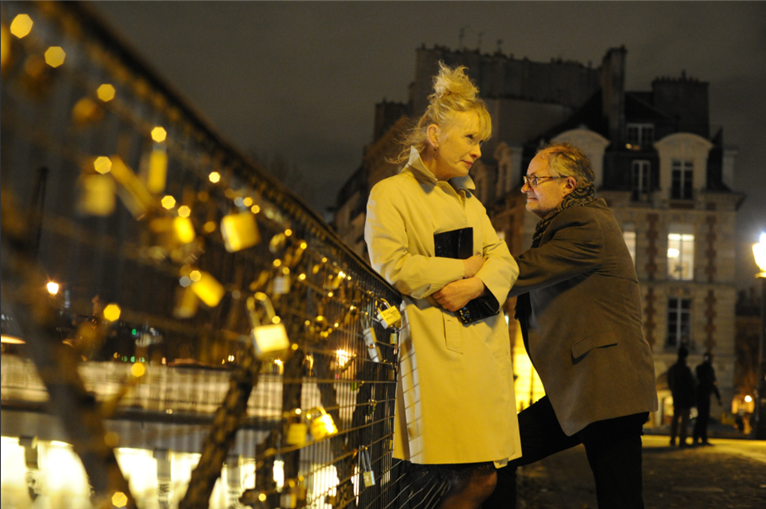 Where does cinema begin? No doubt like the other arts when form becomes style. But let us be clear about style, for style is a matter of meaning… It is the reality which the mind claims for itself. I think, too, it is also the definition of liberty given by Hegel. One day, in defense of Chaplin's A King in New York, Rossellini said, 'This is the film of a free man.' Basically, that's it. To create cinema, all one has to do is film free people… Right, music!
Jean-Luc Godard, commentary on the LP record made of
Une Femme est une Femme, 1960
'When you marry in your early twenties,' Fellini reflected, 'you grow up together … You are not just lovers, husband and wife … Sometimes I was a father to Giulietta, and sometimes she was a mother to me.'
Chris Knapp, "Growing Up Together" in
The Paris Review, March 11, 2014
Indie films "reaching out" to today's vast population pushing 60 do pop up, showing us gray panthers on a lark, late-life sex between sad-sack bodies, old-age ailments and generational dilemmas. Nostalgia and sentiment haunt the golden years on our screens, detracting from the artful inventiveness of international cinema. What's missing in the "Love you…" lingo of art house crowd-pleasers chasing after the baby boomer box office is something called style.
In its purest — at its best — style has always been integrity: content and form speaking one language. Barthes broke it down into three elements: meaning, sign, and syntax; but they arrived together, indivisible. The '60s saw style in the nouvelle vague of France and the post-neorealism of Italy, and the Brits were their own innovators with Direct Cinema. By the late '80s a resurgent "New Wave" emerged, this time on a global scale, fusing in-your-face critiques of the socio-political status quo via means of expression that jolted audiences with the lifestyles and idioms of youthful subcultures. The screen caught up with new streams of émigrés and newly emerging film industries the world over. Cinematic style was a vital and crucial way of communicating, its aural-visual bricolage strutting makeshift modes of living among diverse cultures. Small budgets and crews meant shooting on-the-fly with a handheld camera following colorful, playful characters in their spontaneous joie de vivre. Odd angles and framing and dynamic or elliptical editing updated a modernist a point of view as fragmented as the world and its poignant dislocations.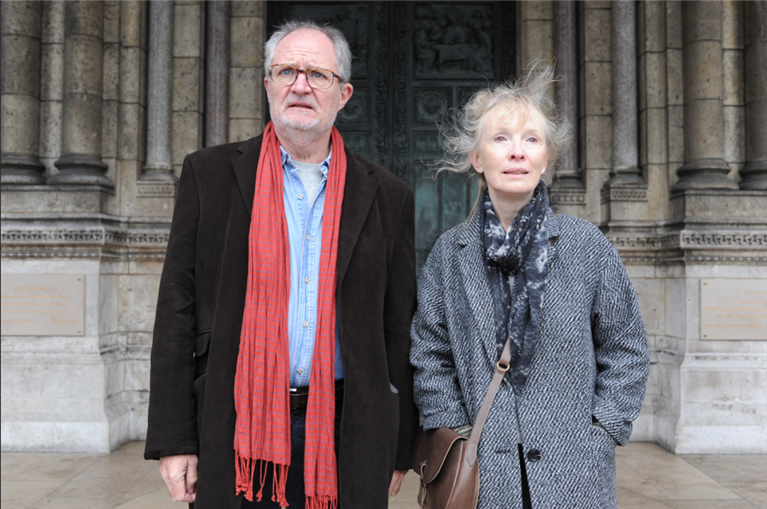 A contributor to this trend was Hanif Kureishi who, working then with Stephen Frears, wrote the screenplays for My Beautiful Laundrette (1985) and Sammy and Rosie Get Laid (1987). As a writer of novels, short stories, plays, and film scripts, he has been one of Britain's most prolific authors over the last three decades. That acumen endows his latest screenplay for his most recent collaborator, filmmaker Roger Michell, in Le Week-End — and outspokenly so, as Nick, a Birmingham professor, visits a Montparnasse cemetery where some of his favorite heroes (Baudelaire, Satie, Sartre) reside — "well, not exactly," he points out to his wife Meg, a school teacher.
This couple loves words, and Kureishi's deft phrasing can be heard in nearly every line of the film: in Nick's quiet quips, in the delicate precision of his sly verbal slaps at Meg, and in her sardonic witticisms, hardly ever mere come-backs but wry torpedoes of her own. How surprising, then, are the bright rays that break through the dark thunder of their sparring, such as Nick's utterance above Beckett's grave, "There's more to love than loving or being loved." Just exactly what that is, we're about to see as these spouses, still married to each other after thirty years, chew on the challenges of commitment and change alike.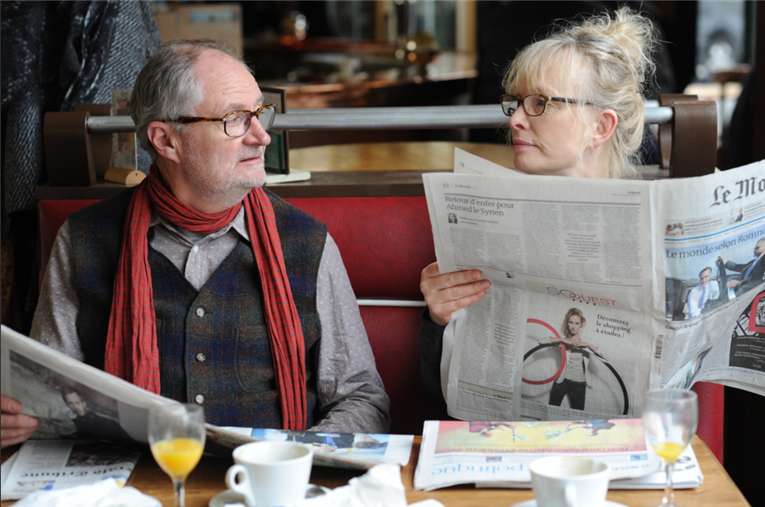 As the Eurostar makes its way through the tunnel from London to Paris, Nick Burrows is tacitly "losing it" — and not just the money in his pocket — not yet knowing that Meg might just as soon lose him. When they arrive and Meg promptly moves them from the humdrum hotel where they stayed before to a glistening upscale one, their off-screen life intrudes, via telephone calls from their way-too-post-adolescent son, their own recollected liaisons and jealousies, and, more significantly, recent events and dispositions that they would like to "talk about" as they each meet their hidden agendas of lowering the boom during this second honeymoon. The dumbfounding finesse with which the conversation shifts from the choice of bathroom tiles to the plight of being sacked on the job or the scheme to quit work — or quit the marriage — feels so natural that we perk up our ears; we may not be used to such fidelity to the everyday banter of intimate language that is at the same time its own theatricality.
A lot happens in two days and two nights as the Tour Eiffel beams its light into these two lost souls. At loose ends with Meg making a "phobic entity" of his body, Nick turns sleepless nights into art forays, tossing back mini-bar whiskey as he covers the wall with collages and listens to Bob Dylan's "Like a Rolling Stone" with ear buds. The soundtrack suddenly amps up the volume for Nick's own wave length: "How does it feel, to be on your own, with no direction home, like a complete unknown…"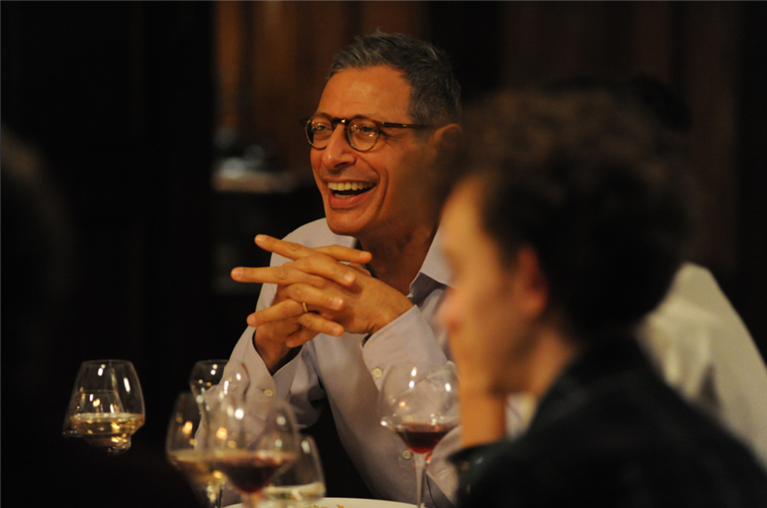 In fact Nick and Meg get more attractive as their weekend wears on, less mousy and frumpy in their attire — less professorial and schoolmarm-ish, more elegant and glowing — and also clearer about themselves, so more articulate, more demanding, more self-willed, and more adequately possessed with each other. From the cemetery, museum, and bookstore, with conversations about money and forgetfulness, we find them playfully running ("Catch me!" teases Meg) and on-the run, from a bistro where they had too much of a good time after sprees at too many boutiques…. Early on, Nick takes a tumble on the cobblestones when Meg pushes him for trying to feel her up, but sooner than later they are swinging their hips in a line dance in sync with Ana Karina in Godard's Band of Outsiders on their TV screen. It fits their mode — they've already bought the Bardolino hat, and Meg has latched onto a pair of sparkly stilettos to wear with her French lace dress. Parading them in her black silk slip as she prances in their hotel room, she's quite the femme fatale. Nick is suspicious, and gets the gall to ask, "Who are they for? Me?" And as if he hasn't caught on yet, she scolds, "You? You! Me, you idiot!" It's her favorite word. "You know who you are?" she taunts Nick. "You're the postman who never knocks."
Lucky for Meg, she has a place to shine. On the street, Morgan, an American out of the past who is now nicely set up in Paris on the Rue de Rivoli, calls out to them. An ever-so-quasi-academic turned consultant (Nick says his last book was "a bad day for the English language"), Morgan bubbles like champagne beside the thick stew of depression and detachment Nick and Meg have cooked up for themselves. This old Cambridge buddy is tickled to invite them to his dinner party the following night where a suave male guest tries to pick Meg up and flirts with sophisticated French flair, "What a great thing — to be so attuned to your own unhappiness." Morgan's quietly loathing son would probably agree. Hiding out in his bedroom, he invites Nick in to "get lost" with him, launching a peculiar déjà vu for Nick with the lad who may be more a chip off the old block than he realizes. For all Morgan's shtick and schmooze-talk, an undercurrent of self-knowledge lets him speak his vainly humble truth in a toast, setting the stage for tour-de-force soliloquies by Nick and Meg. This would-be generic table scene is well worth the wait: as Morgan, Jeff Goldblum is dynamite; as the floundering couple, Jim Broadbent and Lindsay Duncan are nothing short of magic.
In making his film, director Roger Michell chose to evoke the spirit of the nouvelle vague by using real locations, natural light, and plenty of local Parisians on the street with his actors. Le Week-End, shot quickly with a small crew and cast, carries the freshness and freedom of European films of earlier times, of the era (1964) when Nick and Meg would have seen Bande à part the first time around, its insouciant young outlaws bolting through the streets of Paris and dancing to a café's jukebox jazz. A second honeymoon in the City of Lights — we all need it, so we can sort ourselves out. As Morgan says, "It might take awhile...." But in the meantime, there's music, so we can dance.
Le Week-End
Director: Roger Michell; Producer: Kevin Loader; Screenplay: Hanif Kureishi; Cinematographer: Nathalie Durand; Editor: Kristina Hetherington; Sound: Danny Hambrook; Music: Jeremy Sams; Production Design: Emmanuelle Duplay; Costumes: Natalie Ward.
Cast: Jim Broadbent, Lindsay Duncan, Jeff Goldblum, Judith Davis, Olly Alexander.
Color, 35mm, 93min. In English.