6-7-21
Her Way at LALIFF: Something Blue and Papi
at the Los Angeles Latino International Film Festival
By Diane Sippl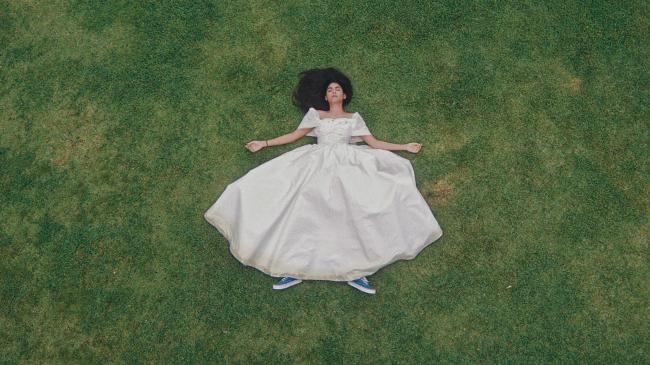 Liz Grimaldo in
Mariel García Spooner's Something Blue
The 2021 LALIFF (Los Angeles Latino International Film Festival) celebrated its 20th anniversary this year with an ambitious hybrid program of live-in-person screenings at the TCL Theaters in Hollywood and virtual screenings of most of the same films. In a festival packed into a tight five days (June 2-6), a timeframe bursting at the seams with the vast talent of filmmakers from all of North, South, and Central America (which includes Mexico and the Caribbean), one of the biggest surprises was the number of films made (written, directed and produced) by women, both features and shorts, and the impeccable quality on offer in their work, whether theatrical or documentary cinema. This article focuses on but one region and only two films—merely the "tip of the iceberg" melting its way into world distribution.
The Beat that Her Heart Skipped: Something Blue
Lucía de la Fuente, ever-popular actress and presenter, and Hector Herrero, wealthy businessman, are getting married. Over 600 guests are invited to celebrate the event in Panama City's lushly historic Casco Antiguo.
Also, soon to be newlyweds are Ana, a hotel event organizer promoted to the position of wedding planner, and Marco, who doesn't really manage an international call center (as he said he does), though he works there. But then there is Enrico Iglesias, a photographer and old beau who has also lied to Ana, but who wants to photograph her wedding, if there is one…. (Judging by his last name, he's the one who belongs at the altar with Ana, but she doesn't know that yet.) Marco's friend Carlos reminds him that once he's married, there'll be no more outings rooting for their team (Ole! Ole, Ole!) for a house-bound hubby under lock and key. Ana's best friend Natalie sees the bigger picture, but she's busy on-the-make with "Don" Antonio, her irresistible boss, to disrupt Ana's disaster-waiting-to-happen.
Lucía's blonde, sultry image is plastered on every billboard, bus side, and social media site her agents can get their hands on, but for all her pop celebrity-hood, by a turn of events, Lucía ends up "sharing" her $20,000 wedding dress with Ana, who fills our screen with it for nearly 70 minutes of this 90-minute film all the while she unintentionally gives us a running tour of an extremely sleek, modern, fast-paced Panama City as many have never seen it before, its booming businesses housed in elegant shoreline skyscrapers.
Ana, in Lucía's white satin dress with its off-the-shoulder beaded balloon sleeves and her own blue sneakers, is a sight to behold. Her quest is to make the most of happenstance and marry Marco before the dress's owner or the police catch her. But they are more interested in the fringe benefits of new flirtations along the way and the complimentary coffee and pastries while they wait for Ana to show up at her mother's (wedding) cake-decorating shop. Of course, Lucía exploits the situation by offering reward money (to bring new fans), organizing the catastrophe as a social media campaign for her stardom, reaping free advertising from press coverage on the radio and TV news and the bonus lip service on the street, which Panamanians generate faster than they can devour it. It's a picture-perfect rom-com, mushrooming into pandemonium around every corner of the capital as it coyly spells out what everyone knows about Ana that she herself has yet to discover: haste makes waste—but oh, what a pleasant, energetic chase she takes us on, to "get her to the church on time."
Following Ana on-the-run, we find as many expressions on her desperate face as her dauntless moves around town. Her jet-black eyes and raven mane take on kaleidoscopic twists and turns as she flies from her workplace down city streets, to construction sites, to corporate offices, through traffic and parks, to police headquarters—yes—and to the church, even, all the while her mouth grimaces or sighs or puffs for air, her forehead wrinkles with knit brows over pie-eyed surprise, her cheeks flush like roses. The acting is a notch over-the-top, just enough to exaggerate or tease out or cover up or react to the ridiculousness of the situation. Picture Lucille Ball as a twenty-something brunette with the same plasticity of facial commotion and the same penchant for calamity. As Ana, Liz Grimaldo is clearly a comedian on the rise.
Mariel García Spooner co-wrote, directed, and produced Something Blue as her first feature film. Her stylish, meticulously executed romantic comedy may feel universal with its up-to-date cityscape, surveillance cameras mounted in every nook and cranny, and cell phones that come "alive" with clever special-effect texts on the screen, but it also speaks out in Central American lingo about the power of popular media, the obsession with image-making, and even about marriage as "matricide"—until it comes up at the right time, with the right person, for the right reasons. Before the story ends, Ana's mother gives her something old, Rodrigo gives her something new, and she's already wearing something "borrowed," but it's up to us to determine the "something blue."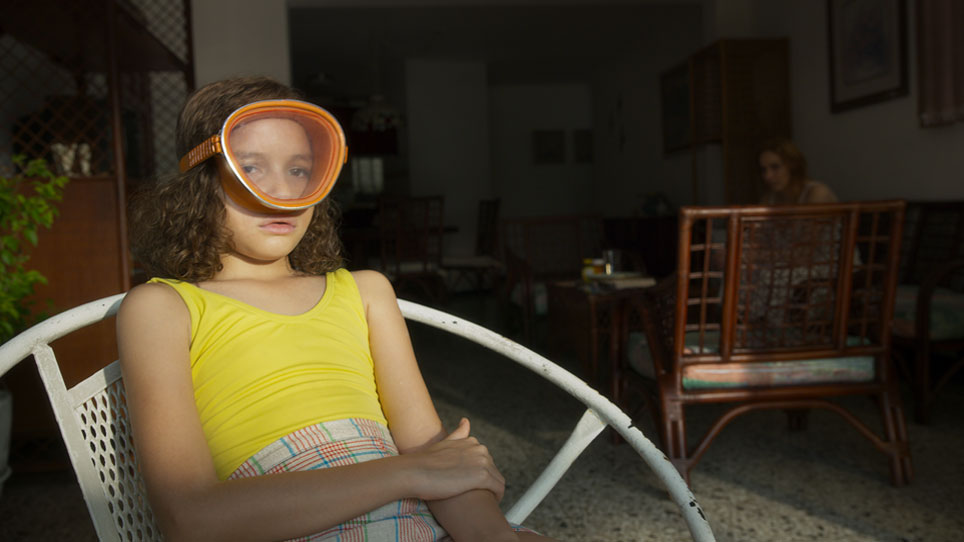 Avril Alcántara Rodriguez in
Noelia Quintero Herencia's Papi
He Appears, But Never Arrives: Papi
Across the Caribbean to the northeast, in the Dominican Republic, Noelia Quintero Herencia also wrote and directed her debut feature, Papi, with another winning performance, this time from the cherub-faed Avril Alcántara Rodriguez, playing the eight-year-old protagonist Sonia with as many vividly performed alter-egos as she can conjure. These extra personae are vital to Sonia's daily well-being in her childhood with a mostly-absent father she adores and a present but emotionally and mentally vacant mother (due to migraines, drugs, depression, or all three) whom Sonia generally ignores.
In slow-motion footage, Sonia sits alone on her balcony, tossing a small rubber ball into the air and picking up jacks, one by one. She doesn't eat, and she won't come out to play when her friends call her from the street. The repeated gestures of her game are like the refrains of a long song—one of loving admiration, high expectations, and anxious anticipation, all for her one-and-only "Papi," whose return visits from New York and Miami are always celebrated as if he's the prince of the town. He walks tall in his powder-blue suit, drives his top-down car suavely through the fanfare of the neighborhood, and waves to crowds who would carry his bags packed with chewing gum and candy and dolls for Sonia. But wait a minute—is that the real Papi we see, or Sonia's memory of the routine, or her fantasies?
Director Quintero Herencia shows us all three realms of reverie in Sonia's heart as the film elongates and elaborates a day-in-the-life narrative with a free mix of cinematic genres, from the hyper-realistic domestic drama to the musical comedy to the game show and even the horror film. Some scenes play like thrillers and might be flashbacks; others are surreal and look like dreams. A cross-dressed Sonia sometimes becomes the Master of Ceremonies for a children's TV show, a charades-like, boys-against-girls contest called, "Say It as You Can" that puts a tag on the situation at-hand.
Racism and sexism creep up as issues in the popular mentality. A black town crier shouts into a megaphone on the street that Sonia was born in 1975 to a mother who "had good blonde hair, came from the capital, and was a professional—a perfect opportunity to improve the race." A statue of a Hummel boy carrying schoolbooks sits on Sonia's desk. Yet then we get a montage of six separate, repeated gestures of Sonia's mom, in her daily attire of a white slip or nightgown, swallowing a pill. "Mother's little helper" can always be found on the living room coffee table as the woman lounges watching TV, hopefully for a good performance such as a song by the Mexican idol, Augustín Lara.
Sonia's point of view is key, and whether through her recollections or her imagination, she sees too much. She's sitting at Papi's office desk when he and his cronies drop in to test and package cocaine, check out their rifles and pistols, enjoy sex with the ladies. "Caught you!" starts a punchy song on the soundtrack. "In the elevator, I saw you. You gave her a flower in your car…" The music always adds an edge to the real, the hyper-real, and the surreal layers of this film. At one point a performance of water ballet catches our eyes. Then there is a lovely extended scene staged to Bizet's "Habanera" from Carmen, in which an interlocutor announces, "A hundred women, a hundred heads, horns, a thousand purposes" and the camera ascends a staircase lined with females of every age, size, shape, and style, suggesting the variety of Papi's conquests.
Papi is the biggest drug lord in all the city, and his days are numbered, like the jacks Sonia counts off one by one as they fall into her hand. The final scene is a joy-ride to the stars with Papi, fireworks, and a road lit with gold. The cinematic effects highlight a medium that might look far-flung from the source material, mostly one chapter of a popular novel by Rita Indiana Hernández, but this writer and composer also directed the musical score for Papi. Just as the curly-haired girl-star Shirley Temple was irresistible for another generation, little Avril Alcántara Rodriguez is an actress of many faces who promises a multi-faceted career. She irradiates the film from the first scene to the last, creating a joy-ride of her own.
Something Blue
Director: Mariel García Spooner; Producers: María Isabel Burnes, Gabriel Pérez; Screenplay: Emmanuel Chávez, Ana Lucía Gurisatti, Mariel García Spooner; Cinematography: Jeico Castro Ferrari; Editor: Omar Bermudez; Sound Design: Daniel Vásquez, Sebastian Alzate; Music: Alejandro Lagrotta, Rodrigo Denis Icaza; Art Direction: Melany Burnes.
Main Cast: Liz Grimaldo, Carlos Torres, Andrea Pérez Meana
Color, 90 min. In Spanish with English subtitles.
Papi
Director: Noelia Quintero Herencia; Producer: Rafael Elías Muñoz; Screenplay: Noelia Quintero Herencia; Cinematography: PJ Lopez; Editor: Nino Martínez Sosa; Sound Design: La Bocina; Music: Rita Indiana & Luis Amed Irizarry; Art Direction: Wilhem Perez.
Main Cast: Amauris Pérez, Avril Alcántara Rodriguez, Olga Bucarelli, Hony Estrella.
Color, 88 min. In Spanish with English subtitles.