3-22-13
A Century of Women's History Catches Up: Andak Stage Company's Ladyhouse Blues
By Diane Sippl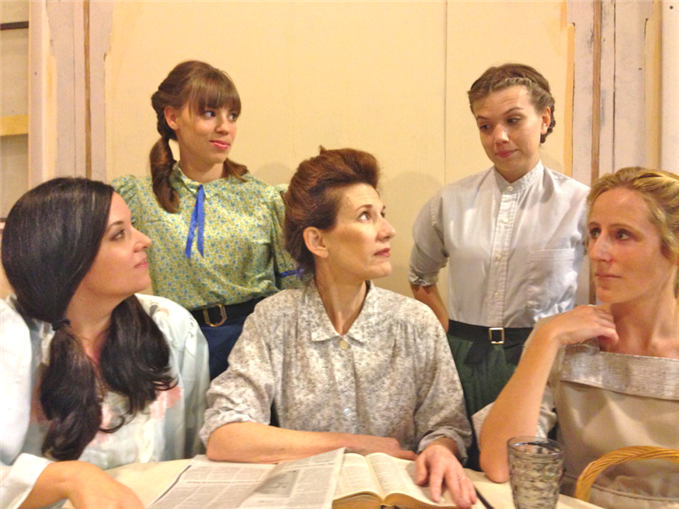 Annie Matthews as Dot, Tro Shaw as Eylie, Kitty Swink as Liz, Kaylee Bouwens as Terry, Liza de Weerd as Helen
All photos courtesy of Dakin Matthews
Short skirts, taffeta petticoat, waggle your butt, they loosen up. You have to use what you've got, Sis — that's what Terry says, an' she's the best tip getter Doyle's Hash House has ever had. An' I'm almost as good as her. Now don't get yourself excited, Sis — we don't wiggle much, either of us — taffeta petticoats make it seem like more's goin' on than is. Besides, they come in thinkin' we're whores! It's a fact. A woman works for a livin', she can be had. She works in a hash-house like Doyle's, she's a whore — that's what those big lunks think. Terry an' me — we're just makin' 'em pay for thinkin' it. An' our policy is strictly, 'Look — but don't touch.'
This is what sixteen-year-old Eylie Madden tells her older sister, Helen, in Kevin O'Morrison's play set in 1919 in St. Louis, Missouri. But in general there's a hush over everything in this working-class neighborhood. In the evenings the blinds are drawn over all the windows. It's because the men are gone. The homes have become still. "Ladyhouses," the postman calls them, because they're full of widows, or women waiting for their men to come home from the war. So in the morning of this sweltering summer, eighteen-year-old Terry can go out onto the porch in her chemise to "get the night's sweat off." Even if the neighbors were spying on her, Terry tells Dot, the eldest of the Madden girls, behind every spyglass would be a woman.

It's on this level of emotional intimacy that we get to know the Madden household in Ladyhouse Blues. Had Eugene O'Neill written the play, as he did his own domestic drama in 1919, Beyond the Horizon, we'd meet a spiteful widow on a neighboring farm and her temptress daughter, both who doom the dreams of a mystical young poet and his call to the sea. We'd get to know the ladies no further than this. But in Ladyhouse Blues, our view is quite the opposite; the men are entirely absent. While Liz, the girls' mother, is in fact widowed, she left her husband when he rejected their consumptive daughter, Helen, whose German American husband shut her out to protect their infant son. Pregnant Dot is still trying to prove herself to her high-society in-laws in New York and is home for a visit, studying French while she awaits the birth of her second "heir." The two teenagers have all the spunk. Terry is an activist, elected as a delegate to the World Congress of Women Workers to meet in Washington, D.C. with representatives from 34 countries to outflank the League of Nations, who didn't provide a vote for women. Eylie's been dreaming of leaving St. Louis ever since she heard there was some place else.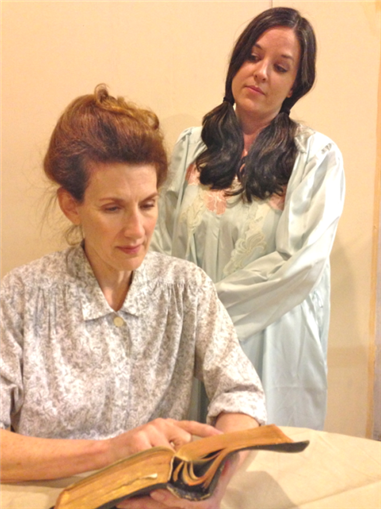 Kitty Swink as Liz (L), Annie Matthews as Dot (R)

Now here's where the conflicts set in, and they are of the broadest social and political sort regardless of the fact that the interactions of these ladies never leave the kitchen table. While they peel potatoes and ball their knitting yarn and pickle watermelon rind, the girls have to hear their mother accuse strikers of being Bolsheviks and Dot insinuate that German émigrés are Kaiser-lovers. Eylie has fallen for a Greek who wants to take her to California, and she's asking Helen what it was like to convert to Catholicism:

All us Madden girls never had any real religion. I mean, growin' up on the farm, we learned the Bible — I can still recite all the Books, clear to Revelation — but we weren't anything. So when George asked Dot to become his religion, or Heinz Otto asks you — or if somebody I marry someday is something, I got no real reason not to become what he is, have I? So when you went to Heinz Otto's priest for instruction — did you just learn a bunch of stuff, or were you — changed? 'Cause if'n you weren't, I don't hardly see the point of it.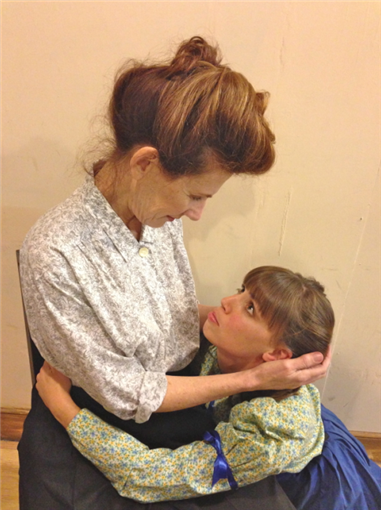 Kitty Swink as Liz (L), Tro Shaw as Eylie (R)


Religion, immigration, suffrage, labor rights — the Madden women sift through nearly every social issue of their day all the while they release their mother from her corset or scan the newspaper for a picture show to go see or, on a once-in-a-lifetime occasion, prepare a pot of tea for a special shot of whiskey. If we don't see them out in the world, the world enters their home. In fact the widow Madden wrestles with selling their family farm, and she faces an even more traumatic decision when the darkest fate of the times befalls the entire family. It cuts right to the bone of Liz Madden's self-made identity: she owes no one anything and expects nothing from anyone. How perfectly American! But, upon the insistence of her daughters, that may be about to change.
Virtually everything is about to change in this play, which is precisely what makes it dramatic. Electricity and telephones are pressing their way into homes, not to mention Henry Ford. As wives and workers, it might appear that these women have little power, but mobility is at their fingertips, and it makes them itchy.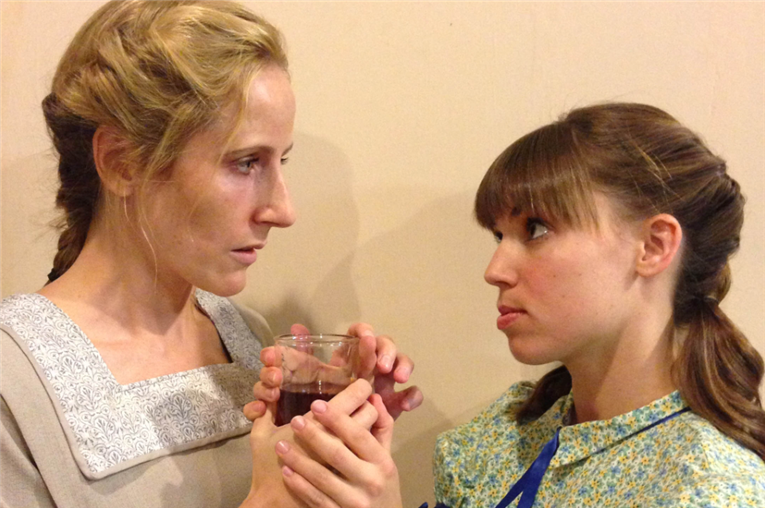 Liza de Weerd as Helen (L), Tro Shaw as Eylie (R)

An unsuitable marriage could rock the boat, but what of no marriage at all? In an era that is neither yet the "Roarin'20s" nor the postwar Lost Generation, the Maddens carry on. Not cowed by crisis as the O'Neills would be, on the stage or in life, this family perseveres, as did the tubercular Chekhov and his Olga and his Three Sisters, all the while he captured the shifting moods in his orchards and dachas as O'Morrison does in Missouri. At the stove or the kitchen sink, where nothing happens and yet everything happens, and where the Maddens might never be together again, it's also as if Shaw replaced the lonely kerosene lamp with the enormous light of his large-plate camera and, as the ladies struggled to fix their positions for ten seconds, he caught a picture of life, large as ever, on the small stage of the NewPlace Studio Theatre.
There's a reason why these women sing throughout the play, spontaneously as they do. Their voices and performances alike are superb, and their travail, like their song, carries on.
Ladyhouse Blues

Playwright: Kevin O'Morrison; Director: Anne McNaughton; Producers: Dakin Matthews, Anne McNaughton; Sets: John Iacovelli; Costumes: Dean Cameron; Lights: Peter Strauss; Sound: Dakin Matthews; Stage Manager: Sarah Williams.
Cast: Kitty Swink, Liza de Weerd, Annie Matthews, Kaylee Bouwens, Tro Shaw.
Ladyhouse Blues runs Fridays and Saturdays at 8 pm, and Saturday and Sunday afternoons at 2 pm through March 24, 2013. NewPlace Studio Theatre is located at 10950 Peach Grove St., North Hollywood, CA.

For reservations: Ovationtix (866) 811-4111 or www.Andak.org or Theatre (818-506-8462).