3-29-15
Lisandro Alonso, Viggo Mortensen, and Jauja: The Artist's Way
By Diane Sippl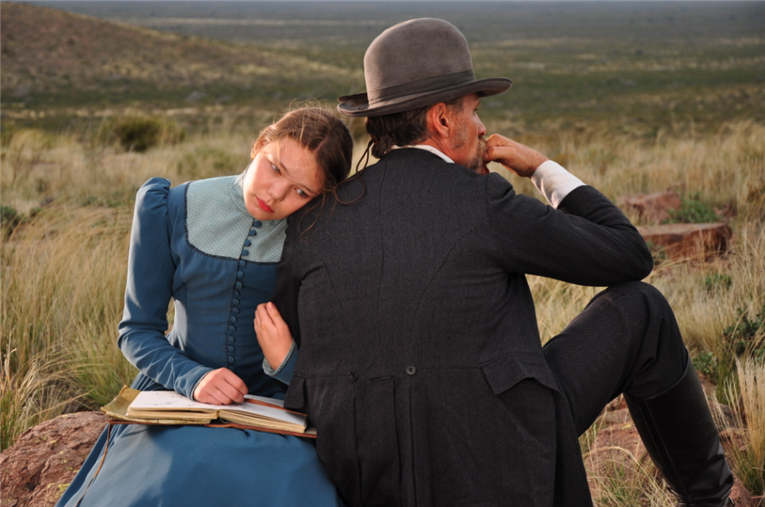 Viilbjørk Malling Agger & Viggo Mortensen in a scene from Lisandro Alonso's Jauja. Courtesy of Cinema Guild.
The Ancient Ones said that 'Jauja' was a fabled city of riches and happiness. Many expeditions tried to find this place. With time, the legend grew disproportionately. People were undoubtedly exaggerating, as they usually do. The only thing that is known for certain is that all who tried to find this earthly paradise got lost on the way.
Inscription as a Preface to Jauja
In faraway Patagonia during the "Conquest of the Desert" in the late 1880s, a Danish Captain, Gunnar Dinesen, has arrived with his 15-year-old daughter, Ingeborg. He will serve as an engineer in the Argentine army during its genocidal war against the indigenous population. Both affectionate and cautious with his daughter, Dinesen is surprised when one night she steals away, since they are quite dwarfed by the vast land and she is the only young lady in sight. Dinesen is compelled to find his daughter, even if it means entering enemy territory, against the army's warnings. He is a foreigner, and doesn't know the region, the terrain, but worse, there is the menacing Zuluaga, a shrewdly competent and courageous general, who may have deserted, disguised in women's clothes, and seems to be on a bloody warpath. Ingeborg's lover, a young soldier, is sent to find him. Will any of these four figures cross each other beneath the sunlit mirages by day and the Milky Way by night? Dinesen's rifle, his hat, and his horse disappear, just as miles later, a strange woman appears, with an uncanny resemblance to Ingeborg many decades later. The seemingly endless space of the new land is disorienting to say the least, and then there's time itself, which seems to have entered another dimension…
"Can I get a dog?" Ingeborg asked her father when they arrived in the new land.
"We have to wait until we get home for that," he replied. "What kind of dog?"
"One that would follow me everywhere..." she told him.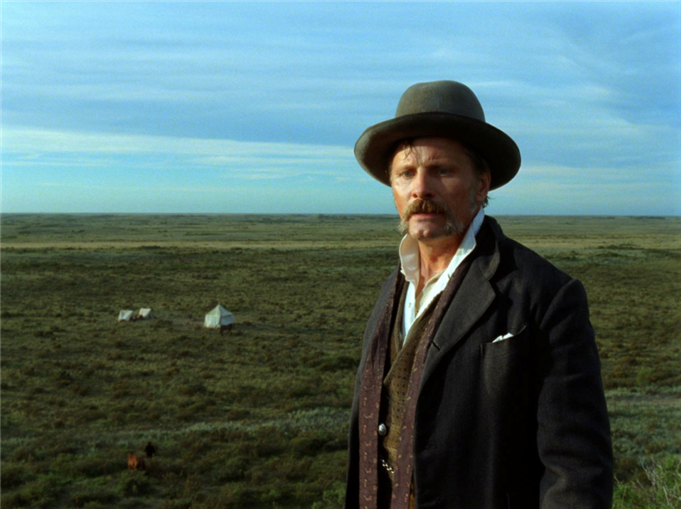 Viggo Mortensen in a scene from Lisandro Alonso's Jauja. Courtesy of Cinema Guild.
It's as good a clue as any to the nerve center of this film. A mangy wolf-dog does turn up. A guide? An omen? Captain Dinesen follows it everywhere in search of Ingeborg. Indeed it enters the frame again in the finale of the film, which transpires in another realm. The dog bares a patch of flesh he scratched hairless in a fit of nerves. Other motifs circulate — a toy soldier that passes from Corto, Ingeborg's handsome young love, to the girl, to the desert sand, to Captain Dinesen as he trails them; an old keepsake clock his daughter took with her when she left the camp that reappears in the cave-home of an old lady speaking Danish. As for Zuluaga, he is at once real, mythical, and imaginary, part of the delirium that might encompass much of the film.
Does it all connect? What does it mean? In his Director's Statement, Lisandro Alonso has this to say :
A few years back I received an e-mail telling me that a close friend had been assassinated in a land faraway from her place of birth…. I was strongly disturbed and shocked by what had happened to her and I began to think of this story…. Oddly enough, I feel that this film has come to me and taken its unreal form as a way of helping me to grasp the world and the time we live in, how we vanish in order to inexplicably return, in utterly mysterious ways.

Winner of the International Critics Prize (FIPRESCI) for Jauja in Un Certain Regard at Cannes last year after his earlier groundbreaking features (La Libertad, 2001; Los Muertos, 2004; Fantasma, 2006; and Liverpool, 2008), Lisandro Alonso is known for his arrestingly cinematic, near-wordless wonders shot on location in remote landscapes with untrained actors. Plot and resolution take a back seat to wide-angle lensing and long "takes" with a camera that lingers, lapping up the "other" world it has entered. In the solitude of desert chaparral, natural sounds only twice give way to human song — and this music is a first for Alonso's films — once sung by the central character to himself, and later strummed on a lyrical guitar in the soundtrack.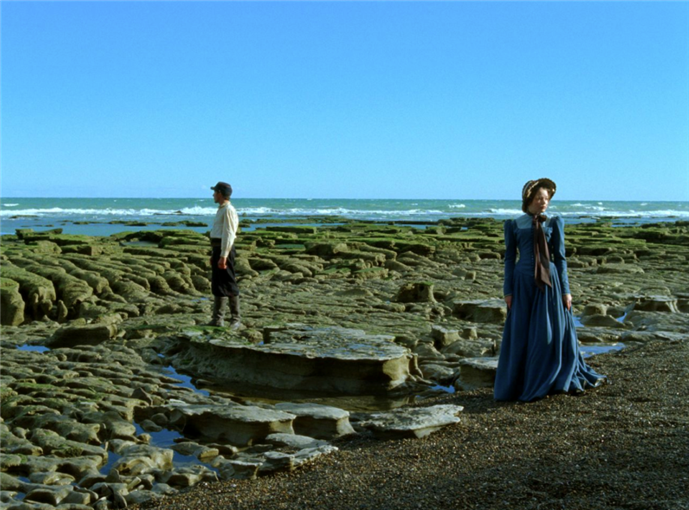 Esteban Bigliardi & Viilbjørk Malling Agger in a scene from Lisandro Alonso's Jauja. Courtesy of Cinema Guild.
Jauja has been called a "mystical western," a work of "magical realism," and an "existential" adventure. It is an intimate epic that is expansive and implosive at once, vast in its scope and introspectively devastating. In the ways that it plays with the two master codes of cinema, space and time, Jauja is pure poetry. Timo Salminen's frames (old-style, round-edged, 4:3 format), in their saturated color and artificial light, evoke those of Aki Kaurismaki; in their theatrical temporal and spatial solutions, they recall scenes from Sokurov; and in their character point of view, suspended in dislocation, they are reminiscent of Tarkovsky. Alonso himself calls Jauja a fábula.
Fairy tales of vanishing characters can take on a powerful resonance in countries that have long lived with disappearing populations such as their indigenous inhabitants, and this meaning is compounded with 20th-century events that led to millions of desaparecidos for shameful reasons. History haunts Argentina, where what is political is also personal. In a Movie Mezzanine interview, Alonso offered an inroad to his film:
The important thing for me was, if you have someone you really care about who disappears, I would like to think that in some way, in some place, we are still surrounded by them. That's probably the major idea I had at the beginning. That's how all these same/different characters appear in the script, as a way to find out if we can show that without being stupid, you know, without being silly.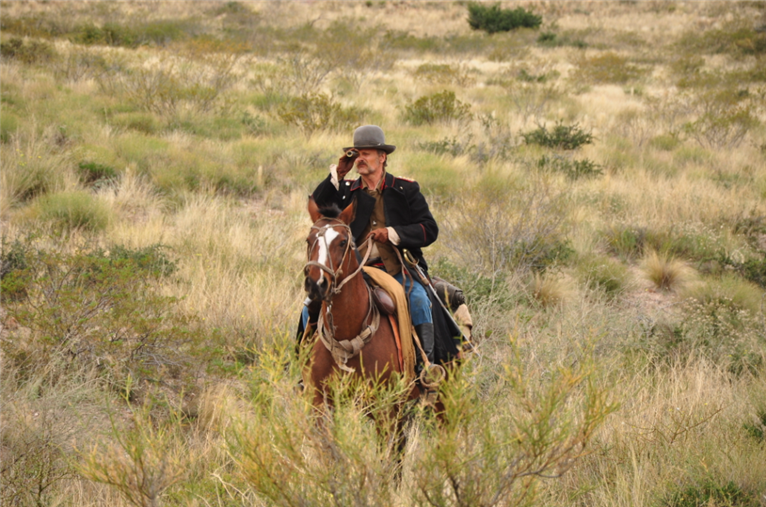 Viggo Mortensen in a scene from Lisandro Alonso's Jauja. Courtesy of Cinema Guild.
As one of the producers of Jauja as well as its lead actor and the composer of its score, Viggo Mortensen had this to say in the film production notes:
Lisandro's is a process that constantly seeks distillation, gently but stubbornly insisting on the intrinsic, essential truth of any given moment. It is one thing to want to achieve this sort of 'clean' aesthetic, and another to be able to convey it with grace and originality. Directors like Lisandro, who can truly move us with the subtlety and unmistakable authenticity of their storytelling, do not come along very often.
On its opening weekend in Los Angeles, Viggo Mortensen attended screenings to dialogue with the audience. At the Landmark's Nuart Theatre on March 28th in a noticeably soft-spoken voice, the "movie star," as well known for his skills as a swordsman and horseman as he is for his finely-etched characters (captains, gangsters, aristocratic suitors, Freud himself — and recently, a French teacher in Algeria), was a quietly articulate and even garrulous speaker, charismatic in an unassuming way, inspiring curiosity, engagement, and a zealous commitment to knowledge on the part of the film-goer. Little leads throughout the talk dropped hints of his many pursuits and talents — in this film, acting, producing, composing the music, and in general, photography, painting, poetry, and historical research. He founded a publishing house to disseminate the works of those yet unknown in the verbal and visual arts, and the website for his Perceval Press in Santa Monica offers quotations from philosophers, poets, and activists across time along with political current-event highlights and probes from around the globe. It's difficult to imagine anyone putting together a trilogy of books as inventively incisive as Eduardo Galeano's Memory of Fire, but Viggo Mortensen's daily blog, a compendium of words of wisdom for the Internet century, definitely moves in this direction.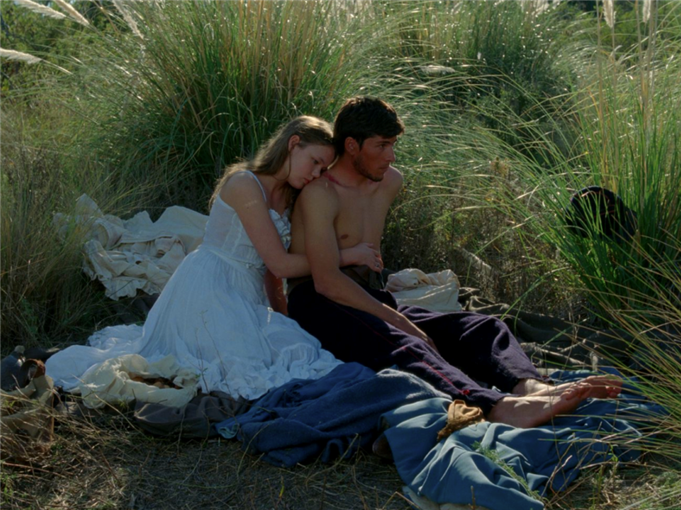 Viilbjørk Malling Agger & Esteban Bigliardi in a scene from Lisandro Alonso's Jauja. Courtesy of Cinema Guild.
In his post-screening Q&A at the Nuart, Viggo Mortensen had this to say:
How did you get involved with Lisandro Alonso?
I'd seen three of Lisandro's films and had met him in 2006 at the Toronto International Film Festival where a film in which I played the lead was showing — Alatriste, directed by Agustín Díaz Yanes. It played at both the Toronto and Miami festivals but it was never released here.
Then Fabian Casas, the co-screenwriter of Jauja, a poet and a good friend of mine from Argentina, said he was writing a script. I was in Argentina at the time shooting a film, my first one there — Everybody Has a Plan, and Lisandro and I met on the set. Jauja would be my second film in Argentina. The story, about a 19th-century European man and his daughter, sounded like a great adventure film, with his image. The script was more structured and used more dialogue than all of Lisandro's other films combined, and it was the first film he made with a professional actor playing the lead.
Did you and Lisandro discuss much about the film?
Fabian and I spoke — we write a blog together about soccer, and we like to analyze films a lot and dig, looking at the historical nature of films. We didn't want to ask Lisandro about the film; he doesn't like to intellectualize.
I like poets, artists, filmmakers like Lisandro and Cronenberg, who don't give you answers, but rather provoke questions, create worlds, and therefore are more respectful of the audience, let you be more free. They give you a map and a compass and set you off.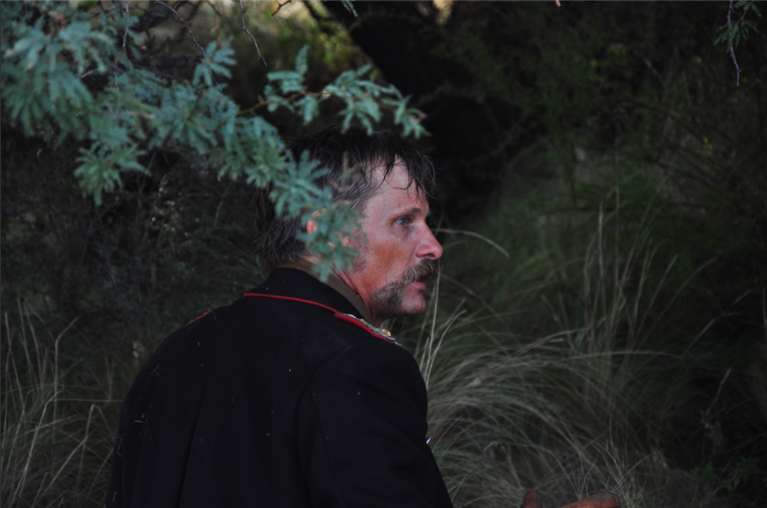 Viggo Mortensen in a scene from Lisandro Alonso's Jauja. Courtesy of Cinema Guild.
Can you talk about the cinematography?
I like Tarkovsky: you see a place, a landscape, and people enter it and leave, but it's always there. People dream, and stumble through these landscapes, but they are ephemeral. The landscape is impenetrable. It prevails, and it is mysterious.
Where was the film shot?
In the scene where I'm lying on my back at night looking at the stars, it was La Pampa, in the west of Argentina. In the scenes when we're on the shore, it's Patagonia, in the far north — Viedma, in Río Negro. Then in the end, with the rocks, we were in the far, far south, where it gets very cold.
What about the music?
The song I sing in the film? That was a freak thing. This was another first for Lisandro — original music, an actual soundtrack instead of something like radio music coming from a source seen on the screen. The first big moment of music is when my character falls asleep under the stars holding the toy soldier.
We had no more money to get a composer. I said, 'It sounds like a guitar.' I thought of a musician named Buckethead, from southern California, a great guitarist. I've had a hard time getting in touch with him recently. If you know him, tell him Viggo's looking for him. I want him to see the film.
I sent him ten or twelve tracks — very lyrical. I also wrote the end music for the film.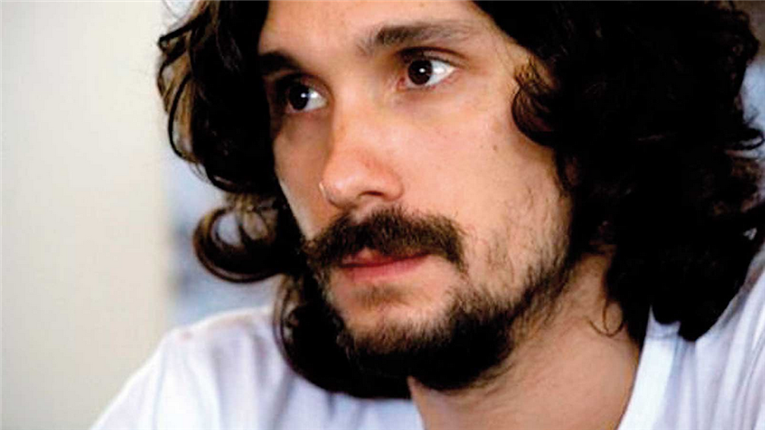 Lisandro Alonso, Writer-director-producer, Jauja
What was it like working with a small crew?
It doesn't matter if there are three hundred or twelve people working on a crew. What matters is the director. If you wanted a good hotel and three meals a day and a satellite or Internet connection, you were out of luck. But I liked this — I used to live in a forest, alone, far from people, and I liked it. Just as in the film, time slows down, and you feel different.
I spent the first ten years of my life in Argentina. In the film, Dinesen imposes himself on the landscape, but his daughter doesn't, ever — she opens herself to the land and drinks it in. My father is Danish and had that same accent, which we thought was funny. And he also had a habit of expecting people to show up at a certain time for a meeting or a meal, as in Denmark, or California. But down there it can be different. And I was playing that character like my dad and realized it wasn't so easy.
I mean Captain Dinesen asked, "Why do you call them 'coconut heads'? You can't ever understand them that way." Okay — I understood, we're here to kill them off. But first I wanted to know them — to measure them, to weigh them….
What about the history?
I found an old uniform from a real war in Denmark. In the 1864 Wars of Denmark, the country lost a lot of land, and it was a brutal loss. There were kings. Most soldiers were farmers, and I found a medal with two kings' heads on it from then.
Ironically, from my Danish background, the stories of Hans Christian Andersen and the Nordic myths — toy soldiers, sabers, castles, strange old people living in caves — all this registered with me.
But you don't need to know this history to understand the story. You might never understand the story…
Jauja
Director: Lisandro Alonso; Producers: Lisandro Alonso, Viggo Mortensen, Ilse Hughan, Sylvie Pialat, Jaime Romandia, Andy Kleinman, Helle Ulsrteen, Michael Weber, Ezequiel Borovinsky, Leandro Pugliese; Screenplay: Lisandro Alonso, Fabián Casas; Cinematographer: Timo Salminen; Editors: Natalia López, Gonzalo del Val; Sound: Catriel Vildosola; Music: Viggo Mortensen, Buckethead; Art Director:Sebastián Roses; Costumes: Gabriela Aurora Fernández.
Cast: Viggo Mortensen, Viilbjørk Mallin Agger, Ghita Nørby, Adrian Fondari, Esteban Bigliardi, Diego Roman, Mariano Arce, Misael Saavedra, Gabriel Marquez, Brian Patterson.
Color, Academy 1.33 DCP, 108 min. In Spanish and Danish with English subtitles.