6-12-15
Jacopo Giacopuzzi: Pianist Par Excellence
By Diane Sippl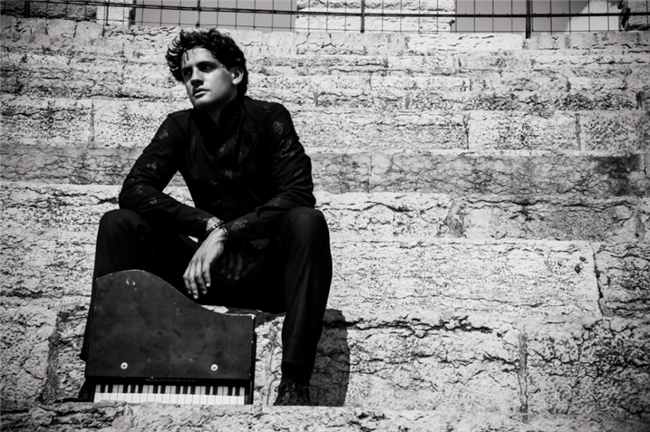 "Bravo! Bravissimo!" called out the crowd. Last night the Italian Cultural Institute Los Angeles packed its resonant concert hall with aficionados who wouldn't leave. They were begging a second encore by the striking young man from Verona, Jacopo Giacopuzzi, who put the Instituto Italiano di Cultura's handsome Fazioli piano to its best use. Performing in the Young Talent Piano Series, Giacopuzzi delivered a program that stunned as it showcased his command of compositions for virtuoso musicians. Currently residing in Italy but also in Los Angeles and Santa Barbara while he completes his Master's Degree in Piano Performance at the Thornton School of Music at USC with Prof. Kevin Fitz-Gerald, he is a well-traveled artist.
Giacopuzzi studied at the International Piano Academy of Imola "Incontri col Maestro" with Leonid Margarius, and at the Music Academy of the West in Santa Barbara under Jerome Lowenthal. He received a Masters Degree cum laude in Piano Performance with Virginio Pavarana and another one in Sound Design with Mauro Graziani at the Conservatory of Verona. He also studied at the Liszt Hochschule in Weimar, at the Accademia Chigiana in Siena, and at the Salzburg Mozarteum. He studied the piano at the Conservatorio "E.F. Dall'Abaco" of Verona.
He has performed at the Liszt Marathon at the Parco della Musica in Rome and at the Liszt's Week in Verona, Mantova, Brescia, Venice, Vicenza and Teramo. In Los Angeles Giacopuzzi won the International Liszt Competition in November of 2014. He taught at the Conservatory of Verona "E. F. Dall'Abaco" from 2012 to 2014, and he collaborates with the Associazione Musicale Dino Ciani.
Giacopuzzi astounds in his technical assurance, but it is his intuitive style that wins the audience. His manner is never compromised by the dexterity of his delivery. The mood and whimsy of Poulenc's Intermezzos are particularly enjoyable in the lively bustle, tender reflection, and innate charm of Giacopuzzi's rendering. His interpretation of Sancan, a mid-20th-century French composer whose work is perhaps lesser known than Poulenc's and evocative of Debussy, simply delights, and Sancan's Toccata leads to the marvel of Nikolai Kapustin's Variations, a surprise for us all. If there could be such a genre as "Jazz Classical" (as opposed to "jazz classics"), this Ukrainian, who was conservatory-trained in the Russian virtuoso piano repertoire but also swept up in the 1950s "midnight in Moscow" big-band scene, would own it.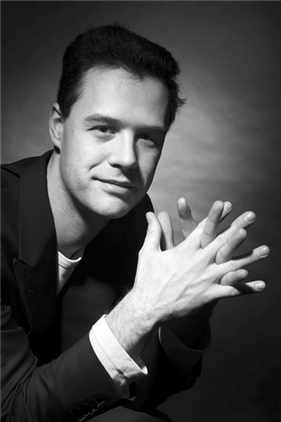 Nikolai Kapustin at the age when he was discovering a mix between classical and jazz music

Rhythmically complex in its jazz idioms and composed at the keyboard with Kapustin's own experience of jazz improvising, the music is influenced by Oscar Peterson or Art Tatum over Debussy and Ravel, Gershwin and Bernstein. Yet it is astonishingly technical in both written notation and performance demands. The forearm weight, fingering, and independence of hands in playing the music are skills required of the jazz pianist, yet imaginative harmonies and phrasings may be reminiscent of Chopin. Traditional in both its classical and its jazz foundations, Kapustin's music is nonetheless flamboyant and ingeniously idiosyncratic. As the final entry in Giacopuzzi's program, Kapustin's Variations bring us right back to the opening selection, Chopin's Fantasie, full-circle.
I spoke with Jacopo Giacopuzzi this morning just before he took off for a private piano recital in Santa Barbara:
KINOCaviar How did you select these particular pieces to perform? Can you comment on each?
Jacopo Giacopuzzi I always base my program on composers I like — I have to really like them to choose to perform them. Then in order to get variety, I usually include some classical and some modern, some contemporary.
The first three composers in my program here are all from the Romantic period but the selections offer different kinds of features. Chopin's Fantasie in F minor, Op. 49 is lyrical and dreamy; Liszt's Hungarian Rhapsodies No. 12 and 13 are also lyrical but incorporate folk elements; Schumann's Toccata in C, Op. 7, like Liszt's Hungarian Rhapsodies, is quite virtuoso. Then I went ahead and added some French works. Sancan's Toccata is more modern but offers a connection to the Schumann's Toccata, and the audience can see the connection.
Nikolai Kapustin is a Ukrainian Russian composer and I play lots of his music. He uses a classical form but the texture and harmony are jazzy. His Variations, Op. 41 offers the perfect balance between classical and modern music. My encore was a short prelude from Kapustin.
Together with Poulenc's three Intermezzos, FP 71/118, there is quite a variety of composers, periods, and genres in my program. Lots of performers stay completely classical in their programs, but I think it's important to play new and unfamiliar works, for the benefit of both the audience and the composers.
KC What is the most difficult or challenging for you in playing any of these works?
JG All of these pieces are very difficult to play and present challenges in different aspects of performance. Chopin is harder than the others for me this time because it's very fresh — I started to play it only two weeks ago. I've played the Schumann for two years now, in many concerts, but it's technically difficult, very virtuoso. The Chopin is musically demanding — it requires interpretation. With Poulenc, it's a matter of style, point of view. It's like performing Chopin, a Romantic composer but related to the Classical period, so there's more freedom, calling for nuance. You have to find the balance.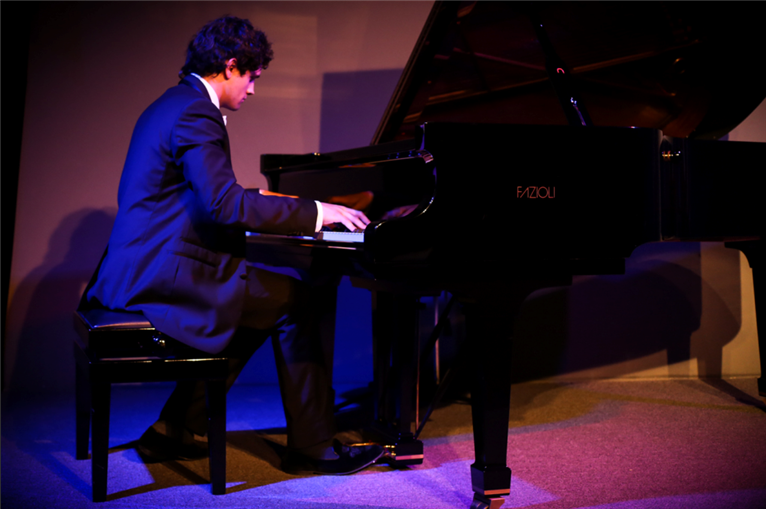 KC What is most unique about your interpretation?
JG I like to make sure that my interpretation is different from piece to piece, that my Chopin doesn't sound like Liszt, or Liszt like Schumann. And of course my interpretation has to be strictly related to the core phrase, and then I can add.
You have freedom — you can personalize each composition — and you can tell when a pianist is enjoying what he or she is playing.
Even the biggest artists have to experience the music in front of an audience. They have to be very aware of what they're playing, the single moment. It's crazy how deep you go.
KC There are no sheets of music sitting in front of you as you play.
JG In all my concerts, recitals, and competitions, I must play by memory. In a piano recital, that's standard. You can use music only if you are playing with others. Maybe for modern pieces, using the score is okay if it's abstract, like Kapustin.
KC The Fazioli piano seems very resonant and voluminous in the hall at the Italian Cultural Institute? Is this piano special in any way?
JG I've played on Fazioli pianos in Italy. They're great. They're all very voluminous, light, and brilliant. The one at the IIC is maybe even more voluminous. It's bright, very clear.
KC What is your particular passion for cinema? Is it related at all to your passion for music? Did studying music at USC inspire or feed it?
JG I just turned 27, and I've been playing music since I was 6 or 7. I got my first camera as a teenager and saw that I would like to go deeper, so I got more cameras, and I did work as a lighting assistant. I made a photo studio in my house. Since the quality of still cameras and video cameras has improved so much and they have become so economical, I started doing videos. I taught myself. I made my first video clip last year.
One thing I like about studying music at USC is the cinema department. Some very good friends of mine are there. I helped some of them with their short film projects, mostly with the music. I helped them with their soundtracks.
KC What takes you to the Hampton's next week?
JG I was a student at the "Pianofest in the Hamptons" last time, and I will be a pianist this time. Jerome Lowenthal gave a Master Class there and mentored me. The selected students all live together in a mansion, and they study and perform all the while, all around the Hamptons.
We'll record all their concerts, and I'll follow three or four students from day to day, throughout the day, and make a video with weekly episodes.
KC And then you return to Los Angeles in August?
JG No, I'll play in a couple of concerts in Hawaii in August. My family will come from Italy. Then I have one more year to finish my Master's at USC (it's a two year program), and I'll apply to other schools in California.
Most of my friends and my girlfriend are all Americans. So it's so nice to perform here at the IIC and meet some Italians!
Young Talent Piano Series: Jacopo Giacopuzzi
Instituto Italiano di Cultura
1023 Hilgard Avenue
Los Angeles CA 90024