10-11-09
Better than Fiction, Bigger than Life: In Search of Beethoven
By Diane Sippl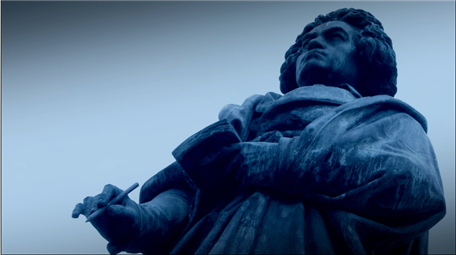 "Mozart could write a symphony in four days. Beethoven could do that, too… but sometimes he wanted to work and work and make something grander, and he was thinking more of the future. Mozart was writing for Saturday, and Beethoven… for eternity. He wanted to be, as it were, a great composer... That was one of the conversations he had with his Creator."
Sir Roger Norrington, conductor of the Salzburg Camerata


Somewhere between heaven and earth, documentary filmmaker Phil Grabsky has managed to locate Ludwig van Beethoven, and to probe him so piercingly that it's as if the "Lion" himself had sprung from his resting place and said, "Here, take all of me, heart and soul, but don't miss a note or a beat of it…"
Beethoven's sonatas, concertos, symphonies, opera, and mass are not only found in this unforgettably moving portrait, but also demonstrated with individual interpretation and commentary by the best of musicians, conductors, and musicologists. We go from Bonn where Beethoven was born to Vienna where he worked, but mostly to sites across Europe where the composer lives to stir the imaginations and aspirations of performers and listeners, aficionados and newcomers alike. Grabsky's camera shows us, up-close and with astute attention, what can't be found in books, concerts, CDs, and live lectures or presentations from the stage: precisely how moving fingers play the notes of Beethoven's music — chiefly on the piano, this composer's own instrument of choice, but also on the violin and cello, and joined by orchestras and singers as well.

Furthermore, for all the glorious beauty of the music offered — an amazing 55 performances were filmed and a good dozen more pieces prepared for this 139-minute feature — In Search of Beethoven is a film-lover's delight in its cinematic enterprise. Grabsky not only wrote and directed this comprehensive distillation of the composer's legacy, but he also shot it and collaborated on the sound. With the control of an auteur over his own aesthetic oeuvre (including numerous biographies and films on visual artists), Grabsky here creates two special lenses for "finding" Beethoven: one through the camera, employing a stunning use of close-ups for acute information and also sheer visual poetry; and the other through the dramatized narrative, creating a warmly tender view of the man who truly understood and expressed all that it means to be human.
The result is a lively account, from the young suitor who forgets to feed his horse but courts ladies by writing sonatas, to the ailing and despairing fifty-year-old for whom ear trumpets are no longer of use but who longs to write his tenth symphony. The son of a court musician who drank heavily after his wife and daughter died, Beethoven the teenager was already keenly aware of his unique gifts and soon flaunted them, first so as to embarrass rival pianists by composing variations too difficult for them to play, then to outdo Mozart by composing as rapidly but with more strenuous innovation, and then to con the Bonn Elector into increasing patronage through Haydn's tutelage and to win the hand of an aristocratic lady. Beethoven succeeded in all but the last two. While he befriended princes and nobles (Archduke Rudolf was his pupil), his own class origin prohibited him from marrying into the aristocracy. His innate sense of justice and equality did little to ameliorate his constant struggle to earn a living; however, it did feed his sensitivity to world events and spurred him to create works with an ever larger vision.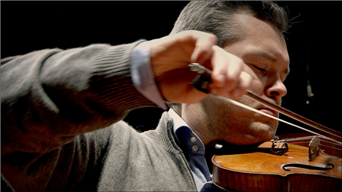 Emanuel Ax demonstrates the composer's second piano sonata using two hands but tells us that Beethoven wrote a fingering for it that used only one, rolling down the keys across octaves. "So no left hand — he probably put his left hand in the air (when he played it)… I've never seen a pianist who could actually do this… or this may be a great cosmic joke, that fingering, which he put in to annoy everybody else." The film cuts to a portrait of Beethoven staring at us with his right palm held up and open, fingers spread.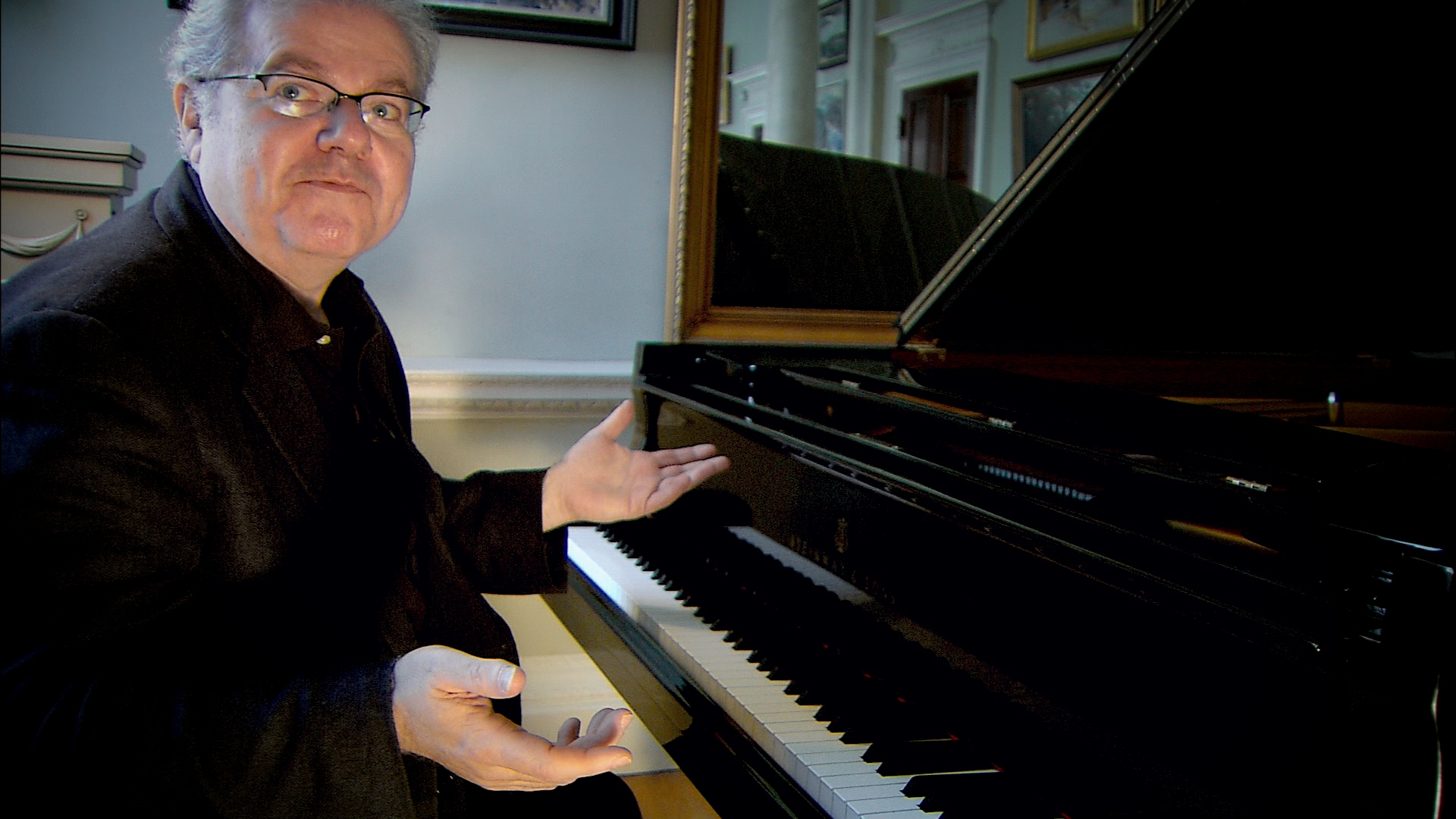 In Search of Beethoven does not shy away from irony and humor in sharing the composer's voice in both words and musical notation. Ronald Brautigam, balking at the concerto Beethoven wrote at age thirteen, claims that there's almost too much piano in it, that Beethoven was showing off: "If I just concentrate on playing, I can do it… It's almost unpleasant to play. It's amazing that he could write it, but it's much more amazing that he could play it." And after several false starts, Brautigam manages, as the camera moves in to capture his hands doing the job.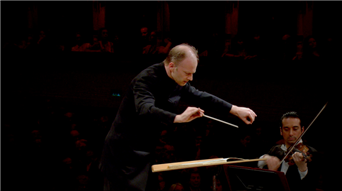 Gianandrea Noseda, conductor
"Nobody'd ever written stuff like this," Ax tells us later. "Well actually, I can't really play it, quite honestly. But if you put the pedal down, get a nice piano, hope for the best…." Then Ax plays a single note, repeated many times in succession. "There's a lot of it in his music, because he was good at that. (And) the idea of playing these octaves with that rapidity, just gliding down the piano, is something Beethoven invented." The piano became a more flexible instrument in Beethoven's era because he was always writing to those who crafted them to make them bigger, louder, and stronger.
At a certain point, as most of the interviewees do, musicologist Giovanni Bietti hums a few measures of an early piano sonata and gestures: "Things are getting closer, tension is getting higher…. A progression in time, in rhythm, in tension, building up this dramatic urge." It's Beethoven's alternative to the elegant symmetry and harmony of Mozart's and Haydn's classical compositions. Cellist Alban Gerhardt demonstrates the "unbelievable arrogance" of the 26-year-old's Cello Sonata (Opus 5, No. 2) that comes to a complete stop — he counts the full four seconds — freezing time before it resumes.
If the "Beethoven Divide," as Sir Roger Norrington, conductor of the Salzburg Camerata, puts it, came with his 3rd Piano Concerto, which was like "fault lines shifting the earth, one thrust in the air," it was a tumultuous era, and Beethoven's "explosiveness in music was cued by the events of the time." He was enormously inspired by the French Revolution. Historian Jonathan Del Mar shows us how the composer scratched holes into the score he had entitled Bonaparte to re-name it Eroica when Napoleon, horrifyingly, crowned himself: "If somebody mentioned Napoleon, he (Beethoven) would say, 'Well he may be the ruler of the world, but mine is the empire of the mind.'" Beethoven's "monstrous" ambition in his 3rd Symphony is performed by the Filarmonica della Scala, conducted by Gianandrea Noseda.
"This is one of the most important moments in the history of music, the ascent of instrumental music to this peak of expression," explains scholar Nicholas Marston:
"Beethoven is both caught up in that changing view of instrumental music and is also… part of the cause of it. It was very much his orchestral music that really changed the way people thought about instrumental music and what it was saying and the kind of access that it could give us to the transcendental, to the infinite."
Filarmonica della Scala plays Beethoven's 3rd Symphony, Eroica
The same is said of the way Beethoven composed for the human voice. Albert Dohmen, with the bass role as Don Pizarro in Fidelio, points out difficulties in that Beethoven "makes you sing, I call it, canto esplosivo because the character, this evil nature who enters unseen, he doesn't sing lines or arias. It is a pure emotional eruption… (Beethoven) doesn't care if an aria can be sung or not; that's just the way it has to be."
There is a consensus among the musicians and conductors in the film that as Beethoven grew increasingly deaf, as he performed less and wrote more, secluding himself more from social circles, he really began to "do his living" in the act of composing. Cellist David Waterman of the Endellion String Quartet observes that Beethoven was able to introduce "completely new styles and sonorities, purely through his aural imagination." What the cellist then adds regarding Opus 59, No. 2 is yet again of interest: that even before his fans knew the composer was going deaf, they regarded the Razumovsky Quartet as "quite mad." Nonetheless, we are treated to a sample.
Today that's probably the last reaction anyone would have to the Pastoral Symphony, and yet when it was first performed in1808 on a snowy winter evening (launching a four-hour concert!), it alarmed audiences with Beethoven's quietest opening movement yet. That same night the composer premiered his Piano Concerto No. 4 by playing it himself, and he broke all convention in the keyboard literature by beginning the entire piece with the piano alone stating the theme. "Nothing with this sense of revolution and volatility had ever been heard by a Viennese audience," explains pianist Kristian Bezuidenhout of the Orchestra of the 18th Century.
"That the piano can present such a strangely amorphous theme and then be answered by the orchestra in B major — the degree to which that is shocking is immeasurable by our 21st-century standards. This kind of harmonic palette, tonal palette, use of keys, modulations — completely unheard of, even by Beethoven's standards, I think."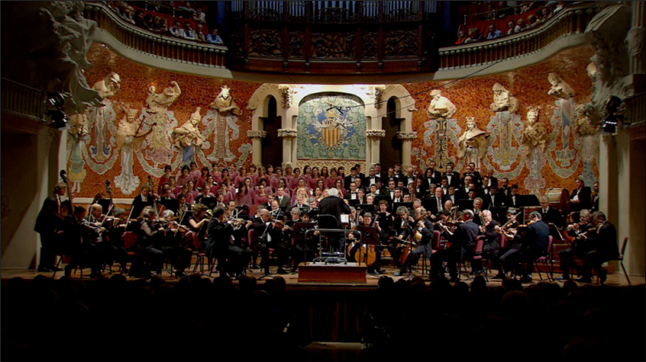 The Orchestra of the Eighteenth Century plays Beethoven's 9th Symphony
With all the monumentality of Beethoven's oeuvre in so many aspects — the sonority of his compositions, the boldness of his invention, the reach of his vision, the scale of his output, the scope of his versatility — there is something quite the opposite in the man, as deeply embedded in him as it is sitting on his shirt cuff. For all his unabashed display of virtuosity, both in physical dexterity and cerebral fluency, Beethoven turns out to be an extremely humble man. Yes, even on the surface, Gianandrea Noseda lets us know, he was not a big man, not tall or presuming to be powerful, but more fragile, weak, intimate, in entirely his own way. Consider Beethoven's voice in appealing to a widow to woo her:
"It is no desire for the other sex that draws me to you. No, it is just you, your whole self with all your individual qualities. You have conquered me. I love you as dearly as you do not love me."
The portrait of her on our screen dissolves to close-ups of a puddle over the cobblestones and raindrops on a door knob.
In the broader picture, this was a musician and composer mortified at being deaf, on top of the torment of increasing buzzing and humming in his ears and the incapacity to perform his work with full force. "There ought to be in the world a market for art where the artist would only bring his work and take as much money as he needed," he had reflected early on in life, yet this was wishful thinking, and it became increasingly difficult for him to secure his needs. As war raged on in Europe leading to the occupation of Vienna, his personal and social humility sought a higher place. So in his music as in his life, seemingly unbridgeable contradictions appeared; yet it was precisely these gaps or fissures, and the ways that he traversed and even embraced them, that gave rise to the enigmatic lyricism that is Beethoven.
Singers, conductors, and historians in the film convince us that Beethoven "believed in hope," that he wrote "unbelievably hopeful" music, that "he wanted to be healthy and he wanted the world to be healthy." Fidelio, the one opera he wrote, is offered briefly but beautifully in the film by the Mahler Chamber Orchestra conducted by Claudio Abbado. A woman disguises herself as a man and hides in a prison for two years so as to free her husband. The scene is staged in darkness with a chorus of inmates chanting hushed whispers as they shift about, hands tied at the wrists but palms cupped upward or all but clasped in prayer. "The idea that love is greater than injustice… than tyranny —" says singer Albert Dohmen, "this is so deeply felt by him… The pureness of the feelings that Beethoven composed… is unique, but it's because he felt it." Fidelio may be a dream, an ideal, but the reality is that it was performed to a house full of French soldiers who had invaded Vienna a week earlier; they were the only ones in a position to buy tickets.
Sometimes Beethoven knew better than anyone that less was more. Sir Roger Norrington informs us that the composer spent weeks polishing the last movement of his 9th Symphony to make it simpler and simpler; it is now the anthem of the European Union. That work is the desire of joy, l'espérance of joy, a dream of joy, an "if only…" conductor Louis Langrée tells us. If sometimes it's a leap and a bound, albeit meticulously calibrated, that pronounces the wish that Beethoven harbors, at other times it's the quiet prayer this poet unleashes from silence. A mass composed not for liturgical purposes but for the concert hall, the Missa Solemnis demonstrates for us Beethoven's transcendence — the ethereal Holy Spirit floating in the notes of a violin that can only be perceived as a blessing of those on earth.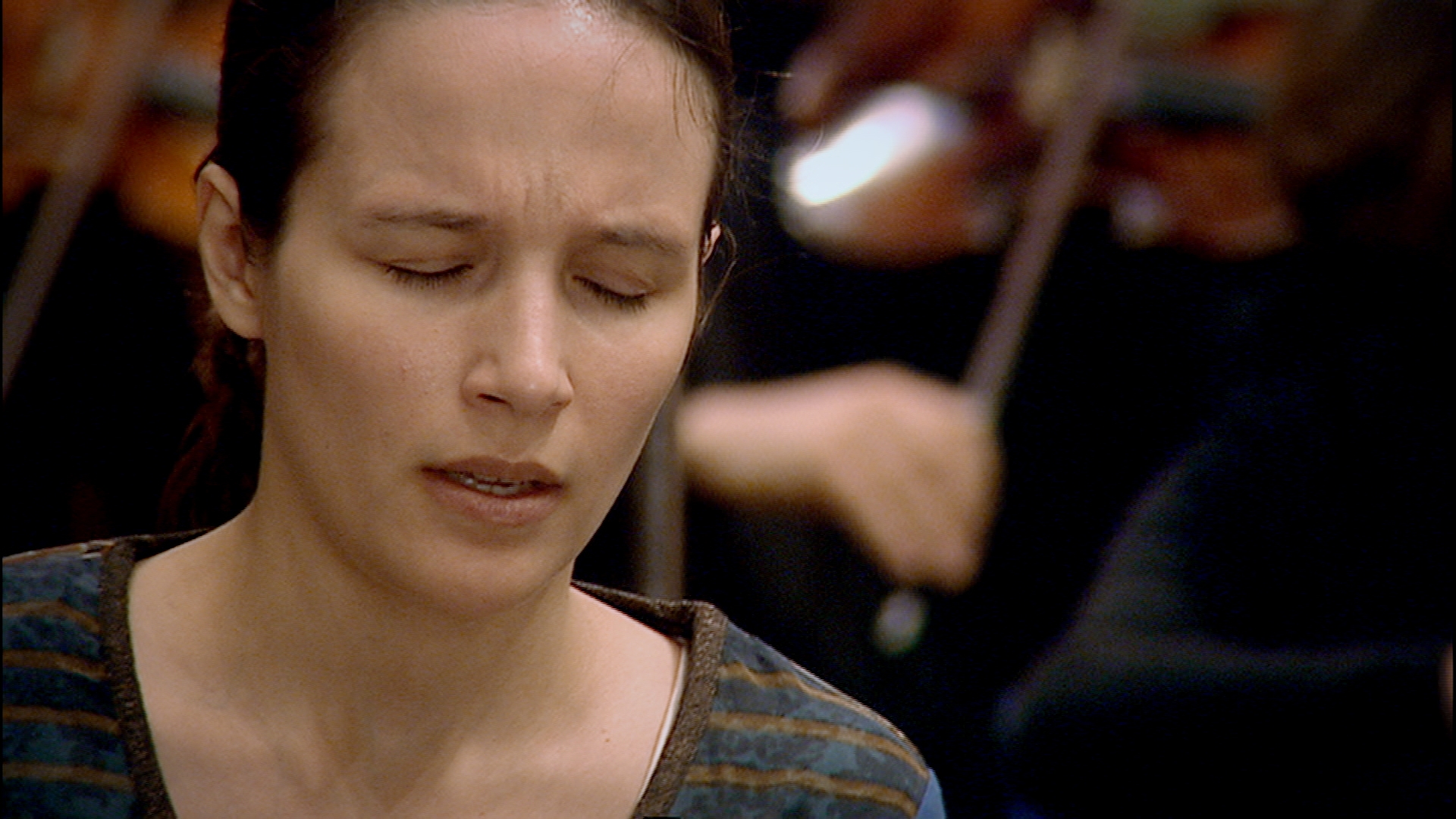 Hélène Grimaud plays Beethoven's Piano Concerto No. 5, The Emperor

With all the grand performances that fill Grabsky's screen, how does this filmmaker manage to capture cinematically the nuances of Beethoven's intimacy? Through a subtle use of character point of view, Grabsky's camera becomes the eye of Beethoven. Let's look at a piece as familiar as the Moonlight Sonata, written in 1801 when Beethoven's deafness and ill health "put a nasty spoke in (his) wheel" only to be capped off by romantic rejection. Pianist Lars Vogt shows how Beethoven started his sonata with a slow, completely introverted movement, an utterly simple tune, "and one that is end-less-ly sad." The close-ups that offer such precision and clarity elsewhere are so extreme here that they transport us from the clinical to the emotional realm as a man's voice-over delivers the words of Beethoven's Heilegenstadt testament, written at his escape lodge in the Vienna Woods. A visual montage of equally despairing beauty accompanies them: through a window, a lone twig hanging from a bare branch, a frayed shutter dangling in the wind, an empty wood bench, an isolated mound of dirt. The aural voice of Beethoven throughout the film belongs to actor David Dawson of the Royal Shakespeare Company. Here as elsewhere, its intonation, cadences and phrasing, its stresses, tremors, and exclamations, its eloquent diction, all deliver an intimate, fervent prayer that is part complaint, part plea, part vow — in sum, Beethoven.
To conclude this review with a "feminine ending," for me, the most moving and creative individual sequence on the part of Phil Grabsky as cinematographer and director is once again a simple play of hands, a love story between musician and muse, told in sound and image. This time both are juxtaposed with the words of Hélène Grimaud as she plays Piano Concerto No. 5, The Emperor. The narrator has explained how that snowy winter, three nobles of Vienna managed to keep Beethoven living there with a hefty salary.
We are in "Beethoven's room," empty but for his piano, and when the first note is struck, the camera moves in on the piano without a pianist. Why? It is Beethoven. The film then cuts to a close-up of Hélène Grimaud's face and pans down to her hands on the keys, from an angle behind her; it cuts to her face again with closed eyes and knit brows, and then cuts to her white hands playing the keys met by another, darker pair of hands opposite hers. As she pauses, they retreat only to meet her hands again from moment to moment as the camera's frame shifts. They are reflections in the glassy dark wood of the piano. Call it a duet or a pas de deux. If ever one could speak of "caressing" the keys of the piano, it is here. In one moment her hands almost hold the keys as she strokes them, pulling back. Her royal blue and rust antique print shirt is of a piece with the music and the performance. And her take on Beethoven:
"His music is so firmly rooted in everything human, with all his frailties and weaknesses and shortcomings of all sorts. But at the same time there's an element of Promethean struggle and of an attempt to reach higher and to never give up and never surrender, something that always tries to elevate itself from the difficulties of the miseries inherent to the human condition. He's perceived often as a misanthropic character, but his music is also the music of an inveterate optimist, of someone who never gives up in thinking that men can be better."
The sequence ends astonishingly with the crash of canon fire and Vienna in a state of siege at the hands of the French.
In Search of Beethoven
Director: Phil Grabsky; Producer: Phil Grabsky and Seventh Art Productions in association with Sky Art; Screenplay: Phil Grabsky; Cinematography: Phil Grabsky; Sound: Phil Grabsky, Chris Wright; Editing: Phil Reynolds.
Cast: Narrator, Juliet Stevenson; Beethoven, David Dawson
Color, 35mm, 139 minutes. In English.