4-14-18
Czech That Film: Ice Mother Will Melt Your Heart
By Diane Sippl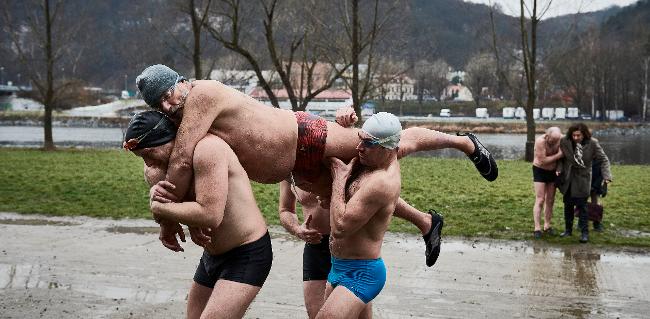 Whether it's Charlotte Rampling grieving over losses due to death or betrayal, Judi Dench celebrating colonial or postcolonial India, or Helen Mirren rescuing the faltering mind of leisure-seeking Donald Sutherland (or worse, Christopher Plummer), the range of roles is all too familiar, peppered with female characters who are sometimes spunky or vivacious but all too often pathetic or sentimental or downright silly (throwing pies at Tolstoy is a bit too much). These days mainstream producers and directors reach for box office guarantees via Lifetime Achievement star stature in casting as their screenwriters strive to hit the presumed target of the "seniors" who still go to the movies and buy DVDs.
Yet the 7th edition of the Czech That Film festival in Los Angeles from April 14-19, 2018 brings delight and inspiration not only for the "gray panther" demographic but for the younger generations as well. On Tuesday, April 4th locals can take a refreshing dip in the waters of one of these films at Laemmle's Santa Monica Film Center.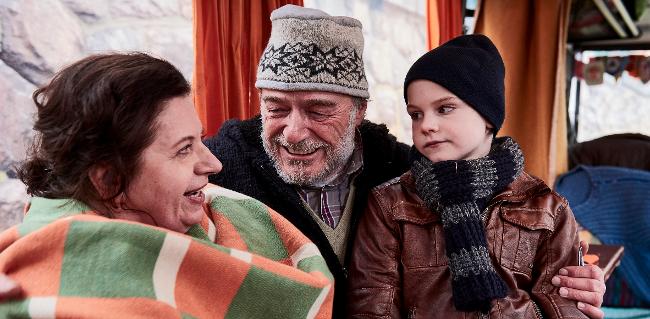 While Ice Mother, both a popular and a critical success, draws from the wide appeal of Slovak actress Zuzana Kronerová and Czech actor Pavel Nový, each of them well known and beloved in the region, (the actress and the director are teaming up for their fifth feature together), it's the first time this filmmaker's theme has centered on the later seasons of life in all their romance and sagacity. Czech auteur Bohdan Sláma studied in the Directors Program at FAMU, the Prague Film School, and has earned a reputation on the festival circuit for writing his own films and developing them with humor, pathos, and wit.
Ever since his debut in 2002 with Wild Bees, his films, including Something Like Happiness and Country Teacher, have vouched for the solidarity of the family as a blessing for humanity – but not necessarily the traditional nuclear family model most of us know (or hardly ever knew). As is to be anticipated in a Sláma production, his latest film, Ice Mother, points to the avarice and greed of contemporary social climbers and die-hard traditionalists alike, but it also offers something new: living proof that grandparents are not so much older as wiser, and more spirited, to boot.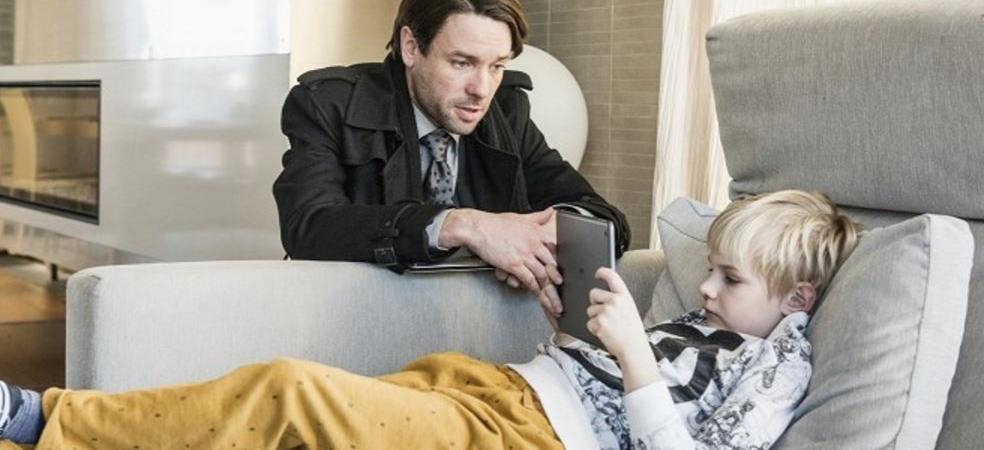 Hana, widowed and 67 years old, makes sure that every Sunday at her house, "soup's on" – homemade and served in a proper tureen along with all the other favorites of the family meal. But her villa of a house is not warm enough with its old-style, coal burning stove, and the gathering isn't quite emotionally warm, either. For one thing, Hana has been tied up each day working as a housekeeper and child care provider at the home of one of her sons, and the other resents it. The bickering of the "boys" is non-stop, dredging up old wounds and spitting out new affronts right and left.
Petr, Hana's elder son, cherishes the treasures of the past and clings to old-school taste and values. He works in a museum and secretly hoards collectible books; therefore, he is in considerable financial debt to both his mother and his younger brother, Ivan. It could be worse. Neurotically materialistic Ivan and his mercilessly yuppie wife are chained to their upscale lifestyle and the technology that both supports it and signifies it. Yet they are somehow surprised that their preteen boy, Ivánek (played with aplomb by Daniel Vízek), content to burrow away with his digital tablets and video games, would throw tennis balls at his grandma much in the way he is bullied at school. But he and Hana are by nature more birds of a feather than they know. Writer-director Sláma touchingly develops their forced relation as an emerging alliance in opposition to the self-centered sparring and negligent parenting of the middle generation. Much as granny-grandchild fondness reflects life in many a culture, this strategy in scripting is nothing new; it's the way Sláma handles the bond that's refreshing.
One day while "babysitting" Ivánek, the ever-to-the-rescue Hana inadvertently runs into a rare opportunity. When she pulls the brawny Broňa out of the Vltava River mid-winter, he invites her to join his group of ice swimmers who may seem crazy to take up such a sport but do it with conviction, camaraderie, and a zest for living.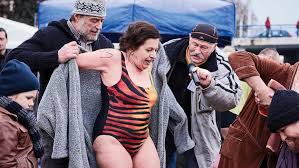 Broňa is the driver who takes them to their various competitions, and he lives on his old bus, with a number of hens. His mates often have to pull him out of the water, and he can be the butt of their jokes, but Broňa knows how to punch back. He's a character kooky enough for fascination in the eyes of Ivánek, and the elderly man gradually pulls the boy out of his shell as he models moral charisma in his quiet non-conformism and obstinacy.
Meanwhile he pulls Hana away from her list of familial duties and her servitude to her selfish sons. He enlists her in a regimen of "cold" exercise and warm-heartedness from all the club members, particularly from himself. Yet Hana's sons see Broňa as a competitor for her generosity. Tender and compelling as Hana's new-found attraction may be, will she decide to change her life upon meeting him?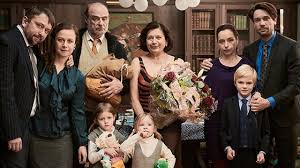 When Broňa passes up the wine and sandwiches she offers at her house and heads straight for the intimacy of her bed, she sighs, "I hardly know you." She's right. Even this popular tower of integrity has a past.
The film's soft silver palette of slushy snow and wintergreen water, its gray clouds mirroring the gray clothes and furnishings of Hana's sons and their wives, contrasts with the vigor of the swimmers and their flame-colored bathing suits. Bohdan Sláma treats us to a luscious wide-screen exploration of the tricky waves in icy rivers. His gracious pacing gives us time to contemplate as Hana does, even early on when, soaked and shivering after rescuing Broňa, a woman swimmer wants to dry her clothes. "No thanks," says Hana, "I have to go to make dinner at my son's." True to Sláma's verve in dialogue, the woman grunts flatly to Hana, "The only thing you have to do is die." The morbid quip draws a whole-hearted chuckle from the audience.
Ice Mother celebrates the 100th birthday this year of the formation of Czechoslovakia.
Ice Mother
Director: Bohdan Sláma; Producer: Pavel Strnad, Petr Oukropec; Screenplay: Bohdan Sláma; Cinematographer: Diviš Marek; Editor: Jan Daňhel; Music: Marek Piaček.
Cast: Zuzana Kronerová, Pavel Nový, Daniel Vízek, Václav Neužil, Tatiana Vilhelmová, Marek Daniel, Petra Špalková, Alena Mihulová, Marie Ludvíková, Luboš Veselý.
Color, HD widescreen, 106 min., Czech with English subtitles.
Czech That Film
April 14-19, 2018
RealD Theater, Beverly Hills and Laemmle's Monica Film Center, Santa Monica
Tickets and Information at www.czechthatfilm.com
Thanks to Tatiana Detlofson of MEDIAPLAN PR, a sponsor of the festival, for an early preview and to Aneta Campbell of the Consulate General of the Czech Republic in Los Angeles for further support.