11-1-17
Ai Weiwei's Human Flow: A Titan of the Arts Takes on the Gods of Wealth and Power
By Diane Sippl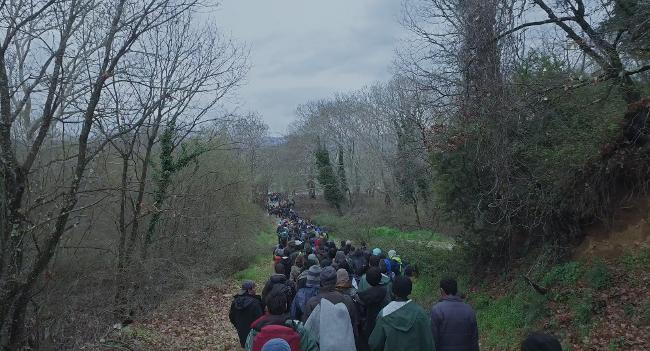 Art is a way to fight for inner freedom. It is also the fighting itself… art is directly related to understanding who we are, what kind of world we live in, and what kind of dreams we have.
Ai Weiwei
Without any aesthetic pretension yet garnering an undercurrent of sober reflection, Ai Weiwei introduces three iconic images in the opening sequence of Human Flow: a bird, a boat, and a lighthouse. The same soft chords establish a parallel cadence for three parallel shots, each of about ten seconds, but each shot using the camera differently. The first, with a stationary lens, gazes upon a white bird, universal symbol of freedom and peace, as it soars across the screen over the ocean. The second is also a wide shot, of the archetypal man-made vessel of transport, a boat, packed with people, that appears near the top right of our screen, heading toward the center; this is a tracking shot, but the boat seems never to advance, and in fact, almost to regress in its movement. The third is a panning shot, from right to left, to what anywhere in the world is "solid as the Rock of Gibraltar," on the lookout for small craft in storms at sea – a gleaming lighthouse.
It feels as though all is happening in slow motion, in silence, but it's not. Or as though all this is hardly happening at all, but it is. The tone is about to shift, because then a helicopter descends from the top right of the frame, a small motor boat speeds along from the opposite direction, and the film cuts to rescuers in the water beside refugees, then to Ai Weiwei on the roadside at the beach, peering through his own handheld camera. Now pandemonium takes over, with extreme close-ups of lively, chaotic movement bursting through the frame with no center of focus, no direction, no control. Reality sets in. Finally the camera rests on Ai Weiwei with one refugee as he gets him hot tea and a spot near the fire, greeting him, "You're a good man. Your name? From where?" Without reservation, the gesture serves as the beginning of a tête-à-tête between two birds of a feather.
It's not as if we've entered the familiar TV news coverage of the world as we know it (or maybe don't care to know it), because Human Flow is far from such a communiqué. We are experiencing a work of art that relies not only on meticulous, expansive research but also on the unique synthesis of wide, sagacious vision and tender, poetic intimacy that the filmmaker has nurtured throughout his life as a refugee himself. How to reconcile the boundless numbers of people in dire flight with the boundaries that are extended and increased at every moment – or, put more acutely, the heedless cynicism of war perpetrators with the life-and-death devotion to escape such devastation?
Epic in the scope and scale of its issues but also in the depth of the heart where it journeys, Human Flow is representative of Ai Weiwei's work even though it is his first feature film. Ever the documentarist, social media provocateur, sculptor, architect, installation artist, inventor of new ways of questioning our relations with each other, here this mastermind moves across 23 countries on 5 continents with 200 crew members to help us personally explore the world's most pressing phenomenon: the displacement of 66 million people (22 million in 2016 alone, over half of which are children) who travel by land and sea, leaving all resources behind but risking further starvation, sickness, violence, rape, and intolerance for their only hope of survival.
Juxtaposing printed statistics with visceral first-hand testimony, sweeping aerial surveys of vast refugee camps with the idiosyncrasies of a smiling or crying face, Ai Weiwei builds a total immersion in the complexity of the issues. There is no story arc, no dramatic suspense; rather the film is structured with the eye of the painter, the words of the poet – indeed many are quoted, across eras and countries, across our screen, to provide depth and ballast to recent headlines that often contrast with the intimate images behind them. Ai Weiwei (along with his young son and wife, even if they are inconspicuous) travels alongside the refugees, through the cold and the night, the rain and mud, at their graves sharing photos of the deceased, on their improvised soccer fields, to their destinations (some, if they're lucky, to a vast airport hangar in Berlin, one of the few remaining "open doors," where they await asylum).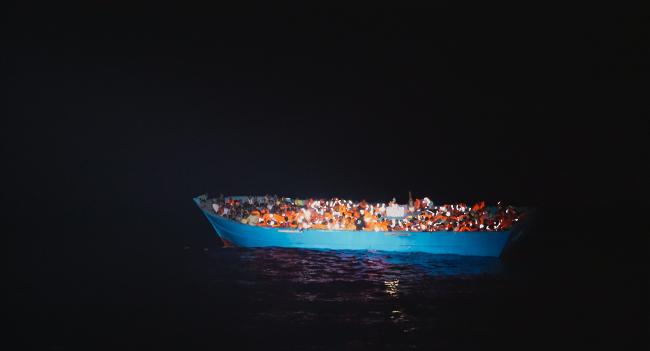 Floating through the discourse is the intermittent appearance of identified "experts" who express multiple points of view on the regional or the global situation, but just as often we see the live-action interaction of the filmmaker with the (other) refugees in acts of assistance and empathy. Perhaps the biggest feat of imagination is the way the director incorporates animals into his travels – a kitten in a dress, a camel in a curious chain, a caged bird, a tiger chasing its tail, a charred, bony ox – not as distractions but as poetic figures that introduce irony, express wonder, draw compassion as they may or may not allude to human exiles. The curious melding of forms that comprises Human Flow mirrors the liquid structure of sensations, doubts, indefinite status, suspended time that make up the daily experience of the refugees. The size of the film's production corresponds to the scale of the emergency of refugees in our one, small, fragile world.
The tone remains stately, contemplative, and philosophical – neither political nor agitational. Yet the camera lingers inquisitively on people who return its gaze directly. For example, an elderly lady, a Rohingya Muslim in Myanmar, stares us down as the camera cuts to dead fish strung up to dry on a line across the screen. We see how she processes these fish as part of her daily work. A man there tells us, "We, too, have feelings. We, too, are human. They give us all sorts of names – boat people, drifters – all because of the tyranny of the military junta that has destroyed our future." He cries. A wide shot opens to people on the beach dwarfed by black storm clouds, even if there's a strip of blue sky beyond them. The shot is beautiful, but on top of it appear the inter-titles:
Neither in the sky nor in mid-ocean nor by entering into mountain clefts nowhere in the world is there a place where one may escape from the results of evil deeds.
The Dhammapada, Buddhist scripture, ca. 3rd century BC
And we are left with only the sound of the waves.
There is nothing abstruse about the film's metaphors. They are concrete signs all the while that, perhaps on an unconscious level, they serve as symbols. And there is nothing experimental about the film's editing. Often the image makes the conventional shift from an establishing shot, to a medium shot, to a traveling shot following the refugees walking, as if among them, and then to a face-to-face talk with one of them, all within the context of their own spaces. They walk in crowds until they meet the endless coils of a barbed wire fence. They have reached the Idomeni camp of tents by the railroad tracks; the Greek-Macedonian border is closed, and then the Slovenian, the Croatian, and the Serbian borders as well. Hungary has shut down transportation and set up heavily guarded, razor-wired borders. These Syrians, Iraqis, and Afghans are trapped, and the screen's inter-titles tell us that where a short time ago there were 11 borders, walls, and fences, now there are 70.
I am that sea and have come into a bowl.
Baba Tahir, Persian poet, ca. 11th century
Cut to footage from a conference Ai Weiwei is attending where an "expert" explains that the world's largest Syrian refugee camp is so big it has its own economy. If 75,000 Syrians are trapped near Jordan's border in a vast desert of tent homes, that number would be comparable to 60 million entering the EU or the US. The Princess of Jordan (where there have also been 2 million Palestinian refugees since the events in 1948 and 1967) states that the average stay of a refugee is 25 years.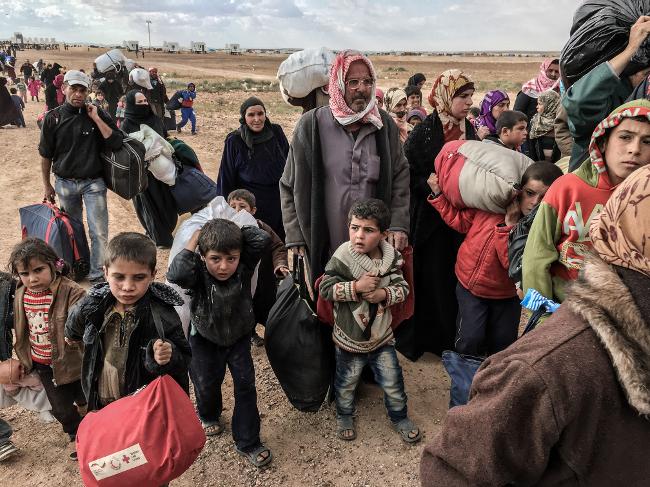 Three Afghans including a little girl with three balloons face the camera and proclaim: "We can't go back. No one leaves their country lightly. You only put yourself through the hardship of fleeing in order to find safety. To find peace somewhere." A man who escaped from Iraq to Turkey talks with his back to the camera. His smugglers, with guns, raped the women in the woods. He crossed the water and made it to Greece where neither the police nor the UN representatives helped.
For we are like rail-tracks Never meeting And if we incline towards each other The wagons of the heart will overturn.
Sherko Bekas, Kurdish poet (1940-2013)
The above verse appears on a blackened screen in a night storm with only the railway tracks gleaming gold at the station. Then, in the light, Ai Weiwei walks along the tracks shooting activities with his cell phone – including an invented mini phone-charging center, very popular among families in which only a cell call can express that someone is dead or alive.
If other times we see the filmmaker strive to amuse children, bargain for food, or grill kebabs, after an ordeal he has witnessed in Kurdish Turkey we see his long hair get buzzed off. The Turkish military launched a massive crackdown in 2015 displacing 500,000 Kurds. A handheld camera becomes our point of view through the ash and rubble of a home that took 25 years to build for future generations. A life-size hole through a wall is framed by many photos of bridal dresses taped there before the attack. Including a once cozy living room chair and a stove left intact, the picture is quite eerie. It's followed by footage of an assault by Turkish police – tear gas, grenades, gunfire, helicopters chasing wounded, fleeing Kurds from their tents as they carry their children in their arms and their elderly by four limbs. This is dramatic, but what is not seen is even more harrowing.
With a nearly black screen, we hear a man's voice pleading with another man in the dark of a refugee tent, who is weeping: "I don't want to see you cry. If you want to go back to Turkey, we'll go back to Turkey tomorrow morning. If you want to go to Germany, we'll go to Germany tomorrow. Are you not my older brother? I'll follow you wherever you go, even to hell… Just tell me what you want, and I shall do it with all my heart." And then on a screen with a blue night, with white tents aglow from the inside, but others in the foreground, dark and dormant:
The seasons are not four. A week is not seven days. A year is more than it is, and less.
Adonis, Syrian poet (born 1930)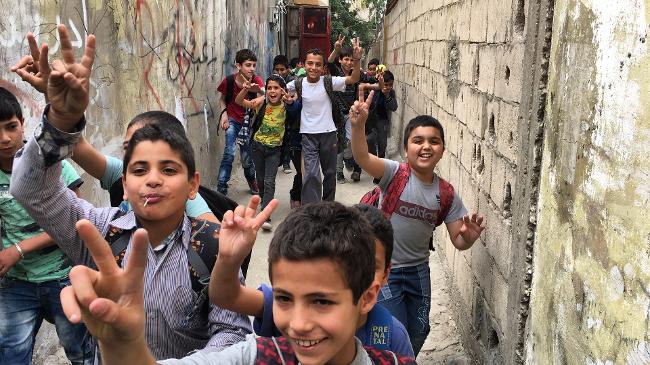 Not all the images are grim. Ai Weiwei also takes us to Lebanon, a country that hosts 2 million refugees from Syria and Palestine, a sum that makes up one-third of Lebanon's total population. In live-action footage, we see a crowd of adolescent boys charge the camera yelping for joy and waving the peace sign with their hands. They are at Unicef Lebanon, a refugee camp, where Tanya Chapuisat, a representative, tells us 100,000 people live within an area of one square kilometer, making it one of the most populated areas in the world. Not only that, but in the 60-year history of the camp, generations of children have grown up within its walls. Half of Syrian refugee children do not attend school.
Maha Yahya, Acting Director of the Carnegie Middle East Center, tells us that if children grow up without hope, prospects, or a way to make something of their lives, they can fall prey to exploitation, including radicalization. "Many of them are traumatized by unimaginable losses at home. They're angry, frustrated, they want to make a difference in their lives… they've seen their homes demolished, their families killed, and there are children who themselves want to go fight." (We see blue jeans caught on the electric wires through a narrow opening at the center of a dark frame.) "They think it is a way they can get revenge for the horrors they lived through." The camera shows us an overflowing dumpster in an urban slum of a neighborhood, then masks the frame; one small window emits a golden glow in a home at the end of the tunnel.
You killed me… and I forgot, like you, to die.
Mahmoud Darwish, Palestinian poet (1941-2008)
Ai Weiwei also takes us to Kenya, and an inter-title tells us, "The earliest migration took place 140,000 years ago, out of Africa. Still we pretend not to understand migration." Some 5,000 refugees drowned in 2016 trying to cross the Mediterranean from Africa.
We see how Afghans have been sent back from Pakistan even though they've been away from Afghanistan for 30 years all the while the British, Americans, Russians, and local insurgents invaded and destroyed their land. Displaced, disconnected, and dislocated, now they are as landless as the 300,000 Iraqis and Kurds burned off their home soil when ISIS (formed after the 2003 U.S. invasion of Iraq) set fire to the oil fields as it retreated from Mosul in 2014.
The secret of our tragedy: Our shouts are louder than our voices, Our swords are longer than we are.
Nizar Qabbani, Syrian poet (1923-1998)
Last year 34,000 people fled every day from around the world to escape famine, poverty, ethnic cleansing, religious persecution, and plain-out war.
The film caps its journey with a rhyming couplet of montages, first with a fixed camera's aerial views of ten distinct camps, and then with a camera traveling through a number of camps just above eye-level.
For the final sequence the camera pulls back from a colossal mass of life vests, inner tubes, water wings – vivid, individual oranges, blues, and blacks that distinguish each one – to the fading colors and shapes as the distance increases but the life support is still there. The staggering, indelible shot shows us the variety that flows into a unity in the long view.
Human Flow
Director: Ai Weiwei; Producers: Ai Weiwei, Chin-chin Yap, Heino Deckert; Screenplay: Chin-chin Yap, Tim Finch, Boris Cheshirkov; Cinematographers: Ai Weiwei, Murat Bay, Christopher Doyle, Lv Hengzhong, Wenhai Huang, Konstantinos Koukoulios, Renaat Lambeets, Dongxu Li, Johannes Waitermann, Ma Yan, Zanbo Zhang, Xie Zhenwei; Editor: Niels Pagh Andersen; Music: Karsten Fundal.
With: Ai Weiwei, Muhammad Hassan, Boris Cheshirkov, Ustaz Rafik, Peter Bouckaert, Filippo Grandi, Princess Dana Firas, Hanan Ashrawi, Abdullah Mahmoud, Cem Terzi, Tanya Chapuisat, Maha Yahya, Walid Jumblatt, Hagai El-Ad, Amir Khalil, Wella Kouyou, Marin Din Kajdom, Marin Din Kajdomcaj, Maya Ameratunga, Ahmed Shuja, Pascal C. Thirion, Maria Kipp, Ioannis Mouzalas, Gabriela Soraya Vázquez, Kemal Kirisci, Mohammad Fares.
Color, 140 min. In English, Arabic, Farsi, French, German, Greek, Hungarian, Kurdish, Rohingya, Spanish, Turkish, Pashtun with English subtitles.