Holy Emy: Araceli Lemos Wins Double Awards at the 22nd LAGFF
By Diane Sippl
Araceli Lemos, front center, holding two Orpheus Awards
The Closing Night of the 2022 Los Angeles Greek Film Festival was no surprise—anyone who could make it to the Silver Screen at Pacific Design Center to view the programmed film could recognize "on sight" the awards coming, and it's worth quoting the juries as they bestowed the prizes. The Orpheus Award for Best Feature Fiction Film went to Holy Emy:
"An intimate character study set in the overlooked immigrant communities in Athens, this striking, assured feature debut immerses us in the inner world of a young woman struggling to find her place against the expectations of her own community and the stark realities facing those living on the margins. It's a journey rarely documented on screen, filled with mystery and deeply felt emotion. We are thrilled to recognize HOLY EMY with Best Film."
Not only that, but the Orpheus Award for Best Director went to Araceli Lemos for Holy Emy, the jury noting:
"This filmmaker stood out to us immediately as an exciting new voice. She creates a beguiling world that skillfully weaves mysticism and genre shadings into a finely-drawn, grounded character study. It's remarkably nuanced work in a first feature, and we believe that Araceli Lemos is a bold new voice in independent cinema."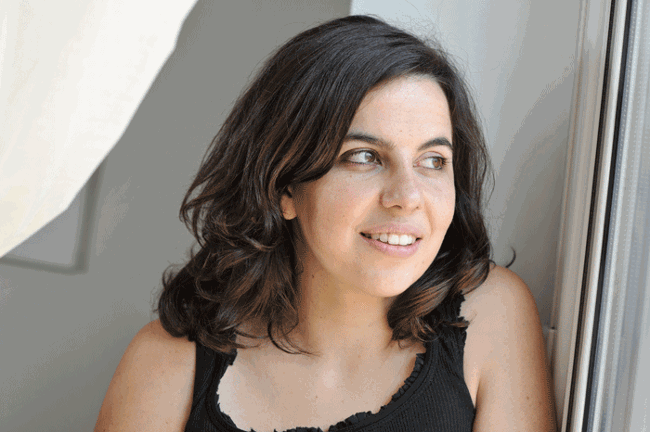 Writer-Director-Editor Araceli Lemos
Araceli Lemos is a director, writer and editor born in Athens, Greece and currently based in Los Angeles. With an M.F.A. in Film Directing from California Institute of the Arts as a Fulbright Scholar and a B.A. in Economic Science, she made Holy Emy as her debut feature film, and it premiered in 2021 at the International Film Festival Locarno.
Emy is a teenage Filipina in Greece today with a strange tendency to shed tears of blood. Ever since her mother, a healer, left Athens to return to the Philippines, Emy has been seeking to understand her own condition and to discover any links to her mother's powers. Emy bonds tightly with her older sister, Teresa, who is busy forging her own relationship with her boyfriend, a Greek sailor, especially since she is secretly pregnant with his child. Teresa takes Emy to the insulated Filipino Charismatic Catholic Church, but Emy can't bring herself to partake in the rituals there. Instead she defiantly calls on Mrs. Christina, an elderly Greek woman who runs an alternative healing center where the sisters' mother used to work. There Emy tries practicing the gift (or is it a curse?) that she may have inherited from her mother.
Holy Emy opens with a close-up on the naked female body dissolving into waves and sand, possibly evoking the sisters' receding roots in a faraway island, or the fluidity and metamorphic tendencies of their bodies and identities, their affiliations and their feelings. The dissolve reappears in the film as an editing device, as if to counter, in a lyrical way, the pervasive close-ups of the characters' faces and the documentary-like use of the hand-held camera, which nonetheless invests un-natural situations with an uncanny effect, so that we sense them as real. And speaking of "real," another healer at the home of Mrs. Christina says that neither God nor the Devil are real—only we are real. Holy Emy quietly, if shockingly, unfurls significant questions about faith and mystery as they reside in organized religion and unorthodox spirituality alike; the film also invites us to ponder the enigmas of the female body, as a source of strength, a force of change, and as a fragile member of a community and a culture.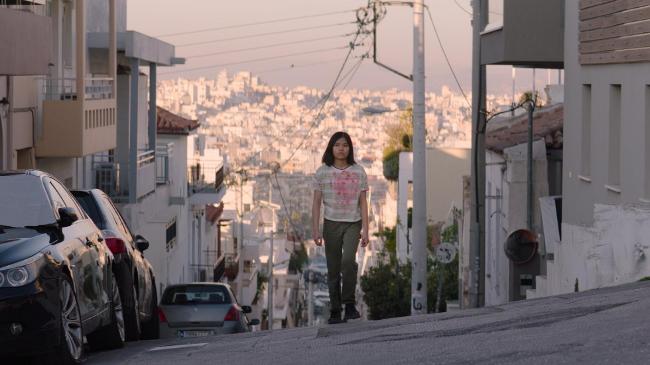 KINOCaviar This is your feature film debut, and a very strong one revealing not just great talent but a highly original voice. Your film language is somewhat unique, because while strange occurrences transpire, we don't perceive them as special effects, and the camera style lets us feel that we're participating in realism. This combination of supernatural event and naturalistic image is more intriguing—from upsetting to wondrous—than commercial DGI-laden films. Would you like to comment on your stylistic choices, your mode of expression?
Araceli Lemos Emy can see and feel more than the people surrounding her can. The film's world is Emy's reality and her heightened sense of reality, so that dictated our film's visual language. And it gave us freedom, while staying grounded in the rich reality of the particular world, to also be expressive and poetic. It was a challenge to make this tone feel organic and not stylized or forced, and it required a lot of research and imagination from our creative team, to whom I am grateful for the love they gave to the film.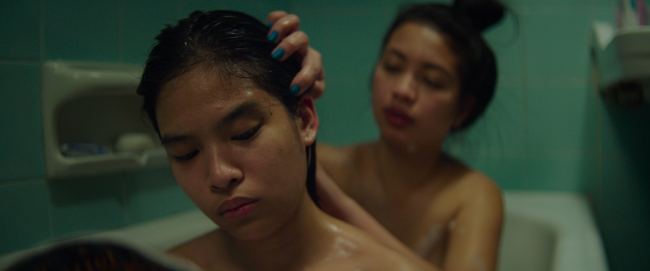 Abigael Loma as Emy, left, and Hasmine Kilip as Teresa, right
KC Some critics see Holy Emy as a social drama/horror film in the vein of David Cronenberg; it also recalls Guatemala's political horror film, La Llorona, by Jayro Bustamante. Others have pegged Holy Emy as a product of Greek Weird Cinema and Magical Realism. I felt that while we could be in the lost but vibrant world of Macondo in a García Márquez novel, where ancient mystical practices feel excitingly real, we could also be in one of Roman Polanski's films (such as Rosemary's Baby) or Frida Kahlo's paintings (for one example, "The Two Fridas"). Kahlo always rejected the term "surreal" when Europe's art critics slapped it on her works, claiming that she painted her "reality." The psychological horror of Holy Emy plays as real—for her and for us. Did you always have your uniquely eerie tone in mind for your film? Why?
AL Thank you for offering these beautiful associations. I feel that Kahlo's response to the critics resonates with my process of creation of the imagery of Holy Emy. We find Emy in a moment where her whole world is shuttered. Emy doesn't yet know who she is, what she is capable of, who she can rely on. The eeriness of the film is the expression of this agony in this uncertain time.
KC What accounts for the practices of Filipino tradition in Greece as you present them—ancient beliefs and rituals indigenous to the community's homeland, or cultural syncretism (for example, between Catholicism and earlier faith systems in the Philippines)? I think curanderismo is alive and well in many world cultures today. Is Emy's "talent" related to it, or not?
AL I will leave this to the audience to interpret. The film speaks about the rich traditions and rituals of healing as they have survived, or not, and morphed in western big cities. Emy experiences bodily what has been carried down to her over generations, but that makes her feel disconnected from the here and now.
KC Personally, I found your film very moving because I saw Emy's tears of blood as tears of compassion—for those who are downtrodden not only due to physical ailments but also due to gender, economic exploitation, social marginalization, and cultural difference (including language and religion). Immigrants often experience all of these. Did you set out from the beginning to address all of these problems in your film?
AL To me Emy's tears are not tears of compassion. I see Emy's tears as something that she doesn't yet understand, a part of her that makes her different. Her tears are more raw than tears of compassion, more involuntary; it's the way her body works that is scary to others because her tears are bizarre.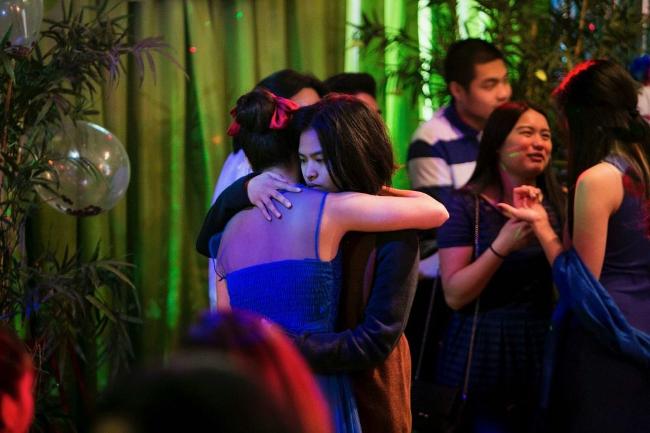 KC You're Greek. How did you decide on the Filipino community as your focus?
AL I have lived in the US many years as an immigrant, and I have experienced this disconnect that immigrants experience, both from their country of origin and their country of residence. In Emy the disconnect is expressed viscerally, since she carries within her an inherited gift that grows with her in such a different cultural context than that of her mother.
KC If Emy's tears of blood are symbolic of extreme compassion, she is a role model for living in today's world, shocking as she is to those around her. Yet in a way, she becomes a scapegoat for all their suspicions, since they want to baptize the "evil" out of her, but we see that they are the ones projecting a supernatural force of evil on her due to their own fear of difference. How far do you think empathy can go in changing our lives? Can it even help instill self-respect when that element of human dignity is lacking (as it is in Emy and Teresa at times)?
AL Empathy is to try to relate to another person's experience, or imagine what it is to be them, and that is what cinema does. Your question makes me think what a gift cinema is. Through cinema we get to have this intimate relationship with the characters that are portrayed while in daily life it is so difficult to get this level of closeness. This way there is no good or evil, things are complex and full of nuance. Actually, that was the reason why I wanted to make films, because it was a way to get to know people, it was an excuse to talk to strangers and ask them uncomfortable, personal, questions that may lead them to feel vulnerable. Making a film is beginning a journey towards other people. It is an excuse to speak intimately with people, either during the research or maybe in your imagination, with your characters. My interest in filmmaking—at least, originally—was more to get a glimpse of other people's lives and souls and less to express myself. Of course, along the way I discovered that through other people, I discovered myself.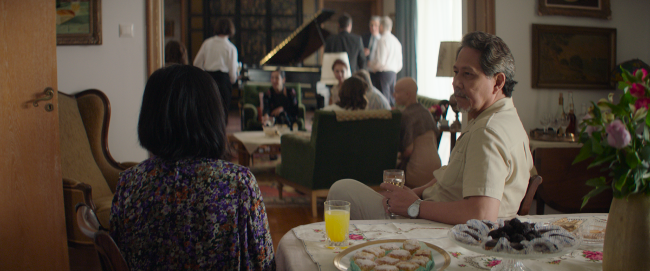 KC Late in the film we hear that Emy's mother was sent back to the Philippines because she was diagnosed as manic depressive. Should we believe her diagnosis, or is it a stigma she suffered because she was culturally "different"? Does Emy understand the illness? Does she believe the diagnosis? Is she afraid of it? Is she proud of her mother?
AL I will leave this to the audience to interpret because I don't want to dictate the reading of the film. It's on purpose that the film can be read differently depending on where the viewers come from and the references and experiences they carry.
KC The visceral bonding between Emy and Teresa is so beautifully palpable. Do you see the symbiotic relation between these two sisters as typical? Nurturing? Threatening? Supportive? Counter-productive?
AL I think their bond is all of the above—at the same time nurturing and suffocating. They experience deep love that stops them from connecting with others, since, Emy, especially, finds in Teresa everything she needs. Teresa is her sister, her mom, her friend. They sleep in the same bed, take care of one another—why would she want this to end? That is why I find their process of growing up and Teresa's wanting to form a relationship outside of theirs to be so heartbreaking. Teresa has to leave Emy behind and Emy has to learn to live without Teresa.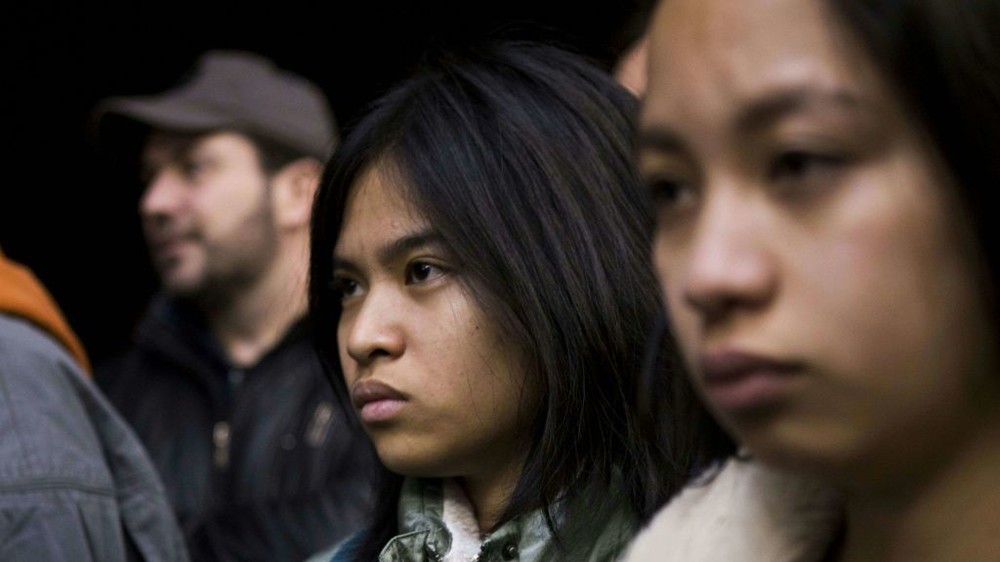 KC How did you go about casting your film? The two female leads—sisters Emy and Teresa—are superb. Did you direct them any differently than you did the others, many who appear to be lay actors playing themselves?
AL I discovered Abigael Loma (Emy) at the Filipino School in Greece, and she had never been on a film set before this film. I saw Hasmin Killip (Teresa) in a beautiful short film, Junilyn Has. The cast is a mix of professional actors and non-actors. I approached each person differently, and more important, each relationship differently, because I wanted to make people comfortable with each other. So I worked on creating relationships and making sure that the chemistries were right during the casting, regardless of whether someone had acting experience or not. The challenge is always to make people feel as if their characters occupy the same world.
KC The way the camera inhabits the district of Piraeus Port in Athens is quite phenomenal—from the fish markets, to the small local living quarters of the sisters, to the church and congregational rooms of the Filipino Charismatic Catholic Church. How did you choose this location?
AL I come from a family that has nautical background, so I grew up listening to stories about ships, sailors, and faraway ports. That created a mythology in my imagination that, I believe, inspired me to set the story there. Also, the port is what connected the two communities, the Greek and the Filipino. Greece has a big shipping industry and the Filipinos are renowned sailors. Greeks wanted Filipinos to work on their ships so they granted a lot of work visas to them to attract them. That brought many Filipino women to Greece, also—the sailors' families, who traditionally worked as live-in helpers.
Holy Emy
Producers:
Konstantinos Vassilaros,
Mathieu Bompoint, Giulia Caruso, Ki Jin Kim
; Director: Araceli Lemos; Screenwriters:
Araceli Lemos, Giulia Caruso; Cinematography: Ki Jin Kim; Editor:
Raphaëlle Martin-Hölger, Araceli Lemos; Sound Designer:
Persefoni Miliou;
Production Designer:
Callie Andreadis; Costume Designer:
Eva Goulakou; Original Music:
OISEAUX-TEMPÊTE Frédéric D. Oberland, Paul Régimbeau, Stéphane Pigneulneul.
Cast:
Abigael Loma,
Hasmine Kilip,
Irini Igglesi,
Michalis Syriopoulos,
Angeli Bayani,
Julio Katsis,
Elsa Lekakou,
Manuel Ku Aquino.
111 min., Color, Wide Screen. In Filipino, English, and Greek with English subtitles.