5-11-14
The Herb Alpert Award in the Arts: Two Decades of Whole-Hearted Support
By Diane Sippl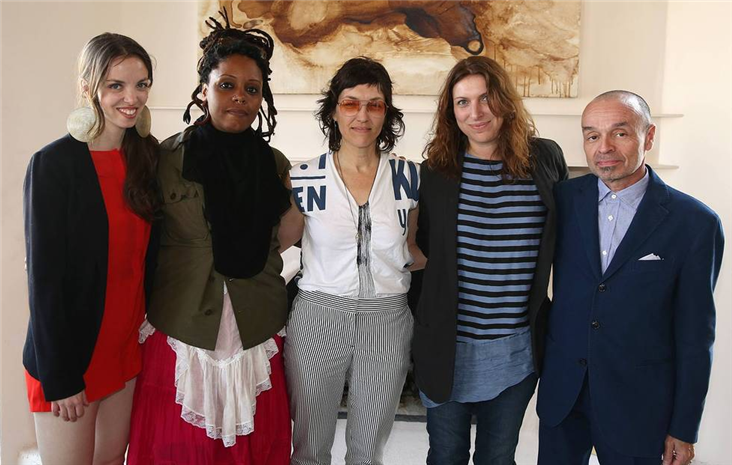 Award-winners (left to right) Michelle Dorrance, Dance; Matana Roberts, Music; Deborah Stratman, Film/Video; Annie Dorsen, Theatre; and Daniel Joseph Martinez, Visual Arts
"Prizes bestowed on artists are not measurable; they are unfathomable."
Call it a birthday of sorts, a 20th anniversary of uniquely generous financial endowments for the arts, but no one seemed to be consumed with that idea so much as with the birth of artistic projects themselves. Oh, there was rejoicing, all right, in all the right places. And there was music in the air — in the form of snapping fingers and clicking shoes and logarithms read from a laptop — springing from the works of five artists being awarded $75,000 each for their "past performance and future promise as experimental artists."
On May 9, 2014 in Santa Monica, the Herb Alpert Foundation and its juries and guests had plenty to celebrate — the most recent five (in fact, all 100 recipients thus far) of the distinguished grant, the Herb Alpert Award in the Arts, in five fields: Visual Arts, Music, Dance, Theatre, and Film/Video. A residency at California Institute of the Arts is also part of the prize, and CalArts has administered the awards from the beginning, seeing them spawn two Pulitzer Prize winners, four MacArthur fellows, and 22 Guggenheim fellows down the line.
This year's awardees were post-conceptual visual artist Daniel Joseph Martinez, choreographer and virtuoso tap dancer Michelle Dorrance, theatre artist Annie Dorsen, composer and avant-garde saxophonist Matana Roberts, and experimental documentary filmmaker Deborah Stratman, each drawing from other arts and developing new forms and techniques as well.
"These people go for the edge."
As the guests gathered, I floated among the artists and found Daniel Martinez open to a few questions. "As an artist," I asked him, "are you often thinking about funding — how to produce your work, how to survive? Is it on your mind much?" His response was amazingly ample:

"That's a very contemporary question. First of all, I didn't choose to become an artist. I was born and I was an artist; everything else has always been secondary to art, literature, and philosophy.
I studied at CalArts in the era of Michael Asher and John Baldessari, the grandfathers of conceptualism. No one ever believed you'd make money or someone would look at what you did. The motivation had to do with a passion to express your self.
Herb Alpert allows me to have a space — a space in my mind — and resources I can utilize for projects I'd never be able to pursue. Making art is expensive.
This award is acknowledgement. I've been working for 35 years. This says, 'Hey, Daniel, we recognize you're making art, even when it's non-conventional or tough or not the best.
I'm working on a trilogy of animatronic sculptures and I haven't been able to make the third one yet. They're like robots, doppelgangers of me. The first one was drawn from the work of Mishima, and the second from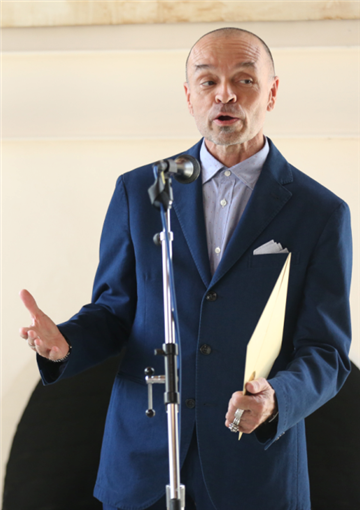 Daniel Joseph Martinez, Herb Alpert Award for Visual Arts

Moby-Dick and Blade Runner. The third will be inspired by Goya and the Inquisition.
For example, Melville led me to ask why non-Western names appear in Moby-Dick. With names like Ishmael — which appears in Judaism, Christianity, and Islam — Moby-Dick was critiquing not just American imperialism but also the logical extension of it. My piece, Call Me Ishmael, is a point of departure.
The difference between this award and the MacArthur award is that these juries take risks. I'm not your normal cup of tea, your most palatable artist. These people go for the edge."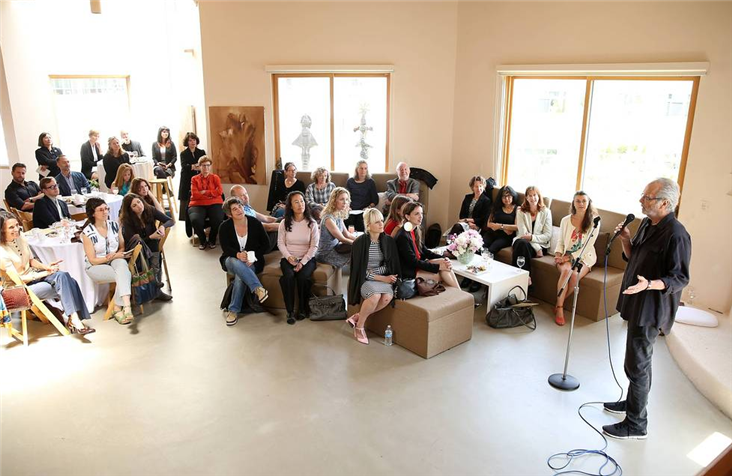 Herb Alpert addressing the award-winners, panelists, and guests

"This is truly the gift that keeps on giving."
Irene Borger, Director of the Herb Alpert Award in the Arts for 20 years now, opened the event with a few remarks for context:
"The Alperts started their awards in the '80s when the NEA ceased to support individual artists. The awards are two-pronged: one aspect has to do with the arts; another has to do with compassion and well being, programs that teach tolerance and diversity of people and cultures.
We chose three core areas. The first is arts education, because we believe that arts are essential for all young people in growing up. The second is jazz, in order to nurture not only the next generation of jazz artists but also future audiences. The third is support for professional artists, which we see as central to a civil society. And this is where the Herb Alpert Awards fit in place."
Next Stephan Koplowitz, Dean of Dance at CalArts, who won a Herb Alpert Award in 2004, told the crowd,
"This is truly the gift that keeps on giving. There are no strings attached. It honors us as artists completely and utterly. It gave me a moment to think about who I was.
In New York I taught K-12 students for 23 years, and I wasn't happy as our educational system became narrow and more monetized. When I took up residency at CalArts, I found out who I was, via both the students and the faculty.
You have to be a leader when you win this, because there are people who are ready and hungry for what's possible. This award meant time and money for me, and there's no institution in the world that honors art the way that Herb and Lani do."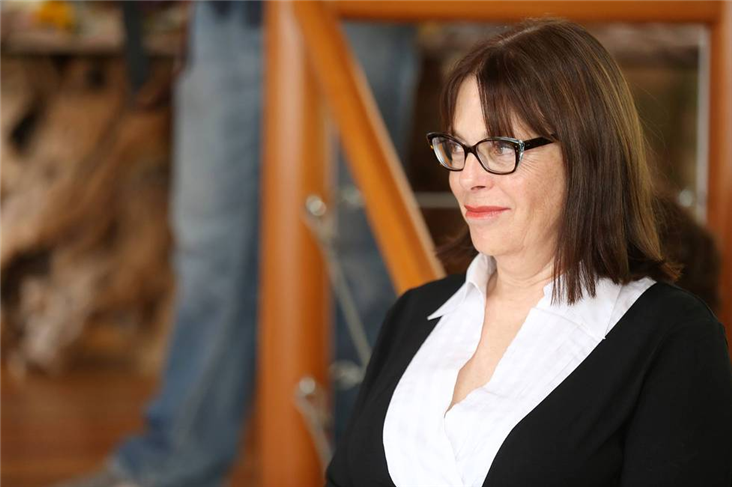 Irene Borger, Director of the Herb Alpert Award in the Arts

Reciprocity and consequence in art are what make a difference in a culture.
Irene Borger added,
"Harmony is a good word — and impact. Prizes bestowed on artists are not measurable; they are unfathomable. People who've gotten Alperts have gone on to get Tony Awards, Grammys, MacArthurs, Pulitzers… and they keep on working. The repercussions might at first be a trip to Japan, a new pair of eyeglasses… and they go on from there."
She introduced the three curators of the Visual Arts Award who presented it to Daniel Joseph Martinez by reminding the guests that at one of his openings at the Whitney Museum, in 1973, he announced his presence by first passing out buttons to the attendees that read, "I can't imagine wanting to be white," a conceptual gesture that cut through the entire already highly political exhibition.
Daniel Joseph Martinez stepped up to the microphone and joked, "It's the Oscar moment that artists can have! How to thank Herb Alpert for allowing for the autonomy and freedom of thought that permits uninhibited production for 100 artists in 20 years now?
Reciprocity and consequence in art are what make a difference in a culture. The moment Socrates got an idea, they killed him. Yet we must demand a consequence for the work we manifest in order to be on the cutting edge. It's a future we can't predict, but it's the most powerful place we can operate from.
Herb and Lani have taken a gamble and gone for the long odds, showing that maybe the artist has something that needs to be said."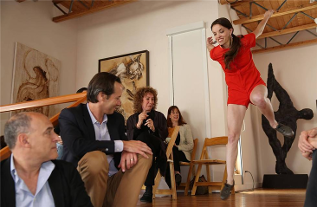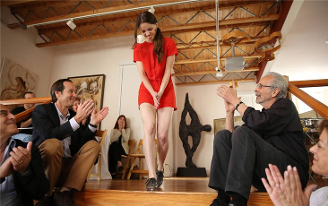 Michelle Dorrance, Herb Alpert Award for Dance, with onlookers Lani Hall Alpert (left center) and Herb Alpert (right)

"I have to call upon my ancestors…"
Next up was the Dance Award, and a novel presentation began with finger-snapping: "When you watch this woman dance, it's really hard not to start a beat," and the crowd joined in to accompany the recitation of a rhyme written expressly in honor of Michelle Dorrance.
But the biggest surprise was yet to come as the prize-winner kicked off her high-heeled boots that capped her long dancer's legs in a short red jumpsuit and donned a pair of oxfords with taps, then hopped up the steps from the "sunken living room" of the hall and let her huge, gold medallion earrings fly with her feet and arms, as she performed her art for all to enjoy.
Out of breath at the microphone, she sighed in her unimaginably husky voice and southern drawl, "I have to call upon my ancestors who underwent so much oppression as they created this form of expression.
Here, those who practice an art form are letting us know who we are in the world — so we can recognize the difference between sane and insane! I'm truly grateful to these saviors of humanity, and I'll do my best to be worthy.
"He paints and sculpts in his studio every morning."
At this point some 80 guests settled into a lunch of seasonal California cuisine as healthy as it was tasty and Herb Alpert joined me at my table. As I marveled the dozen or so paintings mounted on the walls of the rustically elegant, irregularly shaped gathering space with the airy feeling of a studio but the cozy charm of a living room, I asked if they were created by as many artists. "Oh, they're all mine," he humbly smiled. Earlier a fellow musician there had told me that most were painted with coffee. So Herb explained, "Yes, with strong coffee for the darker spots, weaker for the more 'washed'-looking areas, and coffee grounds applied for texture in some. You know, others have used vegetables."
But it didn't stop there. At least four sculptures graced the premises as well, also created by Herb Alpert, as were upwards of half a dozen 18-foot totems that are installed in Santa Monica, New York, and Malibu, the works of this long-time prolific visual artist whose wife, singer Lani Hall Alpert, informed me, "He paints and sculpts in his studio every morning." So the quiet, modest, world-renowned musician and independent-label recording entrepreneur beside me was not only a generous philanthropist and a gracious host but a practicing visual artist as well.
"…there was a trumpet on a table and I picked it up…"
In this excitement, the host himself was saluted with acknowledgement from Eric Garcetti, the Mayor of Los Angeles:
"Other than breathing, food, and sex, what's more important than art? Okay — maybe politics! Enough of that… This award goes to Herb Alpert from the City of Los Angeles."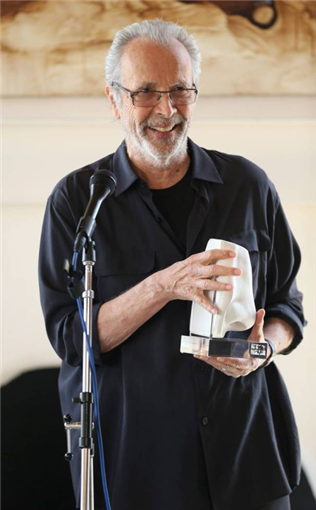 Herb Alpert receiving the "Nose Prize"

"Now sex can be creative…," joked Herb Alpert. "This has been a love project for me, and not about money. When I was eight I was fortunate enough to go to an arts grammar school and there was a trumpet on a table and I picked it up, and since then I've thought, 'I'm gonna give something back'.
One common thread runs through every art work, and that's honesty — and if you're just doing it 'cause it's what to do, that's it!" He mentioned his old friends among the world's renowned jazz musicians, who persisted in doing what they did, non-stop. "Everyone always remarked how Zoot Sims drank, and Zoot came back with, 'Well, when I'm drunk, I practice!'"
Recalling an interaction with a little boy at the sketch board, Herb Alpert repeated the dialogue:
"What are you doing there?"
"I'm drawing a picture of God."
"Well, we don't really know what God looks like."
"You will in a minute!" the child gleamed with confidence.
"Boy, we really beat it out of them…" Herb Alpert concluded. But then he was promptly presented with

another award of his own, the "Nose Prize for Honorary Intuition" for sniffing out honest work in the arts. "This is Michelangelo," he was told with the unveiling of a huge, white sculpted nose, "so put it on a shelf next to your Grammys."
"I'll put it somewhere," he nodded graciously.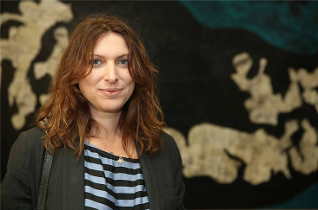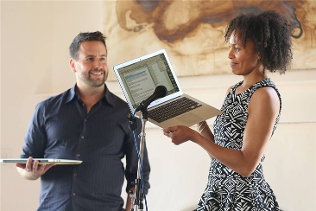 Annie Goldstein (left) and presenters (right) for the Herb Alpert Award for Theatre

"This award is a moment to take a chance…"
Annie Goldstein was next introduced to receive her Herb Alpert Award for Theatre:
"Risk, imagination, fearlessness, curiosity — she's one of the most inventive of theatre artists, who treats her work as research to look for solutions for problems," claimed the jury. "While she started on Broadway and maintained her artistic integrity throughout, at some point she had to make a decision as to whether she'd continue commercially or not, and maybe become transgressive.
In seeing her work, we're constantly asking questions about the possibilities of the art form. Memory, intuition, Confucius… She's a mischievous personality in creating algorithms showing her imagination: she uses mock-up chains to generate language."
To demonstrate, one jury panelist used a laptop to read back an algorithm for another panelist's presentation speech that we'd just heard. And to the astonished laughter in the crowd, Annie Goldstein responded, "This award is a moment to take a chance, a recuperation of all my skills and commitments, to carry on…"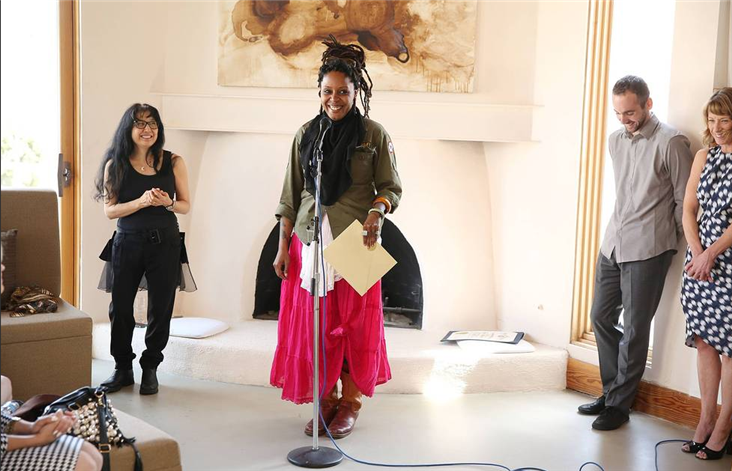 Matana Roberts (center), Herb Alpert Award for Music

"You know, art is war!"
The presenter from the Music jury cautioned those attending, "If you're interested in more of the same, maybe this music is not for you. But if you're interested in the other, then listen to as much as you can of her music. I like to experience art and be not okay afterward — to have to just stop, and say, 'What just happened?' And then it's all right," he glowed, as he introduced Matana Roberts.
She got up-close-and-personal with the guests. "In New York City I was packing for this trip at the last minute, and the power went out, but I brought my great frock with me anyway, and as I tried to iron it for today (I'm an artist, and I don't use an iron), I burned a big hole in it. So I'm here in my Army jacket. And as I entered, Herb asked me, 'Where's the war?' And I said, 'You know, art is war!'
I'm fascinated by place, and history, to say my name," Matana Roberts continued. "And I don't think of an audience but of witness-participants in my goal of improvisation. It's mutual — the codes, the signals, even the silences. Through it all, I don't realize it's happening. To say my name, with so much honor and love here. I stand on the backs of so many people for this today. To whom much has been given, much is expected, and I say 'thank you'."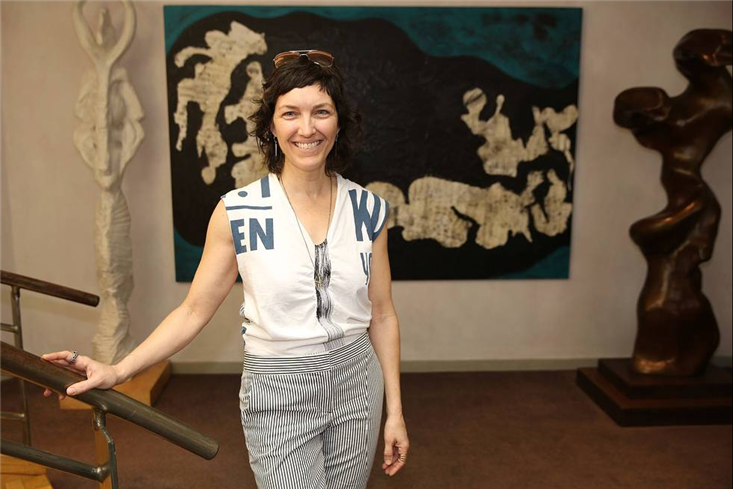 Deborah Stratman, Herb Alpert Award for Film/Video

"Now some of us can be more robust…"
Ann Bray spoke for the panel for the Film and Video Award:
"We artists work all the time with not enough money and resources — all the time. This day is a day I want to put in a bottle, to let out its smell from time to time — it wins the 'Nose Prize'!
Art is about tensions. Between personal and public, sound and image, there are gaps, for us to insert ourselves. This allows a freedom of thinking, a collective process that defines meaning."
Debroah Stratman, an aural-visual poet/essayist who has worked in locations as diverse as Malawi, the Yukon, the Mojave Desert, and the south side of Chicago and last summer enjoyed a comprehensive retrospective of her work at MoMA, told me earlier,
"I can work with sound, with the people in front of the camera, with the sculpture of the mise-en-scène, with orchestrating them all — I come from a physics background."
She received her award by saying, "Some years, decades, I'm working on projects that torment me to find a shape, and I never get the right form to ask the right questions of justice in this world. It takes brute force to keep me going.
At other times it's easy, but still, some projects in the closet never got traction, or it wasn't the right time, or they weren't good enough. Some are fragile failures. But this award allows for the whole trajectory. Now some of us can be more robust, work with more chutzpah, with $75 grand here!
It's how I'll navigate my own identity and raise lucid, idiosyncratic questions about place and where I find myself. Thanks for recognizing this one path and the 99 others."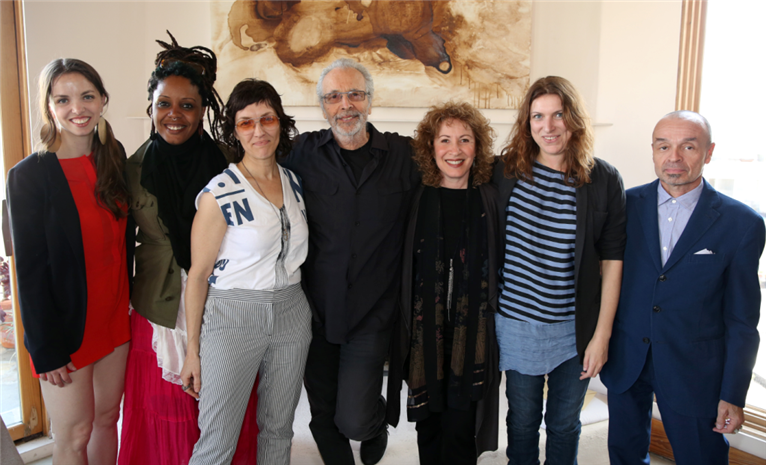 Congratulations to all for contributing to, nourishing, and creating the arts!

All photos courtesy of AP