9-16-16
The Intimate Spaces of Fatima: Love in Plain Sight
By Diane Sippl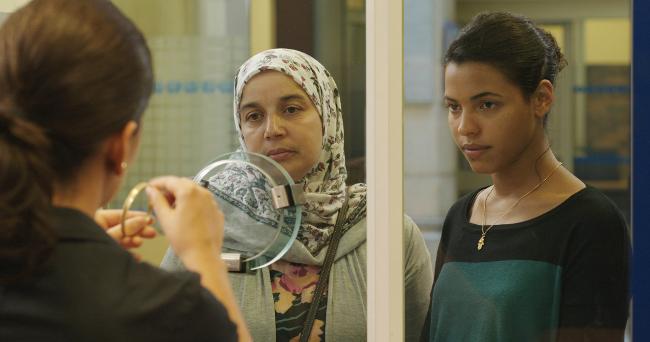 Wherever a parent gets hurt, there is an angry child.
– Fatima Elayoubi, Prayer to the Moon
… you must strip the writing, the directing, and the performance of everything that is turning the film away from what really matters – all that pointless stuff that Pialat called the 'fatty part of the scene'.
– Philippe Faucon, Writer-Director-Producer of Fatima
... The wonder must be in us, expressing itself without wonder: the best dreams are those outside the mist, which can be seen like the veins of leaves.
– Cesare Zavattini, in Zavattini: Sequences from a Cinematic Life
At the 20th COLCOA 2016 French Film Festival, 9 Days of Premieres in Hollywood (April 18-26), a Critics' Special Mention went to Fatima, the much admired work by Philippe Faucon. Before his film even appeared at the Directors Fortnight at the Cannes Film Festival, Faucon's latest opus, Fatima, was lauded with three awards at the French Césars for Best Film, Best Adapted Screenplay, and Most Promising Actress (Zita Hanrot). Born in Morocco to a French father and an Algerian mother whose parents were from Spain, Faucon is sensitive to the language gaps and societal conflicts experienced by North African immigrants in France, given that his grandparents never spoke French nor did his own mother as a child. In France they were "the invisible ones," he has said, and like Fatima Elayoubi, they were subjected to cultural codes completely unknown to them, let alone economic exploitation and social denigration. Raising children in France who learned the new language and customs they themselves never mastered demanded great courage of them and a stubborn reliance upon inner resources.
Fatima is loosely based on two collections of poetry and other writings by an Algerian émigré to France, Fatima Elayoubi: Prière à la lune (Prayer to the Moon) in 2006 and Enfin, je peux marcher seule (Finally, I Can Walk Alone) in 2011. She didn't start out as an author. Rather, she moved to France by necessity, following her husband, without any knowledge of the language even for speaking, let alone writing. Thus eligible for only menial jobs, she worked cleaning homes, offices, and public buildings with several shifts each day. The wonder is that she found a way to teach herself French while also raising two daughters by herself. Finding her own voice – in written Arabic poetry and prose – brought her solace in her strife.
The name "Fatima" in Arabic is said to mean "one who weans"; alternately it can mean "one who abstains" or "one who captivates." As Philippe Faucon adapts Fatima Elayoubi's story for the screen, she emerges in all three dimensions of the word, forever weaning her two teenage daughters from herself by default, despite her own willingness to abstain from any aspect of life that doesn't further their well-being, despite the fact that she would more than anything like to be able to communicate with them. We follow her dire efforts to support them, to speak their language even when they don't speak hers, to make them proud of her for who she is – and through all of this struggle we find her no less than captivating.
At age 44 and divorced from her husband, Fatima is raising 18-year-old Nesrine, for whom she sells her jewelry so that her serious-minded daughter can enter her first year of medical school, and 15-year-old Souad, who rebels against her mother with a style of her own. Eruptions of both shame and pride punctuate episodes from life as Fatima realizes her head scarf prevents them from finding housing, as her employer declares she will pay for only two hours of Fatima's day at work, as her honesty is tested when money is left in laundry pockets, as jealous North African neighbors harass Nesrine for not showing respect and Souad for baring her shoulders in tank tops. Fatima is exasperated and humiliated that she can't find a way to communicate with her own daughters – neither with Nesrine in her academic jargon and broken French, nor with Souad in her defiant school behavior and her crude street slang. And yet it's not as if either girl can speak Arabic.
The first time we see Fatima writing is in a medium shot of her stretched out on her bed confiding to her diary. The second time brings us closer in with an over-the-shoulder shot while she sits at her desk and writes: "My head bows down to those whose birth has hindered their education." And then we begin to see her face as her voice-over tells us, "I bow down before those who come to a land whose language they cannot speak, where they have raised generations of youngsters." The film cuts to her daughter, Nesrine, lying in bed studying as Fatima approaches her for a tête-à-tête and asks why the silent treatment. "Are you in love?" Nesrine responds that she has no time for love. And then her mother:
Fatima: So you decide when to love? Strange! How do you manage?"
Nesrine: Self-control.
Fatima: What is self-control? When love comes, it comes… If you meet a boy you like,
is it self-control? If you find a boy you like, one you don't see again, does it not hurt?
Nesrine: What about you? If you find a man you like, do you let him know, or control?
Fatima: Me? I can't be thinking about men. Love is for my girls. My girls get everything.
Nesrine: That's too easy. That is much too easy.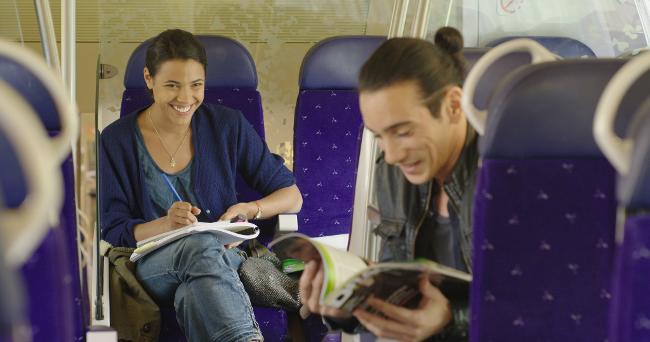 Nesrine lets her mother know that she's tired and stressed, and a visit to the doctor confirms that not only is she depressed (normal for the first half-year of medical school, her doctor tells her) but her low blood pressure is shared by her mother. They are symbiotic: worries and energy pass from one to the other. "She drives me and I drive her," notes Fatima.
And sure enough, just as Nesrine breaks down with her roommate at the horror of failing her exam, Fatima tumbles down a staircase outside the apartment she cleans and suffers ceaseless pain and fear of falling again. Worse, she admits to her female, Arabic-speaking doctor, she had put all aside – her family, her daughters, her life, herself, all to find strength for work. "But then one day," Fatima confides, "and as long as I live I'll remember it, my daughter said, 'Mom, you're useless'." Actually the words are even more stinging. Fatima tells Souad she'll end up cleaning with her. "Never!" retorts the girl. I'd rather steal!" This is Souad, who hisses that her mother is illiterate, a "useless she-donkey" and a "living rag" who "cleans up other people's shit." So then how to discipline this girl who runs wild and takes up with mischief? "Stop saying this boy isn't good enough for me! Like I came out of some golden hen's ass!" blurts out Souad in her raw, street language.
The pride that breeds the rage between Fatima and Souad is also symbiotic. Neither can bear the other's humiliations, and each reacts in her own ways, but in the other's face when in fact the sources lie outside the walls of the home. The violence in their lives is not that of beatings and rapes, guns and knives as so many other films portray it, but both the insidious insults of middle-class employers and the structural subjugation of housing practices, loopholes in laws, social exclusion and economic marginalization.
A subsequent scene with the doctor shows Fatima reading her latest diary entry:
"That day fear entered into me because I saw the respect I had instilled collapse. Your Mum is 44, you see. She dresses from a market stall, five Euros per item. She does not earn enough to spend more. Her scent is from a supermarket. She wears a head scarf. But she doesn't mind people asking why. That woman and others like her need Fatima when Fatima was well. That woman could not go to work without some Fatima. She couldn't buy scent or fine clothes without some Fatima. She couldn't earn her living or have a fine pension without some Fatima. Every day that woman entrusts her keys, her home, her kids to some Fatima. She can see her friends, go to the shops, because there is some Fatima. She comes home at night to a house with five rooms, two bathrooms, cleaned by Fatima between 9 am and 6 pm. The house is clean, tidy, ready.
At night Fatima goes home. Nothing is ready. Cleaning, cooking, daughters await. A second day begins. Which is why one day Fatima collapses. Don't be angry. Where a parent is hurt, a child is angry. Only this time, be proud. Be proud of all the Fatimas who clean working women's homes."
The next time Fatima reads, once again in Arabic, it is to Nesrine, who tries to follow the language:
"I am alone with my responsibilities and my girls. Alone with the souls I have borne that they may enjoy childhood and youth. Alone with a tumultuous generation bubbling with energy, intelligence, life, and ambition. Alone with my girls to face the whole of all that. It's a great responsibility. It is my intifada."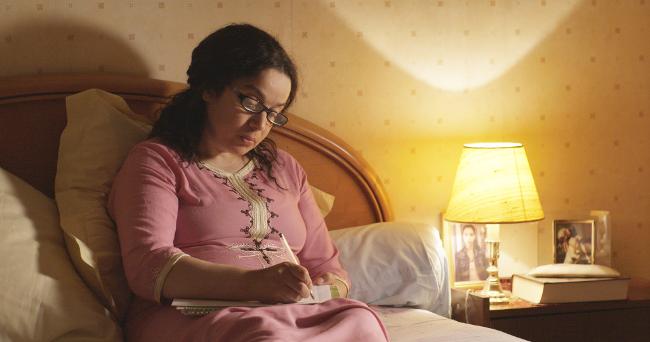 It may be interesting to note that as Fatima opened in U.S. theaters at the end of this summer, Nice, Cannes, and several other coastal French towns had banned the burkini, the top-to-toe bathing suit donned by some Muslim women. Would it be illegal to bathe in clothes and a hijab – or to simply wear them on the beach without bathing – or for anyone to sit on the beach fully dressed? Silly questions, it seems, but in fact the police in Nice actually forced a woman on the beach to remove her ordinary tunic.
In 2004 France banned head scarves in public schools "in order to protect school girls from the control of male relatives." Wearing the niqab (a two-part, full-face veil) in public calls for a fine of 150 Euros for the woman but 30,000 Euros and a one-year jail sentence for anyone who forces the woman to wear it (even though there is yet to be a conviction). But the fine for wearing a burkini is charged to the woman alone. It's 38 Euros in Cannes. So who is turning clothes into a stigma of identity, and beyond that, an overt affront to a majority culture? What's more, it is reported that street attacks against women in Muslim garb have increased since the banning of the niqab. Even wearing a head scarf is enough to ban a woman from working in a government job. As of recently, the same holds true for working in a day care center. Prime Minister Valls seeks to ban the head scarf from universities.
The head scarf is an example of the kind of seemingly banal detail that brings life to the film, Fatima. The scarf becomes a trope early in the film as Fatima and her daughter and friends discover that it prevents them from renting an apartment (though the landlady will not admit it). The scarf also figures late in the film after Fatima's injuries present lingering pain that prevents her from placing and tying it herself. Her daughters and friends help her. As the film begins its theatrical run in New York City and Los Angeles, Rafia Zakaria writes in The Nation of treasured memories of domestic spaces set aside in every Karachi home that women (who also drove themselves to work outside the home daily) designated as their private female spaces, where they welcomed other women – relatives, friends, or neighbors. Such a room, often doubling as a prayer room or a homework room, offered easy intimacy and vibrant laughter for the women. She writes of these rooms,
"…their effect on the emotional landscape of women's lives was enormous. Being in them was a reprieve from the codes and norms of our male-dominated public life. To inhabit this space meant that one's guard could be let down; that confidences and cares, recriminations and regrets could be exchanged; that one could attend to the intimacies, loyalties, and obligations that come with close human connection. Closeness was born not from the fact of physical separation but from the bonds that were created within that space, a collective homage to the experiences of shared womanhood."
Muslim women in North Africa, be it Algeria where Fatima was born or Morocco where Philippe Faucon was born, share the tradition, as is vividly captured in such recent films as Wadjda in Saudi Arabia and As I Open My Eyes in Tunisia, both made by women from the respective countries. Zakaria points out that the steady supply of wars in the Middle East has by now allowed Western female journalists to set a trend of capturing women's lives in what they have referred to endlessly as "private spaces," only to then divulge them to readers of Western news articles and books or viewers of TV news reportage and even movies. Take, for example, Tina Fey playing journalist Kim Barker in Whiskey Tango Foxtrot this year and Jennifer Lawrence cast as Linsey Addario for next year's film rendition of Addario's best-seller, her memoir, It's What I Do: A Photographer's Life of Love and War. Katherine Zoepf and Jenny Nordberg have also joined the ranks of Western women documenting their "sisters" in Iraq, Afghanistan, Pakistan, Saudi Arabia, Yemen, Somalia, Egypt, Lebanon, and Syria by donning head scarves and penetrating the "Secret Lives" and "Hidden Resistance" of women in the Arab world. Sex and romance as religious taboos, the violence of men, the politics of women's isolation and prohibitions become sensationalized "news" commodities for the media market when fetishized as accessed only by female voyeurs from America and Europe. Of course they are not posing as voyeurs but as "comrades-in-arms," so to speak, aiding in or even eliciting the liberation of female "victims." A secret girls' school under the Taliban and an all-female madrassa banned by Assad in Syria are in turn filmed with concealed cameras by Western women using their own theatrical tactics of subterfuge, then to be revealed to Western consumers. Thus (and often enough peppered with a bit of added sensation) the hidden lives of Muslim women are made visible – and saleable.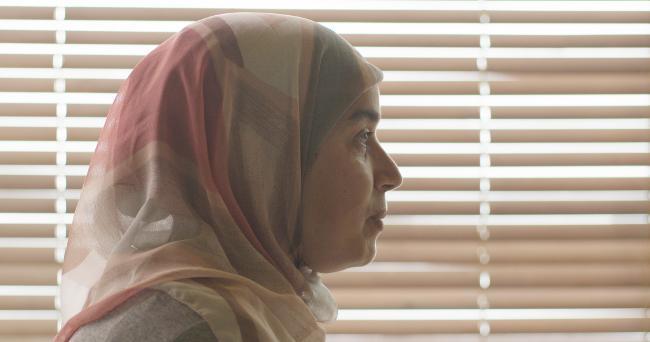 A few urgent critiques are in order. Dari, Pashto, and Arabic are not languages these Western female journalists have spoken, nor had they studied the cultures before their on-site "interviews." Not only did these lapses open the door for misinterpretation, but more often than not, they closed the door for any level of reception (let alone permissions and approvals) by the participants. As Zakaria puts it, there is a certain imbalance when the personal is given up for the professional, the (Muslim) relational and intimate for the (Western) transactional. When access itself becomes the story, as if it alone equals expertise, what happens to the intimacy? Are the shared bonds among the Muslim women shared with the West? Are they even shared with the Western reporters? Is anyone transformed, or even moved, by the experience? Given the pretexts of break-through journalism and expanded feminism, are any challenges being made to the structural status quo, in the Middle East or the West? The globe-trotting, award-winning journalist "sisters" score a trespass, market their wares, and move on, removing the headscarves they once donned in subjugation in order to "lift the veil" on their Muslim subjects for their Western compatriots.
In many ways, Philippe Faucon's Fatima is an opposite type of artifact. Perhaps it is the historical lens of distance that paradoxically brings an "up-close and personal" view of the Fatima he shares. Might there be any residue of the "angry child" of the pied noir in Faucon, the descendant of a Spanish-Algerian grandmother as Camus was of his mother? An "angry child" that, removed by two generations, venerates the tradition and understands it through new filters? The "invisible" made visible in Fatima is not only the central character's relation to all those around her, and in this case they are women – her daughters, employers, fellow workers, doctor, neighbors – but also Faucon's relation to the issues at hand. Housing, employment, advanced education, careers, health, literacy, self-expression – all the stakes Fatima has in the country, the community, and her own family – are the substance of the film, and fraught as those relations are, fractured as those bonds are with the other women in her life, fragmented as she is from her society, Fatima struggles for the joys of that emotional space she should be able to share.
My discussion of the film has included a litany of words, too many words, some might say, and translated from Arabic to French to English. But it is words that Fatima seeks, as a vehicle to transform her life, and perhaps then to transform her world. The first-time actress who plays Fatima, Soria Zeroual, is actually a Moroccan immigrant to France who has been cleaning houses for a living. Fatima Elayoubi has since become a writer. The film's original producer, Fabienne Vonier, a.k.a. "Madame Pyramide Films," herself emigrated to Strasbourg from Dakar, Senegal and then proceeded to produce one stunning work of art after another that gave us faces and stories of the larger world that has made France what it is today – the Maghreb, West Africa, the Caribbean, Turkey, China – before she placed Prayer to the Moon in the hands of Philippe Faucon to direct for her production/distribution company. When she could no longer produce it and died, he delivered his promise and carried on with his wife and partner from several previous films, Yasmina Nini-Faucon. For the script and dialogue he not only adapted the words of Fatima Elayoubi but also consulted with Aziza Boudjellal and Mustapha Kharmoudi along with his wife. Fatima reflects the output of film after film by Faucon on North Africa and its legacy for France. It is an organic work that has emerged from life as a story of life – the extraordinary in everyday life, the love in plain sight.
Fatima
Director: Philippe Faucon; Producers: Yasmina Nini-Faucon, Philippe Faucon, Serge Noël; Screenplay: Philippe Faucon; Cinematographer: Laurent Fénart; Editor: Sophie Mandonet; Sound: Thierry Morlass-Lurbe; Music: Robert-Marcel Lepage; Costume Design: Nezha Rahil.
Loosely based on the books by Fatima Elayoubi: Prière à la lune and Enfin, je peux marcher seule.
Cast: Soria Zeroual, Zita Hanrot, Kenza Noah Aïche, Chawki Amari.
Color, 79 min. In French and Arabic with English subtitles.