2-20-12
Mariette Monpierre Takes Us to Guadeloupe: Elza at the 20th PAFF
By Diane Sippl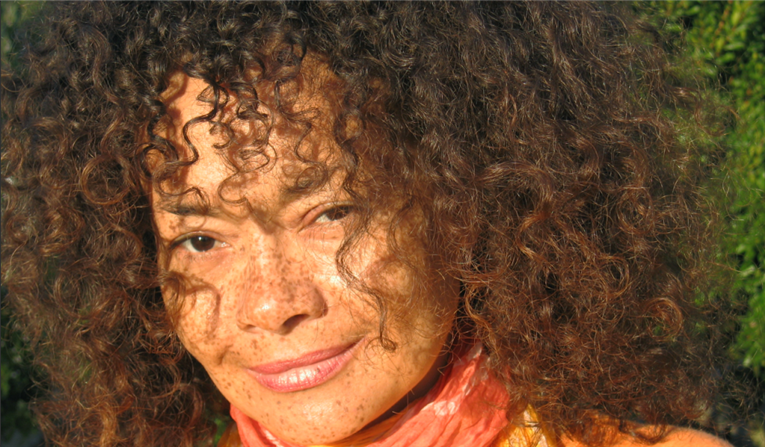 Writer-Director Mariette Monpierre won three times at the PAFF:

Festival Programmers' Award; Pan African Film Festival – British Academy of Film and Television Arts/L.A. (BAFTA) Festival Choice Award; and Special Jury Recognition, First Feature.
Billowing sails in azure skies, turquoise waves on soft white sand, red ginger blooms from jungle-green hills are all there for Elza as she arrives on her first trip back to her homeland in Guadeloupe. It's a tantalizing adventure, sensual as an island breeze, but with one aspect that holds it all in check: Elza is there to retrieve a loss, and the treasure may not be there to be found.
Part coming-of-age story, part girl-style road movie, and part sudsy melodrama, Elza is, in the end, far bigger than any of these, though it rolls along with innocent high spirits, thanks to its pristine locations across the island from Pointe-à Pitre and Morne à L'Eau to Basseterre and Capesterre, its upbeat score by David Fackeure with tracks from Aztec Musique, and its vibrant performance by Stana Roumillac playing the lead. At the heart of the film is a perplexing issue — all the children left behind by negligent fathers who feel no obligation to them, a historical legacy alive and well today that is as insufferable as it is widely visible. Never weighed down by this core issue, in fact buoyant as a flying kite, Elza nonetheless tackles the problem head-on.
So in fact we have a fascinating paradox. In a large sense, writer-director Mariette Monpierre has made a "feel-good" movie, yet maybe for the most legitimate of reasons. Elza is not only her feature film debut but also the first narrative film by a female director from Guadeloupe. While the plight of a young Parisian woman anxiously and even perilously seeking out the father she has never known might seem like nothing to celebrate, the pleasure we experience in discovering the country as the protagonist does, through her young-adult senses and driving passion, primes us for making the same demands she does on the social and personal potential for soulful beauty in the families of the land. As we invest, we are rewarded — by the promise in Elza's perseverance and by the filmmaker's show of faith in a new generation.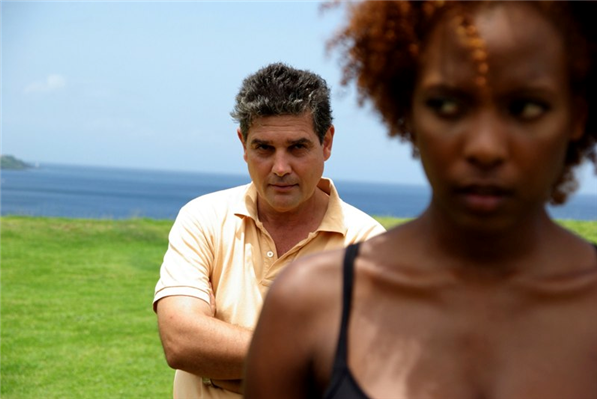 A Dance with My Father
"It's not about how pretty you are," Mariette Monpierre explained to spectators in a post-screening discussion at the 20th Pan-African Film Festival, Los Angeles, where her film played in the First Narrative Feature competition. "It's that if your dad never told you that, if you never heard it from him, you don't feel it — you never believe it from the man who tells you unless you heard it first from your own father."
"I'm from Trinidad," chimed a male audience member. "This is other people's baggage. Why not dump it? It's as simple as that."
"It's my expression of my feelings," responded the director. Perhaps she has heard his quip before. She couldn't have chosen her words more precisely, or more adequately for the task.
Monsieur "Désiré" (Vincent Byrd Le Sage), as Elza's father, is surely desired by her, at least in terms of the affection a man can afford his daughter in nourishing her confidence and sense of self-worth. At the same time, Désiré flies after any female who attracts him, and he can't prevent himself from pursuing his own desires with abandon, especially with his maîtresse-of-the-moment, Sophie Léopold (recent "Miss Guadeloupe," Nancy Fleurival). What's worse is the insidious ways in which he buttresses the edifice of his power, with every conniving move from household lies to religious hypocrisy to an employer's bigotry. Still there is a need that funds all of his desires — money — and filmmaker Monpierre cleverly sends him on a path that leads to a face-off with the one person who holds those strings.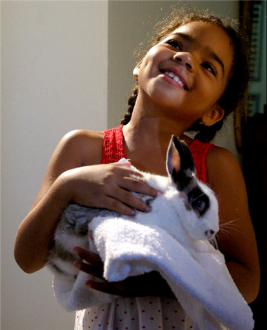 Add to this the pecking order instituted by racism and we see that for all Désiré's light skin and wavy hair as a mulatto, his rival is "one-up" on him, a pale, blue-eyed French banker, Monsieur Léopold (Yvon Potier), Sophie's husband, who guards her "like a cobra." But these factors are spurs to Désiré's male ego, and they also provide occasions for him to vent his frustration on the women of the house, including Elza herself, who has been posing as Marie-Line, sent by the "Baby Boom" agency to look after little Caroline (Eva Constant), Désiré's granddaughter.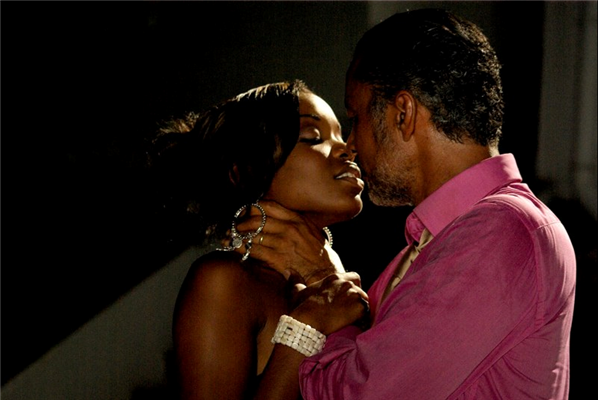 Girls on the Go
Such is the turf that has already been laid for Elza in Guadeloupe. Yet she is prepared to cross it with verve, especially since she feels she is asking very little: merely a paternal embrace. While the film opens in a Paris hair salon as she gets her tresses trimmed and straightened, within five minutes of screen time she's diving into West Indian waves at Cluny Beach, fully dressed, while her taxi waits. The water literally does wonders for her hair: Elza is now "on the loose" in the best of possible ways.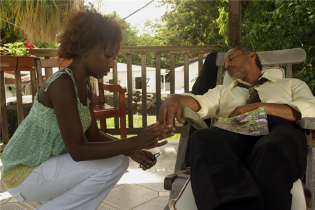 Her scooter carries her around the island, past a factory with a feisty workers' revolt, then the elegant boss's getaway for a rendezvous in the sugar cane with a glamorous lady, not knowing he has Elza in tow, who is clicking away through the viewfinder. Finally she arrives at the gated home of her destination, and his. When she finds a way to be invited through the gate of that estate as Marie-Line, it's fitting that her first up-close encounter with her father is upside-down — as she teaches Caroline how do to a handstand.
When the frame swirls upright, Elza is tellingly ignored by the man, but she has surely seduced Caroline, a "difficult" child, via ear buds and charm, and she whisks her new girl buddy off on island sprees by bike, for play dates at the beach or sailing on the sea, always toting a camera for clandestine takes of her dad kissing beside hot cars parked at secluded homes.
After a boating trip to Fortune Island, the chase is on — Désiré for Sophie, Elza for Désiré, Bernard for Elza, round and round; and just as Désiré is wise to Elza's agenda, so is Bernard, his son-in-law. This is not only because Bernard is a philanderer himself, but because he's another outsider visiting from Paris, who reports that Désiré has enough "bastard" children scattered around the island "to fill a Sunday school."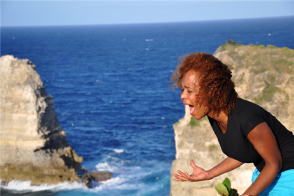 As Elza's boards a bus to Capesterre with its lush ferns and palms to visit the aqua-and-sun-colored house of her childhood, her chase finally gets reversed; now it's her father who follows her, in secret, so he thinks. When Elza, as babysitter Marie-Line, is unmasked thanks to Bernard's masculine impulses, she's fired, and at that point, with a show of photos from home, she confronts Désiré as the man he is, asking for his acknowledgement. But it's yet another chase, the last, that brings everyone into the action, and along with another show of photos — more recent ones — it turns the story around in ways some might find surprising.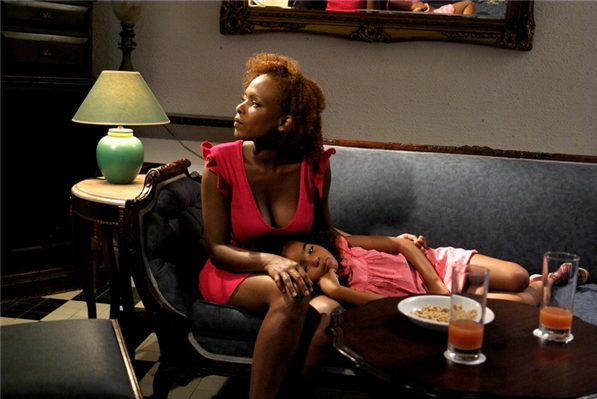 A Cliff by the Sea
There are some theatrical moments — we can in fact call them "melodramatic" in their emotional excess — in Mariette Monpierre's film. It starts off realistically enough as Bernadette (in an acting cameo on the part of the director), a single mother in Paris, proudly celebrates her daughter's graduation: Elza is the first in the family to earn a college degree, a master's, and summa cum laude, no less. Yet when Elza says she will use her gift money for a flight to Guadeloupe, her mother threatens her at the point of a kitchen carving fork: "No one is waiting there for you." This sudden outburst sets the scene for fear and shines a light on our heroine. "A gift is a gift," retorts Elza, and she sticks to her plan.
As in all maternal melodramas, the female fills the frame; the focus is not only on the mother and/or mother figures, but on all positions of women vis-à-vis the family, whether they assume their expected gender roles (as madonnas, virgins, or temptresses), dodge them, break out of them, or challenge them. We are meant to empathize with the women as they suffer the hardships and indignities of their social restraints and to root for them as they defy such strongholds. Along with Elza, the film provides us with a wide array of women, all beautiful, all unhappy, right down to the six-year-old Caroline, separated from both her mother and her loving father, Jean-Luc (Teddy Doloir), who fights for the right to take care of her in her mother's absence.
That young mother, Marie (Jihane Botreau-Roubel), suffered a nervous breakdown before our story began, when her father, Désiré, forbade her marriage to her dark-skinned, working-class fiancé, so now she lives in an asylum while Désiré raises little Caroline, his granddaughter born "out of wedlock," in his great white mansion. Meanwhile Christine (Auriana Annonay), Marie's sister, lives out a loveless marriage with Bernard (Christophe Cherki), a man even lighter than she is with her flawless caramel complexion that she routinely bleaches in the hope of esteem and acceptance, given that her father rejected her throughout her girlhood in his appetite for Marie with her long, flowing hair. Of course their tightly wrapped white bourgeois mother, Désiré's spouse (Sophie Berger), can get no more sincere affection from him than Christine can, and in a night of rum after she fails to seduce Désiré, this neglected wife shouts out her husband's age-old lust for Marie for all to hear in her absence.
The cliff above the sea is twice a setting in the film, both times as an awe-filled spectacle and an ominous symbol: first, it taunts Elza to end it all; and second, it conjures her father's embrace of her as a child. At some distance, a giant rock protruding from the water below stands for Elza's staunch pursuit.
Good and evil are etched in bold relief in the film: Désiré is a merciless factory owner three months behind in the workers' salaries, beset with their strikes, yet oblivious to the instincts of the banker who has everyone in debt and knows all their secrets. M. Léopold is an uncanny counterpart of Elza: both, with their tenacity, hold strong.
Elza compensates for her loss by taking pro-active measures to ensure that Caroline gets due attention from her own father — she stashes away his forbidden birthday gifts for the child, delivers them at an opportune moment, and coyly engineers a reunion visit for the girl and her dad that takes them from Gosier Aquarium to lunch and a nap in a hammock for Caroline on Jean-Luc's porch. This is only the beginning of all that Elza has up her sleeve.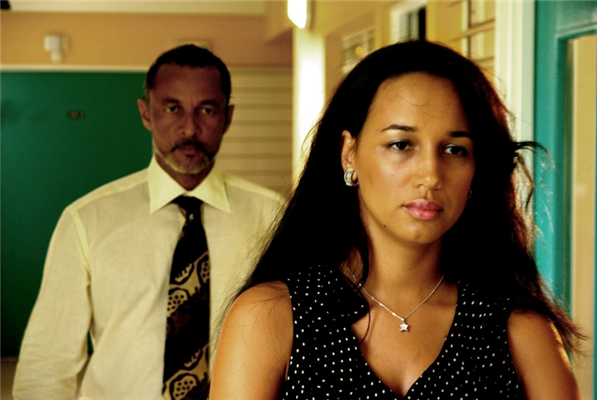 An Embodiment of Resistance
Stana Roumillac's voluptuous body is itself a sign of what's to come. Her glowing amber skin and her auburn hair, wild and abundant as her curves, get her into more trouble before they reward her, but that trouble comes not from her own night on the beach after drums and dancing with a conga-playing friend beside fire-lit waves. Rather it comes from Jean-Luc's cronies at the factory, and Elza knows exactly what to do with it. It's a pleasure to see her turn it around and point it in the direction it deserves.
Born in Guadeloupe and raised in Paris, Mariette Monpierre earned her Master's degree in Media and Languages at the Sorbonne University and Smith College before taking up residence in New York City. After honing her skills by producing commercials, she found incredible success with her short film, Rendez-vous, through the Director's Fortnight at Cannes, and she traveled with it to festivals on four continents. With Elza, she looks to both the past and the future.
"It is estimated that 60% of African American and Caribbean children are estranged from their fathers," she tells her audiences, "A shocking number, given that in many cases these fathers are alive and have simply neglected their responsibility to their families. Is it a coincidence that in most cases these communities have a history of slavery wherein the father was taken from his family unit and used as a breeder or had to watch his children being sold off to other plantation owners?"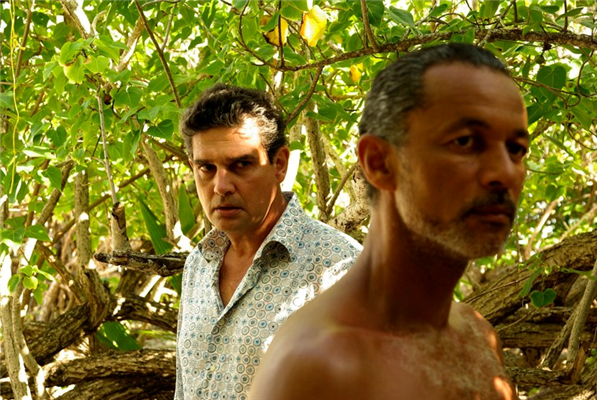 Elza is, in part, autobiographical: the filmmaker lived in Guadeloupe until the age of six and grew up in France with a burning desire to know her father, and she acted on it. "But the meeting was not like this," she reports. The outcome was very sad, and he did in fact tell me a line I used in the film: "With your kinky hair, you could never be mine."
"I think he was a victim of the history of slavery and the society in Guadeloupe," she continues. "It was important for men to have lots of kids, but the tradition was not to take care of them. In Guadeloupe the standard has been a matriarchal structure for the family. The French Creole language has a term, poteau mitan — mothers are the pillars standing in the middle of the family. Men don't bring anything to the table. It's changing now, and I wanted to give my film a happy ending, a sign of faith for children without fathers."
In the end Elza is a sumptuous, beguiling call to challenge the legacies of slavery — the early constructions of race and class codes that became social and economic realities both enforced and resisted for centuries. That a woman filmmaker is also looking at the ways that constructions of gender and a history of colonialism have complicated these spoken and unspoken laws of race and class — not to mention the ways that they have been inherited and implemented in film industries both national and global — is another astonishing feat. Elza was shot in a mere five weeks, but it took Mariette Monpierre five years to bring the whole project to fruition. With the success of Elza, her next opus is sure to be just around the corner.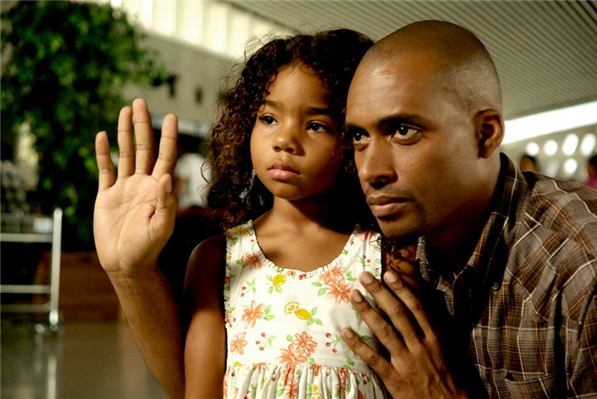 Elza
Director: Mariette Monpierre; Producers: Eric Basset, Mama Keïta, Gérard Lacroix, Edgard Tenembaum, Mariette Monpierre; Screenplay: Mariette Monpierre, Mama Keïta; Cinematographers: Rémi Mazet, Benjamin Echazaretta; Editors: Jérôme Raim, Virginie Danglades; Sound: Bertrand Faure; Set Design: Dominique Ladal; Original Music: David Fackeure, Max Surla; Additional Music: Aztec Musique Catalog.
Cast: Stana Roumillac, Vincent Byrd Le Sage, Christophe Cherki, Sophie Berger, Teddy Doloir, Eva Constant, Jihane Botreau-Roubel, Auriana Annonay, Nancy Fleurival, Yvon Potier, Mariette Monpierre
Color, 35mm, 80 min. In French with English subtitles.