5-24-13
Dulce Rosa Glows in the Light of LA Opera at the Broad Stage
By Diane Sippl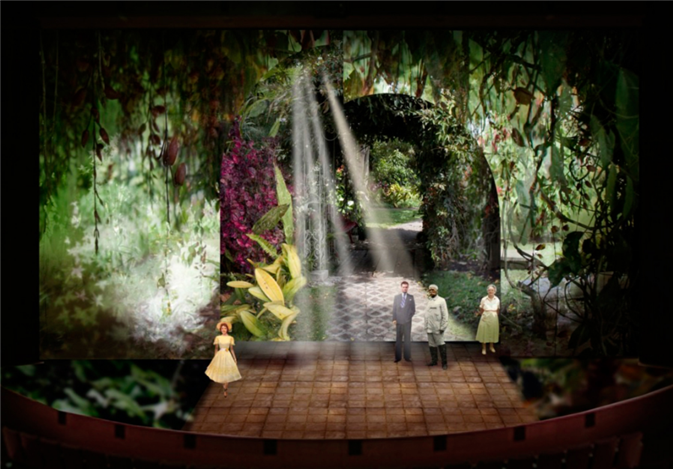 A Grand Idea

What a way to extend the reach of opera — by launching an Off Grand series at a locale in another community to expand both the audience for LA Opera productions and its repertory with new works created and performed by budding and rising talents. To introduce a pioneering project such as this at the Broad Stage is the best idea yet. And that's just it: both the opera company and the venue deserve the best shot at it. The Broad Stage, at what many would consider "the other end" of town (Santa Monica is even a different city from Los Angeles) is significantly distant from downtown L.A.'s Music Center, and its intimate 499-seat hall with its warm wood and curved walls (within which no seat is a bad seat) offers a distinct alternative to the massive Dorothy Chandler Pavilion. At a facility affiliated with Santa Monica College, Off Grand at the Broad Stage should draw young people to an old art and raise the bar of the campus theater's standard repertoire of eclectic world arts performances.
To bring the concept to fruition, Plácido Domingo, the Eli and Edythe Broad General Director of LA Opera, commissioned composer Lee Holdridge and librettist/director Richard Sparks to turn the pages of the most widely read author in the Spanish language today and present her to California's southland in an English libretto with projected English supertitles. In 2010 Plácido Domingo celebrated the 25th anniversary of the LA Opera with a libretto in Spanish by Daniel Catán, Il Postino, based on an original work by Chilean author Antonio Skármeta; Domingo himself sang the unforgettable role of Pablo Neruda in that exquisite world premiere. Now the Maestro (this time conducting the opera) once again turns to a Chilean author and, we would think, makes the famous novelist more accessible than ever by bringing her work to the stage in the language of her recently adopted country.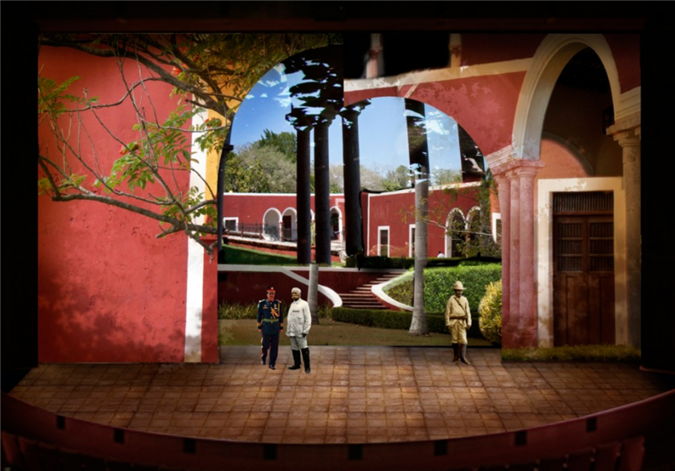 Dulce Rosa: Isabel Allende's "Little" Story in Big Light
"It's just a little story," Plácido Domingo told the audience at the Broad Stage as he towered over its original author, Isabel Allende, when they embraced. "It's a BIG one," was the retort from the pint-sized giant of world literature, admitting that it was no longer hers. "Once it's published," she claimed, "I can't tell the readers or the audience what to make of it."
Well, librettist and director Richard Sparks has made quite something of it, or let's say something quite… different. That difference is well matched by Lee Holdridge's music. Composer and librettist walk hand-in-hand in the grandly missed opportunities of a tale so crisply told yet lushly imagined that it has taken three other artists — Yael Pardess, Jenny Okun, and Anne Militello — to capture the complexity of the grande dame's provocative work and present it in modernist living color. Their ever-changing kaleidoscope of fragments of truth, always in juxtaposition but seamlessly transforming, is a marvel. Pardess' set design, Okun's photographic projections, and Militello's lighting physically, sensually deliver what there is of Allende in the opera at the same time that they sustain the enchanting ambiguity but fierce alarm she authors. When all is said and done, the color and light that have been melting moment-to-moment into and out of each other in the dream-like world on the stage are the most effective attempt to bring us Dulce Rosa, a kind of sorceress in the story who escapes both the music and the lyrics of the opera.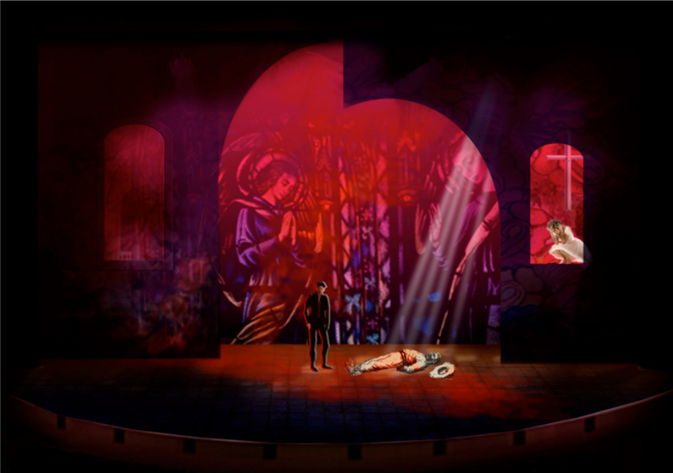 Between Myth and Reality
Allende's nine-page tale, "Dulce Rosa" is a kind of ghost story about memory and the ways it haunts, deceives, and tricks us with false pride and false honor. In the village of Santa Teresa (which could be in almost any Spanish-speaking land at almost any time), Senator Orellano is the most powerful man in his province, and he is raising his only daughter, fifteen-year-old Dulce Rosa, alone in his expansive villa. The other young women are jealous of her charm and don't mind seeing misfortune fall upon her and her father when Tadeo Céspedes, a man who lives by the "roar of gunpowder" and civil war, raids the villa, kills her father, has his way with her, and destroys her home. In the course of the next twenty-five years, he comes to prominence as a mayor enacting justice, but Dulce Rosa has promised her father and herself an act of vengeance. And this she carries out — to her dismay. The religious code, "Honor thy father" is not without tragic irony, and time, while it would seem to allow some to forget, takes another form as history. Violence twists its way into dreams as "an angel crowned in jasmine blossoms" becomes a sadly mighty mirage.
Dulce Rosa the opera is another story, set in a Latin American country in the 1950s, with locations between the Capital City, the Orellano hacienda, the jungle, and the town of Santa Teresa. Three new characters are added: Aguilar, a rising politician who was the protégé of Orellano; Tomas, Rosa's childhood sweetheart; and Inez, an orphan who joined the Orellano family at age ten and raised Rosa from the cradle. (Strangely, the diacritical marks disappear from their names.) Tadeo is now a guerrilla fighter from the jungle who takes orders from Aguilar in the civil war, and Tomas, a doctor, takes his leave to California once he becomes Rosa's fiancé, returning briefly near the end, which is but a few months from the beginning of the story. In the opera Rosa is the captive of three men and the passive victim of them all. The plot is now a bizarre love story packaged like a telenovela with a surprise ending.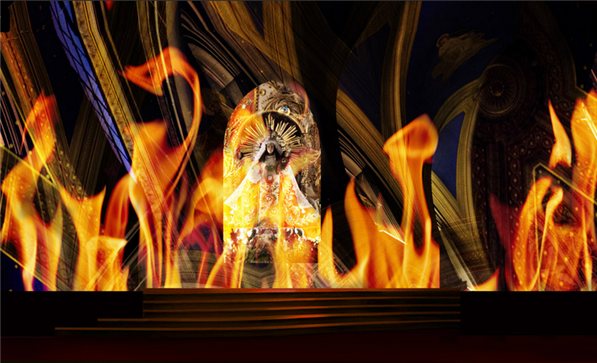 Whatever it means or does, Dulce Rosa is based on two premises: that we identify with those who are more powerful than we are, and that we enact what we have suffered. Victims of many kinds fall prey to their perpetrators not only in the very acts of subjugation but also in the long shadows and echoes of that subjugation, modeling their own subsequent behavior on that which was forced upon them, regardless of the degree of pain or loss or cost, and often admiring or even loving those who violate them. They do so as a means of preserving their own egos so as not to feel threatened by those who would overpower them. Is it forgiveness? Redemption? A survival mode? Martyrdom? Or the most perverse and insidious manifestation of oppression?
Rosa learns the vow of ultimate devotion from her father; Tadeo learns the defeat of utmost violation from his mother and sisters. And each of them twists it, one knowingly and one perhaps unknowingly, in enacting it upon others — in fact upon the other for whom each cares the most. Yet does the psychological validity hold up better in the lean skeleton of myth that invites our own rich embellishment in the imagination, or in the heavy plot of an opera so boldly delineated that we could hardly endow it with more?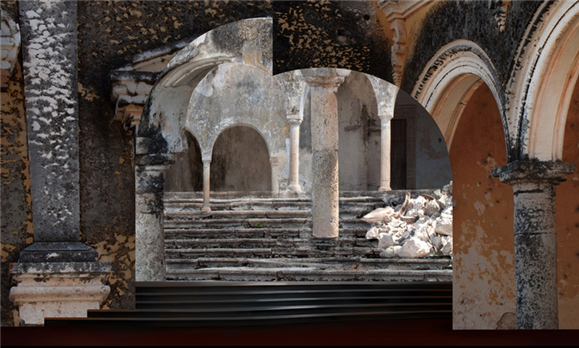 Isabel Allende's short story uses a mythic structure (not unlike that of Greek epics) with a metaphysical scaffold and a poetic language that conjure its themes in a most ethereal way. The tale is larger than life, arched over time, transcendent of place; it is tragedy in the sense of its heightened excesses (vane beauty, warlike prowess, obsessive ownership) that play a role similar to fate.
But the opera seeks psychological realism, adding characters for clear plausibility, revealing their back stories (family loss) and destinations (California) and motivations (possession), expressed in everyday language. The plot strives to move logically through a climax to a resolution that hinges on romance and sentiment, depends on arbitrary accident, and results in melodrama.
This melodramatic arc hardly works with the cleanly minimal sets suggesting shards of life that are layered with projections mythic in scale and proportion. They mutate in an ephemeral play of shadows. It must be said that the anti-historical nature of the mythic device works both for and against the story. On the one hand, the events that come to pass do happen in our world, far and wide, past and present; on the other hand, the political and psychological relevance to today's warfare atrocities and abuses of women can be lost or misguided without historical and cultural specificity. Worse, that loss of knowledge and awareness breeds a level of irresponsibility that becomes insurmountable. Art and beauty can go a long way in arousing inquiry and mobilizing action, but much as the opera Dulce Rosa appears to be about politics, it is NOT political — that was Antonio Skármeta's Ardiente Paciencia. Nor is it eloquent — that was Daniel Catán's Il Postino.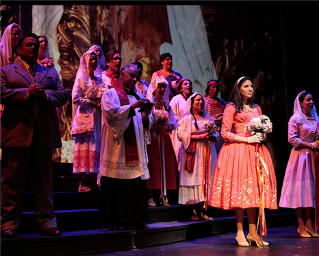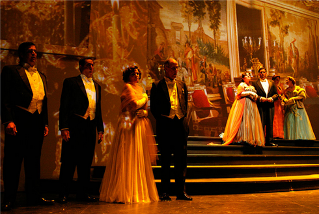 Dulce Rosa Brought to Light
Under rose flowers of exploding black gunpowder / Girl flutters her braided hair running to the plaza / Dawn laughs out loud swaying its shoulders
These could be lines for an opera from the short story, "Dulce Rosa," its cruel ironies playing with the fate of its heroine. But they are not. They come from a poem by García Lorca, "Ballad of the Spanish Civil Guard," that inspired a Japanese modernist photographer/artist/poet, Kansuke Yamamoto, who often used drawing, painting, and collage to create abstract architectural studies. Yamamoto quotes the full, three-line segment above for the title his 1983 diptych, a mixed-media collage evoking a right-wing coup d'état in post-Franco Spain: in 1981, by brute force, Lt. Col. Tejero, an officer of the Civil Guard enmeshed with Spanish politics, enlisted 200 men in a rebel army to take hold of the lower house of the Cortes Generales. (This was just as Isabel Allende completed her first novel, House of the Spirits, and just a few years before she wrote about Dulce Rosa in The Stories of Eva Luna, told by an enchantress akin to Scheherezade.)
The abstraction in Yamamoto's photography captures a fantastical imagination of an event that no doubt triggered his memory of his own police detention for "subversive thought." His drawing and painting in this work and others mystify viewers by expressing something not understandable. As he experimented with color photography, combination printing, photograms, and sculpture, Yamamoto created magical realms via juxtapositions between his own photographs or found images and ephemeral materials, often with cut-outs and hybrid figures that float within the frame, compelling a fantasy provoked by their context. In composites produced by two or more negatives of dissimilar images, he generated a translucent metamorphosis of fantasies and realities.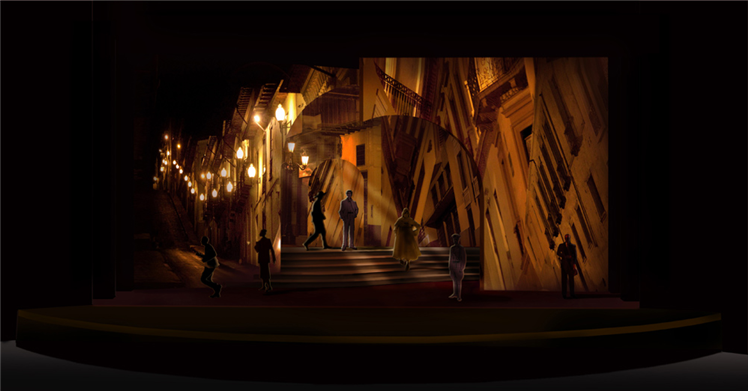 That fluid, ongoing transformation of a "chance encounter" (as André Breton identified it) between two conflicting ideas became the cornerstone of Surrealism. From its inception, Surrealism, a dialogue between inner and outer worlds, between the unconscious, subjective experience and its external reality, has been held up as a "disobedient spirit," a rebellion, a protest — at the very least, an interrogation of the status quo.
How very like Yamamoto's experimentation is the work of Jenny Okun in her photographic projections upon the fragments of Yael Pardess' collaged sets and in the veil of Anne Militello's lights. Okun's unreal forms, as they undergo distortions of perspective and proportion, sometimes become grotesque or even erotic in combination and repetition. Enthrallingly suspended within a seemingly real setting, they dance like phantoms, the invisible metamorphosis of dazzlingly suggestive images haunting our perception and altering our sensibilities surreptitiously, thus ever so subversively. In juxtaposition and multiplication, they often provoke by positing taboos — religious, social, familial. How many hundreds of photographs did Jenny Okun capture of homes and towns, churches and gardens as she traveled across South and Central America to create the setting of Dulce Rosa? We can find out — her work is on exhibit not far from the Broad Stage in the Craig Krull Gallery at Bergamot Station in Santa Monica from June 1st through July 6th.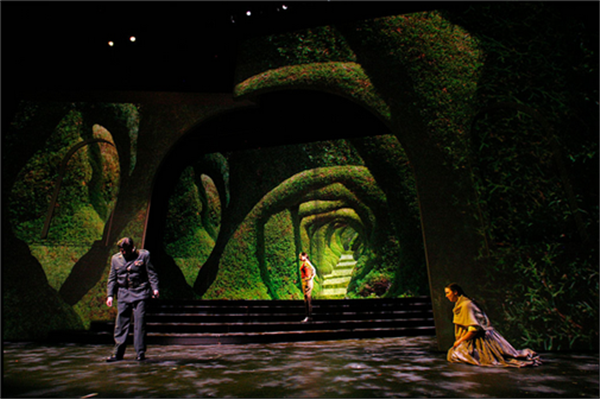 The Sweetness and the Sorrow
Music, theatre, song —all that fills the stage of opera and the hearts of its fans — is the human soul somehow bigger than life. Not grandiose, not hyper-real, not real, but deeper, richer, with indelible emotions reaching for fulfillment, opera is that lyrical coming to life of voices in search of song. Where are those unforgettable arias in Dulce Rosa?
The most commanding presence at the opening night performance was Greg Fedderly as Rosa's overly protective father who sings of his love of his home. The sentimental lyrics did not detract from his stunning tenor voice in a lively delivery throughout the evening. More interesting lines were available to Peabody Southwell as Rosa's maternal caretaker who stood out as a soulful Inez, lamenting Rosa's revenge obsession in-the-making all the while, as a god-motherly figure, she could not prevent her ward's self-destruction. Southwell's mezzo-soprano was every bit as solid as María Antúnez' soprano, the latter's voice so deeply rich and voluminous it often garbled her pronunciation (true Spanish accent and all) to make the English supertitles a necessity for the duration of the opera. Alfredo Daza's baritone offering as Tadeo was as withholding as María Antúnez' organ of a voice was darkly commanding; therefore any charge of emotions between the two was so mitigated and obscured that it was difficult to see how these one-time adversaries could become possessed with uncontrollable love for each other. The role of Benjamin Bliss as Tomas, Rosa's fiancé, was far-fetched and feather-weight as written, and he made the most of it with compelling, tenderly romantic tenor appeal. The role of Aguilar as a rising politico, however, was central to the drama yet confusing in relation to both Senator Orellano and rebel leader Tadeo Cespedes; Craig Colclough commandeered his bass-baritone strength to interpret what could only be a murky character.
As for theatrical panache in elocution and acting, Fedderly's Orellano was so engaging — his song flying through the light of the stage — and Antúnez' Dulce Rosa was so detached, consumed with nailing her notes, that their vows to each other seemed to miss somewhere between. Likewise, Bliss as the fiancé was so separated from Rosa by stage blocking, as was Daza (first her rapist, then her consummate lover), that the vague and halting contact between both men and Rosa hardly impressed as passion from anyone in any direction.
Plácido Domingo's Tosca opened the following night at the Dorothy Chandler Pavilion. Perhaps the day is not far off when we will see it as another of Off Grand's full-scale productions on the elegant Broad Stage in Santa Monica.
Dulce Rosa
Music: Lee Holdridge; Libretto: Richard Sparks; Based on: "Una Verganza" by Isabel Allende; Conductor: Plácido Domingo (Grant Gershon on June 6th); Director: Richard Sparks; Scenery Designer: Yael Pardess; Costume Designer: Durinda Wood; Projection Designer: Jenny Okun; Lighting Designer: Anne Militello; Chorus Director: Grant Gershon; LA Opera Chorus and Orchestra.
Cast: Greg Fedderly, María Antúnez, Peabody Southwell, Benjamin Bliss, Alfredo Daza, Craig Colclough.
2 hours and 15 minutes including intermission.
LA Opera Off Grand, May 17-June 9, 2013
The Broad Stage, Santa Monica College Performing Arts Center