11-20-14
Concrete Night: A New Day for Pirjo Honkasalo
By Diane Sippl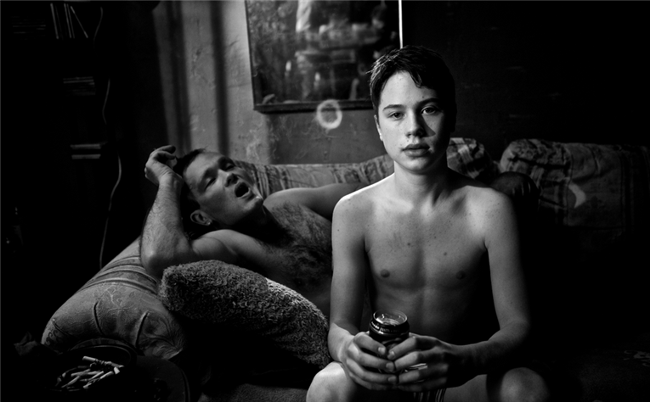 When I read the novel Concrete Night in 1981, to portray the 14-year-old protagonist Simo became like an obsession to me. His gaze of the world around him was full of odd and merciless beauty. To treat his fragile and still almost hollow identity would need a lot of tenderness and wisdom. Would I have it? It took me thirty years to come and realize my obsession.

Pirjo Honkasalo, August, 2013

Some American critics have called my film 'Finnish film noir'. I have no idea what that means. But I can say that I'm a little excited to show it here tonight, because Concrete Night is shamelessly European.

Pirjo Honkasalo, Beverly Hills press screening, October, 2014
In an arresting, shattering, and finally tragically suspended scene that fills the imagination of the Finnish teenager Simo, Concrete Night opens with a train wreck. It's a premonition, or at least Simo's waking nightmare in face of the limited horizons of his life in Helsinki where he lives in social housing with his single mother and older brother, Ilkka, who faces a prison sentence the next day.
At times Simo and his young neighborhood friend bask in white sunlight, the rays for a moment beaming through the dark clouds over Helsinki's harbor. The land-and-seascape is hauntingly real. At other times, tufts of dead and dried-up flowers float through the air of Simo's apartment, or the interior of his tram turns abstract and takes over the screen in Simo's point of view. These are not simple flash-forwards or dream sequences but "dreamy" shots designed to play upon every possible reflecting surface within the frame, revealing Simo in a new light with each breath. He is emulative, complicit, solicitous, vulnerable, mean, innocent, brutal.
One-time cinematographer who is also a writer-director, Pirjo Honkasalo has been making films for three decades in Finland and honored world-wide at festivals and retrospectives. Her latest work, Concrete Night, is Finland's submission this year for the Best Foreign-Language Film at the Academy Awards. As such it is being featured at the 16th Annual Scandinavian Film Festival Los Angeles, which runs on January 17, 18, 24, and 25 at the Writers Guild of America, 135 S. Doheny in Beverly Hills. I met Pirjo Honkasalo long ago with her first feature, Flametop, but also recently in Santa Monica to ask her a few questions about this densely poetic opus.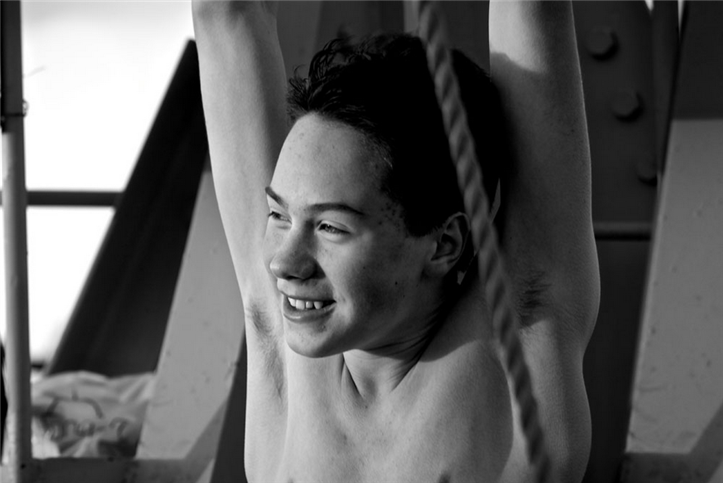 KC You started out in theatrical filmmaking, and I met you when Flametop was in competition at Cannes. Then you turned to documentaries in '90s and thereafter. Why this now?
PH After all the documentaries I was making, I realized they were becoming a lot like fiction, and I decided it was time to go to the other side.
KC For me Concrete Night brings to mind Buñuel (Los Olvidados) for the impact of social class on a boy's coming of age, Bergman (The Silence) for its psychological acuity and sense of mystery, Bertolucci (The Conformist) for its dramatization of the unleashing of repressed phobias, and even Tarkovsky (Ivan's Childhood) for its camera style and empathy for the boy in his innocence. These days we don't often see films of this intensity and darkness… or sober beauty. Whose work has inspired you in cinema? In literature?
PH When I'm making a film I try to avoid seeing any made by others, but these films you mention all, in combination, created something in my consciousness of cinema between the ages of 16 and 25, I would say. Within five years, I lost my interest in Hollywood. I discovered that there are films that don't take 90 minutes out of your life— they give you time; they prolong your life.
Los Olvidados was my biggest influence at that time, some Visconti, Rocco and His Brothers — but it has very little to do with this film. It's made in a very different style from my film even if it has a similar theme. Bresson influenced me, but not for style. In a book you look for a philosophy of life. Rocco and His Brothers changed my thoughts and let me believe that you can place the same demands that you make of literature and painting on cinema, even in an hour and a half. Such films can develop my mind, offer some answers to questions about life.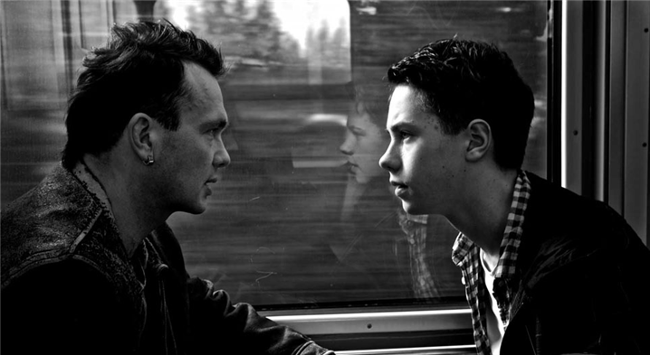 KC You've said that you were given permission by the author to do what you wanted with the novel — to "destroy" it in any way for your film, but the one restriction was that the dialogue (and there is very little of it) had to remain exactly the same, word for word. What did you change?
PH I thought I was changing a lot of the novel, but as I look back on it, in viewing the film, I actually didn't change much at all. The word "adaptation" irritates me. Adaptation from literature to film is impossible unless you plan to make a very bad film. As language, film and writing are completely different from each other. "Based on" would be a better way of putting it. The storyline and the characters of the book gave me a lot. I expressed the themes and characters through images and sounds, and the book's words were not my images.
What I liked about the book was that it used the possibility of abstract language, and that doesn't translate to the screen. The book was philosophical; the film is concrete, specific. The levels are cinematic. It's a mistake to think that a 300-page epic of a book is the length of a feature film. What you have time to put on the screen is births, deaths, weddings — all the depth of the literature is found on the floor beneath the editing table. A 90-minute film is really an equivalent to the length of a short story.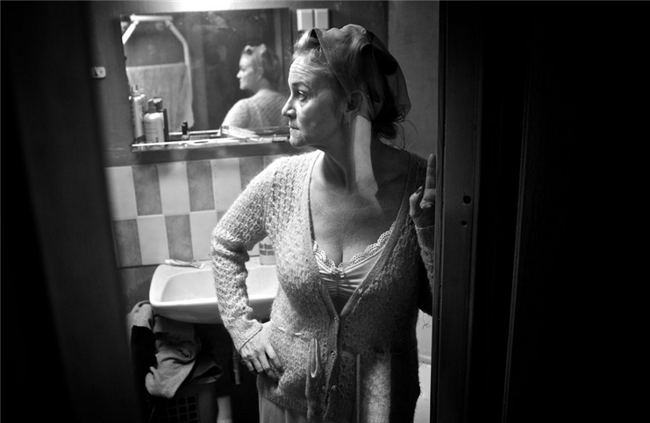 KC The older brother, Ilkka, tells Simo, "Hope is bad. When you lose all hope, you're free." The neighbor man, a photographer tells Simo, "Life is about two things: love and fear. At the bottom of fear is ignorance… Once we lose our fear, we can love." It seems to me that the narrative structure of your film emphasizes that the story is not about one brother but two — about not only Simo's loss of innocence due to a lack of a wider perspective that could allow him hope and love — but also about his brother, who finds that due to his lack of hope and love — of Simo, especially — and not due to his prison sentence, he will never be free. You really end the story with him. Why? Did the novel?
Let me put it another way: Homophobia is a pronounced fear from the first line of the film, but are there other fears that complement or round out this theme, such as xenophobia (the cab driver's reference to the woman with the "towel" on her head and the husky black pickpocket on the streetcar) or fear of class oppression?
PH Simo's phobia is mostly a fear of everything that's different for him. In Finnish, "homo" is literally what it says: anyone who's not like us and doesn't belong to our group. Simo fears the photographer sexually, but not only sexually. The man listens to music that's not what Simo's family is used to hearing. The man's aesthetic sensibility is different from theirs. Yet Simo is also drawn to him because the man is the only escape avenue for Simo from his family.
The man becomes an obsession for Simo because through him the boy senses that there is something else in the world. His brother offers only apocalyptic visions, but this man sees the possibility of beauty, and it's too new for Simo. Yet the boy's drawn to him because the man could be his savior, but he could also mean harm or danger. When the man places a wreath on Simo's head and turns the angle of his face, the man gets too close to Simo's body and fear takes over.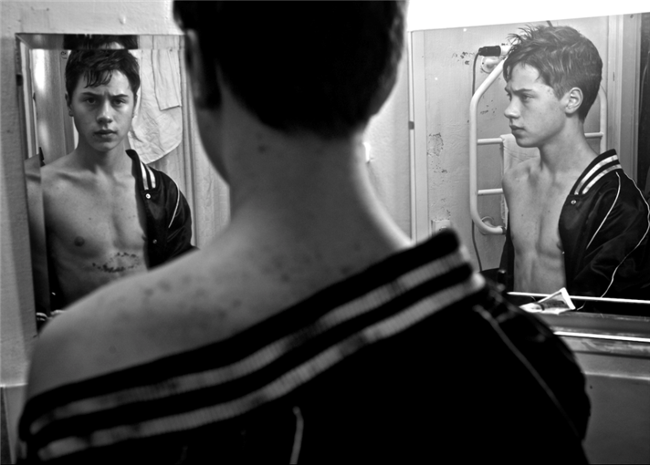 KC Water is a major image and sound in the film, from beginning to end. Do you see it as symbolic as well? Perhaps as "fluidity" as opposed to the "concrete"-ness of fate in the environment? In other words, can water mean the capacity for openness, movement, and fluctuation in social relations (or even knowledge, growth) as opposed to the rigid, confining and restraining walls for gender and sexuality that loom in the cityscape?
The earth and the sky also seem to be symbolic in key scenes such as the neighbor's trailing vines over his concrete balcony and Simo's outing with his friend in the patches of sunlight amidst dark clouds and puddles. And fire is referenced by the friend in his dialogue regarding the oil refineries. Is his rebellious attitude pointed at global corporate presence in Finland (Shell oil)? What is the source of the older brother's rage? Poverty? Lack of a father?
PH Unfortunately, these factors often seem to come together. We can see by the age differences that Simo and his brother don't have the same father. The dad has never been there, and while the mother is fond of her sons, she's weak and incapable.
KC How did you go about casting?
PH I cast the film ten years earlier, when I first started to make it, and then of course I had to do it all over again. I brought a group of 14-year-old boys into a room together and played a long symphony, 20-30 minutes long. This is how I do it. It's very difficult for them because they don't know what's going on, how long they're going to have to sit there. I watch their faces. Some can't take it. They get bored, or nervous. But one of them just took it all in — he went inside himself, and I could see that from his face. Of course I didn't know what he was thinking, but it didn't matter — he was able to make that interior journey. He was capable of it and he didn't mind doing it. That was the actor I needed. And I found that I could look at his face forever….
KC What was your approach to editing?
PH When my editor, the Danish Niels Pagh Andersen, was finished with my film, he went to NY and edited for Jennifer Fox. My film used a shooting ratio of 6 to 1 and he then went to a film with a ratio of 1,000 to 1.
Andersen edited my two films, Three Rooms of Melancholy and Concrete Night, and he said he took those same strategies he used in editing my work with him, and used the same thoughts, in editing Joshua Oppenheimer's new film, The Look of Silence. He wanted to trust the silence. I trust a lot in the audience. I don't directly spoon-feed them one way of reading the film. There are many ways to experience my films, and I leave it to the viewer to decide. Of course that might mean ending up with no film at all, but that's how it is.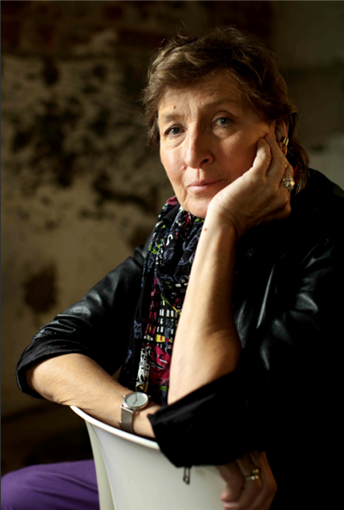 KC How did you choose your locations? How long was the shoot?
PH Helsinki was easy, because I know the center upside down, but moving to the suburbs was a bit more challenging. There were only 21 shooting days and 2 days for underwater shots. We used several takes of one shot, but then only ten shots were cut out of the whole film, and no full sequences.
KC Which scenes were in the suburbs and what were some of the challenges?
PH The suburbs were the concrete buildings where the boys live. The city's center included the railway station, the church, and the restaurant. This is not Simo's world. The area of the oil storage tanks is Simo's secret place with his young friend.
KC There is an opera singer on the soundtrack. What music is it, and what lyrics?
PH It doesn't matter what the lyrics are. The audience should just feel the singing — that's enough. It's why we didn't put them in the subtitles. They're not important. And in fact, for Italians, since the singing is in Italian, the words are actually distracting from the image and the drama, the ambiance.
KC Well. I thank you for the chance to catch up with you after thirty years, and to come full-circle with your new theatrical film. Good luck with Concrete Night!
Concrete Night
Director: Pirjo Honkasalo; Producer: Misha Jaari, Mark Lwoff; Screenplay: Pirkko Saisio, Pirjo Honkasalo, from Pirkko Saisio's novel, Betoniyo, 1981; Cinematographer: Peter Flinckenberg, F.S.C.; Editor: Niels Pagh Andersen; Sound: Jan Alvermark; Music: Karl Frid, Par Frid; Production Design: Pentti Valkeasuo; Costumes: Saija Siekkinen.
Cast: Johannes Brotherus, Jari Virman, Juhan Ulfsak, Anneli Karppinen.

Color and B/W, HD, 96 min. In Finnish with English subtitles.