5-21-22
Brighton 4th: Poetic Realism in the Big Apple, Georgian-Style
By Diane Sippl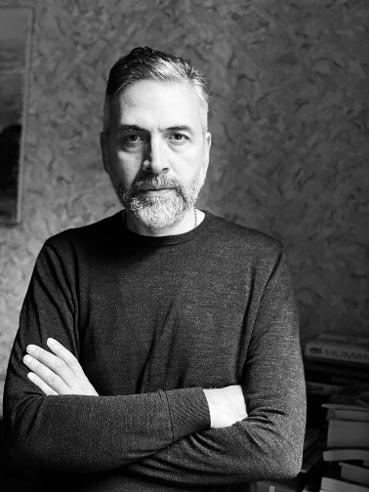 Filmmaker Levan Koguashvili
It's a place where one can easily survive without speaking English as postings around the area are mainly in Russian, and in the streets Russian, Georgian and Armenian are more commonly spoken than English…. It is a social and often mental state when one is in the US and the non-existent Soviet Union at the same time. One wants to start a new life, but can't get rid of the past.
Levan Koguashvili regarding Brighton 4th
Meet Levan Koguashvili. If a number of filmmakers can be credited with spearheading a Georgian New Wave in cinema in these last two decades, he is surely one. Born in Tbilisi in 1973, he studied Film Production at the Georgian State University of Theatre and Cinema in Tbilisi, but a year after he began his studies a war broke out in Georgia and he started to work as a journalist for the first independent Georgian television station. Between 1995 and 1999, he studied Film Directing at the Russian State Institute of Film (VGIK) in Moscow. In 2007, he graduated from Tisch School of the Art's Graduate Film Program at New York University, where he found a fellow filmmaker for his scripts.
Brighton 4th marks Boris Frumin's third collaboration as a screenwriter with Levan Koguashvili, having written the scripts for his first and second feature films, Street Days (2010) and Blind Dates (2013). A Latvian director and screenwriter whose own films have screened at the Cannes, Sundance, Locarno, and Moscow international film festivals, Frumin is an associate professor at NYU's Tisch School of the Arts, where he shares his passion for neorealism and Eastern European film.

Adding to the team's Eastern European sensibility regarding immigrants is Phedon Papamichael, Director of Photography for Brighton 4th, an acclaimed Greek-born cinematographer who has over 45 feature films to his credit, working with Wim Wenders, Oliver Stone, George Clooney, and most recently on Aaron Sorkin's The Trial of the Chicago 7, James Mangold's Ford v Ferrari, and Alexander Payne's Nebraska.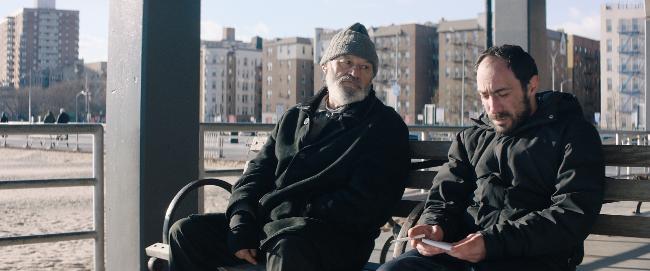 I met Levan Koguashvili just after he had finished his short film, The Debt (2005), competing at the International Film Festival Mannheim-Heidelberg in Germany where I was working as a programming consultant and film critic. Based on the core truths the film delivered and the warm, sincere demeanor of the filmmaker himself, I expected his future works to embody the heart and soul of his first. And they have. Along with his three highly successful documentaries since that time, his three narrative features have played in festivals world-wide and won numerous awards. Koguashvili's responses in the interview to follow are crisp, clear, educational, and—like his films—full of surprises.
In Brighton 4th, Kakhi, a former wrestling champion from Georgia, travels to New York to visit his son Soso, who lives in the immigrant neighborhood of Brighton Beach, Brooklyn. Soso left for New York a few years earlier in order to pass medical exams and become an American doctor.
In Brooklyn, Kakhi finds out that Soso works at a moving company, lives in a boarding house and, instead of studying for exams, spends his time gambling. By the time Kakhi arrives, Soso has accumulated a $14,000 gambling debt, which he owes to Amir, an ex-wrestler and local mafia guy. Soso has a few days left to pay off this debt. In addition, Soso needs money to arrange a fake marriage with a social worker, Lena, to obtain a US green card.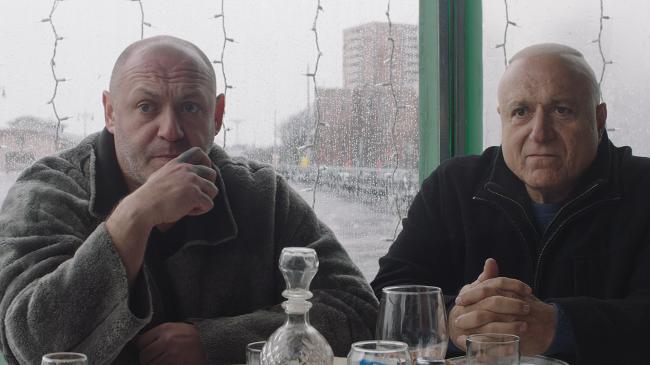 Setting
KINOCaviar How important was it for you to shoot the film on location? Were you already extremely familiar with the neighborhood?
Levan Koguashvili It's my third feature film and I shot all of them in real locations, partly because of the budget restrictions—we can't afford to build the sets—but mostly because I love real locations. Choosing the location for me is an extremely important process. Location is more than just where the action takes place. Location is your attitude toward the story, it's about experience. I also truly believe that the right location helps you to direct the scene. If the location is good, cinematic, then it's very difficult to shoot the scene badly. And the opposite is also true—if location isn't interesting enough, it's basically impossible to shoot a good enough scene, no matter how well the scene was written. In interiors, windows are crucial (beside the mood and texture). In exteriors, it's the depth of field, texture, levels.
KC You include so many diverse neighboring nations in Brighton 4th, and I don't think it's only because they all speak Russian that they end up brought together. How much do they share the same immigrant experience?
LK They share the same Soviet past. That's what still unites them. Language also helps, because most of them don't speak English when they arrive and Russian is the only language they can use to communicate with each other.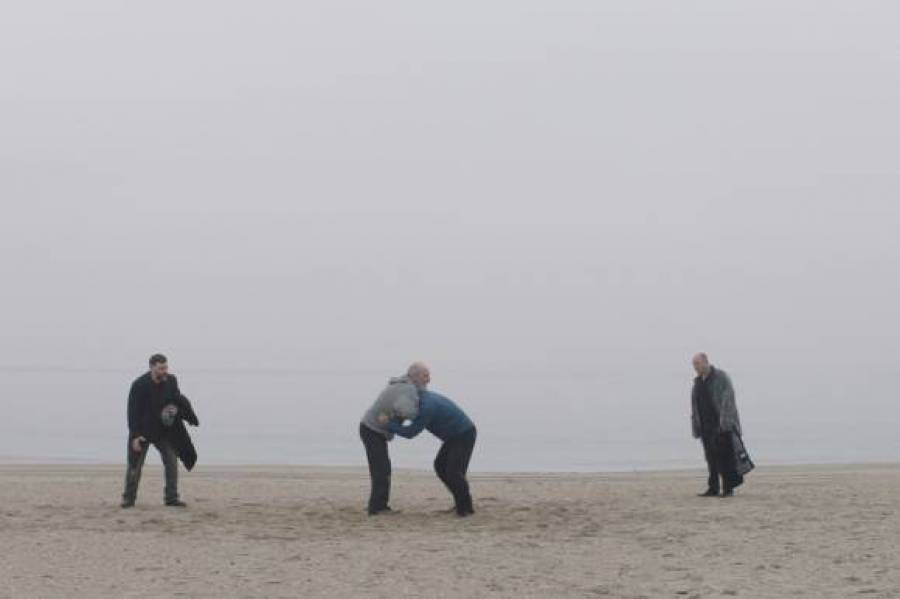 The Camera
KC From the vented anxiety in the sports bar to the young wrestlers at training workouts with the plump old-timers plopped in chairs lining the walls, the camera gives us a great sense of irony. The angles, the framing, and the distance are eye-catching. Did you have one particular scheme in mind for the look of the film?
LK We discussed with the cinematographer Phedon Papamichael the style and the look. The basic choice was realism, but in a poetic way—nothing special, mostly natural lighting. The look of American movies from the 1970s was the main reference (The French Connection, Mean Streets).
KC Had you always planned on including the B/W clips of past footage of the real-life wrestling by Levan Tediashvili? They add to the authenticity of the film.
LK I generally love archival footage. It has this strange poetic quality. It's also very nostalgic. As soon as I saw the footage of Levan Tediashvili as a young wrestler, I knew that it would be in the film. It just took some time to figure out where to put those clips and how many.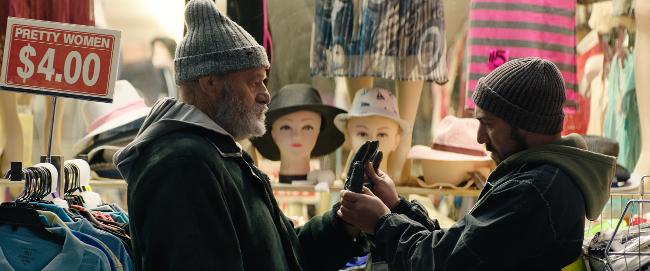 Acting
KC The animal heads in the butcher shops add a grotesque humor, along with the elderly couple. Were many of your characters played by first-time actors from the locale?
LK About 80 percent of the actors in our film are non-professionals. I love interesting faces. They bring truth. It's difficult to lie in directing when you have strong, real faces in the frame.
KC You have portrayed a world of men, grasping at the chance to share a sense of community, maybe drawing from what they've lost in the "Old World." Did you have a special take on masculinity in mind for Brighton 4th?
LK My previous film about immigrants was called Women from Georgia. It's a documentary about Georgian women working as caretakers of elderly people in the USA. I guess Brighton 4th is a continuation of that film. In Women from Georgia we talked about strong women who took care of their families amidst the chaos of the post-soviet Georgia. And in Brighton 4th we talked about the messed-up husbands.
KC Did you always plan on casting Kakhi Kavsadze in your film? I've learned that he was quite popular on the screen, the stage, and TV. He's so elegant, and his singing was so vital and compelling in Brighton 4th. Was he always a singer as well?
LK Kakhi Kavsadze was in my previous film, Blind Dates, and I enjoyed working with him so much that in Brighton 4th I asked my writer Boris Frumin to add a role for Kakhi. (His character didn't exist in the first drafts of the script.) He is a real actor—he can sing, dance, do anything. He is from a legendary musical family. His father was a famous choir conductor in Georgia who was sent to the Gulag during the communist regime in the 1940s and died there. So singing was in Kakhi's blood.
Kakhi Kavsadze in Brighton 4th
Kakhi Kavsadze in Blind Dates
KC Then, how did you conceive of casting him alongside of Levan Tediashvili, who it seems is famous for wrestling but not for acting?
LK I like mixing professional and non-professional actors. It's a good combination. Non- professional actors bring the authentic look and presence; professionals help them carry on the scene, do the blocking, etc.
KC I know that Tediashvili played in one other film, in 1987 by Georgiy Shengalaya, and that he won the Best Actor Award for his performance in Brighton 4th. Was this role written with him in mind? In fact, was the whole film planned with his acting from the beginning?
LK No, Boris Frumin just came up with an idea about an old wrestler. Initially, the idea was that the wrestler would be in his late 50s, because then his wrestling in the final scene would've looked more natural, but then I met Levan Tediashvili and we changed this concept. We ended up with a guy in his early 70s.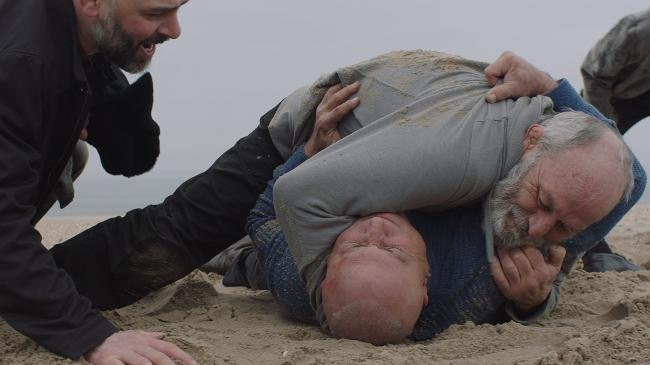 KC You almost seem to be casting against type in Tediashvili's role as Kakhi—on the one hand he is known as an Olympic wrestling champion, a "muscleman," and you cast him in such a gentle and quiet role—the counterpoint for many of the other male characters. Yet at the same time, his gentleness is his very strength. What inspired you to give us this complex character?
LK Those are qualities coming from Tediashvili and the wrestlers in general. They are strong, but don't show it too much. Really strong guys are modest and humble. They don't need to show off.
Writing
KC Kakhi conveys an almost saint-like personality—somewhere between the rare "innocent" and the martyr who performs the needed sacrifice. With all his integrity and compassion, he always possesses the higher wisdom. Is this character modeled on any prototype, perhaps anyone you know?
LK In a way, the inspiration was the Prodigal Son story about the father who is ready to forgive his son all his misbehavior. But the main inspiration was a real father whom I met in Brooklyn when I was doing my research about immigrants. This father came to Brooklyn all the way from Georgia to save his drug-addict son. He found his son on the streets of Coney Island and saved him. When I met them, they were working together in a moving company.
KC At the same time, Kakhi is, to me, one of the most deeply lyrical characters I know—someone who longs for the best outcome and is able to ride through life on "a wish and a hope," possibly instilling this affirmation in others. Was it difficult to make such a character so believable?
LK Levan Tediashvili himself is a very lyrical person, and he brought this quality into his character. Plus, the script helped a lot.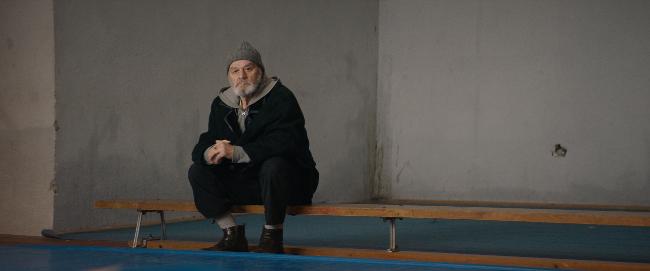 KC Or, on the other hand, is this more a matter of how tragic irony works, given the foreshadowing of the hearse and the funeral wreath when Kakhi arrives in Brooklyn?
LK I believe that tragedies must be told as comedies. Irony doesn't diminish tragedy. Tragedy doesn't become less tragic with the introduction of humor; it just becomes richer, warmer, more ambiguous, and I like these qualities and shades.
KC Speaking of writing, I can't help but see evocations of Dostoevsky—maybe The Idiot (with the epilepsy and the wisdom of the protagonist) or The Gambler. Has literature influenced the script?
LK Dostoevsky is one the favorite writers of Boris Frumin, my teacher at NYU in the graduate film program, and one of his assignments was to do a scene/adaptation of Crime and Punishment. But in the case of Brighton 4th, I guess the main influences were the real stories that I was telling Boris about the life of Georgian immigrants in Brooklyn, plus his own feelings and understanding of fatherhood. He is also a father, he has a son, and I am sure his personal relationship with his son was also projected into the script.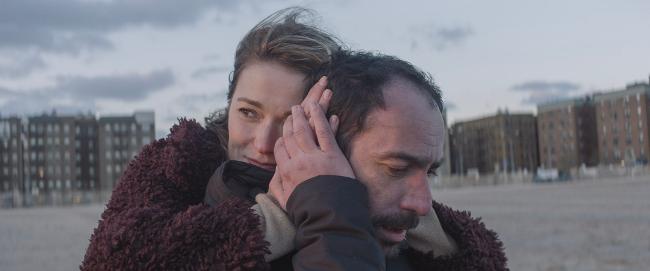 Nadezhda Mikhalkova, Giorgi Tabidze
Music
KC Can you talk about the use of music and song (separately) in your film?
Several songs are performed by Kakhi Kavsadze (and also together with some of the other men) including "Many Years." What is the significance in Georgia of that song and some of the ones sung earlier?
LK Several years ago, Kakhi Kavsadze and I were visiting a medieval Georgian monastery. We were already leaving when Kakhi met a couple of Georgian folk singers there, and after a very short conversation, Kakhi suddenly started singing "Many Years" and those singers at the monastery picked up the melody and sang with Kakhi. It was a total improvisation and I just loved it and decided to use it in Brighton 4th. The only problem was that this song is about life and the celebration of life. It's not about the death, and people sing different songs in Georgia when someone dies, so we had to figure out in the script why Kakhi's character sings this particular song to the dead man.
KC How and why did you choose to avoid a soundtrack per se?
LK I usually use a minimal amount of music in my films. I also like using existing music.
KC What is the haunting solo wind instrument heard on occasion in the film? Is it unique to Georgia? Lamenting, melancholy, nostalgic, or lyrical—it seems also to tap into the roots of the characters. How did you decide when and where to use it?
LK This solo is performed by two Georgian guys—one of them is the singer, and the second guy is the philosopher. I saw on YouTube how they imitated the sound of a horn and a flute with their mouths, and I liked it very much. I suggested the melody to them (it's a Georgian song from the early 1930s) and with their wonderful mouths, they created this musical piece. It has two versions: flute and horn. I think I used the "flute" as the main theme of the film.
Brighton 4th
Director: Levan Koguashvili; Producers: Irakli Rodonaya, Olena Yershova, Michel Merkt, Kateryna Merkt; Screenplay: Boris Frumin; Cinematographer: Phedon Papamichael; Editors: Sasha Frumin, Davit Kiknadze, Elene Asatiani; Music: Andro Dgebuadze, Misho Javakhishvili.
Cast: Levan Tediashvili, Kakhi Kavsadze, Nadezhda Mikhalkova, Giorgi Tabidze.
Color, Widescreen, 95 min. In Georgian, English, and Russian with English subtitles.
Special notes on the cast:
Kakhi - Levan Tediashvili (b. 1948) is a non-professional actor and a former Soviet (Georgian) wrestler and Olympic champion in Freestyle wrestling in 1972 and 1976. A five-time world champion, he remained undefeated between 1971 and 1976. Besides freestyle wrestling, he was also a Soviet and world champion in sambo.
Soso - Giorgi Tabidze is a rising Georgian star who is best known internationally for his part in the film Hostages, which premiered in Berlin and later screened at the Telluride Film Festival.
Lena - Nadezhda Mikhalkova is the youngest daughter of Russian actor and film director Nikita Mikhalkov. At age 6, Nadezhda starred as Nadia Kotova in the film Burnt by the Sun directed by her father, who also played Nadia's father in the film. The film received the Grand Prize at Cannes and the Academy Award for Best Foreign Language Film, among many other honors.
Sergo - Kakhi Kavsadze, who died in April of 2021 at the age of 85, was a legend of Soviet and Georgian cinema. His role of Abdullah in White Sun of the Desert made him one of the most beloved actors in the ex USSR. If one were to compare Kavsadze to anyone from the Hollywood in terms of his popularity and recognition it would probably be Sean Connery. The role of Sergo in Brighton 4th was his second appearance in a film by Levan Koguashvili.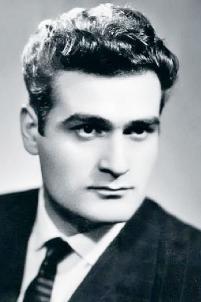 In loving memory of Kakhi Kavsadze
June 5, 1935-April 27, 2021