5-9-15
Bota: A Balkan Phoenix
By Diane Sippl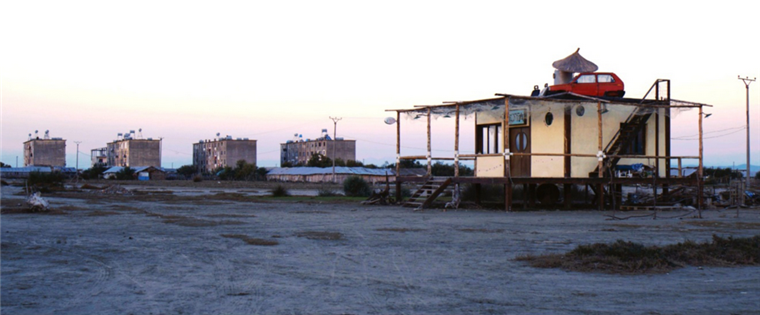 From April 30th to May 7th, the South East European Film Festival, SEEfest 2015, celebrated its 10th anniversary by showing 47 films to devoted audiences in Los Angeles. Among the many festivals in the city, SEEfest is one of the few that still shines a light on artistic cinema of merit by new filmmakers whose feature film debuts might otherwise be shut out or lost in the glittering mazes of entertainment and commerce that pave the So-Cal way. Artistic Director Vera Mijojlić and her programmers and jurors have once again saluted artists committed to a cinema of imagination, experimentation, and most of all, profound meditation on the past and present relations of their homelands to the world.
How fitting, then, that Bota (which means literally "the world" in Albanian) won not one but two awards, a Special Jury Prize for Best Ensemble Cast including Flonja Kodheli, Fioralba Kryemadhi, Artur Gorishti, Tinka Kurti, Alban Ukaj, Guljelm Radoja, and Luca Lionello and also the Audience Award for Best Feature, doubly interesting because the film has been winning Critics' Prizes (the FEDEORA and the FIPRESCI) right beside audience awards at other prestigious international festivals, and it almost broke a record for its three-week run in Albanian theaters when it opened last fall. Is there really a "hi-lo" split in Bota's reception, or is it more a matter of buoyant pleasures and ingenuity anchored by the filmmakers' deep knowledge and reflection that, in all its freshness, leaves anyone breathless? There is a subtlety and lyrical delicacy to the expression of dark conflicts at the core of Bota, at once surprising, confounding, and thought-provoking. All these feelings, there for the spectator to put together, launch an enhanced awareness that creeps up without notice. With their first feature film, Elezi and Logoreci have put Albania on the map of world cinema.
Addressing her audience at SEEfest, Bota's co-writer/director Iris Elezi explained how she left Albania for college in the U.S., specialized in culture studies, film theory, and women's studies and then earned a diploma in film production at NYU's Tisch School of the Arts. She returned to Albania via neighboring Kosovo to make the award-winning, six-part documentary series Under Construction, showing the challenges facing the Western Balkans today. In her research for this project, the many stories she collected throughout the region begged to be told just as they called for contemplation of Albania's past: what did it mean to survive communism as it evolved under the Hoxha regime, and how did the traumas of the times mark individuals in diverse ways? What contradictions have surfaced in the behaviors of those who remain, and where do Albanians today see themselves headed?
Iris Elezi researched these questions for four years along with Thomas Logoreci, her husband and filmmaking partner. He was born in the U.S. to an émigré who fled Albania in the 1940s. Logoreci has not only worked as a producer, editor, and cinematographer, but together with Elezi and archivist Regina Longo, has co-founded The Albanian Cinema Project, an initiative to restore, protect, and share the endangered Albanian National Film Archive.
In Bota, the directors sweep us away to Albania today, to a vast stretch of seemingly nothing as far as the eye can see, but a void that is physically "swamped" with ghosts from the past. An old red auto sits somehow on the rooftop of an improvised shed. There café owner Beni, manager Juli (his cousin), and waitress Nora eke out an existence as if in exile. Nonetheless, Beni has big dreams of transforming Bota, his ramshackle pit stop, into a Balkan hot spot, and he sees Nora, his eye-catching mistress, as part of the project.
But his plan gets ruffled, not galvanized, as a new road approaches. A team of construction workers headed by Italians is building a highway, and it brings some special visitors, such as one who is there to exhume the bodies of countrymen lost in World War II. Meanwhile Juli is concerned about her increasingly detached grandmother, Noje, an elderly survivor of the communist era who seems somewhat confused. If it weren't for Noje, Juli would leave to study art in Tirana. But with what money? As it is, a loan shark comes to collect from Beni, who looks increasingly like a small-time crook. He's already two-timing his wife, who is lucky enough to live with him elsewhere, and now Nora is "expecting," for the second time, with Beni. The tone grows both brighter as the Bota trio hosts a night of festivity for all, with live music and fireworks, and darker, as Beni's past and present schemes catch up with him — and on one level, at least, history repeats itself.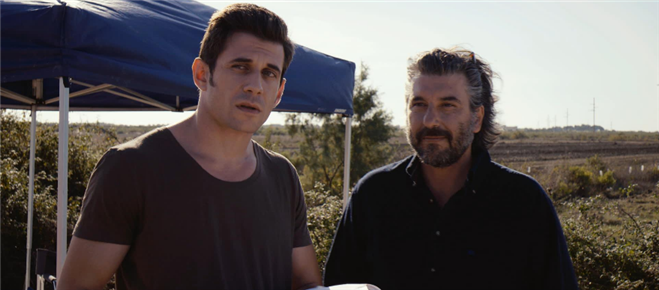 Bigger questions arise: who has been living in the block buildings of the isolated village on the horizon, and what phantoms haunt these backwater flats? Are the struggles, dreams, and betrayals of Bota's makeshift "family" remnants of the village's murky past? Can relics be unearthed, revealed, confronted, reclaimed? What treasures of a culture might be revived?
Bota shows us vestiges of old times juxtaposed with the new as we see a shepherd's herd blocking the road in one scene and teen boys striking up a car wash enterprise in another, all the while a fruit and vegetable vendor now sells from a van with loudspeakers. It's a visual history of vehicles for commerce, crowned by a bank teller trying to buffer closing accounts. These fleeting images are also the lasting motifs of a microcosm stuck in its tracks. As the film rolls on innocently, playfully, leisurely, its threads weave a larger concern: is internment merely political, or is it fundamentally economic, and psychological at its core? And worse, is its mentality addictive and regenerative, its dark prophecy self-fulfilling?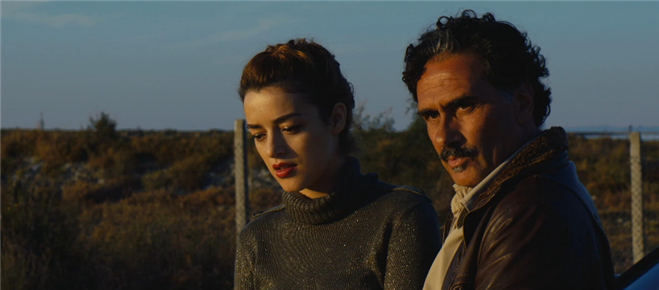 After all, on top of its many details from local stories shared with the filmmakers, Bota draws from a larger frame of reference by alluding at least twice to a novel by Albania's most renown author, Ismail Kadare — The General of the Dead Army. With exuberance and panache, co-writer/director Elezi, in her post-screening talk at SEEfest, explained the bold move to incorporate Kadare into the script. For example, in Bota a man is sent to the village to search for people's remains, and he overtly refers to "the general of the dead army."
On another level, we glimpse a film-within-a-film clip from the adaptation of the novel to the screen by Dhimiter Anagnosti in 1989, a most telling year for Albanian history. This clip shows on the TV screen near the end of Bota. Watching it is Noje, just before she dies, played by Tinka Kurti, a beloved icon of Albanian cinema — "our Lillian Gish," as Elezi put it — who starred in the first Albanian feature film, Tana, in 1958. Bota was Kurti's 87th role in Albanian cinema, theatre, and television. The filmmakers wanted to pay their respect to all the pioneers and leading lights of Albanian cinema: because Noje is looking at her last moving image before her death, the scene symbolizes the end of an era for Albanian filmmaking — the last film of the big Albanian national Kinostudio. For Bota, it was the first time in twenty-four years that filmmakers had actually built their own set from scratch; yet even so, at this isolated location, access to electricity and water had to be installed even to do this!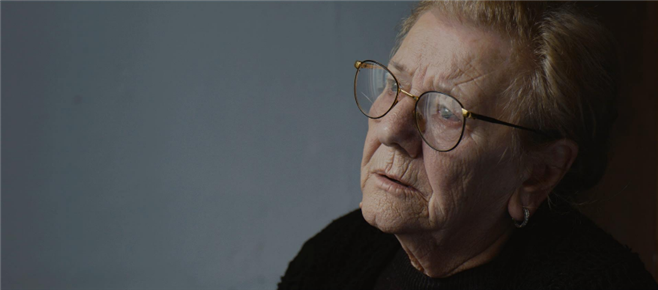 Elezi explained how informative and powerful the films of Albania's big studio era were, both as a rich emotional experiences and as documents of the times, for her and co-writer/director Logoreci in writing Bota. Archival films suggested archetypal characters such as Beni, opportunists who use their multi-lingual and social skills to sidle up to foreign investors (Beni ceaselessly approaches the Italian businessman) and finagle funds from the State (Beni hides Noje's compensation money) but have also suffered persecution and exile.
Just as important were the old folk songs recorded during the communist era, traditional and therefore strangely timeless, that the filmmakers bring back to life so soulfully in Bota. They help establish the dream-like mise-en-scène with its surreal, barren but brightly lit setting, one that carries us from a young girl dancing ballet in an unknown context in the TV film (the last image Noje sees before she dies) to Nora dancing the tango, also by herself — or beside herself — in Bota's end credits. As the film comes full circle, Juli has lost not only Noje but also Nora, brutally, but her mother's bones are exhumed and state crimes can be revealed. Unwittingly, the "Benis" of Albania have pushed Juli out of exile. While her only friend has been murdered for money, buried to hide guilt, lied about to cover up — while once again history has been "hushed" by perpetrators and even bystanders — Juli breaks the cycle, hopefully symbolic of the country today.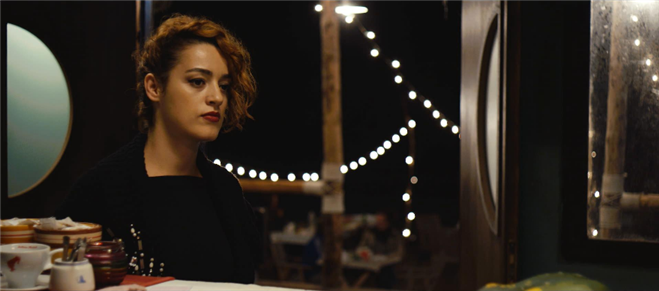 Bota
Directors: Iris Elezi, Thomas Logoreci; Producers: Sabina Kodra, Andrea Stucovitz, Burim Berisha, Robert Budina, Iris Elezi, Thomas Logoreci; Screenplay: Iris Elezi, Thomas Logoreci; Cinematographer: Ramiro Civita ; Editor: Walter Fasano; Costume Design: Emir Turkeshi.
Cast: Flonja Kodheli, Artur Gorishti, Fioralba Kryemadhi, Tinka Kurti, Alban Ukaj, Luca Lionello.

Color, Cinemascope, 104 min. In Albanian with English subtitles.