1-5-12
A Swedish Grande Dame at the SFFLA: Pernilla August Talks about Acting, Directing, and Beyond
By Diane Sippl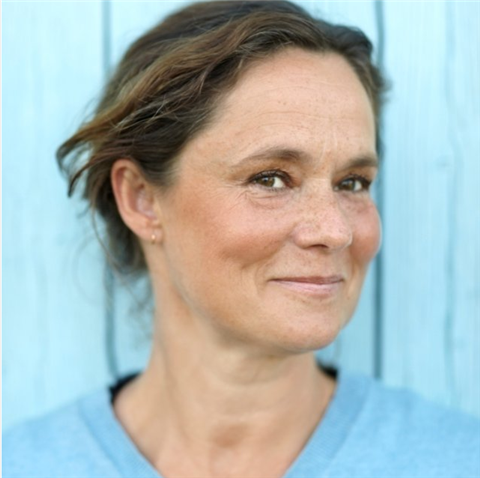 13th Scandinavian Film Festival Los Angeles, January 7, 8, 14, and 15, 2012, Writers Guild Theater, 135 S. Doheny (off Wilshire), Beverly Hills, www.sffla.net or www.scandinavianfilmfestivalla.com.

Button up your overcoats — there's a strong north wind whipping through the southland, a female voice that can ride as well on a whisper, that lets you see your own breath in the air when warmth and tenderness take over the chill. On January 7th at 8 pm the Scandinavian Film Festival L.A. follows its gala buffet with its opening night film, Beyond. It's the first feature directed and co-written by the prolific Swedish actress, Pernilla August, and it showcases her wealth of acting experience on both the stage and the screen.
This film directing debut at the same time highlights the talents of four other immensely successful Scandinavian women: novelist Susanna Alakoski, thespian Outi Mäenpää (longtime contributor to Aki Kaurismäki's films, Drifting Clouds, Juha, The Match Factory Girl, and The Man without a Past), shooting star Noomi Rapace (of Millennium Trilogy fame, beginning with The Girl with the Dragon Tattoo), and her ingenue alter-ego on the screen, Tehilla Blad (who played Rapace's younger self in all three films of the Millennium Trilogy, just as she does in Beyond).
Rapace was born in Iceland and Alakosi in Finland, yet both grew up and studied in Sweden, homeland of the teenage Blad who attends the Royal Swedish Ballet School in Stockholm. Mäenpää, on the other hand, lives and works in Finland, her home country. While Pernilla August and Noomi Rapace loom large on Swedish screens, both have acted in Hollywood as well. All in all, five individual artists wearing three separate hats have combined their gifts in a widely lauded film: Beyond won the 25th Venice Critics Week award, a cash prize for first works that is voted on by the audience, and numerous awards since then.
A Novel of Tenderness and Force
It all starts with the life of a girl. When it was first published in 2006, Susanna Alakosi's debut as a novelist, her semi-autobiographical Svinalängorna (The Pigsties), was named Novel of the Year in Sweden. It won the August Award and became a bestseller with over 400,000 copies sold in Sweden alone. Susanna Alakoski was born in Vasa, Finland in 1962 but her family moved to the southern Swedish town of Ystad, where her novel is set. She now lives in Stockholm where she has worked as a journalist, a gender researcher and women's activist, the press secretary for former party leader Gudrun Schyman, and a social worker.
The novel uses the voice of the girl to narrate her own story of strife and grief in growing up as an immigrant with another language and culture and also as a child of a working-class family whose father has a hard time holding down a job due to a life with alcohol that he shares with his wife along with bouts of physical abuse. Little Leena and her brother Sakary (the actor and actress are brother and sister in real life) spend all the energy they can muster to protect themselves from violence and neglect and somehow survive.
Beyond, as co-written and directed by Pernilla August, divides the screen time between the 1970s and the present, when Leena is happily married with two daughters of her own. The two stories (one in flashbacks) begin to collide at Christmas time when Leena, surrounded by her husband and children, receives a telephone request to visit her dying mother.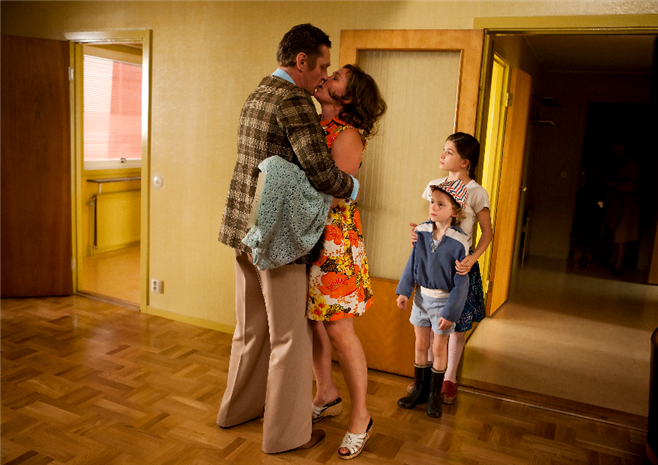 A Thespian Wears a New Hat
Pernilla August took to the stage early as a child actress performing at both the theater and school; she then studied acting formally at the Swedish National Academy of Mime and Acting in Stockholm. But long before that she was already cast in her first professional role in 1975 by Roy Andersson for his second feature as a filmmaker, Giliap, which was followed by her work with director Lasse Hallström.
Pernilla August became highly visible in the cinema world with her role as the nanny in Ingmar Bergman's Fanny and Alexander in 1982. It blossomed into twenty years of collaboration with Sweden's most famous filmmaker. Some forget that he was equally prolific in the theatre. Among Pernilla August's prize-winning roles are those for Dramaten in plays directed by Bergman at the Royal Dramatic Theatre in Stockholm and touring internationally, including Ophelia in Shakespeare's Hamlet, Nora in Ibsen's A Doll's House, Hermione in Bergman's version of Shakespeare's A Winter's Tale, Mary Stuart in Schiller's eponymous play, and Helene Alving in Ibsen's Ghosts. She has also performed leading roles in Chekhov's Three Sisters, Strindberg's A Dream Play, Pushkin's A Feast in the Time of Plague, and.a stage production of Steel Magnolias in Stockholm.
On television in 1991 she played Bergman's mother in The Best Intentions and met Billie August, going on to win both the Swedish Guldbagge and the Best Actress Award at the Cannes Film Festival in 1992 for her role in Billie August's film, The Best Intentions, which also won the Palm d'Or at Cannes. She had already done TV acting in 1989 for heavy-weight director Bo Widerman's production of Ibsen's The Wild Duck, which followed from acting in his 1986 film, The Serpent's Way. In 1996 she worked in another television production, Private Confessions, under the direction of one of Sweden's most famous actresses, Liv Ullmann. On a separate path, she played Schmi Skywalker in George Lucas' Star Wars, Episode One in 1999 and Episode Two in 2002.
That same year she was awarded the Royal Swedish medal of honor, Litteris et Artibus for her accomplishments in arts and letters. Not only has the country submitted Beyond for its entry into the 84th Academy Awards for Best Foreign-Language Film, but it also bestowed upon this film eight nominations for the Swedish Guldbagge awards. Two ended up claiming the award: Best Direction, Pernilla August and Best Supporting Actress, Outi Mäenpää. In October jury chair Helen Mirren presented to Pernilla August the Nordic Council Film Prize for Beyond for the best film of 2011. With it she joined the ranks of top Scandinavian filmmakers Lars von Trier, Thomas Vinterberg, Roy Andersson, Aki Kaurismäki, Per Fly and Josef Fares. Next we will see Pernilla August acting again in Jan Troell's Truth or Consequence, now in post-production.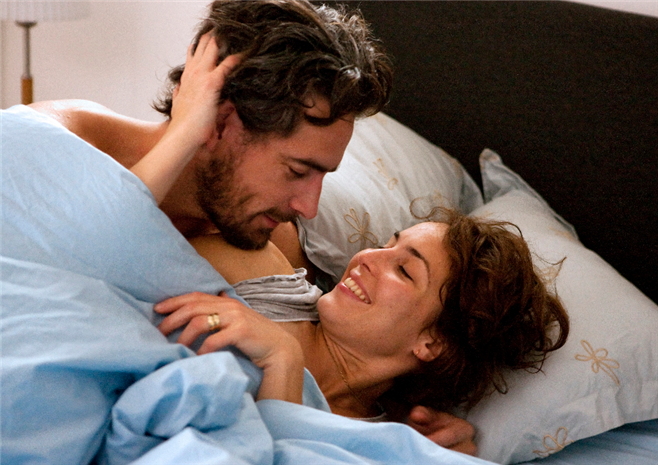 As she was little more than one step off the plane in West Hollywood, I caught Pernilla August for the following conversation. It will most likely be continued with the audience following the screening of her film, Beyond at the Scandinavian Film Festival L. A. on Saturday, January 7 at the Writers Guild Theater in Beverly Hills.
Diane Sippl How did you get the idea for this particular film as your first feature?
Pernilla August When I read the novel, I found it to be so beautifully written and so important — about a child suffering in a dysfunctional family. My producer called me and asked if I wanted to do it. We had worked on my short film together that I had directed first. I had a feeling about the story: it's like it was falling down my knee, in a way. I had pictures in my head of the girl's point of view, of how she looked at her family and the world
DS How did you go about adapting it?
PA At first we did a script right from the book, but it was always turning into a film for a child or a teen, and I wanted to do a film for grown-ups, because how you take care of your history as a kid when you're a grown-up is very interesting to me. Often if you've lived this kind of life you just want to forget it.
DS Has the novel been translated into English yet?
PA I don't know — the title in translation means "Pig Stalls."
A Black Forest
DS In your director's statement about the film you mentioned one of my favorite playwrights, Henrik Ibsen from Norway, whose roles you've often played. Minnie Maddern Fiske, the esteemed American actress and independent theatre producer who was brave and bold enough to first perform his work on these shores in 1894 said this about him:
"Many a play is like a painted backdrop, something to be looked at from the front. An Ibsen play is like a black forest, something you can enter, something you can walk about in. There you can lose yourself: you can lose yourself. And once inside, you find such wonderful glades, such beautiful, sunlit places."
Can you elaborate on how you see Beyond in relation to his work?
PA I'm turning everything into Ibsen! Ghosts was my last play with Bergman. I like what you said about the "black forest" — you don't know what's going to be there. How do you live your life "truly"? It's so often that you live in a lie. In the film Leena thinks she's living her life in a wonderful way, but deep down she has her darkness, and she doesn't want to see it or talk about it. This is like The Wild Duck and Ghosts — especially Ghosts. Ibsen had a word for this life of deceit: in Swedish it's "livslöjn."
DS For me Ghosts was always like an onion, with all the layers that keep sticking to each other as you peel it back.
PA Yes, that's it.
DS You have such a fine cast in Beyond, and they come from and also represent quite a variety of ages and cultures. Having been an actress almost all your life, what was it like directing other actors? Did you find yourself using different approaches for any of them?
PA For me as an actress, the best is a feeling of teamwork, and I was trying to take that with me. You're right, you have to meet each actor in another way. The Finnish couple, Ville Virtanen and Outi Mäenpää, had a very explosive style of acting. They were very "out-playing" — moreso than Ola and Noomi Rapace. But also their roles are in the back-story, which is a very different kind of story than the one in the present; it's bigger and more explosive itself.
Outi really wanted to cry a lot and be very angry, and I wanted the scene to be much more "down." So we did a take from her and then it was me, in the editing. In the end the result is a bit of her and a bit of me, which is good. Sometimes we used just the beginning and the end of a scene in the editing, and it worked out very well.
DS Did the Finnish actors know Swedish?
PA They're speaking in both languages. When they're arguing as husband and wife, they're improvising in Finnish, and I kept it in. Acting is so much about trust, and directing, about making the actor believe in you.
A Time-Bomb Ticking in Her Stomach
DS What was it like directing Tehilla Blad, who plays Leena as a child? She must be seventeen by now?
PA Yes, she's about sixteen or seventeen. She was so professional. She's been a ballet dancer since childhood, so she has learned how to manage lots of concentration.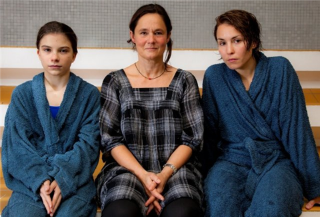 DS Regarding Ola Rapace's role as Johan, I was quite surprised to see such a consistently kind and generous and patient husband and father. I was waiting for him to crack and lose it, or regress in some way, just because people do in such circumstances and relationships. He's so sensitive and so "right" in reacting to and responding to every stage of new discoveries about his wife. It makes him a new kind of "heart-throb" — he's almost unbelievable.
PA He's a dream of a guy. It was interesting to be so brave to see if we could offer such a male character.
DS Well you do leave a bit of room for ambiguity in perhaps the highest point of your drama, when he and Leena get into a physical tangle with each other.
PA He's confronting her, not threatening her. He's saying, "We're trying to help you." But she sees him as attacking her.
DS Well, finally we see her begin to repeat the behavior her parents modeled for her — I had been waiting for that.
PA It was such a challenge to hold her back until the end. It's so easy to let out little leaks along the way.
DS You mean clues that lead to a resolution, the usual expected hints in conventional storytelling?
PA Yes — the emotions inside her are like a bomb in her stomach.
DS At the Scandinavian Film Festival L. A., you'll also be featured next week as an actress, in a film called A Rational Solution. Could you describe the experience of making that film? Is it a comedy?
PA Not quite — there's some drama. I liked working with the script because it was such beautiful dialogue.
DS What about Truth or Consequence, the new film by Jan Troell in which you are cast beside the wonderful Danish actor, Jesper Christensen?
PA It's a beautiful story. You know Jan Troell is turning 80. He's like a young boy when he's directing. It's so wonderful to work with him, and Jesper as well. The plot of the film is from the early 1930s, and the drama is about two couples and a triangle involving Jesper and me. They've been having a relationship all their lives; they've always had an open marriage.
DS Would you like to act on the stage again?
PA It's so wonderful to act after I've directed. I love to act. My dream is to combine film acting and directing. Going back to the stage? There it takes so much time. I want to learn more about filmmaking, and I have a new idea in mind.
DS So we can hope to see your next film as a director soon?
PA Yes, that's right…
DS Thanks so much, and good luck.
Beyond
Director: Pernilla August; Producers: Helena Danielsson, Ralf Karlsson; Screenplay: Pernilla August, Lolita Ray, based freely on the novel, Svinalangörna (The Pig Stalls) by Susanna Alakosi; Cinematographer: Erik Molberg Hansen, DFF; Editor: Åsa Mossberg; Sound: Bo Persson, Owe Svensson, John Nilsson; Set Design: Anna Asp; Costumes: Kicki Ilander; Original Music: Magnus Jarlbo, Sebastian Öberg.
Cast: Noomi Rapace, Ola Rapace, Outi Mäenpää, Ville Virtanen, Tehilla Blad, Junior Blad.
Color, 35mm, 94 min. In Swedish and Finnish with English subtitles.