10-27-13
Agnès Varda at LACMA: In Search of the Heart-Shaped Potato
By Diane Sippl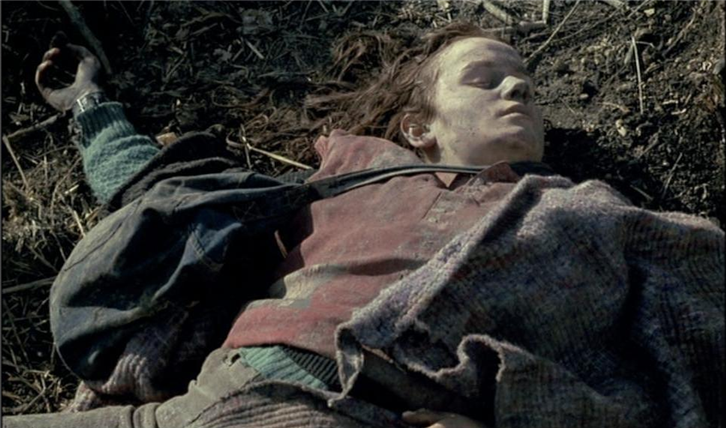 I felt that although I'm not a gleaner — I'm not poor, I have enough to eat — there's another kind of gleaning, which is artistic gleaning. You pick ideas, you pick images, you pick emotions from other people, and then you make it into a film…
Agnès Varda
The Gleaners and I begins as Agnès Varda observes and follows and interviews people in the fields of France today picking up potatoes from the ground, much as peasant women who combed the harvested plots of land for leavings were painted by Jean-François Millet in 1867. Today she finds them not only in the countryside, including vineyards that have apparently been abandoned pre-harvest, but also in cities, salvaging cast-out food, appliances, and artifacts that take on a new interest. In the digital era of France at the turn of the millennium, her empathetic and lyrical, playfully interactive presentation of "foragers, rummagers, and scavengers" offers up a wry commentary on the excesses of capitalism with images that attest to our increasing acknowledgement, a decade hence, of the growing price the world pays for such extravagance.
"The World According to Agnès Varda: Recent and Restored Work," running from October 25-29 at the Los Angeles County Museum of Art's Bing Theater, is a showcase of eight films by the writer-director who has often been known as the "Grandmother of French New Wave." Presented in conjunction with the museum's exhibition, Agnès Varda in Californialand displaying her sculptural installation inspired by her stay in Los Angeles in the late 1960s and a selection of her photographs, it combines six films made since 2000 with two filmed in 1967 and 1969, Uncle Yanco and Lion's Love (...and Lies), to build a multi-faceted portrait, and apparently one always in-the-making, of the filmmaker among her subjects, as a subject herself. While her strikingly playful The Beaches of Agnès (2008) may have impressed audiences as her consummate autobiography, a scene from The Gleaners and I (2000) in which she gleans a potato with one hand while simultaneously photographing it with the other allows he to demonstrate two important points: that cinema is both objective and subjective at once, and that within a tradition and a community of gleaners, she shares a role.
In fact she also interacts with her audience following each of the films shown at LACMA. The comments here are her reflections in response to questions raised by host and programmer, Bernardo Rondeau, Assistant Curator of Film at LACMA, following the opening film of the series, The Gleaners and I.
"These films of mine — I don't know what to call them, because I don't like the word, but maybe they are 'docu-fictions' — all started when I found I could use this very little camera, and not intrude in the activity. I had always been interested in the 'other' life that something could have, maybe after the first one, of the usual role it played.
And I always liked artists who put these things together. It's how I work.
My way of editing? Okay — I wanted to show 'gleaning'. How is it done? Who are the people who do it? Why do they do it? What exactly is gleaning?
There are those who need it for sustenance, for their physical survival. Then there are those who see it as the right thing to do — why not? It makes sense to them, to pick up what's left behind, to make use of it. There are also those who have collected objects from the street to repair and restore or to make use of something from them, such as the copper wires from inside TV sets. We have those who create art from these objects, as Picasso did.
And then I found this teacher, who put together classes of people he met from Mali and Senegal, who lives in this very simple, humble room, and who began teaching these language classes just to help, without pay, for people like him, because they needed it — he did it just from the heart — and so I thought of the potatoes.
The heart-shaped potatoes I found at the beginning were a sign, I thought, so I began collecting them, and I photographed them again later.
And then I had to add the judges of the law, since the rules of gleaning have changed.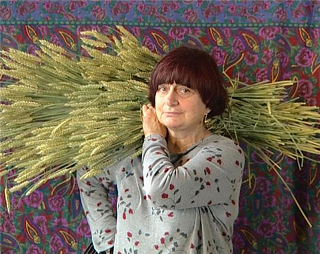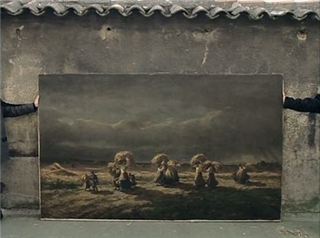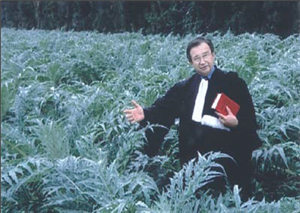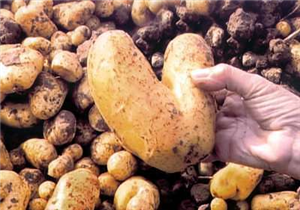 Gleaning is universal.
It's been done everywhere.
But in France it has been done in groups.
People glean together, whereas in other places they do it alone.
It happens that France is a country where its history shows up in the art.
I kept running into more examples of this.
Then there was this nice lady you see in the film, who explains the difference between 'gleaning' and 'picking'. When you pull down to take it, like getting fruit from the tree, or the grapes from the vine, you are picking. Real gleaning is lifting up, like getting the grains of wheat.
Gleaning used to be done only by women and children, and only after sunrise and before sundown. Then men started to do it, too. Lately the laws have become stricter, so I put the attorneys and enforcement people in the film (in uniforms!). People are not so nice about it any more.
I liked the trucks — I always have — because they connect the whole country, the culture, on the roads. So I made my own special frame around them, like this (she gestures as she did in the film, shaping a circle with her two thumbs and pointing fingers) and I used it every time they drove by. I could feel very childish, happy, in playing with the trucks, because they brought me joy."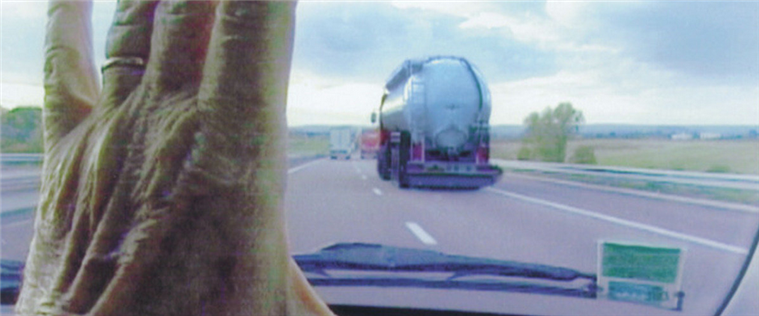 Varda displays a new commissioned work for her LACMA exhibition, Agnès Varda in Californialand called "My Shack of Cinema" (1968-2013), a structure with which those who have viewed her autobiographical film, The Beaches of Agnès are already acquainted. The shack, or cabana, is a form of provisional architecture that Varda has previously used in a series of sculptural installations. "Cabane de l'echec" ("Cabana of Failure"), Varda's first cabana, was built with the print from her film, The Creatures (1966), a commercial and critical flop. Varda chose to use the celluloid from the print as construction material, unspooling it from the reel to create the walls and roof. For My Shack of Cinema (1968-2013), Varda has proposed to make a new cabana out of an old 35mm print of Lions Love (and Lies…), the film that she shot in California with filmmaker Shirley Clarke, Andy Warhol superstar Viva, and Jerry Ragni and Jim Rado, the creators of the musical, Hair. The new cabana will create "a place of reflection and repose, another way for audiences to watch films."
Varda's more renowned films include Cleo from 5 to 7 (1961); Vagabond (1985), winner of the Golden Lion Award at the Venice Film Festival; Jacquot (1991); The Gleaners and I (2000); and The Beaches of Agnès (2008), winner of the Cesar Award for best documentary. In 2010, Varda was the recipient of the prestigious lifetime achievement award, the Carossse d'Or, at the Cannes Film Festival.
Agnès Varda in Californialand, the first museum presentation of Agnès Varda's artwork, is accompanied by screenings LACMA has organized for October 25-29 of recent and newly restored films presented by Varda in person, a retrospective coming in December of 2013, and a showcase of Varda's films alongside those of her Left Bank colleagues in May-June of 2014.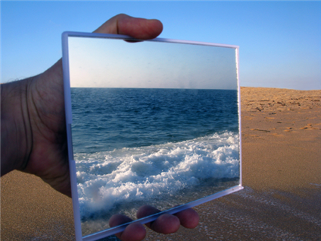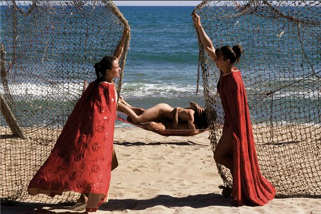 In addition, the filmmaker will participate in "Art on Screen: A conversation with Agnès Varda, on November 3, 2013 at the Getty Center.
Agnès Varda in Californialand coincides with LACMA's efforts, with the support of the Annenberg Foundation and The Film Foundation, to restore four films made by Varda in California: Uncle Yanco (1967), Black Panthers (1968), Lions Love (1969), and Mur Murs (1981).
In addition, Agnès Varda will serve as Guest Artistic Director of the 2013 AFI FEST Presented by Audi, November 7-14, in which her films will be screened beside a selection of her favorites by other filmmakers.
Images in this article, highlighting Varda's dynamic movement between fiction and fact, between fanciful play and dire reality, are still photographs from Varda's award-winning films, Vagabond, 1985 (top), The Gleaners and I, 2000, and The Beaches of Agnès, 2008 (bottom three).